The "happiest place on earth" meets a peaceful escape to nature at the Fort Wilderness Resort & Campground. Situated just under five miles from the Disney World theme park, this campground blends the natural beauty of central Florida with a little Disney magic. While you won't find seclusion or backcountry adventure—this is still Disney we're talking about—you will find a comfortable blend of park-like amenities and camping in Florida's biggest attraction. With bus and boat transportation to take you from your tent or RV straight to the Magic Kingdom, you and your family can embrace the fun of the theme park and the tranquility of camping, all in one trip.
Disney Meets Camping at Fort Wilderness Resort and Campground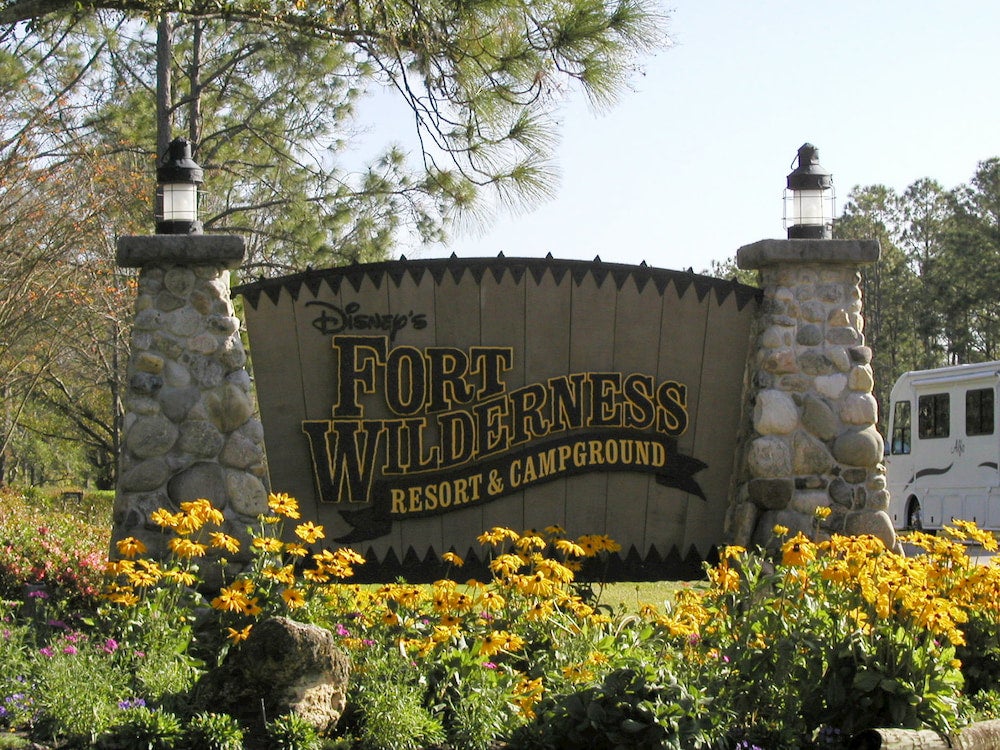 Disney incorporated this 750-acre campground and resort in 1971, and since then it's evolved to be one of Disney's most popular resort options. After a long day of Disney World activities, rides, and events, taking a step back into Florida nature and ending your day at a campground near Disney will help you reset and recharge for an unforgettable and peaceful Disney vacation.
What to Know Before Booking A Fort Wilderness Campsite
At the Fort Wilderness Campground, you'll find yourself outside of the packed Disney World bustle and crowds, and instead surrounded by pine and cypress forests. The campground features a staggering 874 campsites for tents, pop-ups and RVs, as well as a number of one-bedroom cabins if you prefer to sleep under a roof.
This campground has outdoor activities galore, despite being so close to the urban sprawl of Orlando and Disney. You can rent kayaks and canoes to traverse the lagoons, jog or hike the forested nature trail, and let the kids loose at the playgrounds and beach volleyball courts. If you're looking to add a little "magic" to your experience, this Disney campground has even more exciting amenities to offer.
Activities like horse-drawn carriage rides, an archery program, and two arcades are sure to bring a touch of Disney to your tent door. The campground even features communal campfire pits for roasting marshmallows during the Chip 'N' Dale Campfire Sing-A-Long.
After dinner, which may happen at your own campsite grill or at one of the five eateries in the campsite vicinity, head to the marina for a great view of the nightly fireworks and their colorful bursts that reflect over the water.

Stay at One of Four Campsite Types
Each Disney campground is designed to maximize your space in the wilderness. After a day of crowds and lines, seclusion in the outdoors may be exactly what you and your family need. There are four campsite types to choose from to meet your group's particular needs. Though the amount of space varies, each campsite allows for up to 10 adults.
1. Tent or Pop-Up Campsite
These campsites are the most basic option, and are limited to van, tent, and pop-up campers. The space allots for up to two tents plus a vehicle or small camper, and equipment can be stored on a 10 by 25 foot concrete pad. Sewage is not available at this Disney campground, but electric hook-ups, a grill, and picnic tables come with every site. The tent or pop-up campsite is also the resort's most cost-friendly option, starting at $55 per night.
2. Full Hook-Up Site
For the RVers who need a bit more space, the full hook-up site is equipped with a concrete pad that stretches 10 by 50 feet, and an additional dirt area is included, suitable for a tent. As the name suggests, electric and sewer hook-ups, as well as water are available at these sites, and rates start at $82 per night.
3. Preferred Campsite
The preferred campsites have the location advantage by being close to the marina, allowing for quick access into the resort via water taxi. These spots are also just slightly smaller than the full hook-up sites, with concrete pads running 10 by 45 feet, and come with a small dirt area for one tent. These sites come with water, electric, sewer, a picnic table, and grill. Rates begin at $93 per night.
4. Premium Campsite
The largest RVs are welcome at the premium campsite, which can fit anything 60 feet in length and smaller on its concrete pad. There is no tent area, though it does have sewage, electric, and water. Like the other Disney campground options, premium campsites offer a picnic table and grill. A premium campsite runs upwards of $99 per night.
A Disney Campground Means You Can Spend More on Fun and Less on Lodging
For 2019, a single one-day ticket to Disney World will run you between $109 and $129. That price will only get you into one of the six parks in Disney World, meaning you can anticipate an upgrade for full access. Once you're in the park and anticipate food, beverages, and games, your wallet has certainly paid to play.
Choosing to stay at the Disney campground—however—can certainly bring some cost savings to your trip, especially when compared to similar lodging options. The other Disney resorts, like the Animal Kingdom Villas, Boardwalk Villas, and the Polynesian Bungalows cost from $345 to $504 for one night in a room.
If you opt for a hotel outside the park, you'll still likely end up paying double what the campsite costs offer. A basic SpringHill Suites Marriott room in Kissimmee, which is less than a mile from the west entrance to Walt Disney World, costs $109 a night, more expensive than all the camping options and without complimentary transportation.
Ride (or Sail) Your Way from the Campground to the Park
Once you park your vehicle at the campground, which is complimentary, you don't have to worry about driving for the rest of your stay. The Disney Bus Service Transportation is free for campers to use and will take you to the Settlement and Meadow Recreation Area. These areas have dining, groceries, dinner shows, and beach recreation.
But you can arrive at Disney's Magic Kingdom in unique, aquatic style. The Disney Water Transportation picks campers up at the designated boat launch, and sails through the Seven Seas Lagoon and Bay Lake before arriving at the Magic Kingdom. Once there, you can take a water taxi to the other park destinations. Keep in mind that the water transportation service does not allow anyone with alcohol or luggage to board, and strollers must be folded up.
---
Related Campgrounds:
Popular Articles: