Over one million people visit West Virginia's New River Gorge each year, to climb the sandstone cliffs, raft down the raging whitewater, or to enjoy the view from the New River Gorge Bridge during Bridge Days, when the national landmark is opened to foot traffic. And no wonder—with all that world-class climbing, class V rapids and incredible hiking trails, the gorge is an outdoor lovers dream.
The Best Appalachian Camping in the New River Gorge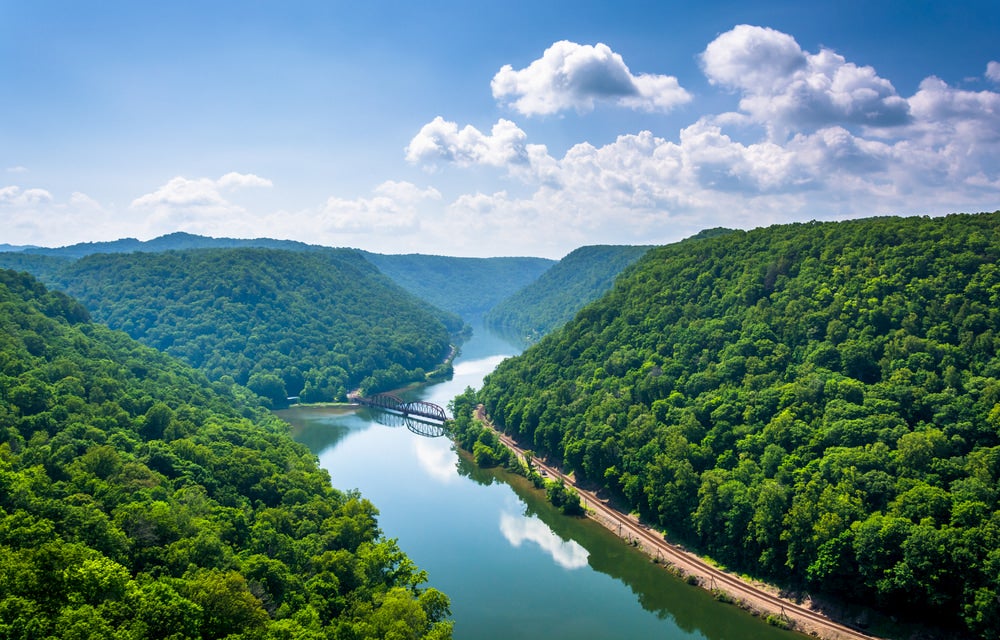 A New River Gorge camping trip is the perfect way to experience this wild place up close. There are many camping options in the area, whether you're looking for photography opportunities, proximity to the crag, or cozy year-round camping. Here are five of the best sites for New River Gorge camping, with a little something for everyone:
The American Alpine Club's campground is one of the most popular New River Gorge camping spots for climbers. Located on 40-acres near Fayetteville, WV, the campground sits within walking distance of some of the most popular climbing routes in the gorge at Junkyard Wall
The campground offers private tent campsites (four person max) and a communal camping area in the open space in front of the bathhouses, which has hot showers and flush toilets. The campground is open year-round, but the shower houses are locked in the winter months. American Alpine Club members can camp at this campsite at a reduced rate.
"This is a very well thought out campground and is a great option for climbers visiting the area. each site has a wooden tent platform (10'x10′) to set up on, which is a huge plus since the ground is so uneven throughout. Each site has a picnic table and a parking space as well." —The Dyrt camper Mollie R.
Rifrafters Campground is a 44-acre family owned and operated campground located just two miles south of the New River Gorge Bridge. This New River Gorge camping spot has sites for tents and RVs as well as rustic cabin rentals. The campground also has a pavilion, small convenience store, and a bathhouse with hot showers and flush toilets. The campground is open April 1- November 1 for tent and cabin campers, but year-round for RV campers.
Water babies will love this campground. Although the large, lakeside sites at Battle Run are18 miles south of the New River Gorge, this spot is very popular among campers, and for good reason. Summersville Lake is a popular place to fish, boat, swim, scuba dive and water ski from May 1 until mid October. It fills up early, so make your reservations as soon as possible. The campground has 110 electric campsites, which can accommodate RVs, trailers and tents and 7 primitive tent campsites. The campground has hot showers and toilets, a laundry area, dump station, nature trails, playground and a boat ramp and fishing dock.
"The Summerville Lake Dam feeds the Gauley River, so if whitewater rafting is your thing, you've come to the right spot. Spring and Fall releases brings the wildest rides, but the Gauley has Class V rapids all year. Having done the Gauley at both Spring and Fall, both are fast and fun!" —The Dyrt camper Dave V.
Seven miles south of Charleston, West Virginia, this New River Gorge camping spot offers the best of both worlds: easy access to city amenities as well as some of the best natural wonders in the area. In addition to the usual hiking, camping, mountain biking, and cross country skiing, Kanawha State Forest also attracts geocaching fans on their latest treasure hunt.
Kanawha State Forest has 46 campsites for both tents and RVs under 26 feet. Twenty-five of the sites have water and electricity hookups, and the whole campground has two bath houses with showers and flush toilets and a coin operated laundry room Kanawha is open April- December and reservations can be made Memorial Day through Labor Day.Otherwise the campsites are available on a first come, first served basis.
"Each site has a picnic table and fire pit. There is a public pool with reasonable rates and great food, small areas to fish, a free shooting range and tons of hiking trails. There is a horse stable but we did not visit it. The kids loved wading and rafting in the creek and the playground areas." —The Dyrt camper Elaine L.
For off the beaten track New River Gorge camping, check out Stone Cliff's seven primitive, secluded sites. Though small, this campground is very popular thanks to its combination of walk-in and car camping sites and river access. The park is first-come, first-serve, however, so don't forget what they say about early birds and worms.
There is also an out-and-back trail starts at the Stone Cliff picnic area and winds along the river for three miles to a rocky bar overlooking some rapids. Along the way, you can see old-growth trees, and in the spring this is a prime spot to see Appalachian wildflowers like bloodroot, trillium, long-spurred violet, rue anemone, star chickweed, and violets.
"Tucked away by the river past Thurmond. Great secluded sites. Trailhead for hiking from camp. A bit of a drive to visit any of the sites around New River but worth it to be away from it all. We were there in fall so no crowds at all. Primitive, beautiful, and, a hidden gem." —The Dyrt camper Jeremy H.
What to See and Do While Camping in the New River Gorge
There's more to the New River Gorge than just a pretty place to overnight, though. The rivers, trails, and crags that make New River Gorge camping so spectacular are also what make West Virginia so much fun during the day. From climbing and hiking to photography and rafting, you'll see why they call it The Mountain State, and where those famous country roads can take you.
New River Gorge Bridge
The New River Gorge Bridge is a work of structural art and one of the most photographed places in West Virginia. Completed in 1977, stands 876 feet above the New River and spans 3,030 feet across the gorge. It was added to the National Register of Historic Places in 2013, and is especially stunning in the autumn when the mountains are showing off their fall colors.
Bridge Day takes place the third Saturday of October (usually this is during the height of fall colors) and each year on this day the bridge is open to pedestrians and boasts a wide variety of activities. In addition to the food and craft vendors you might expect at a small town celebration, as well as a few more offbeat happenings.You'll have a whole new appreciation for West Virginia once you hear the roar of the crowd as hundreds of BASE jumpers leap off of the edge of the bridge into the gorge!
New River Gorge Hikes
One of the best ways to experience the area's natural beauty and get a sense of the scale of the New River Gorge is to hike it. The National Park Service maintains a number of New River Gorge trails in addition to trails maintained by the state park system. The available hikes vary in difficulty and are everywhere from ¼ mile to 7 miles in length.
Trails are split up into six different areas in the New River Gorge:
· Grandview Area Trails offer great views, rock formations and woodlands
· Glade Creek Area Trails are known for waterfalls and swimming holes
· Sandstone Brooks Area Trails have a number of pretty trails in the south end of the park
· Fayetteville Area Trails have lovely overlooks of the gorge
· Thurmond-Stone Cliff-Cunard Area Trails are easy, level rail-to-trail conversions
· Nattallburg Trails take visitors through the remains of an old mining town
Whitewater Rafting in New River Gorge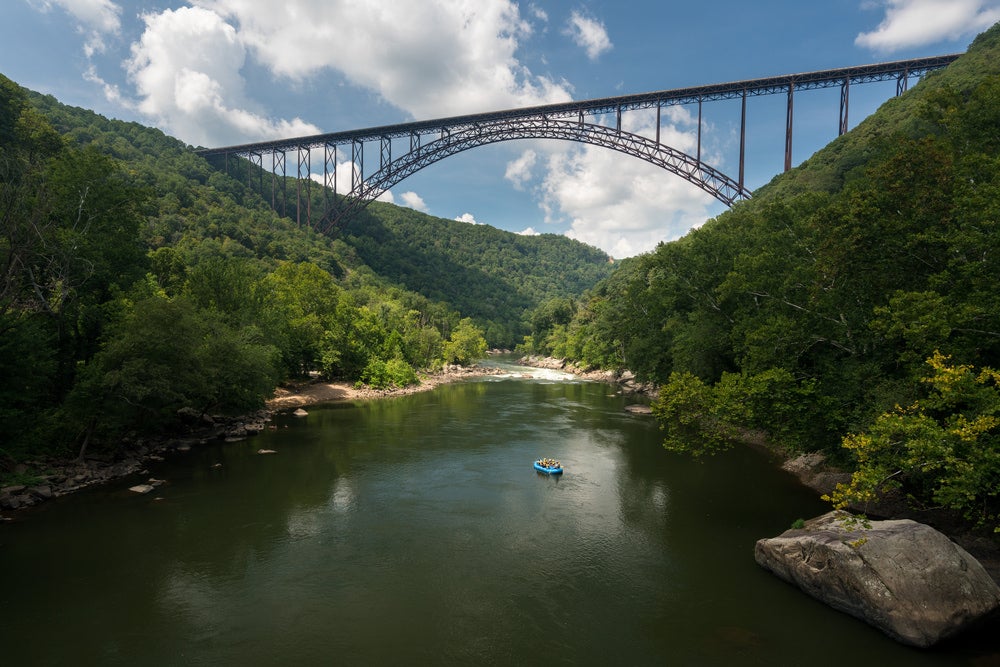 Whitewater rafting is one of the most popular ways to experience the New River Gorge. The river has whitewater appropriate for most ages and experience levels. The lower New River is known for its roaring whitewater and Class IV rapids, while the upper New River makes for a calmer, family-friendly trip with its more placid water and gentle thrills.
To get acquainted with the New River Gorge, sign up for a guided trip. There is no shortage of outfitters offering rafting trips in the gorge—from half day to multi-day excursions lead by local outfitters like Adventures on the Gorge, River Expeditions, ACE Adventure Resort, and Rivermen. Or you can put in your own raft or kayak at one of several spots along the river's course.
New River Gorge Climbing
The New River Gorge is one of the most popular rock climbing areas in the country. There are over 1,400 established rock climbing routes in the gorge, running the gamut of formations from Utah-style splitter cracks to tricky arêtes. The hard, glittering Nuttall Sandstone found here speaks to just how ancient this region is. Hundreds of thousands of years ago, this area was covered by an inland sea. The New River is actually older than the Appalachian mountains surrounding it, and has been carving through this quartz-flecked old seabed even as the mountains grew up and eroded around it.
Most of the routes in the New River Gorge are rated 5.8 or harder, and are best attempted by advanced or expert climbers. While climbing can happen in any season, the peak months are usually April through mid-June and mid-September to late October, skipping the hot and humid Southern summer. It's essential to have a New River Gorge guidebook to locate the climbs— fortunately there are a few to choose from. Local climbing shops are happy to provide recommendations and information on climbing in the gorge, too.
---
Related Campgrounds:
Popular Articles: