Traveling the historic route between Chicago and Los Angeles is the quintessential American road trip—and a great cross-country trip to do in an RV. It's not America's longest or oldest highway. Yet, it stands out in American history as a symbol of freedom; from the time the automobile became accessible to all, and how it transformed society during the 1930s and 1940s.
Today, much of the original Route 66 is still navigable, with hundreds of historic landmarks, tourist attractions, old time diners, natural wonders, and campgrounds lining the route. The entire 2,400-mile route makes for an epic RV trip, or you can tick off one segment at a time, in any of the eight states that the route passes through. Either way, a Route 66 RV trip is a nostalgic journey through America's early days of westward travel.
What is Route 66?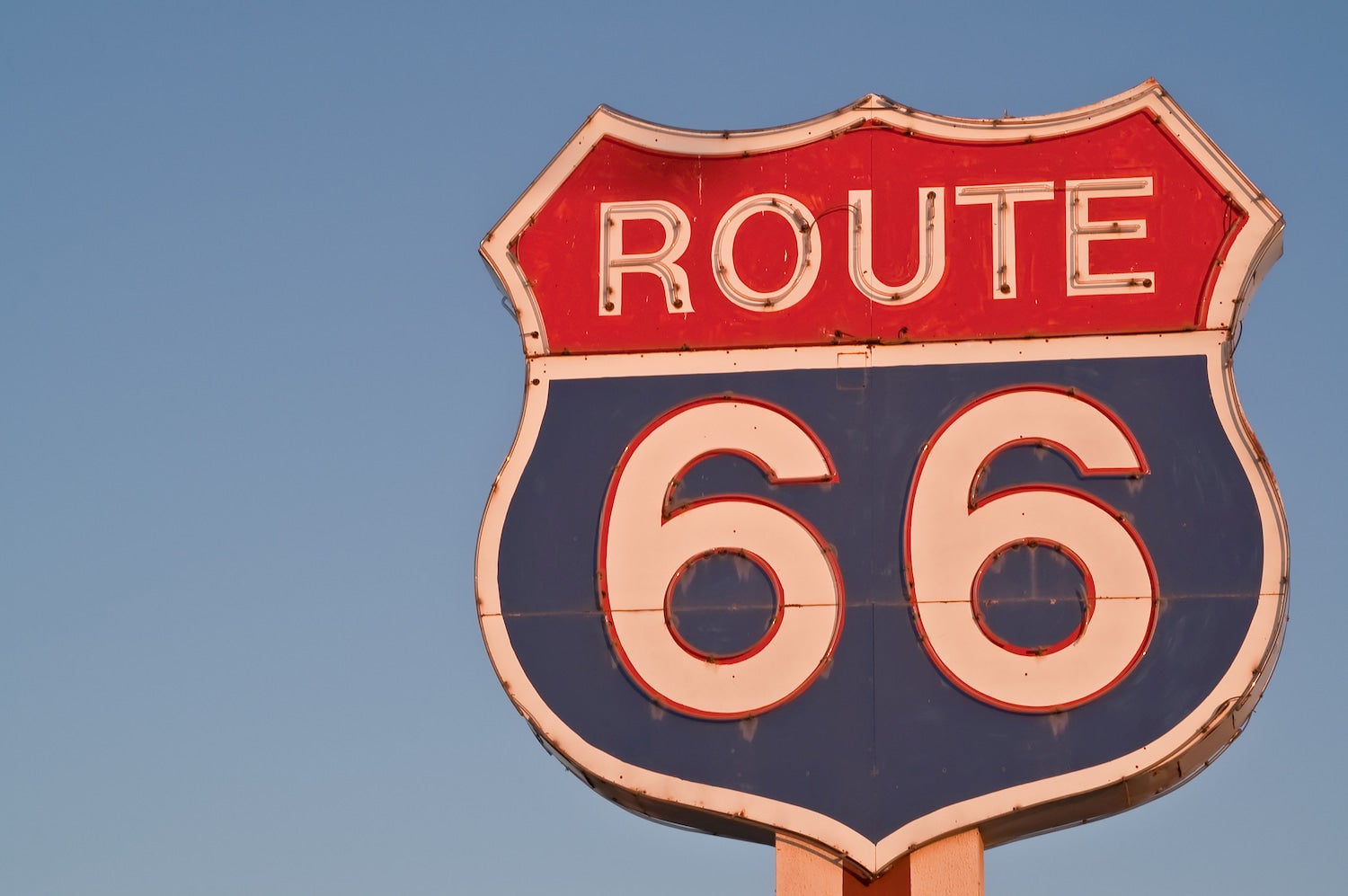 Also known as the Mother Road or the Main Street of America, Route 66 was designated a highway in 1926. Contrasted with other major interstates at the time, Route 66 headed west in a diagonal fashion offering the fastest way to California from the Midwest. The route wound through many small towns in the Midwest and Southwest. Consequently, hundreds of hotels, cafes, gas stations, and kitschy tourist attractions sprung up along the route.
Route 66 was widely celebrated in popular culture. For example, the highway provided the backdrop for John Steinbeck's novel The Grapes of Wrath. And the road was forever immortalized in Bobby Troup's "(Get Your Kicks on) Route 66" song.
Over time, sections of Route 66 were slowly replaced by the newer, wider Highway 40. Then in the early 1980s, the route was eventually decommissioned entirely. However, nostalgia for the route persisted, and in 1990 the state of Missouri declared the route a "State Historic Route." This spurred a movement to protect the landmark old motels and historic signage along the route, as well as a renewed interest in road tripping along the route.
Must-See Roadside Attractions on Route 66
Grant Park (Chicago)
Chicago's Grant Park marks the eastern terminus of Route 66. Several relics of Route 66's heyday remain near the park including historic Route 66 signage and the Clarence Buckingham Memorial Fountain.

Milk Bottle Grocery (Oklahoma City, Oklahoma)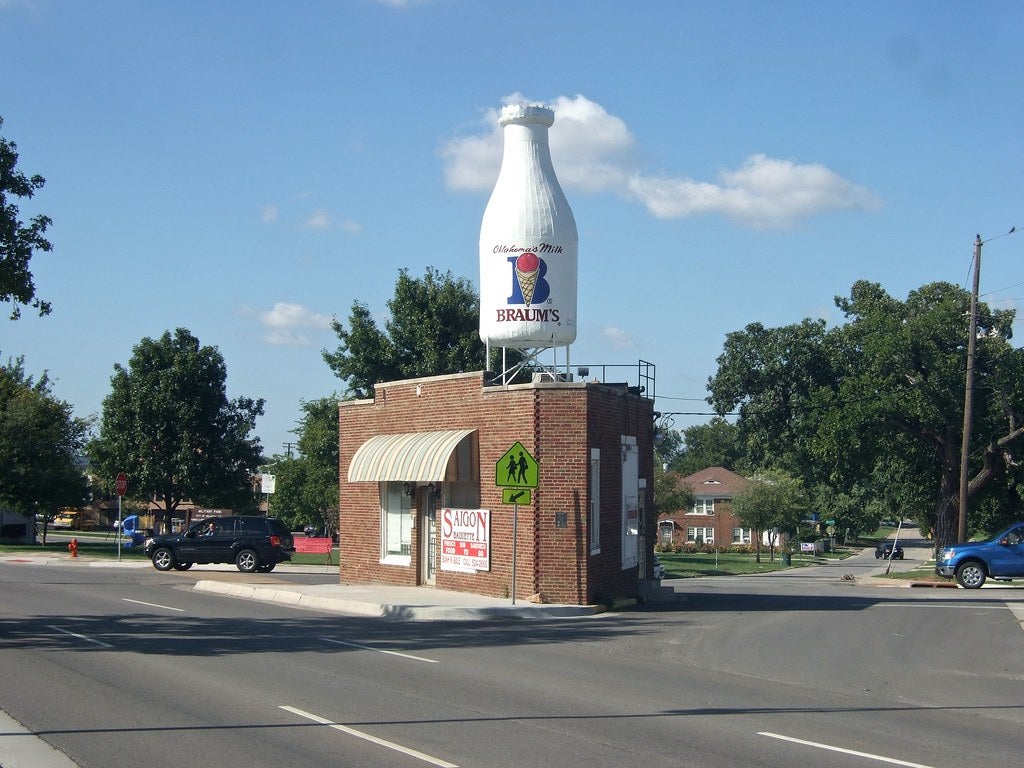 Route 66 is known for its gimmicky sights, and the giant milk bottle atop a grocery building in Oklahoma City is certainly a favorite of route-goers. This old grocery building has been around since 1930, but the giant milk bottle wasn't placed on top until 1948. The store was listed on the National Register of Historic Places in 1998, and has been home to a real estate office, cleaners, and a Vietnamese sandwich shop since its original grocery days.
National Route 66 Museum (Elk City, Oklahoma)
You'll find several Route 66 museums along the way, and the National Route 66 Museum in Elk City, Oklahoma is one of the most comprehensive. The museum offers visitors a journey through all eight states, and features plenty of old Route 66 signs, kitschy artifacts, antique cars, and a huge collection of Popeye memorabilia.
Cadillac Ranch (Amarillo, Texas)
This quirky public art installation outside of Amarillo, Texas is one of Route 66's most popular attractions. The sculpture is made up of ten old Cadillacs, half-buried nose down in the dusty Texas countryside, as a monument to America's "Golden Age of the Automobile". Graffiti is encouraged and the cars undergo ever-changing designs based on passersby leaving their mark. Also, don't miss the galleries, antique shops, and historic saloons in the Route 66 Historic District just west of downtown Amarillo.
Delgadillo's Snow Cap (Seligman, Arizona)
Originally built in 1953, Delgadillo's Snow Cap Drive-In is still run by the original owner's family. To lure visitors, Juan Delgadillo sliced the top off of his 1936 Chevrolet hardtop and adorned it with crazy trinkets and an artificial Christmas tree in the back. The eatery is a bit of a funhouse with fake door knobs, slightly used napkins, and fanciful outhouse bathrooms behind the restaurant.
Santa Monica Pier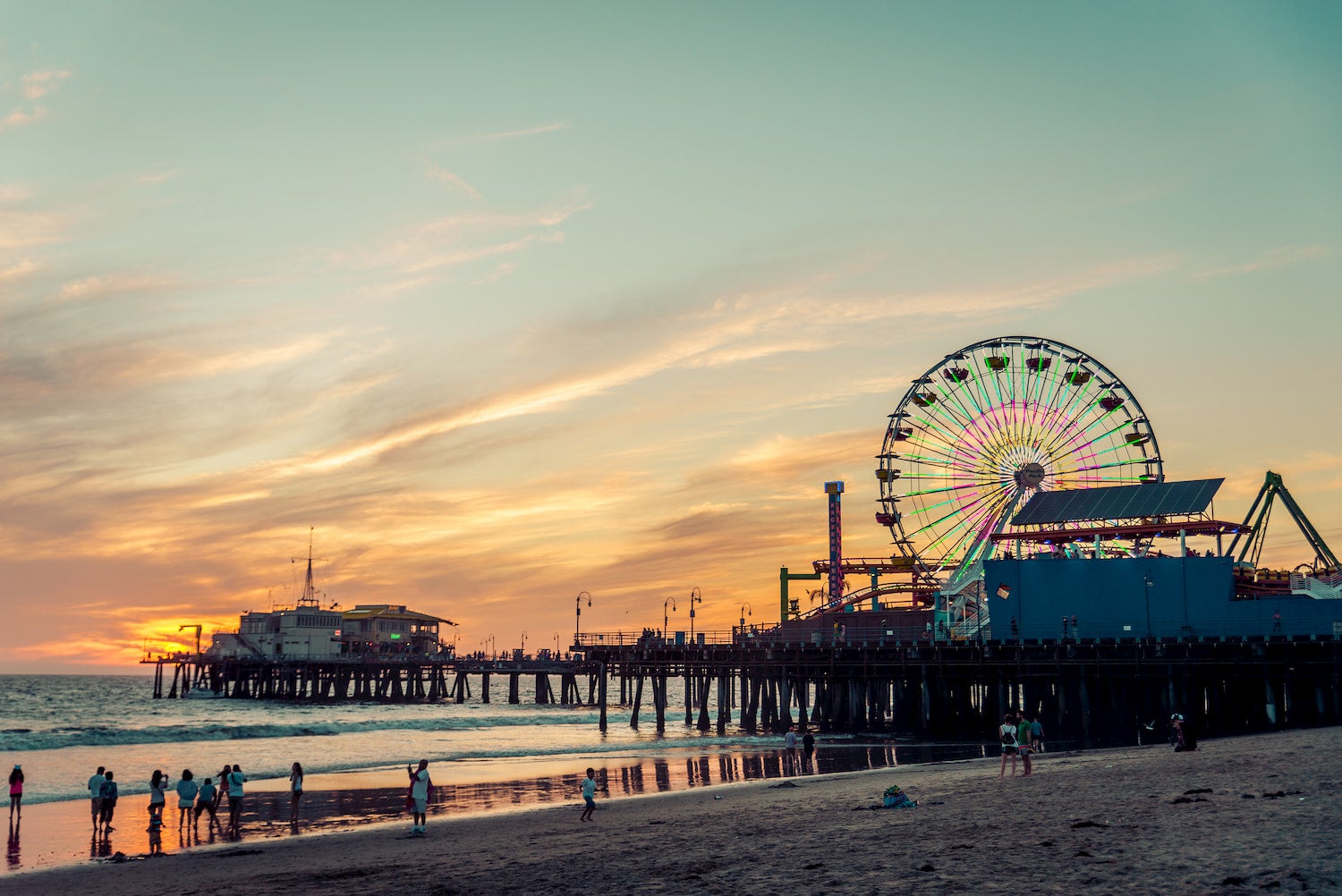 Where Route 66 officially ends is debatable. The original western terminus was in downtown Los Angeles, but the route was extended to Santa Monica in 1935. Today, a sign on the Santa Monica Pier marks the "End of the Trail." With a ferris wheel, arcades, street performers, and plenty of restaurants and bars, Santa Monica Pier is just as lively as it was during the glory days of Route 66 travel and the perfect spot to celebrate the end of your Route 66 road trip.
Where to Camp Along Route 66
Just 30 minutes from downtown St. Louis, the St. Louis West/Historic Route 66 KOA offers RV sites with full hookups, tent sites, and cabin rentals. This amenity-packed Route 66 RV campground features a pool, off-leash dog park, bike rentals, basketball court, ping pong, and more.
Just down the road from Cadillac Ranch, the Oasis RV Resort in Amarillo, Texas is one of the top rated Route 66 RV parks. You'll find full service pull-thru RV sites, as well as cabin rentals with free cable and WiFi. Other amenities include an onsite restaurant, dog park, pool, and playground.
Located just outside Albuquerque, New Mexico, the Route 66 RV Resort offers spacious sites with all the amenities. Resort highlights include pickleball courts, swimming pool, putting green, and open-air kitchen with gas grills and plenty of picnic space. Plus, the Route 66 Casino Hotel is just steps away from the resort. The casino hotel is themed with Route 66 memorabilia and features casino games, several entertainment venues, and a nightclub.
Set in the town of Williams, Arizona, the gateway to Grand Canyon National Park, the Grand Canyon Railway RV Park offers 124 pull-thru sites with full hookups. Guests also have access to amenities like laundry facilities, hot showers, a dog park, and fitness trails. The resort is located adjacent to the historic Grand Canyon Railway Station where you can catch the train into Grand Canyon National Park. It's also within walking distance to restaurants like Goldies Route 66 Restaurant and the Grand Canyon Brewery.
Popular Articles: