A good, old-fashioned float trip is a rite of passage in Missouri. Whether you're looking to escape the Midwest heat, or challenge yourself on a multiday river trek, float trips in Missouri are a fun way to spend your summer days. With a number of rivers located near popular towns, floaters have easy access to everything from sun-soaked waterways to cool and shady fishing holes.
The Best and Most Beautiful Float Trips in Missouri
No matter where you choose to float in Missouri, there's one thing you can count on: Midwestern hospitality. Any launch site worth its salt is serviced by experienced river vendors who can assist floaters with river information, rentals and transportation. They'll help you right up to the water's edge, then pick you up at the end of the route and drive you back to camp. No matter where you choose to reach the water, you're sure to be in good hands.
We've chosen four of our favorite rivers for float trips in Missouri. On the Gasconade River, you can find a less-crowded launch point than on the nearby Lake of the Ozarks. The Big Piney River, a tributary of the Gasconade, offers plenty of riverside camping in a slightly more secluded location. Meanwhile, the Jacks Fork River, part of the Ozark National Scenic Riverway, is a family-friendly destination closer to the boot-heel of the state. And just over an hour from St. Louis, the massive Meramec River is perfect for those who love land adventures just as much as the water. Read on for more.
1. Float along the Gasconade River near Dixon
Nearly 280 miles long, the Gasconade River is known for its crooked turns and dramatic scenery. It begins in the Ozark Mountains and winds through the towns of Laclede, Pulaski, Phelps, Osage, and Gasconade. After passing through the Mark Twain National Forest, the Gasconade River empties into the Missouri River. Floaters on the Gasconade can enjoy beautiful Ozark scenery filled with limestone bluffs, caves, and natural springs.
The Boiling Springs Campground, about 10 miles southeast of Dixon, makes a perfect base for floating the Gasconade River. At the campground, you can rent canoes, rafts, kayaks, and tubes. Choose from 3, 5, and 8-mile floats and they'll shuttle you upriver to the starting point—then you just float back to the campground. Rates vary depending on the type of watercraft you choose, and reservations are recommended. Shuttles depart several times per day from the camp pavilion. 
The campground at Boiling Springs is open from May 1 to Oct. 15 and can accommodate both tent and RV campers; full hookups are available. Most of the sites are located right near the river for easy water access. The campground offers showers, flush toilets, a picnic pavilion, volleyball court, sandbox for the kids, and a dog walking area. There are also four fully-equipped cabins available to rent. Tent site rates are based on how many people are in your party; RV site rates are based on type of hookups selected and number in party.
---
Prepare for your next adventure by downloading maps. The Dyrt PRO lets you download maps and campgrounds without cell service. "My alternative to using pro would be to drive back out to cell service".

---
2. Float or Fish in the Big Piney River near Fort Leonard Wood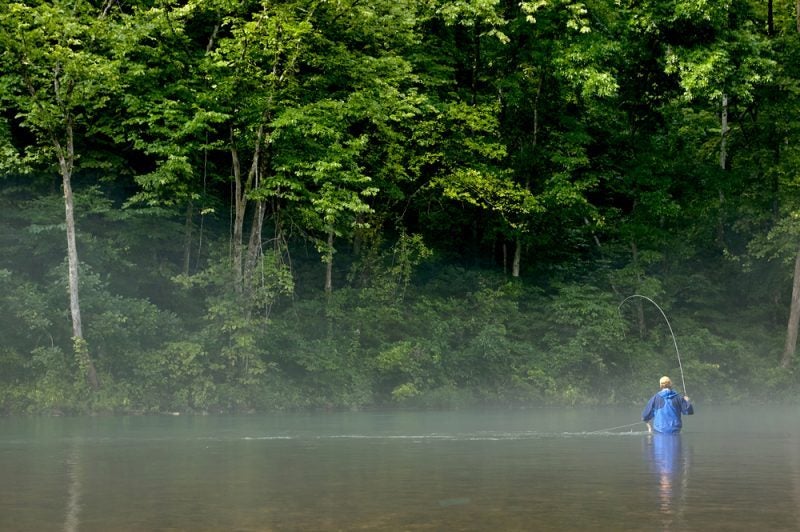 If the Gasconade River doesn't float your boat, the Big Piney River is a close second for float trips in Missouri. This 11o-mile tributary of the Gasconade is regarded as one of the best fishing streams in the area for rock and smallmouth bass. Much of the Big Piney is known for being a family-friendly float as it meanders past limestone bluffs and pine forests. More than 21 miles of the river flows through the Mark Twain National Forest before it merges with the Gasconade.  
Peck's Last Resort—formerly Rich's Last Resort—rents canoes, rafts and kayaks for half- and full-day floats on the Big Piney, up to 15 miles. Canoes are also available for multiday floats up to 45 miles. Daily watercraft rates range from $30–$100. Multiday rentals receive discounts for each additional day. Vehicle and watercraft shuttle service to the put-in and take-out locations is available for an additional charge. Fishing is not permitted from watercraft.  
The campground at Peck's Last Resort offers individual and group tent camping with access to restrooms and showers. A limited number of RV spaces are available; hookups are not currently available. The resort also offers three cabin rentals. Ice and firewood is available onsite. Campsite rates are $10/person/night; cabins are $60/couple/night, with extra fees for children and additional guests. Midweek cabin specials include a canoe float trip. 
3. Visit a Historic Missouri Riverway near Eminence
Turn your river trip into a journey through time with a float on the Jacks Fork River near Alley Spring. Located just 6 miles west of Eminence, you can catch a glimpse of the historic Alley Mill as you paddle by, or hop out of your boat and take a full tour of the landmark structure. Constructed in 1893, the mill was used to grind grain for bread. Complete with early milling turbines, chutes, and elevators, the "Old Red Mill" gives some insight into early American culture.
For paddling this stretch of the Ozark National Scenic Riverway, Harvey's at Alley Spring rents canoes, kayaks, tubes, and rafts. They offer several one-day floats, ranging from 7 to 18 miles, and several more multiday floats, up to 62 miles. The friendly folks at Harvey's will shuttle you to your put-in point and pick you up at the end of your float, or shuttle your vehicle for you. Canoe and kayak rental rates range from $30–$75/day; raft rentals range from $100–$140/day. Reservations are recommended.
If you're going to float past Alley Spring, the Alley Spring Campground is the ideal location to pitch your tent. You'll also have access to swimming and fishing. The campground provides more than 170 tent and RV sites with picnic tables and fire rings; many have partial hookups. There are also group sites available. Onsite facilities include seasonal restrooms and showers, and a dump station is available. Campsite rates range from $18–$38/night.
"Totally classic Ozarks experience here with all the water and woods you want! Great easy and moderate trails with lovely views, critters, and wildflowers. If you have a watercraft you will absolutely want to bring it (not sure about rentals on site or nearby)." —The Dyrt camper Lynn G.
4. Spend a day on the Meramec near Sullivan
Near St. Louis, the Meramec River is one of the longest free-flowing rivers in Missouri. The river was an important industrial route for early lead, iron, and timber industries. Today, the Meramec is popular for canoeing, kayaking, and raft float trips in Missouri. With steep limestone bluffs, caves, and soothing springs, a day on the Meramec River is perfect for putting your mind at ease.
Meramec State Park facilitates 5-mile float trips along the Meramec. Visitors can choose from canoes, kayaks, and 6- and 8-person rafts; floats usually last from two to four hours. Park staff will transport you and your watercraft to the launch point at Sappington Bridge, then you just float back to the park's boat ramp. Canoe and kayak rates range from $30–$45; raft rates range from $140–$180. Check the park's website for float launch times.
If you're going to float the Meramac, you might as well camp at the Meramac. The state park offers more than 200 tent and RV sites with partial and full hookups. Group sites are also available, as well as several fully-equipped cabins. Facilities in the park include restrooms with showers, visitor center, park store, picnic shelter and several miles of hiking trails. Visitors can also take a guided tour of Fisher Cave. Campsite rates range from $13–$30/night; reservations accepted. 
"This is a really nice campground. There are locations that you can hang out on the Meramec River during the day or hike and explore caves. Very well kept and friendly staff." —The Dyrt camper Denver S.
---
Related Articles:
---
Related Campgrounds:
Popular Articles: