A gold old fashioned float trip is basically a rite of passage in Missouri. If you're looking to escape the brutal midwestern heat or challenge yourself on a weeklong river trek, float trips in Missouri are a fun way to spend the warmer days. With a number of rivers located near popular towns, floaters can find anything from sun-soaked waterways to cool and shady fishing spots.
Whether you're on the Gasconade, Big Piney, or Meramec River, there's one thing you can count on: Midwestern hospitality. Any launch site worth its salt is manned with experienced staff to assist newcomers in rentals and transportation. They'll lead you right up to the water's edge, then wait for you at the end of the route to drive you back to camp. Read on to find the perfect rivers for your float trips in Missouri. 
The Best and most Beautiful Float Trips in Missouri
Folks in middle Missouri can easily reach the Boiling Springs campground. It's located about an hour from the Lake of the Ozarks, offering floaters a less crowded launch point than a lot of the spots closer to the lake. For a slightly more secluded float, Rich's Last Resort offers plenty of amenities in a little-known spot. Meanwhile, Alley Spring offers river access a bit closer to the boot-heel of the state. It's also a great spot for a quaint family getaway. And just over an hour from St. Louis lies the massive Meramec State Park, which is perfect for those who love land adventures just as much as the water.
But no matter where you choose to reach the water, you're sure to be in good hands.
The Gasconade River is a popular spot for float trips in Missouri. About 280 miles long, the Gasconade River known for its crooked turns. It begins in the Ozarks and winds through the towns of Laclede, Pulaski, Phelps, Osage, and Gasconade. After passing through the Mark Twain National Forest, the Gasconade River empties into the Missouri River.
Floaters on the Gasconade can enjoy the beautiful Ozark scenery, filled with limestone bluffs, caves, and natural springs. The Boiling Spring campground offers float trips along the Gasconade River. They offer canoe, raft, kayak, and tube rentals, as well as a variety of trip lengths. Their 3, 5, and 8-mile day trips include a shuttle to the starting point.
The campgrounds at Boiling Springs are equipped to accommodate both tent and RV campers, which prices ranging by age and type of site. For tent sites, campers 10 and up must pay $8.50 per person, while kiddos 4-9 get a $4 daily discount. Under three is free. Tent campers can also pay an extra $7 per day for water and electric sites. RV stations are a bit more pricey, costing between $30 and $34 per night for two people, plus an extra $3 for every extra person. It's also a $10 fee to use the dump station. But for the easy access and well-kept grounds, you truly do get your money's worth.
Camp Here
---
2. Visit a Historic Missouri Riverway at Alley Spring Campground near Eminence
Alley Spring campground is a longtime favorite for float trips in Missouri. Catch a glimpse or take a full tour of the historic Alley Mill during your visit. Constructed in 1893, the mill was used to grind grain for bread. Complete with early milling machines, chutes, and elevators, the landmark gives some insight into early American culture.
The spring itself is popular for swimming and fishing, as well as serene floating trips in Missouri. Though canoe season lasts all year long, June through August are the most popular times for family floats. Meanwhile, may and June are best for fishing. However, the fall colors truly explode around mid-October. Harvey's at Alley Spring rents out canoes, kayaks, tubes, and rafts.They offer seven different one-day floats and ten 2-3 day float trips. Life jackets are required for each person on the float trip, and reservations are required October through April.
Around half of the trips Harvey's offers begin or end at Alley Spring, making it the perfect spot to set up camp. The campground is known for its caves, sinkholes, and Ozark Scenery. Also, the Alley Spring campground offers electric, water, and sewer hookups as well as showers and restrooms. Visitors are welcome to set up campfires, crack open a beer, and bring their pets.
"Totally classic Ozarks experience here with all the water and woods you want! Great easy and moderate trails with lovely views, critters, and wildflowers. If you have a watercraft you will absolutely want to bring it (not sure about rentals on site or nearby)." —The Dyrt camper Lynn G.
Camp Here
---
3. Fish in the Big Piney River at Rich's Last Resort near Duke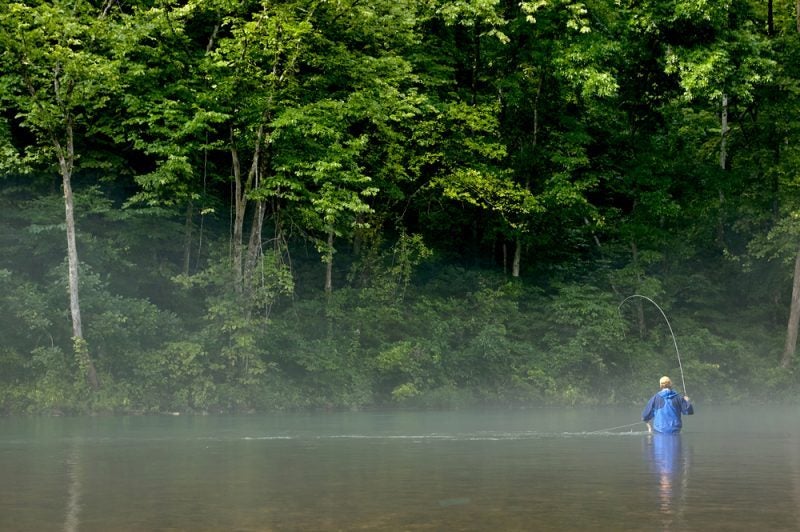 If the Gasconade River doesn't float your boat, The Big Piney River is a close second for float trips in Missouri. It's the largest tributary of the Gasconade and regarded as one of the best fishing streams in the area. The Big Piney River is also known for being a family-friendly float route surrounded by gorgeous Ozark scenery.
Those who'd like to camp near the Big Piney River will enjoy the cleverly titled Rich's Last Resort campground. The campground offers canoe, raft, and tube rentals as well as shuttles to the float trip starting points. Rich's Last Resort asks that all floaters wear life jackets. The campground offers individual and group camping with access to restrooms and showers. Plus, visitors can purchase ice and firewood bundles to make meal prep even easier.
Camp Here
---
4. Spend a day on the Meramec at Meramec State Park near Sullivan
Near St. Louis, the Meramec River is one of the longest free-flowing rivers in Missouri. The river was an important industrial route for early lead, iron, and timber industries. Today, the Meramec River is popular for canoeing, kayaking, and raft float trips in Missouri. With steep limestone bluffs, caves, and soothing springs, a day on the Meramec River is perfect for putting your mind at ease.
Meramec State Park offers five-mile float trips along the Meramec River that take two to four hours. Visitors can rent canoes, kayaks, and 8-person rafts. In addition, the park provides life jackets to all floaters and requires that they sign up at least 30 minutes before each float time. You can view a full list of their available float times by season or make a reservation on the Meramec State Park homepage.
The park also has fantastic campgrounds for those who'd like to explore some of the great hiking and wildlife viewing options in the area. The Meramec State Park campgrounds offer electric, water, and sewer hookups along with showers and restrooms. The park is pet-friendly, allows campfires, and offers a market on site.
"This is a really nice campground. The drive into the camping area has beautiful scenery. They offer basic to full hookups. There are locations that you can hang out on the Meramec River during the day or hike and explore caves. Very well kept and friendly staff." —The Dyrt camper Denver S.
Camp Here
---