This article about NASCAR home tracks was brought to you by IceMule. They make the best backpack coolers designed to keep ice, food, and drinks cold for over twenty four hours, and the hefty design can hold enough goodies to please a crowd. From camping trips to tailgating, IceMule has you covered.
---
With the deep Southern roots of American stock car racing, it should be no surprise that NASCAR rallies are practically synonymous with tailgating and RV culture. Making a pilgrimage to one of many NASCAR home tracks is as much about the experience of camping out at the stadium and connecting with other die-hard fans over grilled goodies and lawn chairs as it is about the roaring engines and fast-paced left turns.
The sport's origins are forever tied to Appalachian ridge runners modifying their Fords and Chevys to outrun the cops. But NASCAR has spread far beyond the Florida tracks where early races flourished, and beyond the Piedmont hills of Charlotte, North Carolina, the city many NASCAR drivers and crew members call home.
Today you can follow racing teams from coast to coast, and even outside the continental U.S. And while not every track has a campground on the infield, you can bet your back wheel that the jubilant energy of race weekend will spill over to a tailgate party somewhere nearby.
21 NASCAR Home Tracks That Will Satisfy Your Need for Speed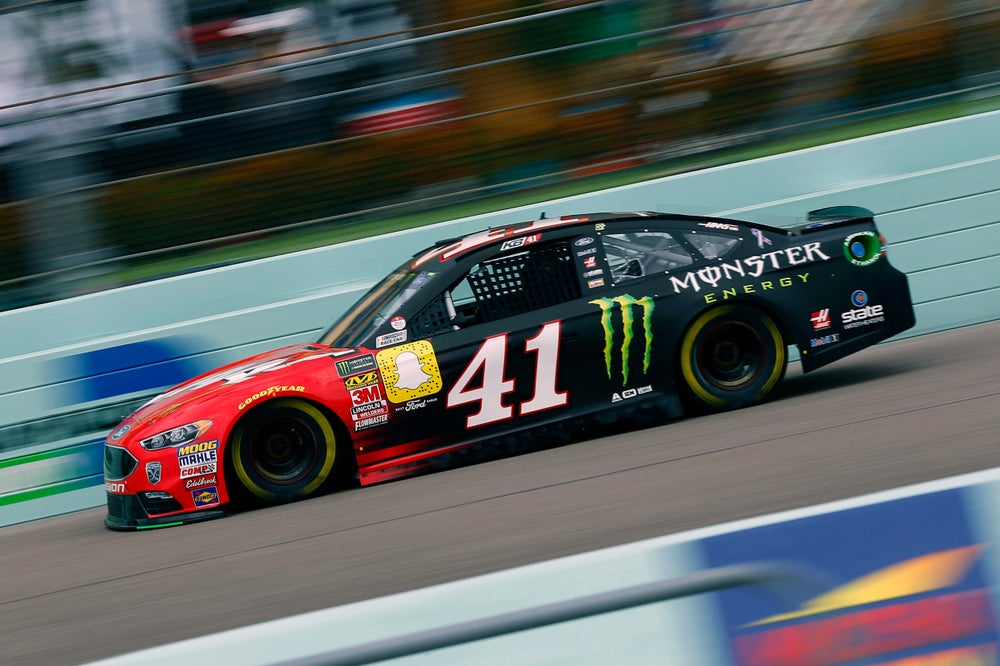 We've rounded up campgrounds near NASCAR home tracks all over the country. While many tracks have infield camping—some even have luxury condos overlooking the best turns—the best sites are often quite spendy, and some tracks don't have camping on site at all. Some NASCAR fans prefer a little peace and quiet away from the roar of the pit and the celebratory yells of the fans at the end of the day.
Whatever your approach to race weekend and camping style, there are plenty of incredible RV parks and campgrounds close to some of the best NASCAR home tracks and super-speedways in the country.
1. Talladega Superspeedway near Talladega, Alabama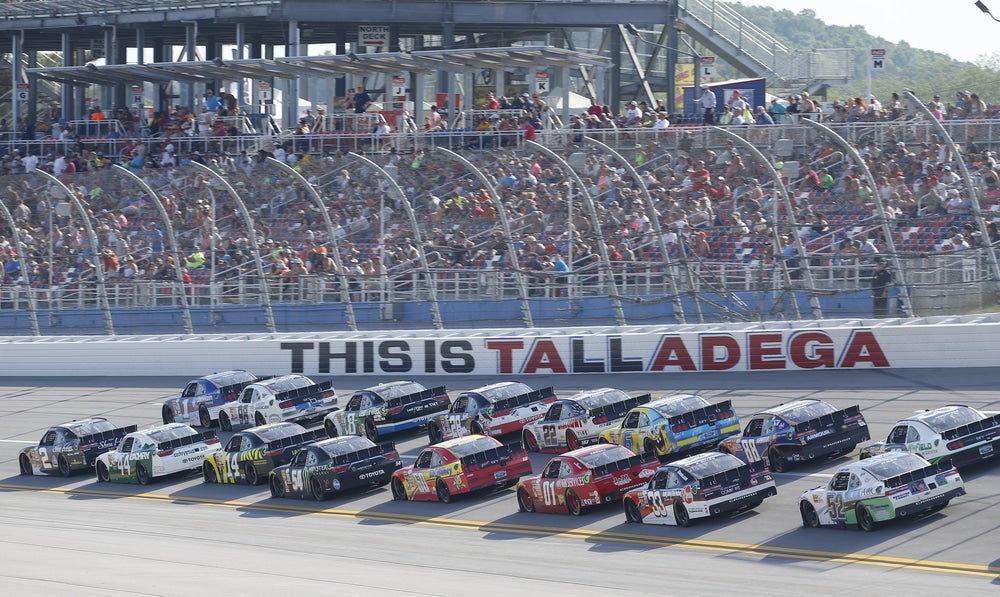 One of the most legendary tracks in the biz, Talladega also takes camping on site very seriously. In fact, a $50 million infield redevelopment this year will include approximately 300 new spots close to the famous Alabama Gang Superstretch and start-finish line, complete with power and water hookups and mobile showers. They're also improving roadways, tunnels, and parking to accommodate all the additional cars and RVs coming through to use those new campsites.
If the hustle and bustle of one of the most iconic NASCAR home tracks sounds a little intense, or if you hope to also savor the beautiful 'Bama countryside, head to Cheaha State Park. The campsites offer plenty of privacy, as well as stone fire rings, picnic tables and nice restrooms by a large covered pavilion with its own large stone fireplaces. There are hiking trails as well as mountain bike routes if you want to build up a little speed of your own.
"The views along the Pinhoti are amazing and the waterfalls were quiet and relaxing. In the early morning hours, deer would wander thru the campsites and I saw tons of interesting wildlife while out on the trails." —The Dyrt camper Johnnie J.
2. Adams County Speedway in Corning, Iowa
The Adams County Speedway has a long 131-year history that predates many NASCAR home tracks—and even the founding of NASCAR—by 60 years. Originally called the Adams County Fairgrounds, the track was built in 1888 for horse races. It was converted for race cars in the 1950s, and officially joined the NASCAR fold in the 1980s, almost a hundred years after it joined the Corning, Iowa landscape.
Camp just a few minutes away at Lake Icaria, a lovely reservoir fed by Walters Creek. In July the fireworks show over the lake is spectacular, and for the rest of the warmer months the lake is full of boaters zipping to and fro. This county campground offers full hookups and well-tended restrooms, too.
"It is not far off the main road and has a nice marina and boat ramp. There are a few hiking trails and some real nice picnic areas with nice views of the lake. The campground is clean with very nice spots for your camper or tent." —The Dyrt camper Matt. S 
3. Homestead-Miami Speedway near Miami, Florida
One of the prettiest NASCAR home tracks in the U.S., the pastel Homestead-Miami Speedway fits right into the surrounding art-deco neighborhood. The oval track has been renovated several times to adjust the curves and angles to make for safer, more exciting runs, while the road track remains popular with drives and fans alike.
Similar to Talladega and other prime NASCAR home tracks, Homestead-Miami Speedway features RV and tent camping on premises. The cost of sites varies from $100 to $1500 dollars, depending on the type of site and the length of your stay. All sites come with nice amenities like sewage pumps, showers, a dog park, and potable water service. Keep in mind, however that infield camping is sometimes available only for certain major race weekends.
A more affordable and readily available option is the aptly-named Southern Comfort RV Resort. It's often full of snowbirds in the wintertime, but during NASCAR season, you should have plenty of the 150 sites to choose from. You'll also be just a hop, skip, and a jump from Biscayne National Park, where you can enjoy fishing, snorkeling, kayaking, and even lobstering!
"This park is located right off Route 1 in Florida City. For the area this is a large park. There is a bar/Tiki Hut on premise and a big swimming pool open year round. This is a pet friendly park but with a breed and size restriction, so call ahead if you have Fido with you." —The Dyrt camper Thom T. 
4. Alaska Raceway Park in Palmer, Alaska
It might be one of the most remote and chilly NASCAR home tracks compared to those clustered together in the southeast. But the Alaska Raceway Park is one of the best places for NASCAR fans to go if they're also hoping to take in some natural wonders before and after the big race. That's because this NASCAR home track is in the same neck of the woods as the famous Knik Glacier, not to mention Bashful Peak, the highest peak in Chugach State Park.
Town and Country RV Park is just 20 minutes from Alaska Raceway across the Matanuska River. It's also convenient to the Alaska State Fairgrounds, where the funnel cake-laden festivities take place each year in the late summer. And with Anchorage less than 50 miles away, you'll have all the convenience of the big city if or when you need it— like when you need the best backpack cooler full of queso, salsa, jalapeño poppers, and, of course, some fresh brewskies.
"If you have a camper or RV, Town and Country is a great place to crash for the night or weekend. It's conveniently located just off the highway and is a great launch spot for amazing Alaska road tripping adventures or to rest your head on the way to your next adventure." —The Dyrt camper Kristina G.
5. All American Speedway in Roseville, CA
The All American Speedway had been down on its luck following the 2015 decision by Placer County and the Placer County Fair Association to find a new, private operator for the park. Local drivers had voted to end a partnership with NASCAR, the track was losing money on races, and the future was uncertain. Three years later, however, All American Speedway was raring to go once more.
Race car driver Bill McAnally, who started his career on this Roseville track, has taken over operations at All American Speedway and restored it as one of the flashiest NASCAR home tracks in the state. In addition to NASCAR races, there are also monster truck rallies at All American, as well as fun, destructive trailer races. The later involves cars of all sorts trying to speed around the track as fast as possible while also trying to knock their competitors' trailers clean off their hitches.
Camp close to the newly renewed action at Folsom Lake State Recreation Area. There are discounts for disabled campers , coin operated showers, and private sites, as well as beaches and lake access. Also in the area are Sacramento, California, as well as Eldorado National Forest and Tahoe National Forest in the opposite direction.
"Lots of tent and RV sites. Lots of trails and fishing, although wouldn't fish at Beals Point since it's more of a beach. For fishing, either drive further east towards the north fork or get in a boat towards either the north fork or south fork near Salmon Falls Bridge. Have fun." —The Dyrt camper Tony G. 
6. Road America in Plymouth, Wisconsin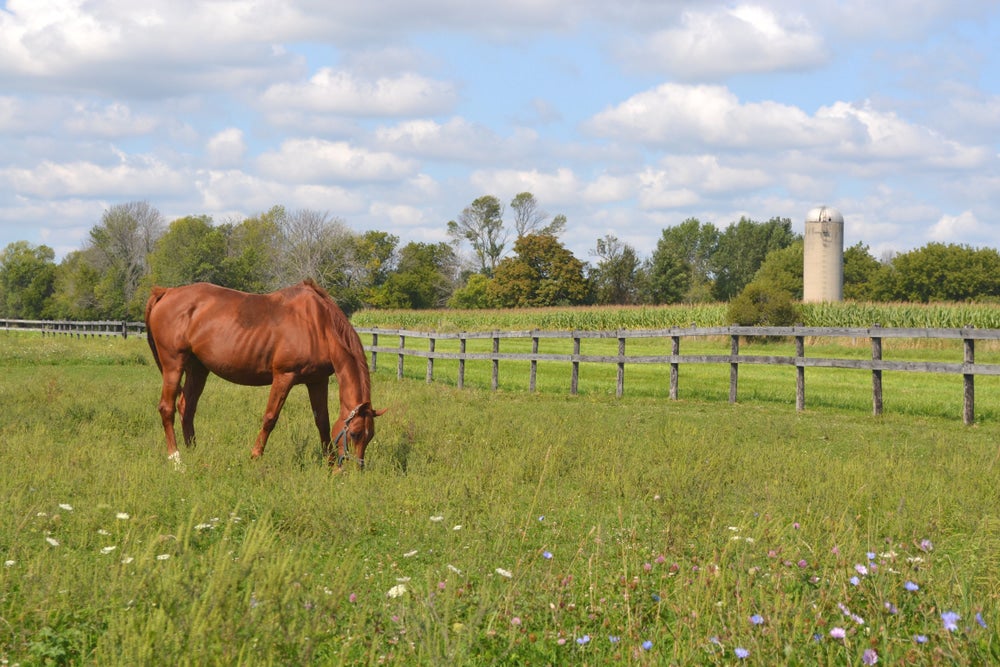 Smack in the midst of Wisconsin's gorgeous, glacial Kettle Moraine Forest is a classic 4.048 miles of track that has never changed configuration since it was first paved in 1955. This is one of a number of NASCAR home tracks to be registered on the National Register of Historic Places, earning that title in 2006.
Plymouth Rock Camping Resort is just about as close as you can get to the action at a track without designated infield camping. It also has lots of fun amenities you won't find at in-field campgrounds, which tend to pack in the rigs and leave the entertainment to the drivers.
"There's plenty to do with 3 pools, mini golf, outdoor movies. The weekend we were there they had a band. The race track is very close by and the noise from the cars can be pretty loud but not a deal breaker." —The Dyrt camper Lauren P.
7. Daytona International Speedway in Dayton Beach, Florida
Snowbirds from coast to coast know that Florida is a wonderful place to be in February, and that means the Daytona 500 couldn't be better timed. Whether you're a casual NASCAR fan or live for Speed Weeks, Daytona is one of those can't-miss races— the Super Bowl or World Series of NASCAR. The tailgating between rounds is definitely off the chain.
If the thought of camping on the infield at one of the most famous NASCAR home tracks isn't enough to get you excited, wait till you see the waterfront campsites along Lake Lloyd and the famous Superstretch. Of course, those spots and any of the others with a track view go for a premium of hundreds of dollars per site. But the infield also has tent spots for $30-$60 a night.
If that's not your speed, or if you make your reservation too late for a particular race, check out the nearby Spruce Creek Park and Campground along the Ponce Inlet. It's less than twenty minutes from the Speedway, and you can explore via a 536-foot boardwalk, three miles of nature trails, and a 15-foot observation tower. There's a canoe launch, too, if you want to get your paddle on.
"Rustic camping, playground & public bathrooms. Beautiful Florida scenery sunset from the docks overlooking Rose Bay." —The Dyrt Camper Julie R.
8. Charlotte Motor Speedway in Charlotte, North Carolina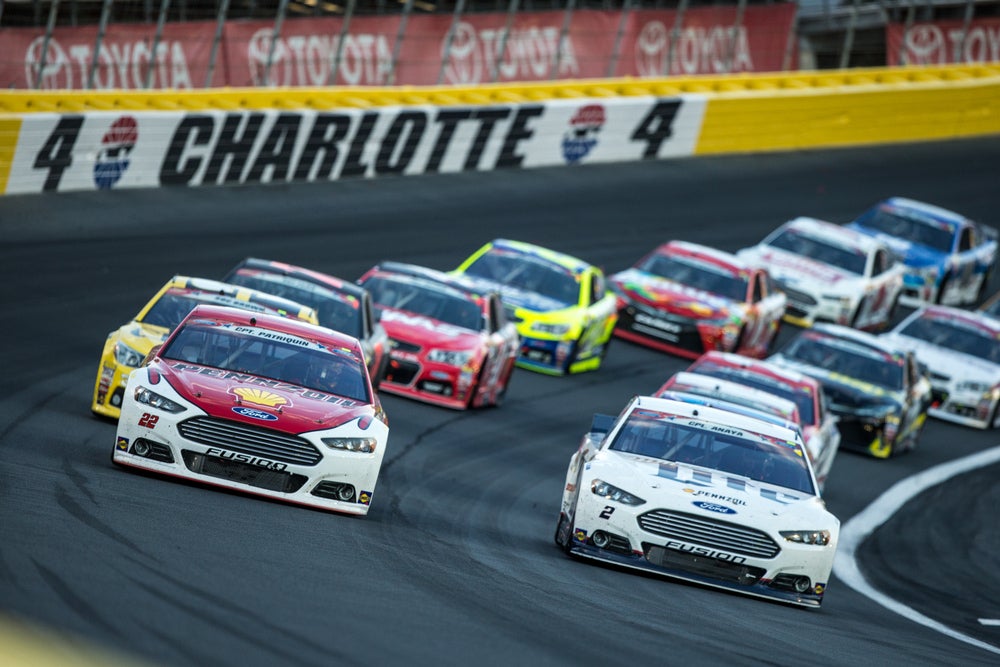 Charlotte NASCAR fans know how thrilling it is to spend as much time as possible close to the track. While there are plenty of tracks with camping nearby, or special infield accommodations, Charlotte was the first track, field, or stadium to offer condos with views of the track.
If you're more into being part of the crowd than watching the race from your living room, Charlotte is one of the few NASCAR home tracks that has serious camping on-site. The Camping World Racing Resort is on-site, and unlike campgrounds at other tracks, you can rent out the sites year round. That's in addition to the Speedway's infield camping space and three other campgrounds on the campus, including one that's designated as family-friendly.
Another option is to head to Glenwood Acres RV Park. At less than half a mile from the Speedway, the distinction between on and off campus is slight, even if you're eager to get to the race early. That's thanks to Bill Little, uncle to the current owner, who established Glenwood Acres specifically for race fans in the 1980s. There are a variety of different site types, from full hookups to concrete pads to grassy spaces and full-pull throughs, making this a breeze no matter what kind of rig you're driving.
9. Beech Ridge in Scarborough, Maine
For seventy seasons now, cars have been circling the track at Beech Ridge Motor Speedway, one of the most northern NASCAR home tracks on this list. While camping is allowed on race weekends at Beech Ridge, campers are limited to very specific timeframes around particular events. If you want to linger in the area before or after a race, you'll probably want to set up camp at other sites near Scarborough, of which you'll have several to pick.
Within ten minutes of the track you'll find Bayley's Campground and Wassamki Springs Campground. There are even more within a twenty-minute radius.
One of our favorites, though, is the Wild Duck Adult Campground & RV Park. There are 70 tent and RV sites set right off one of Maine's lovely saltwater marshes. If you aren't making a family road trip to Beech Ridge, this campground offers plenty of nice amenities like a camp store and on-site management, as well as opportunities to see a wide range of Maine wildlife.
"This is a beautiful campground that caters to adults only. It feels very secluded but it's close to everything. The tent sites are pretty close to each other but we had no issues with noise. Bathhouse and bathrooms were very clean. I would definitely stay here again!" —The Dyrt camper Kelli T.
10. Bowman Gray Stadium in Winston-Salem, NC
A rare football stadium/ racetrack combo, you can bet your bottom dollar that the tailgating at Bowman Gray is going to be good. So crack open a Cheerwine—nectar of the Tar Heels—and grab your bottle of Texas Pete, which despite the name, is another Winston-Salem invention. This place is steeped in local pride and tradition. In fact, Bowman Gray is still run by the descendants of its founders, Bill France Sr. and Alvin Hawkins.
There's no camping available infield at Bowman Gray, however, so you'll want to take your race weekend festivities to a nearby venue like Oak Hollow Campground. It's convenient to the stadium, but's also right on Oak Hollow Lake so you can cool off with some boating or swimming. The roomy spots can suit rigs of all sizes, and there are nice areas to congregate if you're meeting up with friends.
11. Bristol Motor Speedway in Bristol, TN
In the heart of the old ridge runner country where moonshine was made in mountain stills and snuck into hollers throughout Prohibition, Bristol is where stock car racing was born. It's no wonder, then, that there's always something happening at Bristol Motor Speedway, from ice skating in the winter to the thunderous laps on the track that made this place famous. Bristol is one of the loudest NASCAR home tracks out there, and the steep banks make for exciting turns despite the relatively short course.
This local speedway has made the Tri-Cities area of east Tennessee a serious destination year after year.
Bristol Motor Speedway boasts five campgrounds located on the track property, including a family-friendly space. The prices range from $75 for race weekend tent sites to hundreds for the better-appointed RV sites. There's also a lot of off-site camping, too— you are right on the doorstep to Cherokee National Forest where you'll find free, dispersed camping. Nearby Bristol Raceway Camping caters especially to NASCAR fans, with free shuttles to the Speedway, ice and firewood for sale, and no prohibition against alcohol.
12. Cedar Lake Speedway in New Richmond, WI
Cedar Lake Speedway is unusual in that it combines both an outdoor track and an indoor arena, turning this location into one of the most popular NASCAR home tracks in the region. There's a heated bike storage area if you pedal to an indoor event, and at the outdoor track, camping is free on regular race nights. For certain events like the Masters, World Of Outlaw Sprint Cars, USA Nationals, and Legendary 100, you must reserve a campsite, however, for varying fees.
The campsites at Cedar Lake Speedway are a little barebones with no water, sewer, or electric hookups— just potable spigots and a dump site. If you'd like a less spartan setup, head to Hatfield City Park, where sites are just $25 a night or $680 a month. While the amenities are still pretty basic, you'll have access to the 840-acre Lake Arbutus.
"I have been going to this campground my entire life. Pretty remote from any major cities is one thing that i love about it. That and the hot days cooled off by the water and the occasional ice cream. Very friendly people and most of the time a uncrowded lake to have fun with the whole family." —The Dyrt camper David S.
13. Colorado National Speedway in Dacono, CO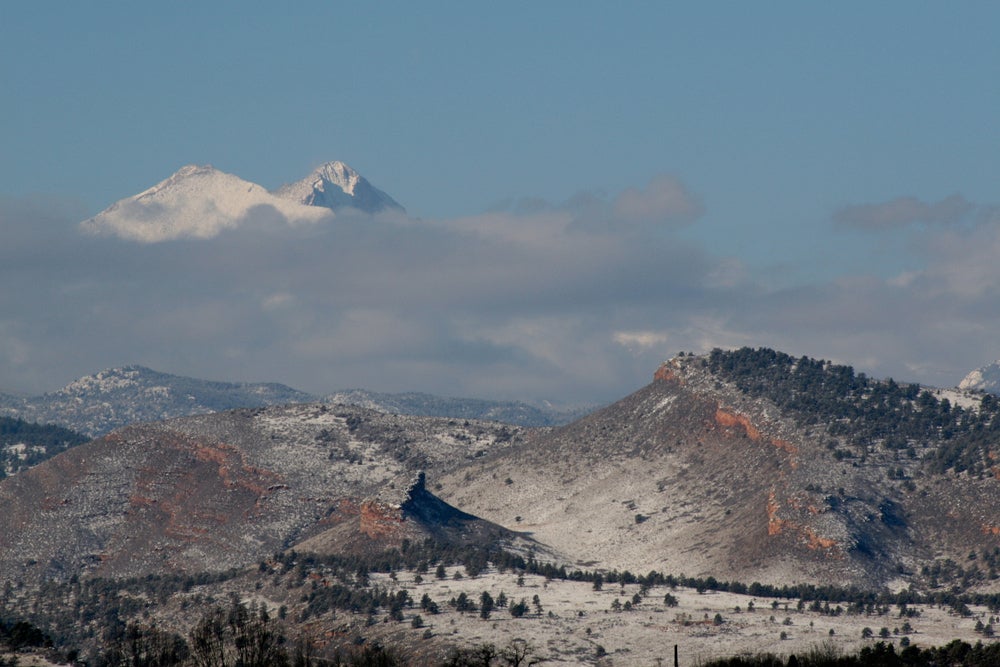 The countdown is on to April 6th, when the 2019 race season will kickoff at Colorado National Speedway. While not every year can be as monumental as the 1995 season when Butch Miller edged out Mike Skinner by just .001 fraction of a second, there is sure to be a lot of excitement ahead at one of the shortest and fastest NASCAR home tracks.
Before and after, there's even more to explore along Colorado's famous Front Range of the Rockies and in Boulder just thirty minutes away. The nearby town of Lyons, Colorado often has folk music festivals and a fun hippie vibe, with a whole neighborhood of tiny houses, quirky cafes, and lots of hiking trails near Longs Peak. Another quick drive away, however, you can cozy up at Standley Lake— a hidden gem in the broader Denver metro area.
Birdwatchers, paddlers, and stargazers will find lots of do at Standley Lake. The campground is home to an eagle nest cam and also rents out canoes, kayaks, and paddleboards to help you explore away from the shore. While the campground itself is fairly small, you should have no trouble pulling in your RV— though pop-up campers looking for level ground might have a harder time getting situated.
"Views of Longs Peak and the Indian Peaks can be seen to the West. I paddle with my friend and large smiles in the calm waters, heading toward Bird Island- you can hear the ruckus of Cormorants, Grebes, Heron, and others birds all marking their space." —The Dyrt camper Nancy B. 
14. ISM Raceway in Phoenix, Arizona
Formerly known as the Phoenix Raceway, the ISM just underwent a whopping $178 million renovation. The upgrade was debuted at the end of 2018, with new features that let fans get closer to the track, improved concessions, solar fans, and new grandstands. Those new amenities took the place of the infield camping space at the track, meaning fans will now need to find a new place to park their RVs and rally.
Fortunately, Estrella Mountain Regional Park is just down the street. It's also adjacent to a rodeo arena and a golf course, so you can easily get a taste of everything Phoenix has to offer. Like craft beers from Saddle Mountain Brewing Company, many of which are named for classic "taildragger" aircraft. Take a growler to go in IceMule's best backpack cooler before tackling Estrella's ample hiking and biking trails. The North Maricopa Mountains are also just a short drive away, as is Woolsey Peak.
"Have loved this park since first visit over 25 years ago and today it is super improved, family friendly and just beautiful. Public golf course next door, horsemanship activities abound, huge amphitheater for outdoor evening activities, and the absolute best "super playground" I have EVER seen." —The Dyrt camper Staci R.
15. Coos Bay Speedway in Coos Bay, OR
After 12 years under management by Chuck Prather, Coos Bay was turned over to third-generation promoter Drake Nelson. Since then, this pretty little speedway on the idyllic Oregon coast has stayed the course as one of the most stunning NASCAR home tracks in the U.S.
There's no camping at Coos Bay Speedway, but there's lots of Oregon coast RV camping to be had close by.
Sunset Bay has all the amenities that campers have come to love about Oregon State Parks and more, including yurts, sand volleyball pits, hiking , tidepools, botanical gardens and ample kayaking. If you're planning on taking in the NASCAR races with the kids, you'll be pleased to know that Sunset Bay is one of many family-friendly campgrounds in the Pacific Northwest.
"This place is awesome!!! The park employee that checked us in was the nicest that I have ever met and she was very helpful too. The bathrooms are flush toilets which were nice and clean. The majority of the sites had some greenery or shrubs to add a little privacy to each spot which is nice." —The Dyrt camper Kyrie G.
16. Dominion Raceway in Woodford, VA
Racing is taken very seriously in Woodford, Virginia, where Dominion Raceway is home to oval track racing, a 2-mile road course, and a 1/8-mile drag strip. It was here that the Late Model Stock Car division was born and where some of the greatest NASCAR racers of all time proved their mettle—making this one of the most historic NASCAR home tracks on this list. Between the bigger racing events, Dominion also hosts drive-in movies, live music, car shows, events, festivals, and more.
Camping isn't available on-site, so you'll want to look to campgrounds nearby for somewhere to park your RV. R & D Family Campground is just 30 minutes from Dominion Raceway, and an hour north of the the Richmond Raceway. That's great news for anyone riding from race to race on a big, fun NASCAR road trip.
R&D offers daily, weekly, and monthly rates for not only RV sites, but also tent sites, and cabins. You can rent a full-hookup spot or even your own trailer. Nearby is the birthplace of famous race horse Secretariat, as well as founding father George Washington. There are also several vineyards in the area if you like camping near wineries, as well as golf courses, hiking trails, beaches, and the Fredericksburg and Spotsylvania National Military Park.
17. Las Vegas Motor Speedway in Las Vegas, NV
Las Vegas has always been a kaleidoscope of entertainment and unforgettable experiences, and its Speedway is no different. The Las Vegas Motor Speedway is home to multiple tracks added over the decades, including the main drag with its progressively banked track that makes for exciting side-by-side rivalries. Las Vegas Motor Speedway also hosts non-racing events like the Electric Daisy Carnival rave/music festival.
In addition to special fan zones like the Neon Garage where attendees can get close to all the exciting pitstop action, there is a multitude of camping options here—unlike many NASCAR home tracks. Fans can choose from a wide range of price points and amenities when staying on site. That said, there's a lot of great camping outside the Speedway, too. Las Vegas has a very good handle on how to keep RV enthusiasts comfortable year-round, and camping near Las Vegas can get you outside into the rugged and stunning desert
The Hitchin' Post RV Park is a convenient campground within the city limits, with niceties like a pool, fitness facility, driving range, dog run and washing station, 24-hour on-site restaurant, gated security, cable and internet hookups, and gated security.
"The campground was a pull through site making parking easier. The RV park was very well maintained and had the cleanest bathroom / shower I have ever experienced. There pool was immaculately cared for and a fantastic way to cool down." —The Dyrt camper Libby M.
18. Evergreen Speedway in Monroe, Washington
It was 1954 when a man named Jimmie Collier asked to take a spin around the old Monroe, Washington horse track in his Model T Ford. Horse races hadn't been popular in the area for years, and he was itching to race his car and create a space for other amateur racers to do the same. Just a decade later, what is now known as the Evergreen Speedway was paved and converted permanently to auto racing.
Today, Evergreen is home to all kinds of automotive events, including the races that cement its status as one of the region's favorite NASCAR home tracks. It's one of the largest, most-beloved tracks in the Pacific Northwest— a region that often doesn't get enough credit for its fierce NASCAR fandom. And thanks to its proximity to the Evergreen State fairgrounds, there's ample places for RVs and tent campers alike to settle in on race weekends.
There are no campfire pits or picnic tables at Evergreen, and you do need to abide by County Park policies– including restrictions on alcohol, pets, and drones. If you'd like a little more elbow room and a waterfront view, while sticking to the county's rules, head to Flowing Lake County Park, where you can not only RV and tent camp bus also rent cabins, enjoy the boat launches and swimming beach, and make use of the picnic amenities. It's been a Cotopaxi Questival location in the past, so you know it's good for groups.
19. Dover International Speedway in Dover, Delaware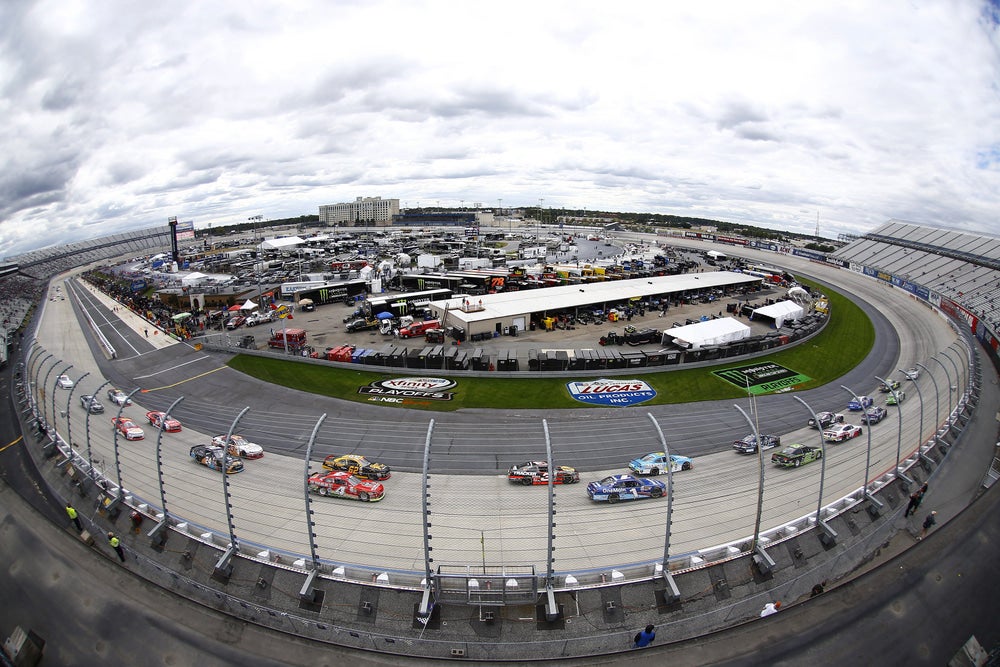 "The Monster Mile," built in 1969, earns its distinction one of the few NASCAR home tracks with at least two NASCAR races a year, in addition to numerous other events. The Dover International Speedway also lives up to its nickname as one of the largest venues for any sport in the mid-Atlantic region. There's also the matter of the Dover mascot, Miles the Monster. Long before Gritty won the hearts of Philadelphia Flyers fans 80 miles north, Miles was swinging a helpless red sports car over the entrance to the Dover Speedway.
Once you've snapped a photo with Miles, you can head into the park for the race or to get your campsite set up. There are several campgrounds at Dover, ranging from $100 a site to $1,900 for the most premium locations. You can find cheaper camping with more nature at Killens State Park, where you can enjoy free hot showers, ranger-lead events, a water park, volley ball field, playgrounds, amphitheater, nature center, nature trails, and boat rentals.
"It is a huge park, with secluded spots available for tent camping, cabins, and regular open spaces for camping rvs with electric hook up. Staff was friendly, campgrounds were well kept. It can get a little crowded but it's worth it to stay. If you don't like crowds, I suggest coming during the weekdays!" —The Dyrt camper Fransheska A.
20. Indianapolis Motor Speedway in Indianapolis, Indiana
Even if you've never been to any of the NASCAR home tracks, chances are you've heard of the Indie 500. The Indianapolis Motor Speedway has been the heart of auto racing since it was built in 1909. Despite the early construction date, this is no converted horse track. Instead, it was built with cars in mind, and is one of the first tracks in the country to go by the newly-coined term "speedway." The Indianapolis Motor Speedway is on the National Register of Historic Places and was designated a National Historic Landmark— the only track in the country to have such a distinction.
If you can snag a spot before they sell out, there's lots of camping at the Speedway itself, with choices between pavement, grass, gravel, and dirt sites. However, sites do go fast and can cost a pretty penny. If you miss the boat…er, RV… never fear. The Raceview Family Campground is ready to handle the overflow with a variety of RV and tent sites, firewood and ice for sale. If you want to host a tailgate, you are welcome to as long as your visitors have departed by evening quiet hours.
21. Berlin Raceway in Marne, MI
It's not surprising that Michigan, with all of its auto-industry history, would have some fantastic NASCAR home tracks. One such is the Berlin Raceway, though its history actually predates the rise of car culture. Like some of the other tracks on this list, Berlin Raceway started out as a venue for horse races.
Camping is available on the infield for just $25 per night every race weekend, and your spot includes electricity, permanent restrooms with showers and overnight security. You can't have open flames though, so if you're craving a proper campfire as part of your race festivities, you might want to go a little further afield.
Allendale West Grand Rapids KOA is a great option right off the Bass River Recreation Area. It's just about equidistant between Berlin Raceway and the shores of Lake Michigan. You can easily pop out for the day to go hiking and beaching at Kirk Park (which is #DyrtDog https://thedyrt.com/dogs friendly) or stay close and enjoy the amenities at West Grand Rapids KOA.
"Loved this campground! Perfect place to camp and hangout. So many activities for EVERYONE. They even have doggy playpens for the pups where you can let them roam off-leash. the bathrooms and showers were super clean and someone was always in there keeping them that way. Very easy drive to the lighthouse, too!" —The Dyrt camper Maggie C. 
---
This article was brought to you by IceMule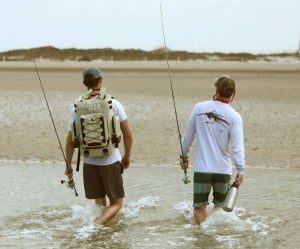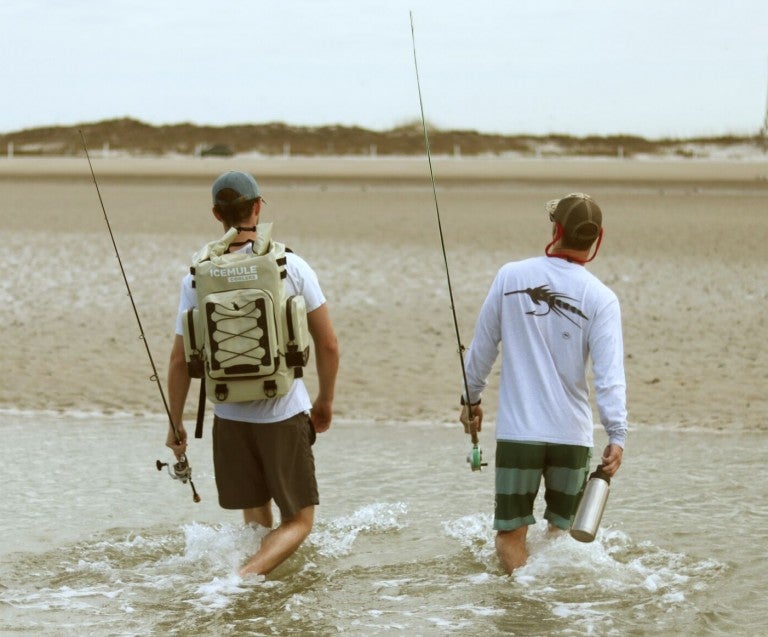 IceMule's best backpack cooler will keep your next NASCAR camping trip frosty!
---
Related Campgrounds:
Popular Articles: