Looking for an ambitious trail in Alabama? The Pinhoti Trail almost became part of the Appalachian Trail, back when the AT was just coming to life. And some people are still pushing for its inclusion. But for now the Pinhoti Trail, which follows the southernmost Appalachians for 339 miles, offers an alternative stomping ground for those looking for big hikes or weekend camping in Alabama.
The Pinhoti Trail starts in Cheaha State Park in Alabama, heads east into Georgia, and eventually connects with the Appalachian Trail's southern terminus on Springer Mountain. It's a challenging length that will test your backcountry skills if you're thru-hiking from end to end; many hikers use the Pinhoti Trail as a training ground for much larger hikes like the Appalachian or Pacific Crest Trails. But the Pinhoti Trail is a treat and a feat in itself, offering both secluded wilderness and easy access to civilization, should anything go awry.
The 171 miles of the Pinhoti Trail that run through Alabama are filled with long and short needle pine, sourwood, red and white oak and sassafras trees, along with sumac, hydrangeas and blueberry shrubs, among other lush and fragrant foliage. Hikers enjoy rocky outcrops with views of the surrounding peaks, and tunnels of thick shrubbery, deep within the forest.
3 Tips for Finding Adventure on the Pinhoti Trail in Alabama
Though the rugged terrain of the Pinhoti Trail is good training ground for big thru-hikes, there's also plenty of family-friendly hiking and camping available for those who are simply looking for a fun-filled weekend.
Regardless of your motivation for getting out there, here are some things you should know before embarking on your Pinhoti Trail adventure:
1. Plan, Plan, and Plan Again
First and foremost, timing is everything when planning your trip to the Pinhoti Trail. If you want to see some amazing foliage colors and enjoy mild temperatures, plan your trip for the fall or spring. Summers can be terribly hot, and because of these high temperatures, water can often be nonexistent as streams and other water sources dry up from July through September.
In wetter months, be mindful that after heavy rain storms, creeks and streams can become difficult to cross due to high water levels. Also, there's a lot of poison ivy around, especially in wet and cool areas. And though winter hiking and camping can be absolutely gorgeous on the Pinhoti Trail, the shoulder seasons with more moderate temperatures are the safest times to go.
2. Bring Your Own Water
You should bring your own water. The Dyrt camper Asher K. writes "most of the year there is no place to get water so be prepared to carry in what you will need."
Even if you're planning your trip in the spring or fall, it's better to be safe and bring plenty of water with you.
3. Lean on The Pinhoti Trail Alliance For Help
The Pinhoti Trail Alliance website is a must for anyone visiting the Pinhoti Trail. Whether you're embarking on a two-week backpacking adventure or just camping for a night, this site offers up-to-date trail guides and trail access info to all hikers and campers who want to experience the Alabama section of the Pinhoti Trail.
The online resource will inform you of the kinds of seasonal flowers and plants you'll find on the trail, where to find water sources, and maps and current weather. This site is lovingly curated by folks who are passionate about the Pinhoti Trail—and you'll likely join them in that sentiment you give a day hike or camping a go.
---
Where to Rest Along the Pinhoti Trail
As the Pinhoti Trail winds 171 miles through Alabama, there are a variety of options when it comes to campgrounds and shelters. The best campground options will vary depending on what kind of trip you're planning. We turned to The Dyrt campers who have been up and down the Pinhoti Trail for insight on their favorite places to camp along the way.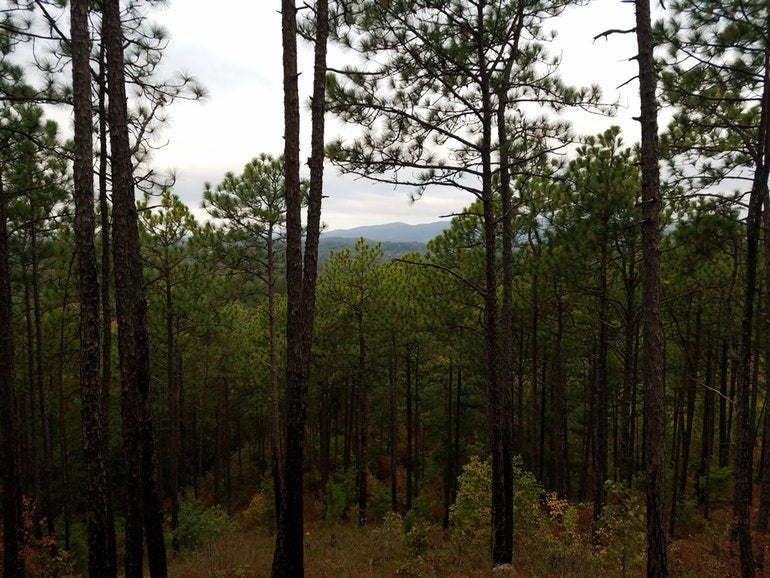 Follow the Cave Creek Trail until you reach the Pinhoti connector, and hang a right to take the Pinhoti Trail northbound. Look for a sign that points to McDill Overlook and follow a side trail for the last quarter mile. You'll pass by the wreckage of a small plane that is believed to have crashed there in 1972.
Keep going and you'll eventually find Pinhoti Trail Backcountry Campground that comfortably fits three or four tents. You'll be close enough to the cliffs to enjoy a great view but also protected from the wind.
"Not very rocky or mountainous. Parking available near the railroad tracks. Backcountry camping sites and fire pits available along the trail and not commonly traversed." —The Dyrt camper Nicolas B.
Camp Here
This is one of the most popular camping spots on the Pinhoti Trail. It's about a two-mile trip if you park at the Cheaha trailhead just off Highway 281.
This site can be a little difficult to find but once again, if you see the crashed plane site, you'll know you're going in the right direction. This area is pretty flat and has several fire pits you can use. It's also a great site for camping with a group.
"This is the nicest of all the campsites at Cheaha by far! While it definitely is a bit of a trek to get to, I promise you it is worth it! The views from this campsite are truly incredible, especially if you are lucky enough to have a clear sky for sunrise/sunset. This site is a must see if you're ever camping in Alabama!" —The Dyrt camper Ethan K.
Camp Here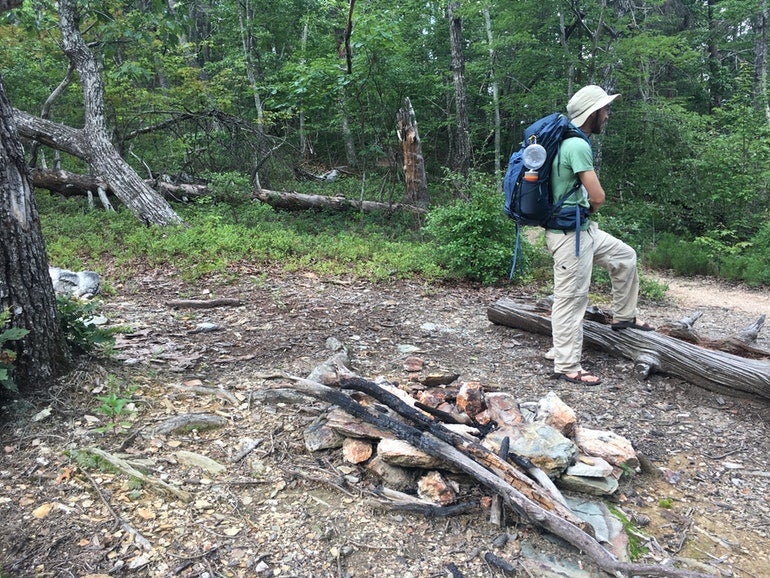 This is an easy site to reach if you're hiking in Cheaha State Park, which houses a portion of the Pinhoti Trail. This primitive campground is located very close to the parking lot.
"The biggest downside to this site is that it is small and only large enough for one group. The other downside is that if you are willing to hike a bit more, there are camping options that are closer to the main lookout point. However, I truly feel that any site in the area is great for camping because of the long, but not too challenging hikes and wonderful look out." —The Dyrt camper Asher K. 
Camp Here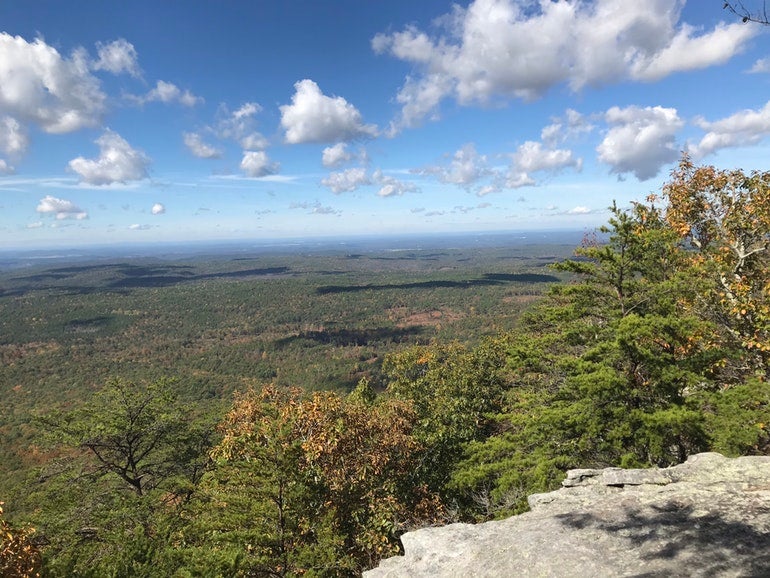 One of the highest points in Alabama, Cheaha State Park is located on top of Cheaha Mountain and is surrounded completely by the Talladega National Forest. If you're looking for more than just primitive camping, this is the place for you. Besides campgrounds, there is a lodge, chalets, cabins and even a hotel.
There's also plenty of activities such as swimming, rock climbing, gem mining and even a couple of museums. Cheaha State Park is home to the Cheaha Trailhead of the Pinhoti Trail.
"Try this site on a weekday or offseason. The lodge and restaurant are still open and very close to camp, but you can also enjoy camping with very few others around. And check out the trails." —The Dyrt camper Crystal C.
Camp Here
---
Related Articles:
---
Related Campgrounds:
Dauphin Island RV Park & Campground, Dauphin Island, AL
Lake Eufaula Campground, Eufaula, AL
Auburn RV Park at Leisure Time Campground, Auburn, AL
Wind Creek State Park, Alexander City, AL
Desoto State Park, Fort Payne, AL
Cheaha State Park, Delta, AL
Popular Articles: