Picture yourself pulling your RV into a sandy campsite (no, you're not getting bogged). Your favorite food is stocked in the cupboards and a selection of beverages fill the fridge. You set up a couple of tiki torches during dinner, and sink into your memory foam mattress at the end of the night. And don't forget about the sand castles, stand-up paddle boarding, and swimming—this is the dream of RV beach camping.
Why fly to the beach when you could go beach camping in your RV? This is the summer to forget about a pricey beach getaway and hit the beach at a perfect RV campground instead.
And if you're looking for RV beach campsites on the fly, don't forget to download The Dyrt PRO. With the upgraded version of The Dyrt app, you can access campgrounds, maps, and photos for offline use while traveling from beach to beach on your dream vacation.
Maximize Your Summer Fun by RV Beach Camping
Parking your rig in the sand can instantly transport you to a tropical paradise. And without the long security lines and stress of flying, it's more convenient and closer to nature.
RV beach camping lets you sleep in your own bed and relax in your own chairs as the waves lap the beach during golden hour. And with the amount of storage space in RVs, you can pack those extra luxuries, like zero-gravity loungers or the grandkids' beach toys.
Preparing Your Rig for the Beach
While the sand and surf can feel idyllic, dealing with the unreasonable amount of granules in your shoes, between your toes, and beneath your RV can be a hassle. Fortunately, it can be avoided.
Before bringing your RV to the beach, get a doormat to absorb and reduce the amount of sand that enters your home on wheels. It'll also help to bring a garden hose, spray nozzle, and a y-splitter for the water spigot at your campsite, so you can wash off before entering your RV. Your campground will likely have showers and hoses, but it's always better to be prepared.

Of course, bring the beach essentials: large beach towels, canopy or parasol, portable cooler for mid-day beverages, fishing rods and reels, sun hats, books, and plenty of buckets and shovels for building sandcastles.
Once you've left the beach, thoroughly wash the undercarriage of your rig to reduce the risk of sand build-up on sensitive automobile parts. This is especially important for brake pads, where the most damage can be done. So after an RV beach camping trip, treat your rig to a sudsy rinse for the most protection.
What to Look for in an RV-Friendly Beach Campsite
It should go without saying that the most important aspect of an RV beach campsite is the beach! But beyond that, what should you look for in the ultimate beach camping site?
To start, your location will need enough space for a rig your size. Thankfully, most state park campgrounds and RV parks are equipped to handle motorhomes and fifth-wheels.
Aside from length, the most important aspect for an RV beach campsite is the ability to hook up to water. With immediate access to water, you'll be able to keep your area and yourselves clean as you trek between land and sea.
7 RV Beach Camping Destinations
The best part about these beach campsites is that they're spread across America! Even if you don't live near the ocean, chances are there's a beach campsite relatively nearby. The list we've compiled is simply a taste of all that's offered for RVers.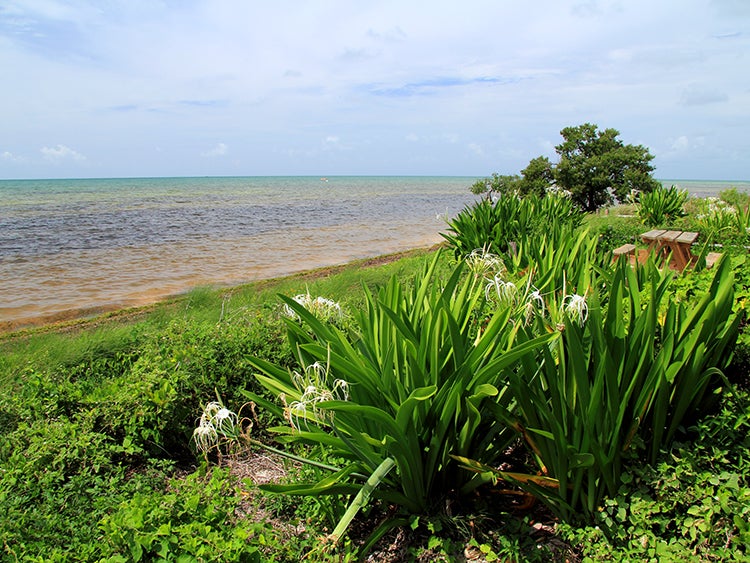 Once praised for its prestigious stretch of coastline in the middle of the Florida Keys, Long Key State Park now serves as a recreational paradise for anyone who wishes to enjoy the sand, surf, and camping. Long Key accepts RVs up to 36' in length in their full hookup, back-in sites. With such close proximity to the water, you might never want to leave! Each site has partial shade and a fire pit, so enjoy a campfire as the sun sets over the ocean.
"If you're looking for a view of the ocean this is the perfect place. The sites are literally on the beach. It's a great place to kayak or just lounge in the shallows." —The Dyrt camper Sarah T.
---
Want to explore even more RV beach camping destinations? The Dyrt has hundreds of campgrounds all over the U.S., and with The Dyrt PRO, you can download all of those campgrounds, including maps and photos, for offline use.
---
If you love beaches, fishing, and pontoon boats, Shabbona Lake State Park should fulfill your RV beach camping dreams. With two sandy beaches and a local convenience store, you won't fall short on fun—or pantry essentials. If fishing isn't your thing, there's plenty to do in the 1,500-acre park, like mountain biking, hiking, archery, picnicking, or renting a rowboat to survey the 315-acre lake.
RV sites rent for $25/night, a bargain for all that you get: shaded campsites, full hookups, fire rings, picnic tables, and warm showers. Rigs up to 40' are welcome at Shabbona Lake State Park for RV beach camping.
"[The] little convenience store makes the world's best potato salad." —The Dyrt camper Robert S.
Located along the coastline of Lake Champlain, Button Bay State Park feels more like a retreat than a camping trip. There's an on-site pool if the lake is too cold and plenty of warm showers when you do decide to take a dip. With both options, you'll stay cool and clean during your stay at Button Bay. Some sites sit right along the lakeshore for immediate access to the beach and some are equipped to handle rigs up to 34' in length.
"This is a good campground for families that are not too rowdy. There is a pool for swimming, paved roads are good for bikes & scooters, a pavilion for activities, lake for swimming & fishing and hiking trails." —The Dyrt camper Lacy C.
All 250 acres of Blue Lake in Lewis and Clark State Park are open for boating, fishing, kayaking, and practicing your backstroke. Recently updated with top-notch amenities, this park has areas for picnicking, a fish cleaning station, and a swimming pool. Trees provide partial or full shade to most campsites, so you can stay cool in the heat of summer (when you're not in the lake, that is). With 50A hookups and sites up to 65' in length, almost any rig can pull in for a week of family fun at Lewis and Clark State Park.
"They have full-service hook-ups. It has a playground for the kids. nice updated bathroom facilities with showers. They also have a beach and boat dock." —The Dyrt camper Anessa O.
Forget about booking a luxury beach home for your next vacation—Emerald Beach RV Park offers everything you want in a beach rental, with all the fun of camping. With both beachfront and grassy sites, there's a site to suit whatever you're feeling for a week (or month) on the beach.
All sites are full hookup and some can accommodate rigs up to 60'. There's even a dog run with beach access, so Fido soak up some vitamin D right there with you. Emerald Park also has its own pier for perfect, romantic sunsets and sunrises.
"Beautiful views, private beach, private pier, and friendly staff! Campsites are full hook up but are a tight squeeze with a +40ft camper. We loved our stay here either way! Beautiful beaches!" —The Dyrt Camper Noel J.
None of the sites are directly on the beach, but Salt Creek Recreation Area Campground offers beach access and several sites with ocean overlooks. Hit the beach to navigate some of the best tide pools in the PNW, or head south to find hiking trails for high-mileage enthusiasts. Sites are wide open for larger RVs and smaller rigs can park in the more secluded forest area.
"This campground offers lots of drive-in campsites with golden views, and just awesome tide pooling at Tongue Point Marine Sanctuary, along with swimming in Salt Creek. This area is perfect fun for families, and people who love to hike, kayak, surf, play games such as volleyball and basketball." —The Dyrt Camper Malina W.
While you won't find seclusion at Hunting Island State Park (which receives roughly 1 million visitors per year), you will find idyllic stretches of beach and beautiful, well-maintained campsites. All sites are packed soil and equipped with electric and water hookups. Some sites can accommodate rigs up to 40', others 28'. There's also free Wi-Fi throughout the campground for digital nomads looking for RV beach camping while working on the road.
"Hunting Island State Park campground is absolutely stunning and a tropical vacation dream! We camped for 5 nights in site 158. Most of the campsites are shaded and well maintained." —The Dyrt Camper Michele B.
---
Related Campgrounds:
Popular Articles: