Oregon's only national park gets crowded by more than 700,000 visitors annually—a strong majority of those come in the summer months. In winter, however, storm clouds coming from the Pacific Ocean dump no fewer than 43 feet of snow on average at the park's headquarters, and turning a popular summer spot into an empty winter wonderland. One of the major reasons why activity drops in Crater Lake is the fact that snowshoeing is the only way to get around in all that snow.
While in summer, you'd circumnavigate Crater Lake on the marvelous 33-mile Rim Drive in a car or on a bicycle, you'll have to do that on snowshoes or skis in the off season. This scenic road is entirely closed to vehicles in winter, as enormous amounts of snow like this are simply impossible to plow consistently by crews.
Still, many people head to Crater Lake in the depth of winter just because of this. From December through February, snowshoeing in Crater Lake National Park allows visitors to experience this remarkable, unique lake in revitalizing solitude and completely wintry serenity.
How to Snowshoe in Crater Lake National Park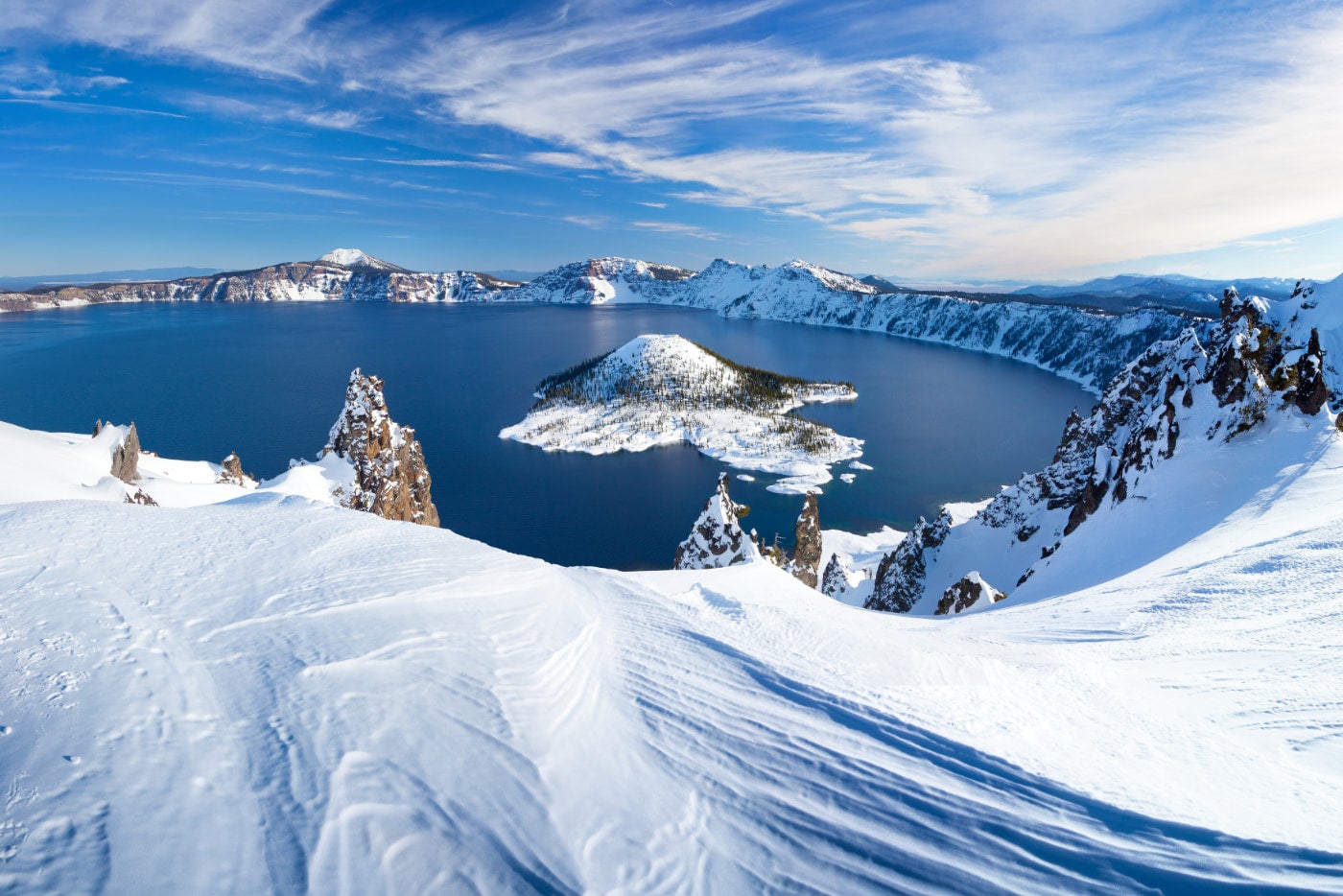 There are a variety of trails for cross-country skiing and snowshoeing in Crater Lake National Park, both marked and unmarked. Note that trails are not groomed, so skiers will most likely have to break trail, occasionally in deep, fresh snow.
First-time and inexperienced snowshoers are advised to follow these ski trails to avoid getting lost. When snowshoeing at Crater Lake, though, take care not to actually walk on and damage the ski trails.
Crater Lake snowshoeing is allowed pretty much everywhere, with a few exceptions: on Highway 62, on the road between Park Headquarters and Rim Village, and within the caldera. Before heading out on a snowshoeing trip at Crater Lake, make sure to ask about current conditions and the weather forecast at the Steel Visitor Center. They'll also be able to point out the most suitable trails for your excursion.

Take A Day Trip
Many of the best Crater Lake National Park snowshoeing trails begins at Rim Village. From there, you can access the West Rim Drive and snowshoe along it as far as you please, or as far as your legs can carry you (back). Views are epic all the way. Popular destinations for easy to moderate return snowshoe trips from Rim Village are:
Discovery Point: 1.2 miles from Rim Village
Wizard Island Overlook: 2.3 miles from Rim Village
Union Peak Overlook: 3.1 miles from Rim Village
Watchman Peak: 4 miles from Rim Village
These snowshoe day trips are suitable for casual and inexperienced snowshoers because of the generally flat terrain, low or non-existent chance of avalanches, and sensational views. They're just plain fun, really.
Stay Overnight To Cover More Ground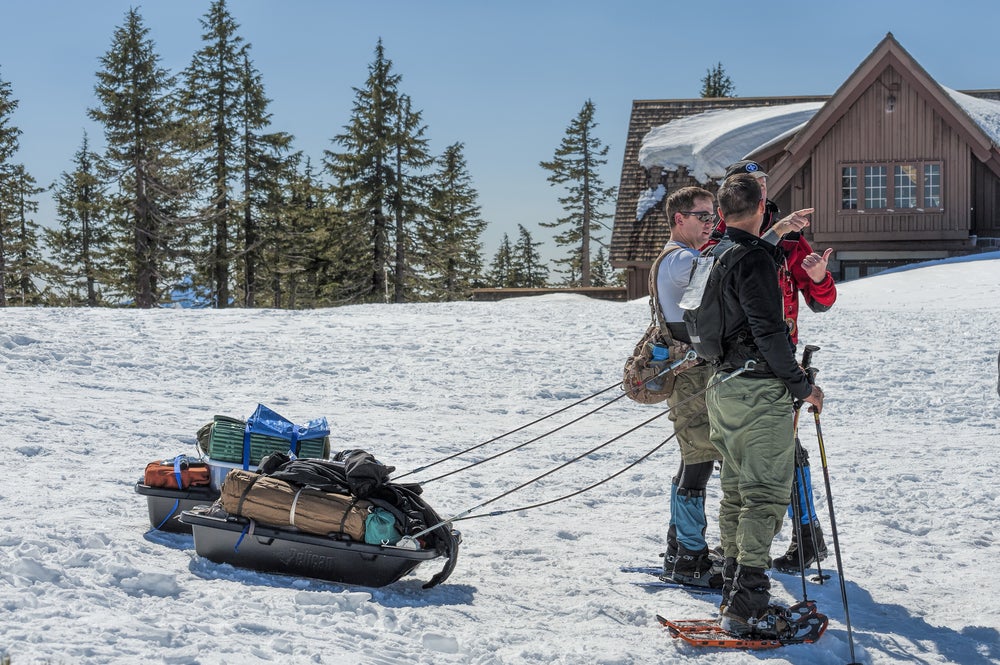 The most popular overnight snowshoeing trips in Crater Lake National Park are out-and-back journeys along the West Rim Drive. You can snowshoe to all of the above-mentioned day trip destinations on the West Rim, or beyond, spend the night and retrace your steps the same way.
If you're after a more serious challenge, there's nothing more rewarding than an entire circumnavigation of Crater Lake. Following the now-snow-covered Rim Drive, it's a 31-mile trek that takes 3 to 5 days, depending on the weather.
Every winter, about 50 snowshoers complete the circuit, a true test of one's outdoor survival skills and endurance. Note that there is no marked route, you'll cross several avalanche zones, cell service is not reliable, and there are no huts or shelters whatsoever.
It's possible to snowshoe around Crater Lake from roughly late November to early May, but the best months to do it are March and April. This time of year has longer days and clearer skies than winter.
Planning Your Crater Lake Snowshoeing Trip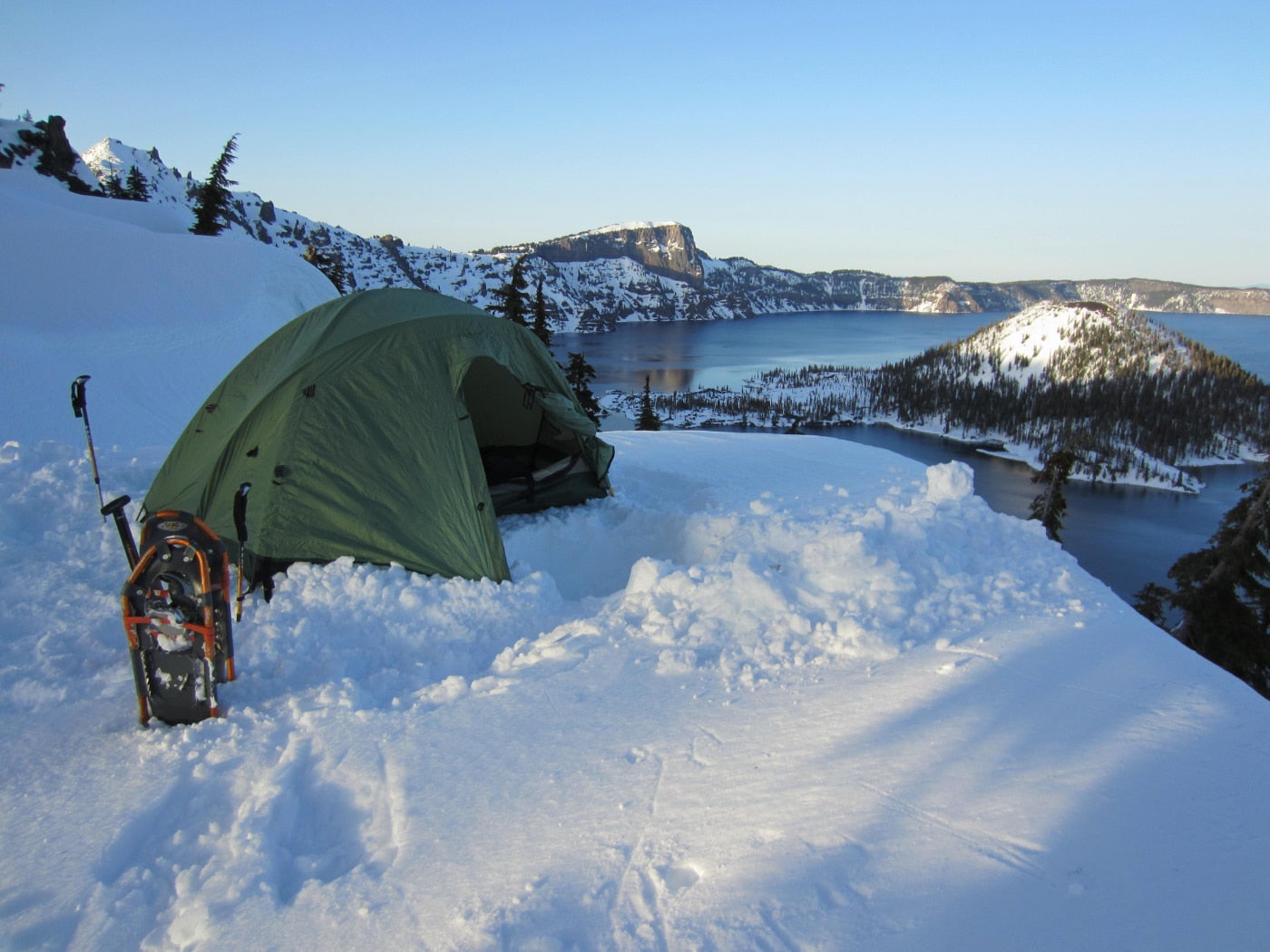 Overnight backpacking trips are allowed in the park throughout the whole year, so also including winter. Winter backcountry camping provides intrepid snowshoers with extraordinary opportunities to experience pristine natural beauty and complete solitude.
Permits are Required
In addition to paying the $15-per-car entrance fee, which is valid for 7 consecutive days, you must also get a backcountry permit if you'll be snow camping at Crater Lake. These permits are available for free at the Steel Visitor Center or any accessible Ranger Station, but you must pick one up in person. Overnight snowshoers will also receive a parking pass with their permit, which they must display in their windshield while parked at Park Headquarters.
Winter Camping Options are Serene and Snowy
Every overnight Crater Lake snowshoeing trip requires snow camping, since there is no formal accommodation available in Crater Lake National Park in winter. The Crater Lake Lodge, Mazama Campground and Lost Creek Campground are all closed for the off-season.
With an elevation of around 7,000 feet, it's critical to realize that it can get very, very cold here at night. Make sure you have good winter gear and understand survival skills for avalanches and first-aid emergencies.
Here are some regulations you need to adhere to when snow camping and snowshoeing in Crater Lake National Park.
You must camp minimum 1 mile from any plowed road.
You must camp at least 100 feet from the crater rim AND from any water source.
Vehicles must be left at the park headquarters, not at Rim Village (you can get to the rim via the 1-mile Raven Trail)
A backcountry permit is required (you'll receive a parking pass with it).
You Can Rent Snowshoes On-Site
Unless a snowstorm results in the closure of the road up to Rim Village, the Rim Village gift shop offers snowshoe rentals to keen winter-time visitors. Adult snowshoes are $16 per day, while children snowshoes cost $12.50 per day. For an extra $4 per day, you can grab a pair of poles, too.
Conveniently, these snowshoe rentals are for a 24-hour period, so you can use them for overnight trips on the West Rim Drive.
Rangers Offer Guided Snowshoe Walks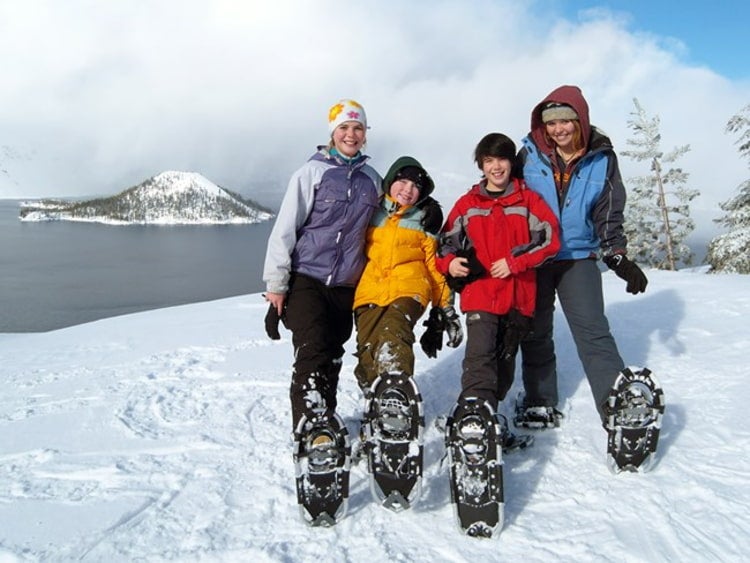 Joining a ranger-guided snowshoe walk makes for a fun, casual and informative Crater Lake snowshoeing experience. These walks take place on weekends and holidays (except on Christmas Day) from December 8 through April 28. From December 15 through January 6, there are daily guided walks on offer.
You don't need any snowshoeing experience to participate in ranger-led snowshoe walks in Crater Lake National Park. They only last about two hours and cover 1 to 2 miles on moderate terrain. You don't even need to bring your own snowshoes! Participants can grab a pair free of charge at the Rim Village Gift Shop.
Do note, however, that these walks are not suitable for children younger than 8 years old and pets aren't allowed to accompany you. As for any snowshoeing outing, you should bring winter clothing and waterproof footwear. Reservations are required.
Road Closures Are Common
Crater Lake National Park itself is open daily throughout the entire year, but some facilities, trails and roads do close seasonally because of the snow. Both the North Entrance Road and the entire Rim Drive close for the season on November 1 at the latest and aren't opened again until April when crews begin plowing the roads. Opening dates, depending on snow conditions, vary each year, and be sure to check the Crater Lake National Park website regularly for these updates on weather and closures.
Typically, the North Entrance Road and the West Rim Drive open again in early-June, while the East Rim Drive tends to stay closed for another month longer.
The only year-round accessible part of Crater Lake National Park in winter is the park headquarters. Highway 62 and the 4-mile road to the headquarters are plowed every day and always open. Even when roads are plowed and open, you should keep in mind that they can be covered with snow or black ice. Always drive carefully and definitely make sure your vehicle has proper winter tires. Keep snow chains in your car just in case you need them.
---
Related Campgrounds:
Popular Articles: