This article on Wind River Range backpacking is brought to you by Gregory, whose lightweight backpack line is made from durable, rip-stop materials on an ultra-lightweight, durable aluminum frame. It's the ideal pack for a high-altitude trek through the Wind River Range.
---
Stretching over 100 miles along the Continental Divide, the Wind River Range in Wyoming is an oft-missed treasure trove for backcountry exploration. Though its neighbor, Colorado, takes up most of the outdoor attention in the central western United States, the Wind River Range offers a fair share of notable outdoor attractions in its own right. It's got more than 40 named granite peaks that soar 13,000 feet or higher, scores of giant glaciers, 1,300 alpine lakes and hundreds of miles of incredible hiking trails.
All of which means that Wind River Range backpacking is a must-do for anyone serious about getting outside.
Four of the Best Wind River Range Backpacking Trips
Among the best ways to explore the Wind River Range is to travel one of the spectacular trails through the region. When it comes to Wind River Range backpacking routes, there are a few premier trails to choose from, each varying in length, difficulty and terrain. And, for now anyways, they're all permit-free.
1. The Classic: Titcomb Basin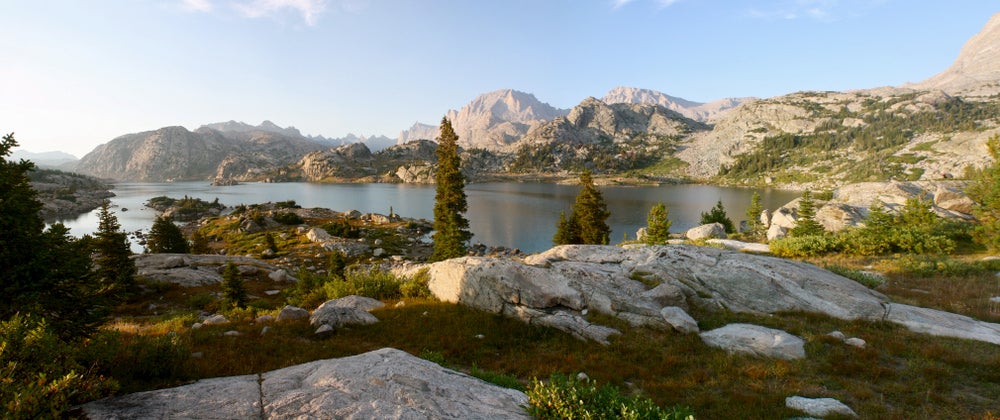 Trailhead Start: Elkhart Park
Mileage: 29-30 miles RT
Trip Type: Out-and-back
Elevation Gain: 3,100 feet over 10.5 miles (9,400 ft to 10,626 ft)
Widely considered the best trail for seeing the wide range of geography and terrain in the range, Titcomb Basin is a 30-mile round-trip trek that offers panoramic views, campsites at alpine lakes and a possible visit to the highest point in the state of Wyoming, Gannett Peak. While the trip offers a number of different arrangements depending on how long you make it, the recommended path includes starting from the Elkhart Park Trailhead, which is located just a two-hour drive from Jackson.

Once on the trail, consider spending the first night at Hobbs Lake or Seneca Lake and progressing on to Island Lake for the second. Be sure to check area regulations prior to setting out, as campfires and campsites are restricted throughout the basin to help protect the wilderness area. While the map might not indicate more than 1,000 feet in elevation gain over the first 10.5 miles, the strenuousness of the hike shouldn't be underestimated. The terrain and elevation of the Wind River Range make backpacking here a challenge, albeit a worthwhile one. The best time to visit the Titcomb Basin area is in the late summer, beginning in July and ending in late September. Backpackers should also check snowpack levels in order to determine the best time to hit the trail without encountering too much snow. For avid backcountry anglers, this route offers excellent opportunities for side trips to nearby lakes and alpine streams, where the trout are avid for summer fly hatches.
---
Prepare for your next adventure by downloading maps. The Dyrt PRO lets you download maps and campgrounds without cell service. "My alternative to using pro would be to drive back out to cell service".
---
2. The Other Classic: Cirque of the Towers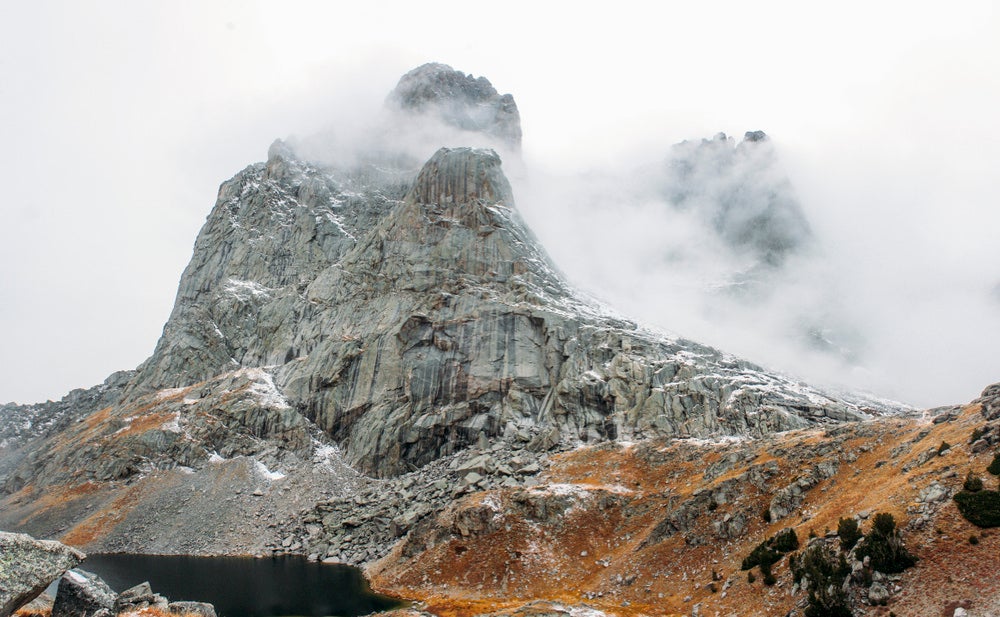 Trailhead Start: Big Sandy Trailhead
Mileage: 23-24 miles RT
Trip Type: Loop
Elevation Gain: 2,400 feet over 13 miles 9,100 ft to 11,500 ft)
Depending on your experience and relative skill level, the Cirque of the Towers is another staple when it comes to Wind River Range backpacking. While the Wind River Range receives barely half the traffic that its more popular counterparts do (think the Sierra Nevadas or the Rockies), the Cirque of the Towers loop remains one of the most popular trails in the region, both for short backpacking trips and dedicated climbers who set up base camps below the towering Cirque spires.
It's recommended for the Cirque of the Towers loop that you bring a map and compass and that you know how to use them. The connecting trail that completes the loop on the backside, near Texas Pass, is unmarked as an official trail, despite being well-trod for years, so navigating can occasionally become a bit tricky.
Camping along this trek can be found at Shadow Lake, and then in and around the Jackass Pass area later in the trip. For speedier backpackers, Big Sandy Lake is a popular camping spot just under 6 miles from the Big Sandy trailhead. Generally speaking, backpacking here is best done in the late summer or early fall, when temperatures are warmer and the better portion of the snow has melted from the high altitude terrain. As with Titcomb Basin, snowpack is often the determining factor in how early or late in the season you should aim to start your trip.
3. The Wild Card: Dad's Lake
Trailhead Start: Big Sandy Trailhead
Mileage: 12 miles RT
Trip Type: Out-and-back
Elevation Gain: 2,200 feet over 6 miles (9,100 ft to 11,300 ft)
Located on the way up to the Cirque of the Towers, Dad's Lake is a pristine alpine setting that offers even the least experienced backpackers the chance to test their trail legs. The trail begins at the Big Sandy Campground and offers a wide, well-marked walking path up to the lake.
Given its location and proximity to the Big Sandy Campground, day traffic here can be heavy; however, once you arrive at the lake, campsites abound in and around the lake area, and there's usually a place to find some solitude. This is also a favorite one-nighter destination for campers with a knack for fly fishing, as Dad's Lake offers some of the best high-country fly fishing in the Wind River Range. Dad's Lake also has the benefit of being at a slightly lower elevation than some of the classic Wind River Range backpacking trails, so seasonality can be a bit easier to handle. Try traveling this trail anytime between May and September, but remember: It's always a good idea to check the snowpack reports.
Considering taking a trip with your trail pup? Great news: Dad's Lake is a dog-friendly trail, just be sure to bring a leash along.
4. The Happy Medium: Seneca Lake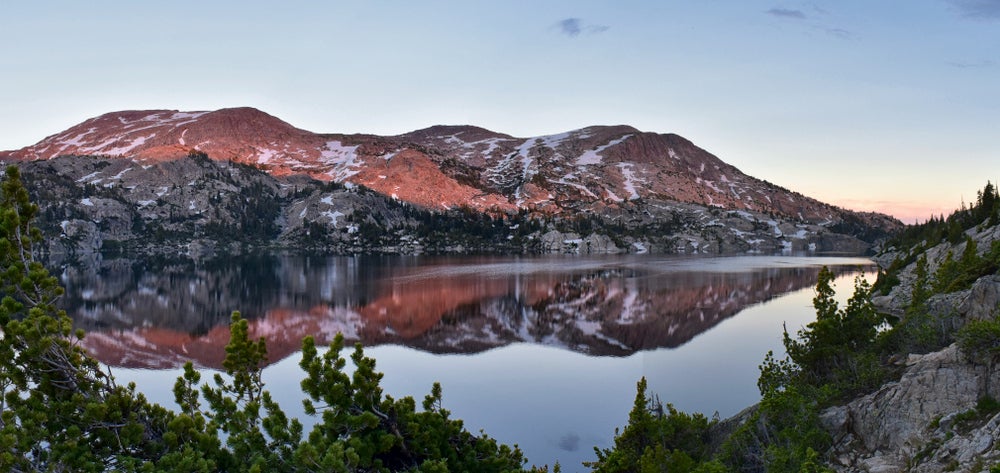 Trailhead Start: Elkhart Park
Mileage: 17 miles RT
Trip Type: Out-and-back
Elevation Gain: 2,500 feet over 8.5 miles (9,100 ft to 11,300 ft)
Interested in Wind River Range backpacking but not going the distance in the Titcomb Basin? The Seneca Lake out-and-back trip is a modified version of the Wind River classic. It offers panoramic views and excellent backcountry camping without the heavy mileage of its longer cousin. A widely-used trail, this route offers the chance to take in the Wind River Range wilderness in a way that's palatable to beginner through intermediate backpackers with a taste for adventure.
Plus, the camping at Seneca Lake is some of the best camping in the Wind River Range, not to mention its world-class alpine fly fishing, too. All in all, it's a highly accessible backpacker's dream.
Wind River Range Backpacking: What to Know
Considering taking on of the "Wind River classics?" Here's what to know before you get out on the trail:
Wildlife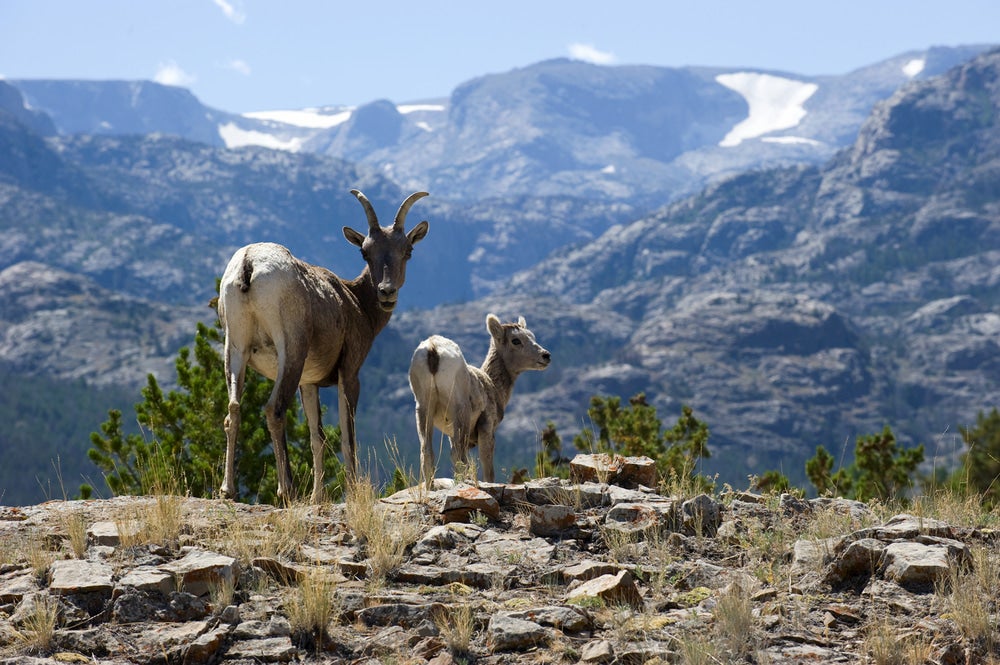 The Wind River Range is home to a variety of wildlife, including elk, deer, bighorn sheep, moose, bald eagles, wolverines and grizzly bears, making it an incredible location for viewing rarely seen animals in their natural habitat. That said, it's also extremely important to be aware of your surroundings and to follow bear bag or canister protocols at all backcountry camping destinations. Depending on where you decide to camp, there may or may not be trees large enough to create bear hangs, so bear canisters may be the most sensible option.
Altitude
Although the Wind River Range is not quite as tall on average as the Rockies, altitude is still a major consideration for backpackers and hikers alike, particularly at elevations above 9,000 feet. The majority of the Wind River Range's hikes and primary backpacking trails are at elevations of 9,000 feet or above, making them difficult and potentially dangerous for unprepared visitors. If you're planning a Wind River Range backpacking trip at altitude, consider how hard you're trying to push yourself, and make sure you know how to tell if you're dehydrated or suffering from mild altitude sickness. Overall, pack more water than you think you'll need, and take frequent breaks to prevent exhaustion and advanced altitude sickness.
Leave No Trace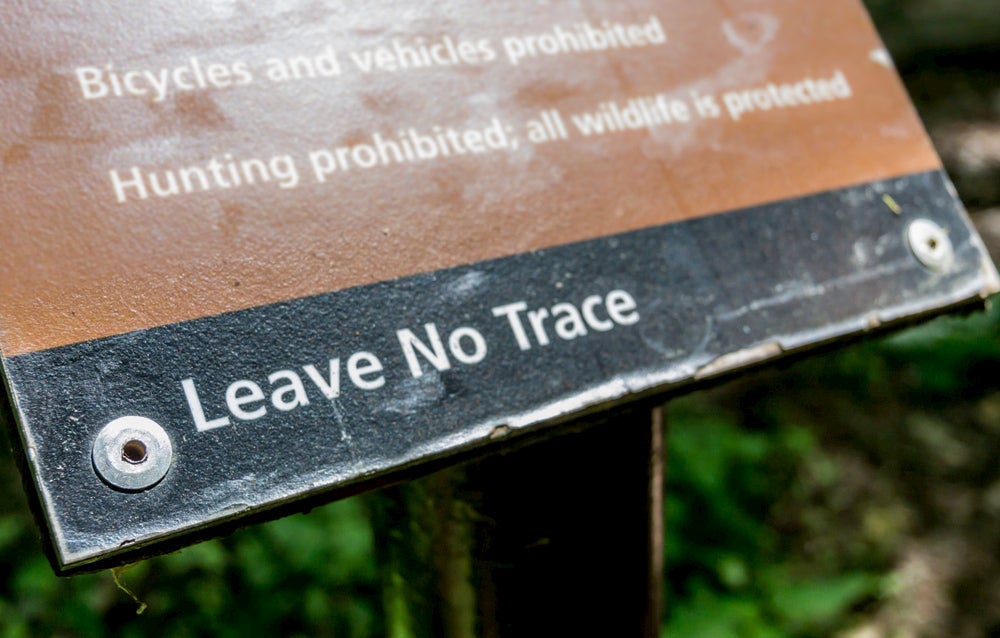 Although the Wind River Range wilderness doesn't suffer from the overuse issues that the Sierras or Rockies do, it's still important to exercise Leave No Trace principles, which include planning your trip ahead of time to make sure you understand the regulations related to garbage disposal, waste management and other matters. Use caution when going off trail to look for campsites, and, above all, leave nothing behind throughout your journey. Enjoying your Wind River Range backpacking trip with these principles in mind will help maintain the Wind River Range for other visitors and hopeful backpackers for millennia to come.
---
This article was brought to you by Gregory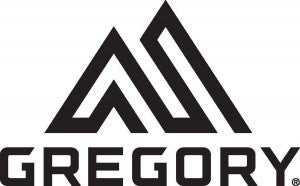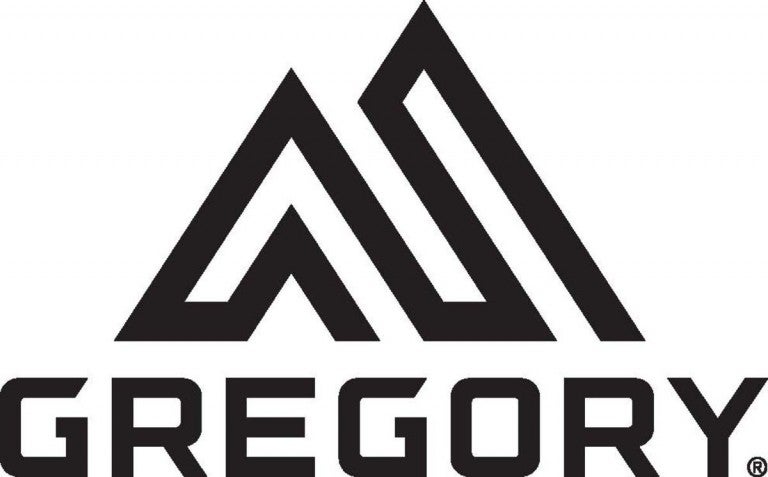 Grab your next favorite hiking backpack from Gregory's website today!
---
Related Campgrounds:
Popular Articles: