Ditch the harmful chemicals. This DIY natural bug spray works and smells great. 
---
Being an east-coaster and an outdoor lover, I'm no stranger to the pure rage that a swarm of bugs can inflict upon a previously peaceful camper. The solution? Bug spray.
Except, if you're also a health-conscious person — or just hate the smell of bug repellent — typical bug spray is full of pesticides that are toxic to yourself as well as the environment. Common repellents contain a list of ingredients such as N,N-diethyl-meta-toluamide (DEET), cyfluthrin, permethrin, and pyrethroids, among other highly toxic substances. What makes these pesticides so bad? They are endocrine disruptors, cause central nervous system issues, and are even known to cause cancer.
So what does one do to avoid these chemicals, and still be free from the buzzing bloodsuckers? Make your own natural bug spray!
How to Make Natural Bug Spray
It seems like everyone and their mother has jumped on the essential oils bandwagon. What gives? Used for everything from anti-bacterial cleaning products to stress relief to a natural boost in energy, essential oils have also allowed us to avoid toxic substances while still getting results.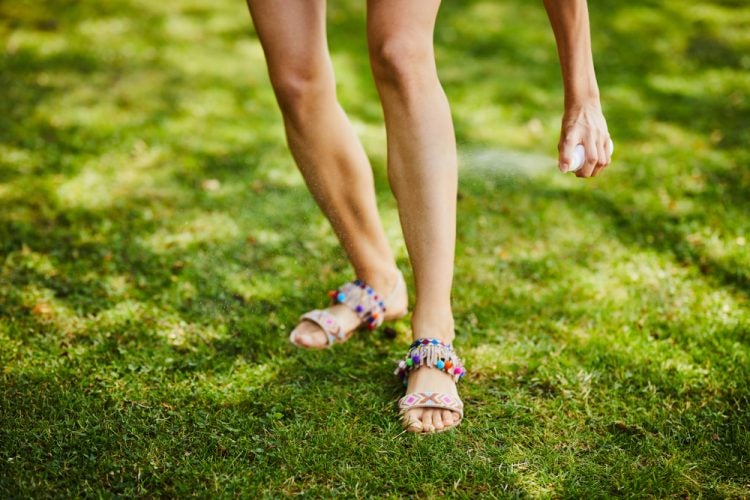 A note: while effective, we've found that natural bug spray needs to be reapplied more often than chemical bug spray. This recipe can also be used safely on clothing, gear, and around your campground to keep bugs at bay. Additionally, it's safe for dogs and children. For especially young campers though, apply to clothing instead of directly on skin. As an added bonus, this is an effective tick repellent, but make sure to do frequent tick checks regardless.

Recipe
100 drops total of any combination of the following essential oils:
citronella essential oil (20 drops)
lavender essential oil (20 drops)
tea tree essential oil (20 drops)
eucalyptus essential oil (20 drops)
lemongrass essential oil (15 drops)
geranium essential oil (5 drops)
1 tablespoon rubbing alcohol
1/2 cup white vinegar (or water)
1/2 cup witch hazel
Note: if you only have a few of these essential oils on hand, adjust drop amount accordingly to total 100.
Combine all essential oils into spray bottle first, then add the rubbing alcohol, shaking well to combine. Next, pour in witch hazel and shake well. Then add vinegar or water, shake once more, and voila! Natural bug spray!
You'll have to shake well before each application, and as noted above, you'll also need to reapply more often. But it has been tested while camping in Vermont, amid swarms of mosquitos, and I promise it's good stuff.
Popular Articles: