Junior Ranger Day kicks off National Park Week on April 20, 2019. But you can participate in Junior Ranger Programs year-round. 
---
As a lanky fifth-grader with endless energy for getting dirty outside, I stood with other kids in the campground amphitheater of Wallowa Lake State Park in northeastern Oregon, ready to embark on the noble journey of becoming an Oregon Junior Park Ranger. Over the following days, I filled up my Ranger Passport through recycling, learning park "secrets," and identifying different plant species. When I finished my tasks, I swore to "Explore, Learn, and Protect!" our parks.
I've learned a lot about the different environments, ecosystems, and the diverse history of our parks since then, and I can attribute my continuing passion for the outdoors to those curiosities fueled and cultivated in the Oregon Junior Park Ranger program, which allowed me to study pinecones and conifers each year my family returned to Wallowa Lake.
How the Junior Ranger Program Got Started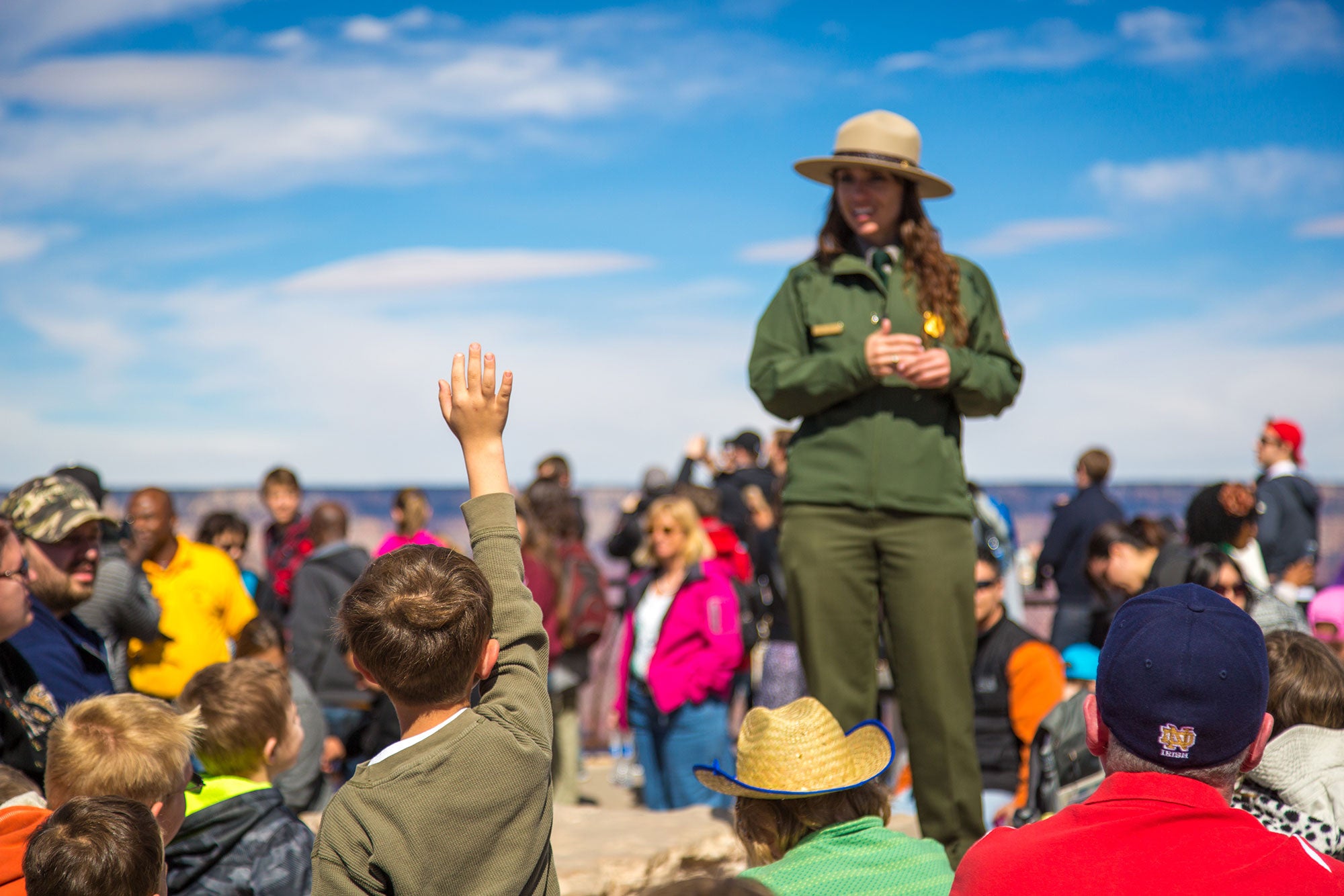 The goal of the Junior Ranger Program is to nurture young environmentalists who may go on to protect and advocate for our National Park System in the future. For me, it worked.
The Junior Park Ranger program dates back to the 1930s in Yosemite National Park when the Yosemite Field School of Natural History began offering programs to young naturalists, allowing them to engage in hands-on, field research during their summer breaks.
While young environmentalists stretched their imaginations and discovered the biologically diverse ecosystem in Yosemite, Park Rangers aimed to cultivate future rangers who would be adamant stewards of the land.
The program focused on geology, geography, botany, and zoology inside the park and aimed to offer young visitors a deeper experience in Yosemite. The final exam to become a Junior Ranger required extensive, in-depth knowledge. The 1933 Junior Ranger test included identifying birds by their songs, illustrating the difference between glacier-worn and river-worn boulders, and outlining the life history of a bear, among 24 other questions.
Not long after the inauguration of the Yosemite Field School of Natural History, an off-shoot program called Junior Nature School took off in Yosemite, providing younger visitors with an ecologically-focused program while their families visited the park on vacation.
When Yellowstone National Park learned about the Junior Nature School, they adopted and adapted the program to the Junior Nature Explorers in 1947. Not long after, the United States Forest Service created their Junior Forest Ranger program with Smokey the Bear as their mascot.
Love Our National Parks? Become a Junior Ranger
Despite the name "junior," people of all ages can complete activities to earn their Junior Ranger status. In fact, on January 14th, 2019, Rose Trophy, a 103-year-old woman, earned her Junior Ranger Badge at Grand Canyon National Park. While the activities are geared more towards kids, adults can get a lot out of the program, too.
Once you arrive at a national park, head to the visitor's center to pick up your Junior Ranger booklet. Many of the activities occur in areas of the park you likely plan to visit, so the kids can get a deeper understanding of the ecosystem. For most badges, you'll also interview park rangers to get a stronger feel for what they do and how they protect our parks.
Unique Junior Ranger Badges
Beyond engaging kids in their natural environments, Junior Ranger programs are free and available in over 200 locations. Some programs, like Yosemite, charge a nominal $3 fee for the booklet, but otherwise, these activities are free and aim to develop curiosity in kids.
Funded by the National Science Foundation, the Young Scientist Badge offered at Yellowstone National Park equips kids with a toolkit from the visitor's center to investigate the park and solve science mysteries. Each individual working towards the Young Scientist Badge gets a book based on their age: kids 5-9, kids 10-13, and "kids" 14+ receive books and questions that are solvable for their age group.
Finding bad guys? Protecting important people? Being an undercover agent? That's what the Junior Secret Service Agent badge is all about! Set at the Eisenhower National Historic Site in Pennsylvania, Junior Ranger Secret Service Agents in training learn what it takes to protect a president–specifically, what it took to guard the Eisenhower's at their estate.
If you can't make it to Eisenhower National Historic Site, kids can still earn their Secret Service Agent Badge online by completing the Secret Service Agent Training Manual and mailing the completed booklet to: Junior Secret Service, Eisenhower National Historic Site, 1195 Baltimore Pike, Suite 100, Gettysburg, PA 17325.
At Cuyahoga Valley National Park, there are multiple Junior Ranger Programs kiddos can participate in. Each summer they host week-long camps in survival skills, preserving and protecting the environment, and river ecology, and they also host day-programs throughout the summer that are free to attend.
At the Water WOW Program, Junior Rangers get hands-on experience with river and riparian environments by strapping on goggles and interacting with the special ecological systems that exist in the Cuyahoga River.
Junior Ranger Night Explorers
As one of the national badges, the Junior Ranger Night Explorers Badge can be earned through an online workbook, or by exploring a certified Dark Sky national park which often have telescopes for kids to use.
Night-Explorers-In-Training must complete the number of activities equivalent to their age to earn the badge and the activities range from identifying constellations to deciphering star formations.
The Junior Paleontologist Badge can be earned online, but completing the activities in the park gives kids a deeper understanding of the history of our planet and how plant and animal life has been affected since the formation of the earth.
Through asking Park Rangers if their park has any evidence of climate change and learning the different types of fossils Junior Paleontologists get a stronger idea of the history of time and the importance of science.
Junior Ranger Badges You Can Earn At Home
Fortunately, if you can't make it to the parks this year, kids can continue to earn badges and patches through the Web Ranger program by completing courses of study and submitting their paperwork through the mail.
Junior Archaeologist Badge
Kiddos interested in ancient history and digging into the past will enjoy the Junior Archaeologist Badge earned by completing an online workbook. Through taking a deep dive into what archaeology is and how it differentiates from geology, paleontology, and history, Junior Archaeologists will understand the importance of archaeological study in our national parks.
Junior Underground Railroad Badge
The Underground Railroad played an integral role in bringing enslaved people to the north where they could live free lives. By completing the Underground Railroad booklet, kids discover the history of the Underground Railroad while also describing what freedom means to them.
Through studying historical figures from the Underground Railroad and understanding the implications of the Civil War on our country's history, kids can earn their Junior Underground Railroad Badge.
Junior Green Ranger Badge
For Junior Rangers interested in the environment, the Junior Green Ranger Badge gives kids the opportunity to learn ways to become more sustainable members of society through small steps at home and learning what a carbon footprint is and how to measure their own.
In the process of earning their Green Ranger Badge, kids learn about renewable resources, how to Reduce, Reuse, and Recycle, and different ways to go green at home.
Junior Ranger Programs for Kids-At-Heart
I'm no longer the lanky 5th-grader who earned her Oregon Junior Ranger Badge, but I haven't lost my love of the National Park System. Thankfully, the Junior Ranger Program has expanded at a few parks to engage the kids-at-heart.
At Saguaro National Park, you can participate in a Not-So-Junior-Ranger program. After stopping by the Ranger Station to pick up your color workbook, Rangers-in-Training will visit the park while also recording their findings. At Saguaro, the program takes about half a day to complete, and once you do, you're sworn in as a ranger! Which proves to be exciting at any age.
For those whose inner Junior Ranger has never stopped exploring, the Citizen Ranger Quests allow kids and adults of all ages to complete activities in and out of the park. Each quest takes between 30 minutes and two hours and focuses on different aspects of stewardship, science, and history.
Popular Articles: