These travel hacks reduce the number of products we need on camping trips. Reduce, reuse, recycle, and camp! 
---
Camping is our favorite way to travel. Are you surprised?
Whether we're heading down the road to our favorite state park or driving half way across the country on a budget camping road trip, pitching a tent is a great way to see more of the world, and to embrace the natural side of the places we visit.
Applying tried and true travel hacks to camping (and vice versa) is a great way to not only streamline your experience away from home, but also to reuse things you have lying around the house. The more stuff we buy to use at the campground (or beach, or hostel), the more trash we produce. Embracing clever ways to repurpose what you already have will save you money, keep you organized on road, rail, or trail, and reduce waste in the form of packaging and excess garbage. Not bad!
So without further ado, we give you:
Responsible Travel Hacks for Campers
You might be surprised by how much of your junk drawer can be transfered to your gear closet.
Strap Your Headlamp To Your Water Jug
https://www.instagram.com/p/anGWbvP5gz/?utm_source=ig_embed
Maybe you caught this tip in our editor Britany's article on Minimalist Van Camping. Or maybe you stumbled across it by accident last time you were fumbling around your tent in the dark, panicking over a weird sound that was probably a raccoon. Maybe you haven't tried this super simple way to get more light where you need it, for a late night outdoor journaling sesh or an attempt to read just one more page. All you have to do is strap your headlamp to your water jug and turn it into a pretty powerful lantern, without packing any extra gear.
Pack Your Lint
https://www.instagram.com/p/dh1_I9K2Hs/?utm_source=ig_embed
Don't toss that dryer lint! Instead, make little fire starters by putting lint in coffee filters and tying the top off with thread, like flammable teabags. You can also stuff your lint into old egg cartons or a toilet paper tube!
Make A Soap Sack To Scrub Up On the Trail
Let your soap store itself with this handy washcloth turned soap sack. No more worrying about your soap slipping out of your hands and you can get that fresh scrubbed clean feeling.
Remember, don't use soap by any natural water sources like streams or rivers, even if it's "all-natural" or biodegradable. Save the soap for the campground shower, or use an all-natural soap on land, away from water sources. And if there isn't a shower, here's a couple even simpler travel hacks: take a soap-free swim or just stay dirty!
Make Popcorn In an Old Beer Can
Want to make a little popcorn but don't want to lug a bulky bag of pre-made, or a heavy pan to cook kernels over your campfire? Here's how you can use a beer or soda can to get the job done:
Just make sure to collect those popcorn cans when you're done and pack them out if there's no recycling at the campground.
Mason Jar Meals Aren't Just For Pinterest
https://www.instagram.com/p/BRd97QGBF__/?utm_source=ig_embed
The same hacks you use to meal-prep at home, or to tote a tasty salad to your office, works great for portioning out pre-made meals for your camping trip too. Layering pre-cooked or no-cook ingredients to make mason jar meals means you can leave the stove, fuel, and spices at home. If you're worried about everything staying fresh, try recipes like soups, quinoa/grain bowls, ramen, or chia puddings that require only hot water to turn dry ingredients and seasonings into a delicious, filling meal. Bonus travel hacks: skip the heavy, breakable glass by reusing plastic screw-top jars like the ones your peanut butter comes in.
Wrap Duct Tape Around Your Lighter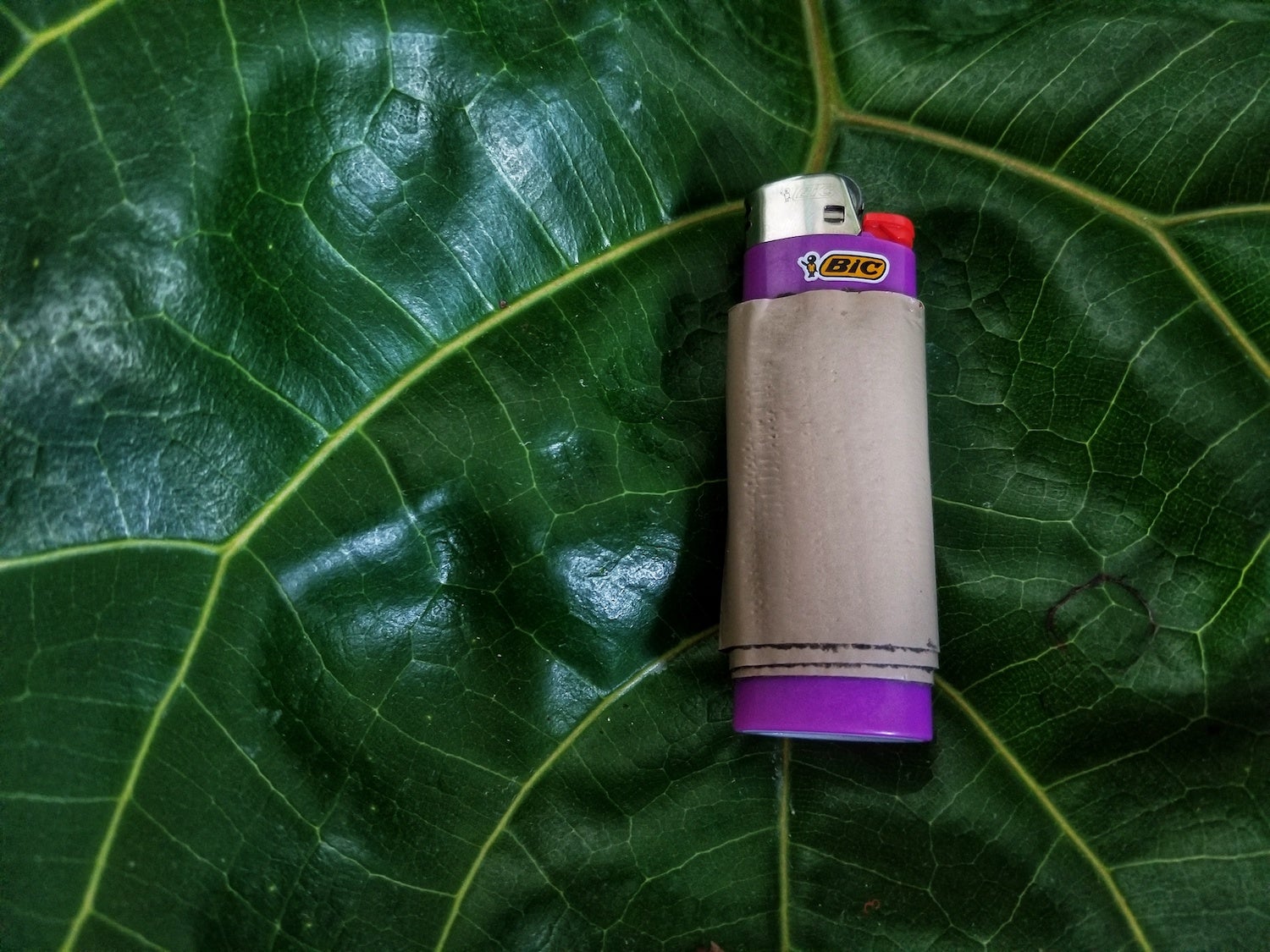 You never know when you might need a piece of duct tape in a pinch. Wrapping a long strip around a lighter ensures you'll always have a piece when you need to mend something at your campsite. But don't forget to change your duct tape strip every year or two if it goes unused or it becomes a sticky mess.
Bring Your Wine Liner Camping
Boxed wine has a reputation for being cheap, convenient, and, well…not that great. If you want to bring your favorite vintage to the woods with you but you don't want to lug the glass bottle and corkscrew, all you have to do is reuse an old Franzia or Botabox liner bag and hardware. Firmly but gently pop the black plastic valve out of the grooved plastic spout. Clean the bag thoroughly with soap and water and let dry, like you'd do with the hydration bladder from your backpack. Then add in whatever beverage you prefer, from a long-aged merlot to batch cocktails to more filtered agua.
Stuff Sacks Keep You Comfy
A good stuff sack or dry bag will keep your clean clothes separate from the dirty, stinky, damp stuff you took off. They can also make great seat cushions, pillows, and footrests, or a cuddle buddy at night if you're camping without your #DyrtDog. Or, you know, you can use the stuff sack to hold your Dyrt Dog like the camper above. Either way, stuff sacks make for good travel hacks!
Turn a Pop Can Into A Camp Stove
In a pinch, you can turn your soda or beer can into a workable camp stove fueled with denatured alcohol or something like HEET. Be really careful with this hack, though, for obvious reasons (knives, flammables, pointy metal). As my great uncle always told my second cousins, "That looks like a high risk for a potential hazard!"
If you aren't looking for a survival solution, you might want to stick with a traditional camp stove.
Turn A Water Bottle Into a Survival Kit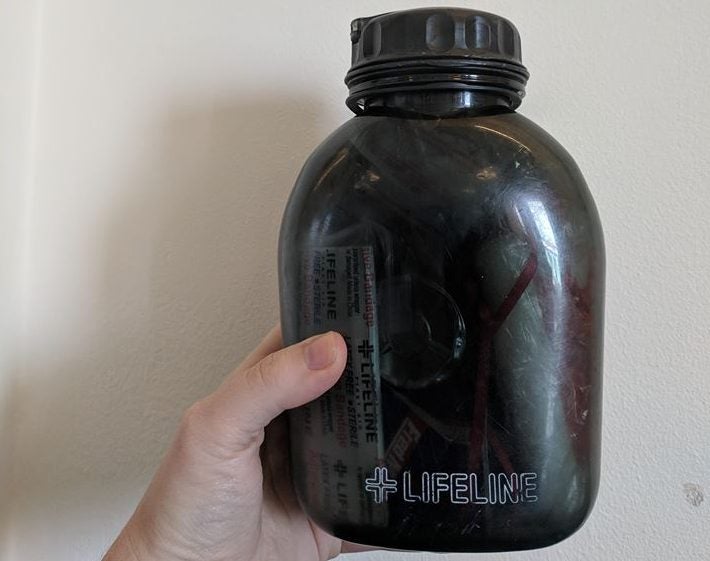 Technically companies like LifeLine get all the credit for these travel hacks—and you could buy a kit pre-made. But we're guessing you already have a lot of the items that go inside this kit like tea lights, an emergency blanket, waterproof matches, bandaids, batteries, and hand warmers. Gather up your survival goodies, get a 32oz water bottle with a tight screw-top lid, and squeeze everything inside.
Open a Can With Nothing But Concrete
Yes, yes. Hopefully there isn't a lot of concrete in the woods. But if you're at an RV park or a big campground, there will likely be concrete around. If you find yourself without a can opener or multi-tool and don't fancy the risk of slicing your hands open by stabbing a can repeatedly with whatever sharp object you find, this method really works. Several minutes of vigorously rubbing a can against concrete until you start to see moisture seep out will, in fact, get the job done.
Make Your Own Single Use Soaps
https://www.instagram.com/p/BR0Uewuj-0G/?utm_source=ig_embed
Skip the travel toiletries section at the grocery store. Those only lead to a bunch of little bottles you'll likely toss or lose.
Breaking down a bar of soap yourself will leave you with several single-use pieces you can bring along to keep your pack lightweight and avoid an awkward, wet, slimy giant bar of soap running amok in your luggage. You can also spread liquid soap over paper and let it dry, like in the video above. Whatever method you choose, you can store your new single-use soaps in an old Tic-Tac container or mint tin.
Dry Your Dishes In a Mesh Produce Bag
That mesh plastic bag your onions, lemons, or oranges came in at the store? Save it! You can use it to store your camp cookware and hang your dishes or pots to dry after you've cleaned up. Bonus travel hacks: these bags are also great for scrubbing pots, pans, and muddy gear.
Always Bring Clothespins
They're surprisingly useful for all sorts of travel hacks: holding matches near tinder without burning your fingers, hanging clothes or your mesh dish bag to dry, temporarily mending things, stringing up lights or your headlamp so you can see, pinning up a blanket to act as a blackout curtain or for a private changing/shower area, connecting tarps, keeping ropes or electronic cords organized… the list goes on and on. One of my favorite tricks is using them to string up glow sticks so you can make your campsite festive and stay better-oriented at night. Imagine not having to figure out which direction to go to find the best bathroom spot when you're still half-asleep!
Use Chips As Fire Starter
Corn or potato chips, whether seasoned or unseasoned, can make a great fire starter thanks to all the starch and grease. Bring a few snack-sized bags along. If you don't need to start a fire, you'll have a light-weight, calorie-dense, pre-sealed snack that could come in handy if you're in survival mode. In an emergency you'll have one more tool on your side. In better times, you are one ingredient closer to a campfire classic that all Texans know and love: Frito Chili Pie. All kinds of uses from one tasty treat!
Tea Tree Oil Is Good For Everything
This essential oil is good for everything, meaning you can save a lot of space in your pack, and skip the packaging of other products. Use one part tea tree oil to two parts water as a natural tick deterrent. Or add tea tree oil to coconut oil and rub on the skin as an insect repellant. Before you leave home, shake tea tree oil and water in a spray bottle and spritz over your tent or hammock so that it is pre-treated with repellant before you head out. If you're car camping, bring the bottle along to refresh your application.
Tea tree oil is antiseptic, too, so you can swish the tea tree-coconut oil combination in your mouth as a replacement for toothpaste that won't harm wildlife or waterways, or dab tea tree oil on cuts and scrapes in lieu of Neosporin. Mix with aloe vera and/or witch hazel for a natural hand sanitizer. You can bring all of these mixes along in repurposed containers like old spice containers and cosmetic jars, or you can spring for something new and reusable like Human Gear's silicone travel bottles.
Make Floating Keychains
Kayak campers, listen up for valuable travel hacks on the water! If you take a screw with an eye on one end and twist it into a wine cork (especially the big kind you find in champagne bottles), you can attach your keychain to the eye. Bonus points if you add a bright-colored, reflective fob to your keychain, making it even easier to see as it bobs on the water.
---
Tell us about your favorite camping and travel hacks on Instagram or Twitter with the hashtag #CampResponsibly! 
Popular Articles: