The summer of 1885, on the edge of a nervous breakdown, a privileged young lawyer and aspiring writer named Owen Wister visited Wyoming for the first time. Were it not for pressure from his physician father to buckle down, Wister might well have gone to Europe to study music, and American culture would never have been the same.
That's because, instead of pursuing his first choice of career, staying put led Wister to take an initial trip to Wyoming, where he focused on exploring and writing. His experience there eventually birthed a brand new genre of literature — the Western— that went on to shape how Americans perceived not only the frontier but the entire nation itself.
It's almost inconceivable to consider, but without Owen Wister we wouldn't have John Wayne, Tom Mix, Clint Eastwood, "Gunsmoke," Louis L'Amour, the Marlboro Man, "The Dark Tower," Cormac Mcarthy, "True Grit" or countless other literary and pop culture favorites. And it all goes back to Glenrock, Wyoming, just east of Casper, as well as Medicine Bow National Forest— places that Wister returned to over and over again throughout the late 19th century as he wrote stories and novels that ultimately had an outsized impact.
"In those days," he wrote, "the antelope still ran there in hundreds, the Yellowstone Park was a new thing, and mankind lived very far away. Since meeting me with the horses in Idaho the Virginian had been silent, even for him. So now I stood casting my fly, and trusting that he was not troubled with second thoughts over his strategy . . . After this we lay on our backs upon a buffalo-hide to smoke and watch the Tetons grow more solemn, as the large stars opened out over the sky."
Seven years after his first trip to the Cowboy State, Wister's first short story, "Hank's Woman," was published. The passage above is from that story, and in it Wister had begun to develop the character of the Virginian, who would go on to star in a novel of the same name. He also had begun to develop descriptions of the Western landscape and the strong, silent cowpunchers who populated it—who would eventually become the foundation of a uniquely American mythos.
Your Guide to Camping the Authentic Wild West in Wyoming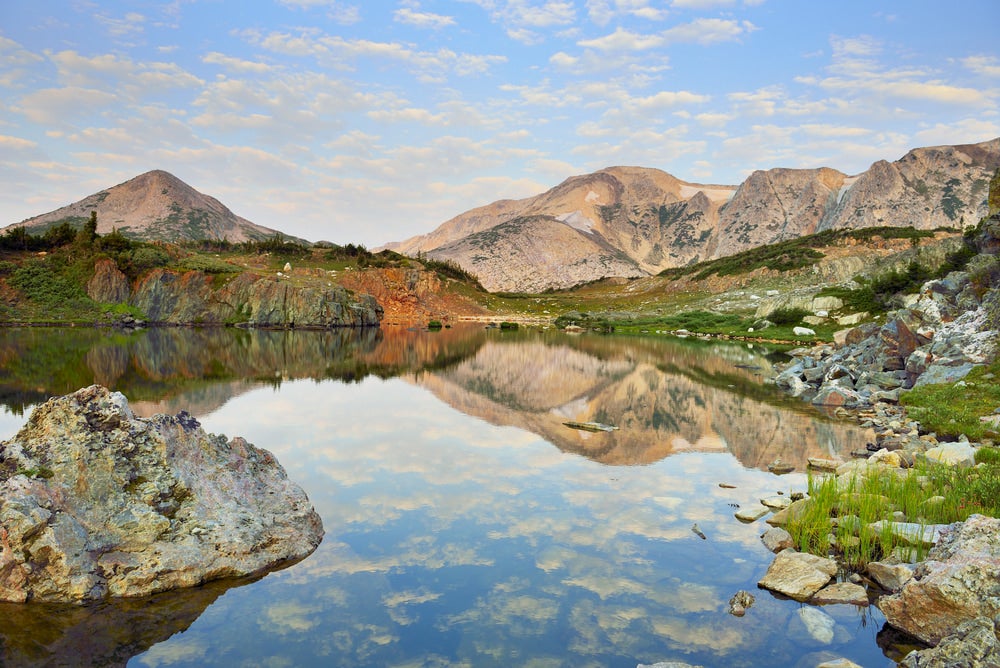 If you want to follow in the footsteps of Owen Wister and discover the earliest traces of the American Western for yourself, you don't have to look much further than these wild campgrounds:
There's no better place to start your journey into the Old West than at Vedauwoo, a popular destination for rock climbers that was once an outlaw hideaway. The Arapaho called it "the land of earthborn spirits." Veduwoo has a little something for everyone, from bouldering routes and hiking and equestrian trails to crack, slab and sport routes up the park's granite faces. 
Vedauwoo is under two hours from Denver, Colorado, and only 27 miles from Cheyenne, where Owen Wister stopped over on his journey to the VR Ranch near Casper. Thanks to his Eastern connections, Wister was introduced to some of the most prominent citizens in Cheyenne in 1885, including Senator F.E. Warren, who would go on to live in the glamorous Nagle-Warren Mansion, which is still well worth a visit to see how the cattle barons lived.
Camping at Vedauwoo is pleasant, too, if less opulent than the Nagle-Warren place. Small rigs and tents are welcomed at this Wyoming campground with tent pads, fire rings, tidy restrooms, drinking water, picnic tables and a helpful camp host. A little farther away is another dispersed camping area, too. You'll be about 15 minutes from the crag, and despite the easy access from the highway, you might see wildlife, too.
"We chose a pack-in tent site that was down a trail about an eighth of a mile surrounded by the granite rock formations the area is known for. The campground was very clean. Restrooms were tidy and well stocked with TP. There are multiple mountain biking trails which we had a ball exploring." –The Dyrt camper Carrie C.
This stunning natural rock bridge that typifies the unique landscapes found in the American West. It's one of only three such natural bridges that still have water flowing beneath— no wonder it, and the LePerle Creek, have been a popular site for visitors since the days of the Oregon Trail. Ayers Natural Bridge is also convenient to Casper and Glenrock, where Wister first seriously observed Wyoming life and set much of his early work. 
There's a very nice county-run Wyoming campground at the bridge, too, where you'll find free sites, as well as picnicking facilities. Bring plenty of water and a fully charged battery, though, as there aren't any hookups — and just vault toilets. There's a dedicated caretaker, however, so all the facilities are not only well maintained, but also recently renovated. 
"This is an easy hop down from interstate 25 on your trip across Wyoming with a lot of character. The natural bridge is lovely and there are bison. Our campsite was right next to the creek where you can splash and swim. They had some other entertainment options (volleyball, etc.) too. If you're fishing you could spend a while here." –The Dyrt camper Amber A.
Not only was Bessamer Bend the setting for portions of Wister's "The Virginian," John Wayne went back to those nascent roots of the Western genre to film "Hellfighters" in the late 1960s. While the Goose Egg ranch house no longer stands and most of those original cattle estates are gone, you can still get a taste of that old way of life at one of several nearby campgrounds.
Within a 30-minute drive of Bessemer Bend are several excellent Wyoming campgrounds, including Buffaloberry Campground, Chalk Bluffs Campground and Golden Current Campground. One of the best, however, is a little farther from the North Platte River, at Casper Mountain County Park. Explore the area and then have a little barbecue of your own. There are ample picnic shelters and gathering spots. This campground is even host to the Beartrap Music Festival!
Cross-country skiing, mountain biking and archery are all popular here. Whatever sport you're pursuing, the whole mountain is convenient to downtown Casper and local outfitters like Gear Up and Get Out There and 42° North. In the winter months, Hogadon Ski Area is a small, classic lodge with all the modern amenities. In addition, Casper Mountain is full of equestrian trails and many hiking trails, including a braille trail for the visually impaired.
That's not the only attraction for disabled outdoor enthusiasts on Casper Mountain, either. The peak is also home to Casper Mountain Biathlon Club, a designated Paralympic Sport Club that's part of the U.S. Biathlon Association. Both abled and disabled biathlon athletes can practice the difficult combination of cross-country skiing and rifle shooting.
"A great thing about this campground is that most, if not all, of the campsites have water. The bathrooms are really nice compared to most campsite restrooms. The campsites are roomy, but only a few are flat enough to set up our rooftop tent. I would recommend this site if you are looking for a fun place to relax." –The Dyrt camper Michelle E.
It's hard to put into context the impact Owen Wister had in his day when so few people remember his name today. But up until almost 70 years ago, a huge old stone ranch house stood at Bessemer Bend, Wyoming, called the Goose Egg— a structure that no longer stands because of the success of Wister's work.
The Goose Egg ranch appeared Wister's "The Virginian" as the setting of a huge barbecue that drew neighbors from dozens of miles away. The ranch became such a landmark that tourists and fans of Wister's work would stop by to see it and sometimes chip pieces of the facade off as souvenirs. By the 1950s, the owners weren't sure what to do with the remains other than tear the whole thing down.
At that time, the Goose Egg had become part of the big CY Ranch that has had such an impact on the Casper, Wyoming, area that one of the city's main streets is still named CY Avenue. Sportsmen can stock up on CY Avenue at shops like Wagner's Outdoor, book a fishing trip with Wyoming Anglers and Wyoming Fishing Guides, or visit the Casper Field Office of the Bureau of Land Management.
Camp nearby at Rivers Edge will find a cozy Wyoming campground close to both Casper and Edness Kimball Wilkins Park, where there are almost three miles of hiking trails and picnic facilities. You'll have all the amenities, including a game room, laundry room, play area for the kids, pull-through sites, full hookups and flat sites, as well as a slightly separate area for tents.
"The owners are super hospitable. The showers are very clean. The campground, like much of Wyoming, is flat, sunny and with a gravel yard that replaced the tall, golden yellow grasses that stretch across these dry plains. There were trees for shade and a nice breeze coming over the water." –The Dyrt camper Celina M.
When Owen Wister first came to the Casper and Glenrock area, it was at the recommendation of his old friend and former college classmate Theodore Roosevelt. Yes, the one who himself went on to become an icon of the American West and our 26th president. Roosevelt suggested not only that Wister explore the West, but that he stay at the V R Ranch south of Glenrock, an outfit owned and operated by Civil War veteran Major Frank Wolcott.
The rest, as they say, is history. V R Ranch is one of the few cattle estates from Wister's day that's still in operation. However, it's run as a working cattle ranch, not a visitor's dude ranch, so it's not available to guests. That said, this is Wyoming, so there's no shortage of places to camp nearby. Muddy Mountain sits just south of Casper Mountain, and if you want a modern taste of the adrenaline-packed excitement Wister and Roosevelt found on the frontier, all you need to do is hit the local mountain biking trails that lace over this peak.
The Muddy Mountain Trail is beginner friendly and starts just past the Rim Campground, making it an excellent base camp for bike-packers or weekend adventurers, so grab your favorite hiking pack and get ready for a good time. More experienced riders will appreciate the single-track spurs off the main trail that offer a variety of different types of terrain and more of a challenge. You'll also find another attraction for participants in adaptive sports and campers with disabilities— many of Muddy Mountain's hiking trains are ADA accessible.
Rim Campground not only has a cozy eight campsites, it connects via trail to the nearby Lodgepole Campground. Be sure to bring plenty of water, though — Rim Campground is close to Otter Creek but doesn't have potable water on site. For that you'll need to either pack it in or hike to Lodgepole to fill up your water bottles.
"Quiet and beautiful. A nice quiet campsite on top of Muddy Mountain. Didn't see many people around and had a nice view from our campsite. Definitely recommend!" –The Dyrt camper Jess D.
Back when Wister was first exploring these parts in the late 1800s, the town of Powder River was little more than a stagecoach stop. By 1904, Wister's writing career had gotten big enough that he collaborated with journalist and producer Kirke La Shelle (born, funnily enough, in Wyoming, Illinois) on adapting "The Virginian" for the theater. It was also the same year that Powder River got its first official post office, which is about as big as it ever got, still surrounded by miles and miles of the prairie grass that fills the Powder River Basin.
That geographic feature runs from the Bighorn Mountains to the Black Hills, and was not only prime territory for cowboys, but now outdoor enthusiasts, too. Hell's Half Acre is an escarpment just east of the Powder River Basin with ravines steep enough that indigenous tribes once used this as a place to hunt buffalo by stampeding them off area cliffs. "Starship Troopers" was shot here, too, thanks to the rough, rocky landscape made up of both a deep gorge (called a Little Grand Canyon by some) and towering spires that recall the topography in desert states like Utah.
A tourist site since Owen Wister's day, eventually with a restaurant and motel overlooking the badlands, Hell's Half Acre mostly shut down after Starship Troopers ended filming. Despite the chain link fencing left over from the ravine's Hollywood moment, you can still hike miles upon miles in the canyon and find dispersed camping close by. If you don't mind boondocking, that's some of the cheapest, easiest RV camping in Wyoming.
"You can't actually camp at Hell's Half Acre, but less than a mile down the road is a wildlife refuge with dispersed primitive camping with a vault toilet and a picnic table on the river. There's no water, but this is such an amazing area and the night sky is star filled." –The Dyrt camper Mary P.
Casper, Wyoming, might have been Owen Wister's gateway to the West, but it wasn't the only place in the Cowboy State he explored, nor the only place where he drew inspiration for his novels and short stories. The Medicine Bow mountain range captured Wister's imagination, and in return, his vision of the West influenced the development of the places he loved.
Look no farther than The Virginian Hotel in the town of Medicine Bow's tiny downtown. Construction was finished in 1911, just three years before Wister's breakout novel would be made into a silent picture — one of the original movie adaptations, and one that would go on to influence more than a century of westerns. In addition to being named for Wister's "The Virginian," the hotel also features the Owen Wister dining room.
Wister even made an appearance at the grand opening of The Virginian, as reported in The Laramie Republican that year. You could stay at this storied hotel, of course, or you could go experience the landscape that forms the bedrock of the Western genre.
Head to Medicine Bow National Forest, just south of the town of the same name. Deep Creek Campground has lots of access for hikers, close to the Rock Creek Trail, Sheep Lake Trail and Crater Lake Trail.
Head to Medicine Bow National Forest, just south of the town of the same name. Deep Creek Campground has amazing access for hikers, close to the Rock Creek Trail, Sheep Lake Trail and Crater Lake Trail. All the basic amenities are available at this Wyoming campground, including water — just be sure to pack out any trash you bring in as there's no garbage service.
"Woke up to a frosty alpine meadow, complete with mom and calf moose grazing. A wonderful gamble on a chance evening in the area." –The Dyrt camper Emma G.
Wister was enamored enough with Wyoming territory that he eventually bought a ranch near Jackson Hole in Kenmerer, Wyoming. He owned it from 1911 until 1920, when his sale of the property inspired some ire in local journalists. "Mr. Wister continued to make visits to his remote ranch and brought out parties of tenderfeet to enjoy the scenery . . . but apparently he tired of his plaything and decided to part with it, which he has done," read a March 02, 1920 story in the Casper Herald.
Apparently, the sale was due to a dispute with his neighbors, rather than an objection to one of the loveliest parts of Wyoming. Though it was packed up and moved to Medicine Bow sometime during the 1970s, Wister's cabin was originally parked in this corner of the state. Despite the move, you can easily get a sense of what attracted Wister to settle near Kenmerer for the better part of a decade at Viva Naughton Marina. This free Wyoming campground is a popular spot with anglers in all seasons, though the campground itself is only open from April 1st to Halloween.
Run by PacifiCorp, a Wyoming utility, there are four campsites with picnic tables and fire rings, a boat ramp, restrooms and even a restaurant on site. If you get tired of fishing and watching the lake, drive southwest to Fossil Butte National Monument, where camping isn't allowed but where you can explore four miles of hiking trails through sagebrush steppe, as well as some of the best fish, insect, mammal and bird fossils in Wyoming.
"The fly fishing is excellent below the dam, which is about a three-quarters of a mile drive from the campground. The area is very popular with boaters and anglers alike. This place stays busy year-round and ice fishing is very popular in the winter months." –The Dyrt camper Carrie C.
It's easy to see why Owen Wister fell in love with Wyoming when you're high atop Sugarloaf in the Snowy Range. It's pretty and accessible enough (in the right season) that local guiding outfits such as Hike Like a Woman love to show it off. Splendid views and alpine lakes abound, as the hike meanders through scree fields home to chirping pikas and into bucolic meadows, all while you're surrounded by some seriously majestic peaks.
Even better, Sugarloaf is just an hour from Laramie and under two hours from Medicine Bow. You won't be far from some of the nicer aspects of civilization, though. The campground is only 12 miles from Centennial, Wyoming, a tiny old mining and railroad town where you can get incredible, thick slabs of quiche at the Mountain View Cafe. You're also close to the Snowy Range Ski Area if you're more interested in turning your way down peaks than exploring the miles and miles of hiking and mountain bike trails that connect Sugarloaf to Medicine Bow Peak, Lewis Lake, South Gap and beyond.
Back in Medicine Bow, if you can tear yourself away from the mountains, check out Owen Wister's old cabin, moved from Jackson Hole almost 50 years ago for the Bicentennial by the Medicine Bow Lion's Club. Today you can find it at the Medicine Bow Museum, across the street from both the old rail depot and The Virginian Hotel. In addition to learning more about Wister, you can also see artifacts from the Old West and the Union Pacific Railroad.
"There are so many wildflowers and little cascades that even a short stroll with children is rewarding. If I remember correctly, the fee is only $10 a night, which makes staying for several nights an affordable getaway and chance to observe millions of stars. Consider driving to the little town of Saratoga on your way home to soak in the hot springs there . . . icing on the cake!" –The Dyrt camper Gretchen B.
Lander, Wyoming, is a small town on the edge of the Popo Agie Wilderness Area, just south of Fort Washakie and the Wind River Reservation. It's surprisingly hip, however, with the lovely Mill House B&B in an old flour mill that dates back to 1888 right across the street from the Lander Bar and Grill. Both are close to Wild Iris Mountain Sports, a local outdoor retailer that specializes in climbing gear, which is great because there's a wealth of rock climbing in the Wind River Mountains.
There is endless sport climbing in the Lander area, especially at Sinks Canyon and the titular Wild Iris, where bands of white dolomite have inspired generations of climbers. Those routes have even drawn many a climber who ultimately decided to adopt Lander as home when they got a taste of the small-town charm, close-knit community and an off-the-beaten-path outdoor playground.
Camp close to town at Wild Iris Campground, a free city park with nice amenities that can accommodate both tents and RVs on nice pads surrounded by hundred-year-old cottonwoods. You can grab brunch at The Middle Fork— the Lemon Ricotta Pancakes are especially good— before you head out.
In addition to all the rock climbing, Lander is also home to the "Miracle Mile" of the North Platte River, where you'll find unbelievable trout fishing. You can get supplies at the Lander Fly Shop or Wind River Outdoor Company. You can also hike in Wind River country, from relatively easy treks to Pop Agie Falls to third- and fourth-class mountain climbing on Wyoming's highest mountain— the 13,804-foot Gannett Peak.
"I have determined that Lander, Wyoming, is the friendliest city in America. Plus, they let you camp for FREE up to three nights in their city park. There are restrooms with flushing toilets and running water. Nice soft green grass to set your tent up in. I recommend getting a burger from the Lander Bar when you visit!" –The Dyrt camper Leah W.
Buffalo, Wyoming, might seem like a funny place to end your Owen Wister tour of Wyoming. But this small town on the fringes of the Cloud Peak Wilderness Area and Bighorn National Forest is where he ended his first novel, "The Virginian," in one of the first quintessential shootouts of the Western genre.
"Out of the window he saw the mountains blue in shadow, but some cottonwoods distant in the flat between were still bright green in the sun . . . The Virginian, for precaution, did not walk out of the front door of the hotel. He went through the back ways, and paused once . . . [he] gained a position soon where no one could come at him except from in front; and the sight of the mountains was almost more than he could endure, because it was there that he had been going tomorrow." -Owen Wister, The Virginian
The hotel in question was inspired by Buffalo's own Occidental Hotel, a storied (and supposedly haunted) destination where you can stay in the Owen Wister Suite. He wasn't the only famous guest to grace the Occidental's door; other visitors include Buffalo Bill, Calamity Jane, Butch Cassidy, Theodore Roosevelt, Herbert Hoover and Ernest Hemmingway. That's not to mention all the cattle rustlers, frontier sheriffs and other politicians who frequented the Occidental and inspired writers like Wister to model fictional characters after their exploits.
Get a feel for what Buffalo is all about by heading to the mountains that The Virginian was eyeballing at the end of Wister's novel. Fifteen miles west of Buffalo is Tie Hack Reservoir. Hiking trails, canoeing and off-roading are popular here, as well as mountain biking. You'll have access to the Cloud Peak Wilderness via the Circle Park trail, plenty of fishing for trout and even horseback riding nearby. While the amenities are on the primitive side, with vault toilets and no electricity, there is fresh drinking water and trash collection provided.
"This was the first national forest campground I saw upon entering the Cloud Peak Wilderness side of the Bighorn Mountains. Site 15 was open, and I set up camp. This site opens onto a rocky hill and forested area. I loved this area enough to extend my stay to a week." –The Dyrt camper Art S.
---
Related Campgrounds:
Popular Articles: