Return to Dirt is proving that adaptive sports offer a unique opportunity for people with disabilities to venture deep into the backcountry. 
---
The iconic red sand of Moab's dunes and dry washes churn under the tires of a Polaris RZR while a blue October sky stretches across the desert. Driven by Tim Burr, a 23-year-old resident of nearby Colorado, the Polaris RZR has the same burly roll bars, chunky tires, and beefy suspension as a typical off-road vehicle, but there is one big difference. Tim's rig responds to a hand-controlled system for braking and gas that Burr uses due to paralysis he suffered in a backcountry skiing accident in 2014. The rugged logo on the side of the vehicle identifies it as part of Return to Dirt, an adaptive sports nonprofit founded with the mission of bringing athletes with physical impairments back into the backcountry.
Return to Dirt Offers a New Kind of Adaptive Sport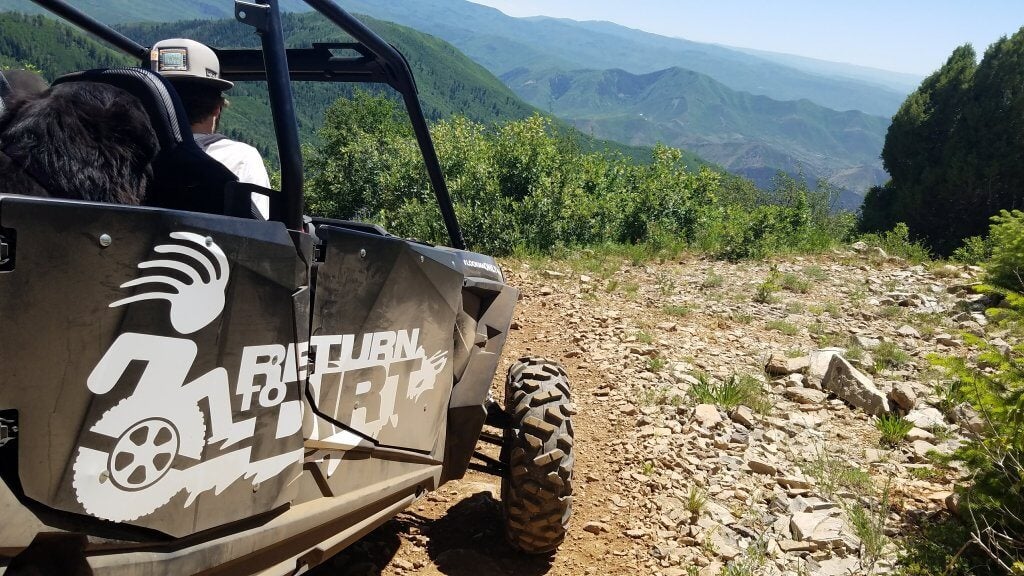 A lifelong skier and outdoorsman now paralyzed from the chest down, Burr realized he was in a unique position to solve one of the outdoor adventure industry's biggest problems: Not everyone is physically capable of getting outside on their own.
What are Adaptive Sports and How Can They Work in the Wild?
Adaptive sports are activities that provide accommodations that level the playing field for athletes of all abilities. They can be competitive or recreational–and even pretty extreme–but often, they are restricted to a gym hall or field. So how do you make the backcountry more accessible?
"The problem we are trying to solve is that of outdoor accessibility," Burr explained. "If you can't walk, run, hike, or bike into the backcountry, then the only way to get back there is with motorized assistance."
There are all kinds of adaptive sports out there, with modifications that take certain disabilities into consideration. But venturing into the backcountry has remained out of reach for many, due to the remote and rugged nature of the experience. Offroad vehicles designed for people with disabilities, like the ones being used by Return to Dirt, changes that.

Return to Dirt provides assistance by taking an athlete out for a day in the backcountry in the RZR. Sometimes the athlete wants to drive, ripping up the backroads and tracks. Other times, all they want to do is spend a day in the high country with their family. It sounds like a simple ask, but getting off the grid with anyone who has significant physical impairment is a logistical undertaking. There is the off-road vehicle itself, the trailer to move it to the trailhead, the truck to pull the trailer, and the support crew to load and unload.
Each outing can vary tremendously in location, duration, and overall goals. Return to Dirt board members and Burr work together with each individual to create an experience tailored to their needs and abilities.
Return to Dirt: How it Started

On December 11, 2017, Burr founded Return to Dirt as a nonprofit based in Glenwood Springs, CO. Only 45 minutes north of Aspen and a two-hour drive to the red rocks of Moab, this town of 11,000 was the perfect incubator for Burr's dream. As a young local who grew up skiing, biking and hiking the nearby trails, he had a strong network of friends and supporters throughout the valley who were excited to be a part of the mission.
"The people involved are not volunteering just once a month." Burr tells The Dyrt. "They are showing up for every trip and function and working behind the scenes."
Outside of the actual trips, the board and volunteers spend hours reviewing applications (all of Return to Dirt's outings have been free for participants so far), interviewing athletes, organizing the logistics of trips, maintaining the equipment and developing support for the non-profit.
Because his organization's mission is meeting such a clear need, sponsors quickly stepped up. Through private donations and corporate support, Return to Dirt was able to acquire a new Polaris RZR and modify it for athletes who have a variety of physical impairments.
The current rig now includes hand controls adapted for steering assistance, acceleration, and braking. The restraint system has a primary and secondary 5-point harness as well as support bolsters to make sure the passengers and drivers who may lack torso strength or balance are equally safe and comfortable.
A truck and trailer dedicated to the program came along by the end of last summer. A year into the program, they are hoping to get enough sponsorship for a second off-road vehicle, truck, and trailer.
Who can Benefit from Adaptive Sports?

Burr tells us that the athletes they work with do not all fall under any particular category. There is a huge variety in the disabilities they face, from MS and spinal bifida, to injuries sustained in combat. Some people come with previous backcountry or off-road experience, but not all. The board reviews applications and interviews athletes who are chosen to create a personally-crafted experience for them based on their needs.
So far, every trip has been provided free of cost to participants.
Return to Dirt has taken up people from around the country including Northern California, Massachusetts and Wisconsin. They have visited the Crystal Mill, explored the Flat Tops and found the hidden meadows of the Elk Mountains. Bringing accessibility back to the outdoors through adaptive sports opens possibilities for who gets to go where.
Where Can Return to Dirt Take Athletes?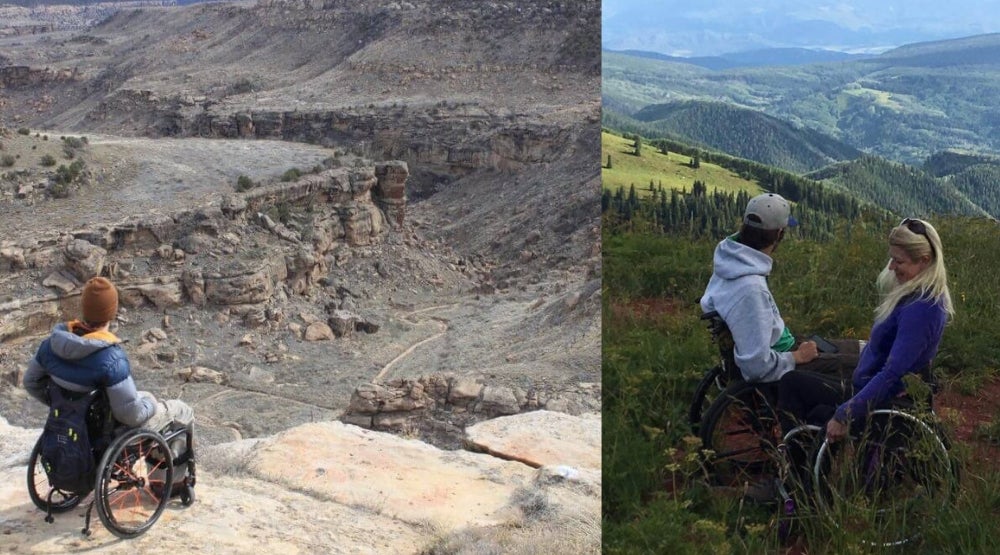 "Adaptive driving is the only adaptive sport that I've heard about where you can go as fast and as far as other able-bodied individuals," says Burr.
After just one summer, Return to Dirt has worked with 12 athletes on 13 different trips in the backcountry of Colorado and Utah.
"Sometimes it is about the driving, and some of our athletes do love the throttle," Burr said. "But more often, we use the RZR as a kind of off-road wheelchair."
Burr shared a story about one of the athletes they took out this past summer, a father from Crested Butte. Return to Dirt worked to bring the man's whole family up to the incredible wildflower fields. They're only fifteen miles from his backyard but utterly inaccessible without the right equipment and support. After his two boys spent time tearing around the high country, this man got to drive his sons back down.
"Helping them buckle in, pointing out different kinds of wildlife, and bumping along down the 4×4 road gave the whole family a day where dad was just dad, doing dad things regardless of paralysis," Burr told me, "That is our mission."
Expanding the Mission with Backcountry Adaptive Sports
Tim Burr wants to help physically impaired athletes have more than just one nice day in the mountains.
"The goal of many with physical impairments is to watch a sunset from camp and enjoy the sunrise from camp as well." says Burr. "They want wildflowers during the day and the peace and serenity of nature. They are longing for the experience, and Return to Dirt heard this."
At the end of the season, the group organized a trial campout with Burr himself playing the role of "guinea pig" as he called it. Because his higher level of paralysis makes his needs some of the most complicated of any athlete, while his background as an outdoorsman gives him an understanding of what to expect, Return to Dirt planned and executed a three-day, two-night campout near Moab. In the shadow of tall sandstone cliffs and spires, Burr and his team walked themselves through what it would take to make this experience accessible to others.
According to Burr and board member Dylan Hagan, the campout went extremely well.
They were able to spend more time in the RZR exploring washes and dunes and venturing toward the well-known Tusher Tunnel. Although Burr didn't walk through himself, many of the board members on the trip took time to explore it. At one point Burr got into the passenger seat with several of these "motorheads" and got the roller coaster ride of his life.
But what really made it worthwhile was the time spent outside, far off the beaten trail with the support of friends and awesome volunteers. Burr said this was the best his organization can offer.
"It's not about being an adrenaline junky; it's about being a freedom junky," Burr concludes. "The very nature of outdoor sports excludes a large percentage of the population from going where they want to go. We are trying to fix that."
Popular Articles: