The namesake Virginia Creeper locomotives crept along the mountainous hills carrying lumber and iron until going under in 1977. But before a train was chugging through what is today known as the Virginia Creeper Trail, it was a Native American footpath.
These days, the path is popular with cyclists, equestrians, and hikers of all ages in search of peace and quiet. Families ride their bikes together on sections of the trail, soaking up the beauty of the surroundings. Even dogs are welcome as long as they're on a leash.
The Virginia Creeper Trail runs 34.3 miles between Abingdon, Virginia and the North Carolina border, over adapted trestles and bridges with a relatively short grade. In some areas, the wooden pathways are elevated, overlooking rivers and waterfalls. It has 10 access points along the way with free parking and bathrooms.
Sound appealing? Let's explore.
Experience Appalachian Adventure on the Virginia Creeper Trail
There are a few ways to explore the Virginia Creeper Trail; it's open for walking, horseback riding and biking and can be done in one day or a few. It runs downhill from Whitetop Station to Damascus and then back uphill when it continues onto Abingdon with bridges and a few sharp curves along the way. It can also be biked and walked in the opposite direction and typically takes around 5.5 hours by bike one way.
Visitors can either bring their own bikes from home or rent one from outfitters like the Virginia Creeper Trail Bike Shop, which also arranges shuttles to either end of the trail. They rent front suspension mountain bikes, but if you bring your own, any type will do. In addition to the bike rentals, bikers receive a helmet to use as well as an emergency tire repair kit in case of flats for around $25 per day. Shops also sell children's bikes and bike trailers. Reservations are recommended, especially during the fall.
If you want to hike the trail, it's easiest to do it in two or three sections. The trail is made of soft gravel most of the way and has benches to rest as you go. The path runs alongside the Appalachian Trail in some places and passes through Damascus, so it can also appeal to section- or thru-hikers looking for a detour.
Bringing your own food and water is recommended, but there is a cafe or restaurant every 8 or so miles. There are also public restrooms along the way, specifically at the Abingdon Welcome Center, Alvarado Station and next to the caboose in Damascus. Also keep in mind that there is no cell service on parts of the trail. Bring a map from one of the visitor centers along with mosquito repellant. You don't have to bring all of your camping gear with you.
When to Hit the Creeper Trail
The season for biking or walking the Creeper Trail is generally considered to be from March to November, but the trail is open year-round. Many of the businesses surrounding it, like campsites and bike rentals, only operate during these months. There are a number of events during this time, including April's annual Virginia Creeper Fest, Appalachian Trail Days, and the Virginia Highlands Festival.
What to See Near the Creeper Trail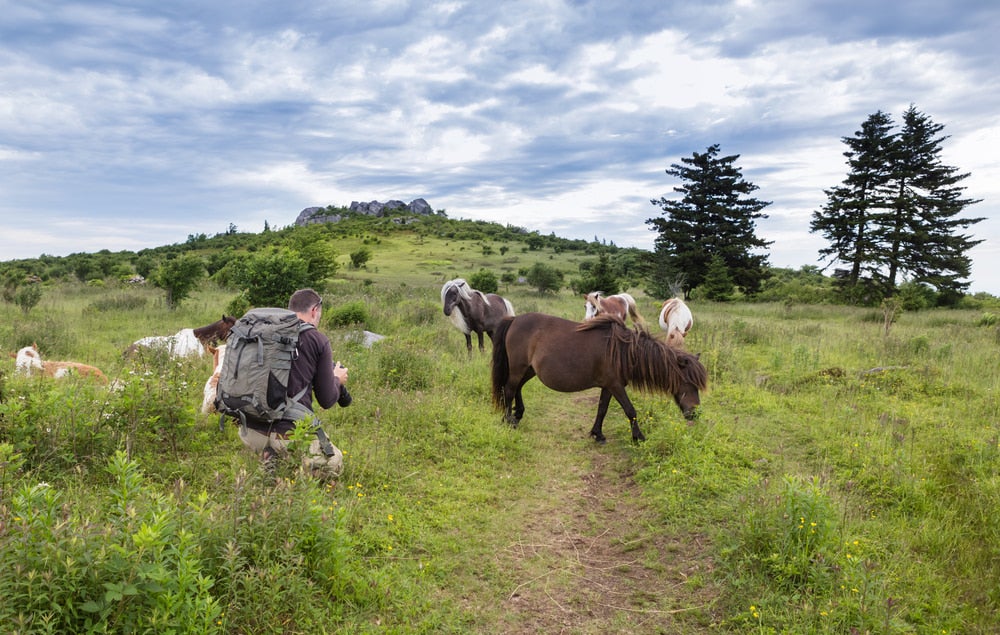 The trail itself is a great way to see the mountainous landscapes of southwest Virginia. Most parts of the trail are shaded with tall trees made beautiful during the changing colors of fall. Some sections feel secluded while others pass by family farms. But that's not all. The Virginia Creeper Trail also runs alongside or near a number of attractions, depending on how much time you have.
The Abingdon trailhead at mile marker 1 has a visitor's center that's home to "Old Mollie," a class M steam engine that once traversed the trail to Whitetop Mountain nearly 100 years ago. In downtown Abingdon, the Barter Theatre has been hosting performances since the Great Depression. Notable alumni include Gregory Peck and Ernest Borgnine. Wolf Hills Brewing is a short walk away and has creative IPA and Gose brews. The William King Museum of Art features works from around the state and the region.
The Southwest Virginia Cultural Center, formerly known as Heartwood, is an all-encompassing look into this part of the world. It is a visitor center with a cafe and store but also hosts live music and exhibits on the arts of the region. It features a famous "Loveworks" sculpture, and is also a stop on the Crooked Road Music Trail. The center is right outside of Abingdon, about a 15-minute ride from the trailhead.
Abingdon Vineyards near Alvarado Station at mile marker nine is the perfect place to leave your bike while you sample varieties of wine. The dog-friendly winery has a tasting room with meat and cheese plates as well as river access. They have a number of varieties including the Napa-style Home Town Red.
The Virginia Creeper Trail gets close to the Appalachian Trail south of the Creek Junction Trailhead at mile marker 27. Hikers can detour for a few days on the Creeper Trail. From the junction, the AT continues to the Whitetop and Mount Rogers peaks, which are a part of Grayson Highlands State Park. It is known for its two peaks, grassy meadows and the wild ponies that inhabit it. The park is also renowned for some of the best bouldering in Virginia and campsites with incredible views.
Where to Camp on the Creeper Trail
The Virginia Creeper Trail has a number of places to stay along the way, but you never have to go far to find somewhere to camp. There is a 25-foot right of way on both sides of the trail in the Jefferson National Forest that allows for one night of free camping, but you must stay off private property. Scales Trailhead, close to the Appalachian Trail, has a fenced-in area where hikers can stay.
Mount Rogers National Recreation Area within the national forest has eight campgrounds for both tents and RVs. Beartree Recreation Area has a shuttle to the Creeper Trail through Adventure Damascus. Fox Creek Campground even has horse camping for equestrians on the trail.
There are also commercial RV parks and campgrounds in Damascus and throughout southwest Virginia. Sarge's Pay Lake and Campground in Damascus is only 300 yards from the Virginia Creeper Trail with a stocked trout lake, free Wi-Fi and drinking water. It's open seasonally and reservations are recommended. Laurel Creek RV Park, also in Damascus, can accommodate 15 RVs at the full-service sites with Wi-Fi, water and electricity.
---
Related Articles:
---
Related Campgrounds:
Popular Articles: