When shopping for a camper van, my husband and I immediately gravitated toward the Ram ProMaster 2500. It was easy to park, with enough space to fit all the features we wanted—dinette, full-sized bed, storage space, and room to move without crowding.
What we failed to take into consideration was the ProMaster's inability to handle any kind of adverse terrain. We learned this on a particularly cold day in January in the Joe's Valley region of Utah. With only a few inches of powdery snow on the ground, our van was incapable of moving even a few feet. We had to use our Subaru Forester to push the Ram ProMaster along the snowy gravel road.
This is a big problem. We live in our van full-time, and often seek out free campgrounds. But many of these are at the end of bumpy dirt roads.
At that moment I knew: we needed an off-road camper to best enjoy the great outdoors. Not just a van with high ground clearance, but one that could rev its engine at the sight of washboard Forest Service roads.  Armed with our off-road camper and The Dyrt PRO, which allows you to downloaded maps and campgrounds to use offline, we knew we could take on anything.
These 6 Off Road Camper Vehicles Can Take You Anywhere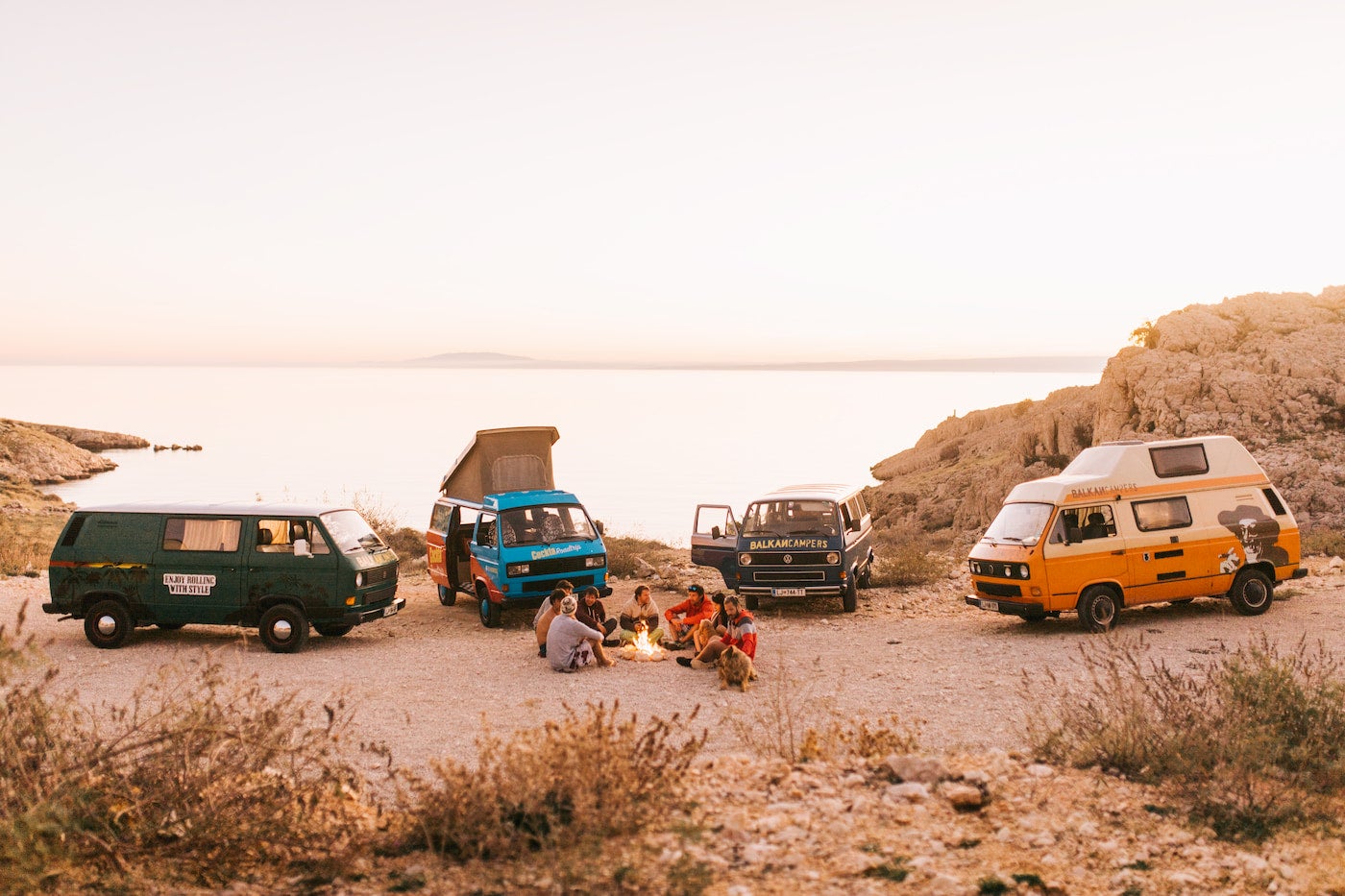 And so we've been sitting in our relatively incapable converted van, wishing we had thought beyond clearance to the routes that are now off-limits to us. No amount of slow driving or thoughtful maneuvering can make the difference when it comes to looming boulders and gaping potholes.
If you plan to venture deep into the backcountry, these off-road campers are the total package, offering lift, clearance, and capability so you can make the most of your wilderness excursion. We'll be straight with you—this level of luxury and accessibility comes at a high price, but it might be well worth the investment.
Tiger was creating off-road campers before off-road campers were cool. The company started in 1991, with the goal of bringing campers to wild, remote places they couldn't normally reach. With a full cab and a spacious living area, the truck-mounted Bengal gives campers the comforts of an RV with the mobility of a truck. Outfitted with a bathroom, kitchen, full solar capacity, and space to sleep four, the Bengal has been a top choice for decades.
All Terrain Warriors isn't messing around: the aggressive, functional ALPHA could pass as an undercover military vehicle. Built to suit a range of 4WD truck cab chassis, this boxy, spacious off-road camper handles rough terrain with ease.
Head for those hard-to-reach campsites with zero worries about whether or not your rig can handle the terrain. Spoiler alert: it can. And don't worry about skimping on amenities; this camper offers hot and cold running water, a shower and toilet, cooking facilities, and an entertainment system.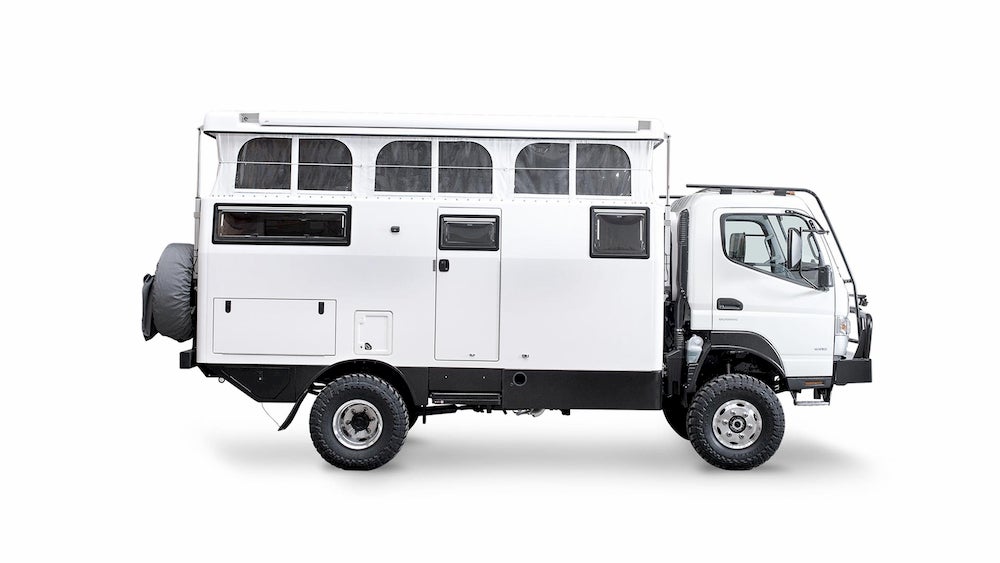 Originally designed in Australia, the EarthCruiser line was created to handle treaturous ground and arid heat. EarthCruiser upped the ante when they moved to Bend, OR; these off-road campers can handle extreme cold as well. For anyone who's tired of a tiny living space or a rig that can't do the job, the EarthCruiser's flagship EXP model—with its spacious storage capacity, designated bed and dinette, push-button lifting roof, toilet, and external shower—is the solution.
Sportsmobile takes the van you want and creates a custom interior conversion to suit your needs. While not all of their conversions qualify as off-road campers, the 4WD options like the Sprinter, Chevy/Ford E-Van, and the Sportsmobile Classic 4×4 certainly do. These are heavy-duty off-road camper vans with customizable options like suspension upgrades and onboard air. Sportsmobile has converted hundreds, if not thousands, of vans since 1961, and their collective experience can help you create the off-road van of your dreams.
---
Prepare for your trip by downloading maps. The Dyrt PRO lets you download maps and campgrounds without cell service. "My alternative to using pro would be to drive back out to cell service."
---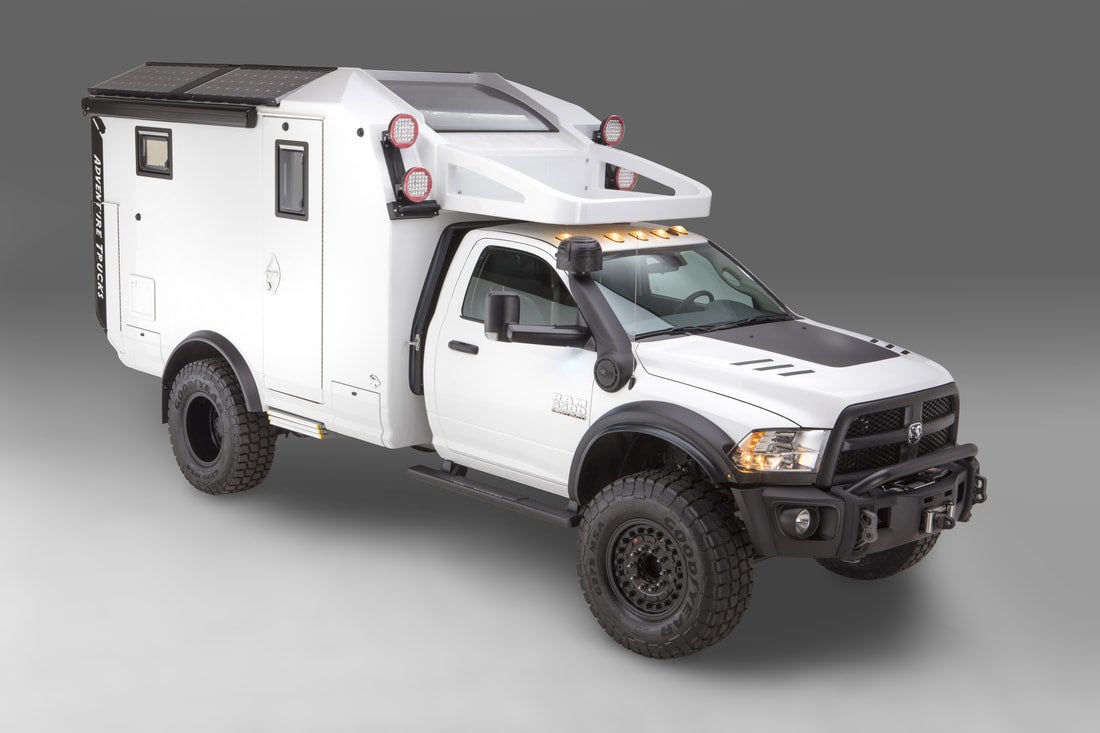 Want to go off-road for months or weeks at a time? Global Expedition Vehicles is right there with you. Their Adventure Truck off road camper model can be built on a Dodge Ram 5550 or Ford F550. It accommodates up to 90 gallons of fresh water, 100 gallons of diesel fuel, and 650 watts of solar—enough to sustain you for months of off-road travel.
Starting at $198,000 for a truck and camper conversion, the base model is not budget friendly. But the payoff could be priceless: freedom to roam where no other RV can take you.
Winnebago stepped up their game with the Revel model, a 4×4 turbo-diesel Mercedes Sprinter van with stylish features and off-road capabilities. There's a powerlift bed for increased camper storage space and a spacious bathroom with room to move as you lather, rinse, repeat. Campers will love the thoughtful touches, like an LED-lit canopy and built-in iPad holder for evening entertainment.
---
Related Articles:
Popular Articles: