South Carolina has no shortage of lovely beaches. With almost 200 miles of coastline and pristine barrier islands, it can almost be difficult to choose where to plant your tent stakes or park your RV. But there is one option in particular that is an absolute draw for locals and tourist alike: Myrtle Beach camping.
This well-loved tourist spot offers amenities and experiences like no other. Explore the Palmetto State's favorite beach town from a new angle and see why camping in Myrtle Beach should be on your bucket list.
Why You'll Love Myrtle Beach Camping
Myrtle Beach's history as a beachfront resort town dates back to the turn of the 20th century, when the first beach hotel was built and drew visitors. The town grew from that single hotel, quickly morphing into a tourism hotspot on some of the state's most pristine beaches. Now drawing in an estimated 14 million visitors annually, the town is a never ending adventure of oceanfront fun.
Top 3 Myrtle Beach Camping Options for Every Adventurer
Myrtle Beach runs the gamut from luxury RV resorts to primitive, walk-in tent sites. The summer months tend to be the area's busiest time, but long, adventure-filled days can be found year-round.
For the snowbirds, temperate winter weather means Myrtle is the perfect place to park your RV year-round. Whatever–or whenever–your preference, Myrtle Beach camping has it all.
Local favorite Huntington Beach State Park, located just south of busy Myrtle Beach proper, is a nature lover's paradise. Beachfront tent camping, a large RV campground, and well-maintained bike and footpaths keep Myrtle Beach campers coming back here year after year.
Huntington Beach State Park is also known for a wide variety of bird species, especially during winter migration season. This diverse ecology, coupled with pristine beaches and salt-marshes makes it wildlife watching hotspot.
Also nearby is Atalaya, the winter home of beach namesakes Archer and Anna Hyatt Huntington. The estate is architecturally gorgeous with many opportunities for frame-worthy photos.
"By far, Huntington Beach State Park in Murrells Inlet, SC is one of the best beach campgrounds the east coast has to offer. Be sure to reserve a site on the South end, it just opened in April 2018. Concrete pads, FHU, WiFi and the beach is just steps away from your door. The older section is still of high quality [with] outdoorsy things to do. Do not miss this gem!" — The Dyrt campers Kevin and Linda D.
Camp Here
On the other end of the spectrum, Lakewood Family Camping Resort is heavy on amenities. This family RV campground has everything on-site, even a laundromat and coffee shop. Because of that, you only need to leave the campground if you feel like it. Cabins and tent sites are also available.
Complete with three waterslides, a lazy river and a pool, campers have their choice of where to chill if they want to take a break from the beach. Also, family-friendly activities like mini-golf and shuffleboard are included with the price of the campsite. Camping in Myrtle Beach has never been more full of perks.
"Rated a 5 star! Spent five days here with three kids. There was everything for all ages. Bathhouses were clean, water park was a hit for the kids and the beach was great. My wife loved the coffee house and the fact there was an onsite laundromat. Next time we will reserve an Oceanfront for the concrete patio. Highly recommend this place!" — The Dyrt camper Matt M.
Camp Here
Situated in the heart of the beach town's Grand Strand, Myrtle Beach State Park is a surprisingly serene environment. With campsites close to the beach, impressive surf fishing, and a towering pier, some of the best camping in Myrtle Beach can be found in this relatively compact state park. Most importantly, you don't need a state fishing license to fish here, although you do need a daily pass from the camp office.
In this park, visitors also have the opportunity to spy one of the last old-growth maritime forests on the South Carolina coast. This primitive and unique ecosystem features iconic live oaks and southern magnolias. Wildlife lovers will find something new around every twist in the trails.
"It's an excellent place to visit for a day trip or an overnight stay. Check the schedule before you go for your kids. They have some excellent ranger-led programs that teach everything from crabbing to searching for bugs. We actually used a lot of their programs for our homeschool science classes." — The Dyrt camper Dr. David P.
Camp Here
---
Fun that Goes Beyond the Campground
Widely-regarded as the most popular vacation spot in the state, Myrtle Beach boasts family-friendly attractions, top-notch shopping and dining, and world-class fishing. If you decide to beat the famous South Carolina heat and skip the beach, you'll find plenty to do.
1. Explore Nature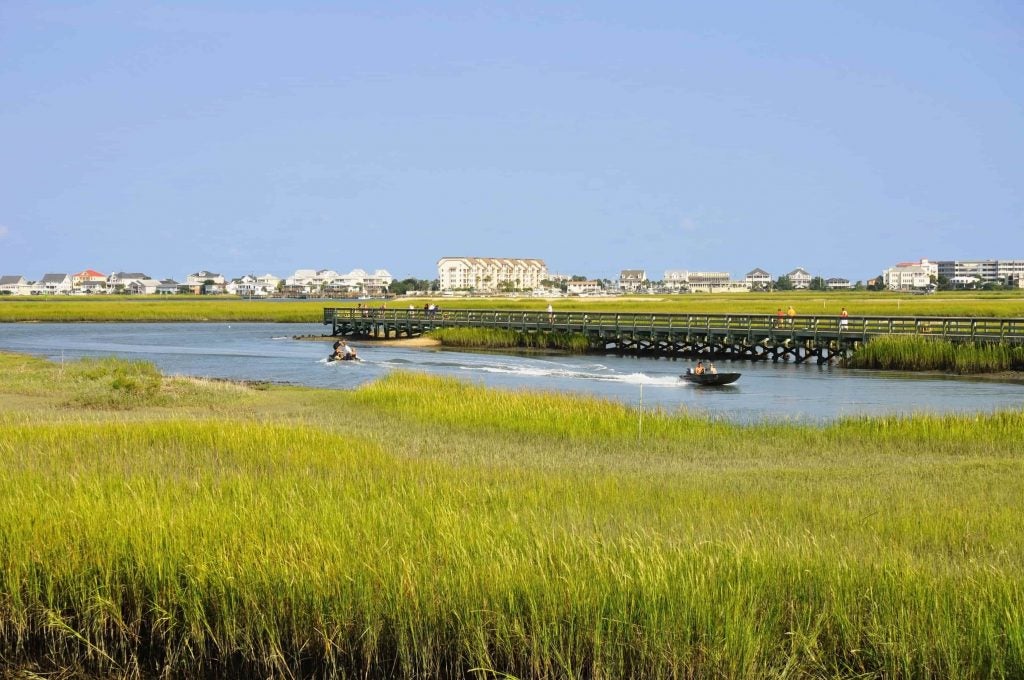 The Palmetto State is known for being a nature lover's paradise, and camping in Myrtle Beach will bring you closer to that than you'd expect. Full of wildlife, migratory birds, lush maritime forests, salt marshes, and lowland swamps, the natural areas surrounding Myrtle Beach provide the perfect venues for communing with nature or checking out the native fauna. Paddle out with Gator Bait Adventure Tours to see alligators and other wildlife in the southern swamps.
2. Check Out a Show
View this post on Instagram
Over the last 30 years, Myrtle Beach has seen a boom in their theater community. As it is now home to several auditoriums across the Grand Stand, campers can plan to see a live show nearby as easily as they can plan a hike. For those looking to spend their evening with a show rather than around the campfire, Myrtle Beach hosts musical revues, pirate adventures, and even a country music showcase at The Carolina Opry that will surely bring smiles to the faces of both young and old campers.
3. Wander a Museum
View this post on Instagram
Myrtle Beach offers museums unlike those stuffy, white-walled modern museums you'd find in a major metropolis, and are located surprisingly close to your campsite. Find family fun during your stay by getting up close and personal with celebrities and stars (or at least their likenesses) at The Hollywood Wax Museum or seeing the weird and wild at Ripley's Believe it or Not! Museum.
4. Seek Thrills
Hang out with baby tigers at Myrtle Beach Safari or check out the views from South Carolina's tallest ferris wheel at Family Kingdom Amusement Park , if it's thrills you're after, Myrtle Beach camping has you covered.