Lighthouses in Michigan are the beacons of memory for one local writer. You can visit them, too, on your next camping trip.
---
Michigan boasts almost 3,000 miles of Great Lakes shoreline.
Over 43 summers, I think I've camped on at least half of them. Every summer, my dad took a week off work and my mom took a week to pack and we set off to another state park, caravaning with aunts and uncles, cousins and grandparents. The most tumultuous summers, the ones between ages 12 and 17, I fought going. Fishing on Dad's boat? Ick. Singing around a campfire? Boring. Hiking with Papa while he told me which birds were in which trees by listening to their calls? Well, that one I didn't mind so much.
Obviously, those were the summers that mattered the most, that had the most impact. These family camping trips were the lighthouses to my teen years, guiding me back to the principles that I value the most today. Family, nature, music; I learned these things in a tent, in the woods, sitting around the fire pit with the smell of campfire smoke clinging to my clothes.
There was an abundance of real lighthouses on those character-guiding trips, too—the iconic structures marking the years with their swooping beams and winding staircases. According to the U.S. Coast Guard, there are as many as 125 lighthouses in Michigan, and I suspect I've seen most of them. That's more than any other state—more than you can visit in a summer, surely. But hey, you've got to start somewhere, right?
8 Lighthouses in Michigan You Can Camp Near
Here are eight of the state's most scenic and striking lighthouses, set nearby (or within) camping in Michigan. Hopefully they're as impactful for you and your family as they were for me.
1. Holland Harbor Lighthouse—Holland, MI
From Holland State Park, stroll down the boardwalk over the expansive beach to one of the most photographed lighthouses in Michigan. (also known as Big Red) There are beautiful views of the outside of the lighthouse from here, but Big Red, protecting Lake Michigan boaters for more than 100 years, only has pedestrian access open to the public on Tuesdays and Thursdays, so plan your visit accordingly. The three-story building with twin gables and the conical lighthouse soaring above is representative of the Dutch influence in the area.
"This is a beautiful campground right on the beach of Lake Michigan. It had plenty of paved camping spaces and even cabins to rent, you can walk to the pier, and lighthouse. Watch the boats go by at morning and spend a nice day down at the beautiful clean beach. It's a great spot for any weekend. But plan ahead, spots are usually booked!"— The Dyrt camper Jennifer S.
2. Grand Haven Lighthouse—Grand Haven, MI
Grand Haven State Park has the best views of this bright red beacon on Lake Michigan. Head out and cast your reel; it's a great place to catch the sunset even if the fish aren't biting. The town of Grand Haven is immensely charming, the beaches spectacular, making for an overall amazing vacation.
"This was a great overall experience. We were right on the canal side and only 300ft away from Lake Michigan. Grand Haven State Parks has upgraded facilities so bathrooms and showering is actually pleasant. Love this place and will be going back annually." —The Dyrt camper Aaron W.
3. Big Sable Point Lighthouse—Ludington, MI
Just a two-mile hike from Ludington State Park, this black-and-white beauty is over 100 feet tall and more than 150 years old. Visitors can climb the tower, explore the keeper's quarters, which have been converted to a gift shop, ramble around the sand dunes or check out one of the concerts that the Keeper's Association puts on throughout the summer. If you're a lighthouse junkie or just want to see more, Little Sable Point Lighthouse is also nearby.
"Although the Ludington State Park is a very popular and busy state park, as it is right on the beach, this is an amazing state park to visit. The beauty of the trees and dunes as you hike around are astounding and grow you to have a great adventure throughout your visits here." —The Dyrt camper Noah Jonathon M.
4. Grand Traverse Lighthouse—Northport, MI
Perched at the tip of the little finger (otherwise knowns as the Leelanau Peninsula) in the Leelanau State Park Campground, this lighthouse's bright white exterior and red roof against a blue Michigan sky is a sight to behold. Inside there is a restored keeper's quarters with an old organ and a treasure hunt for kids. Watch out though — this one has been visited by pirates from nearby Beaver Island and is supposedly haunted.
"Clean and quiet, with numerous sites right on Lake Michigan, what's not to like?" —The Dyrt camper Lauren W.
5. Rock Harbor Lighthouse—Isle Royale, MI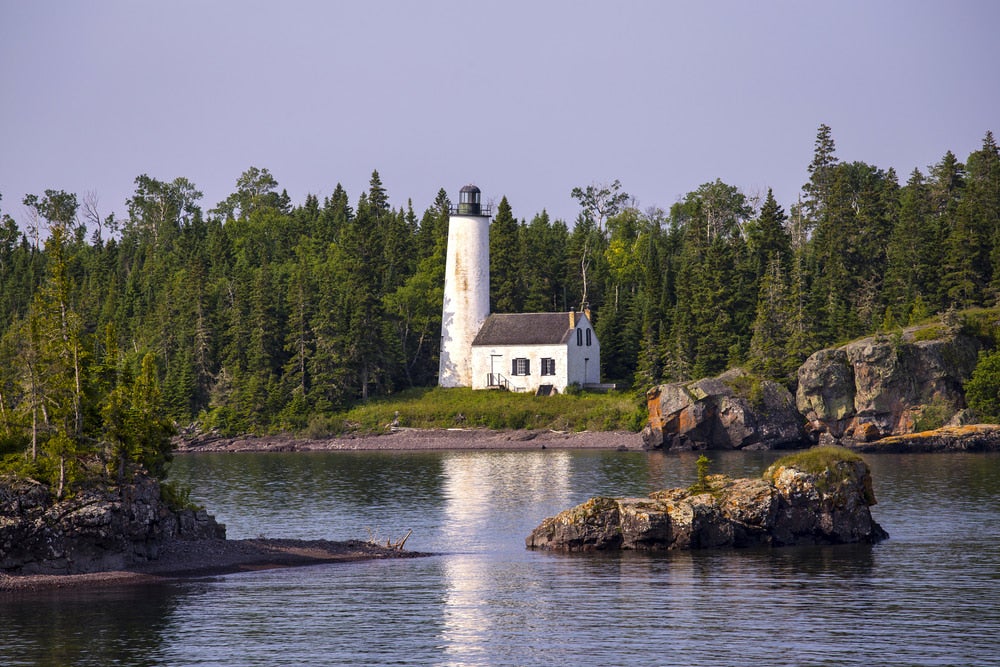 Accessible only by ferry, seaplane or private boat, this stark white, stone and brick lighthouse is enchanting perched amidst the imposing pines of Isle Royale National Park. The island is in Michigan's Upper Peninsula and surrounded by Lake Superior. There are three other lighthouses on the island, as well as a chance to see moose or even one of the wolves that have been relocated here.
"Loved this spot. Spent our first night here coming from Rock Harbor and had a great time. Got our own shelter even though we showed up a little late in the day. Had some good spots to put hammocks up at our site and water is plentiful since it's right on Lake Superior. Awesome spot to spend a night." —The Dyrt camper Tee Jay M.
6. Au Sable Light Station—Grand Marais, MI
This upper peninsula light is just a mile-and-a-half hike down the southern shore of Lake Superior from Hurricane River Campground. Both are part of the Pictured Rocks National Lakeshore. All of the campgrounds in the Lakeshore are primitive. There are two other lighthouses in the Lakeshore, the Munising Range Lighthouse, which is still in use, and the privately owned Grand Island East Channel Lighthouse. The latter is probably the most picturesque of the three with its weathered wood, but you'll have to snap your photos from a boat. No tours here.
"Amazing location on Lake Superior in the Pictured Rocks National Lakeshore. Short hike to lighthouse" —The Dyrt camper Mark B.
7. Point Aux Barques Lighthouse, Port Hope, MI
One of the first 10 lighthouses in Michigan, white brick Point Aux Barques is perched on the shores of Lake Huron at the tip of the thumb in Lighthouse County Park. Built in 1847, it became home to the first female lighthouse keeper in Michigan in 1849 when Catherine Shook's husband drowned, leaving her to take over the duties.
"Large and very open grounds right on Lake Huron, plumbing, electrical, some playgrounds and of course the lighthouse. Enjoy beautiful sunrises and clear dark sky's over the open water for star gazing. Plus, constant breeze makes it always cool and very low mosquitoes." —The Dyrt camper Rachel K.
8. Tawas Point Lighthouse, East Tawas, MI
Climb the 85-step spiral staircase to the top of this lighthouse located inside of Tawas Point State Park. With miles of trails to walk or bike, it's a great spot for birders. This is one of a small number of lighthouses in Michigan that is still in use. It's lit every night to ensure mariners find their way around the point.
"The park is very clean. Some sites are small, some are larger. Have visited many times. Fun interpretive programs for adults and kids. Beautiful beach to spend the day on. Located close to town. Lots of areas to walk as well." —The Dyrt camper Megan A.
---
Related Articles:
---
Related Campgrounds:
Popular Articles: