This article about ghost towns in Arizona is brought to you by GCI Outdoors. Their camping chairs are perfect for sitting around the campfire while you listen or tell spooky ghost stories.
---
In the 1800s, Arizona was the place to be to strike it rich. Underneath the saguaro-studded surface lies vast ore, gold, silver, and copper deposits. Large mines brought in workers from across the country and helped to establish turn of the 20th century boom towns. Brothels lined the dusty streets, saloons helped miners drink their sorrows away, and gunfights rang out as miners brawled over booze, women, and money.
In modern times, these cities are remnants of their former glory and draw tourists instead of prospectors. Most were founded in the late 1800s or early 1900s, except for one. Seneca Lake saw its rise and fall in the 1970s.
Ghost Towns in Arizona You Won't Want to Miss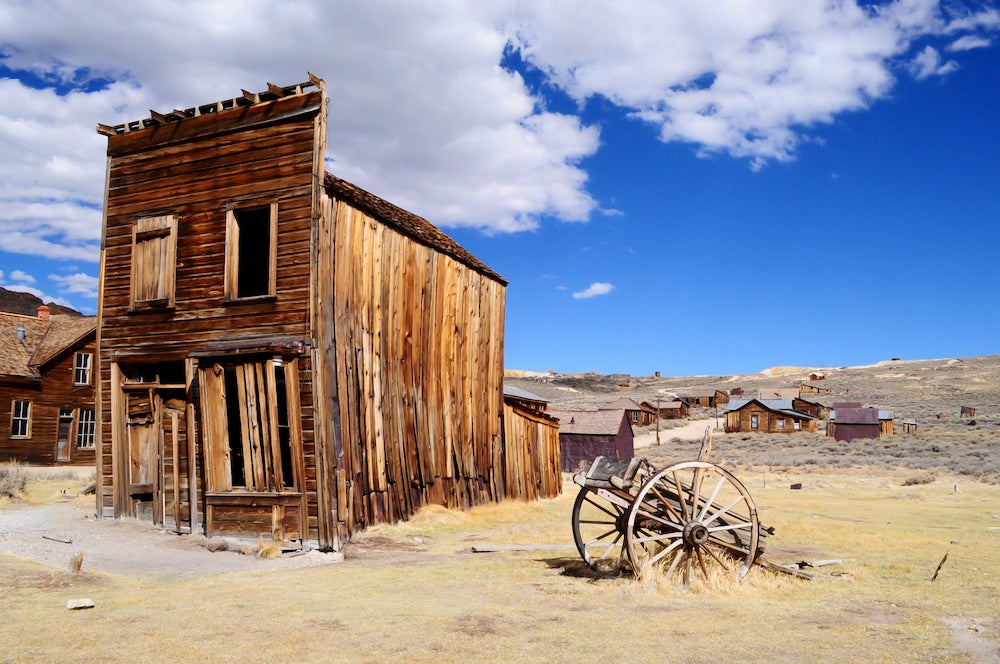 From Vulture City to Swansea, each town has unique attractions and plenty of history. And each has camping nearby so you can make an overnight trip to one, or plan an Arizona road trip to visit them all.
1. Vulture City, Arizona Ghost Town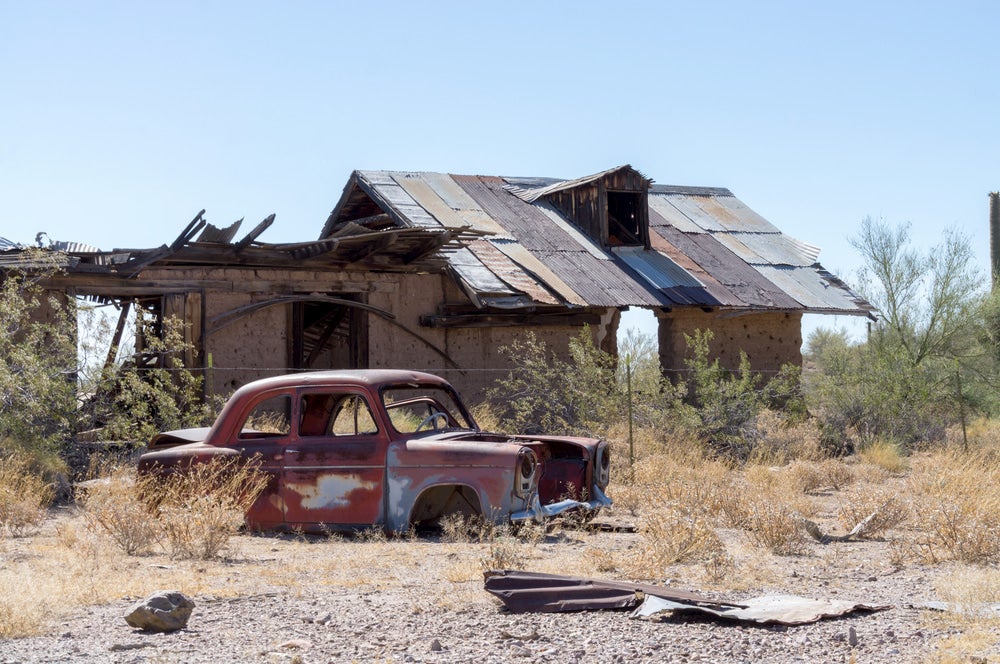 In 1863, prospectors discovered gold in Vulture City, which eventually turned into the most productive gold mine in Arizona history. At its height, Vulture City held 5,000 residents and had a fair share of crime. At one point, 18 men were hanged near the home of Vulture City's founder, Henry Wickenburg. The mine saw reductions in productivity in the 1900s and permanently closed after World War II. Now the buildings are decaying and visitors can take a two-hour walking tour through the mine.
Just 15 miles north in the city of Wickenburg, visitors looking for camping in Arizona can stay at Constellation Park. These sites are primitive and dry, so if you're looking for amenities, this isn't the place. However, you'll get quite the deal — sites are only $8 a night, and many will accommodate a Class A trailer. Campers can dump at the Fast Mart 76 and fill-up water jugs just across the road.
2. Jerome, Arizona
Jerome holds a special place in the history of ghost towns in Arizona. Due to the undersea volcano that developed 1.75 billion years ago, Jerome sits atop a deposit rich with copper and other minerals. Prospectors and ranchers turned these deposits into a fortune in the early 1900s. As the mine prospered, it invested in the town to create worker stability by building baseball fields, a swimming pool, and a public park. In the 77 years of operation, UVX produced 33 million tons of minerals including copper, zinc, and silver. While the population reached nearly 5,000 in the 1930s, its population now is a mere 444.
Rarely can you find a U.S. Forest Service campground with hookups, which is why Potato Patch Campground stands out among campgrounds in the area. Resting on the western edge of the Coconino National Forest (and just 20 minutes from Jerome), it might be hard to find a better campground near ghost towns in Arizona. For instance, campers with bigger rigs can stay in Loop B, and those with smaller setups can pick from other available sites. One of the best parts of Potato Patch is the elevation — at nearly 8,000' Potato Patch stays nice and cool for campers to escape the heat of Phoenix.
3. Tombstone, Arizona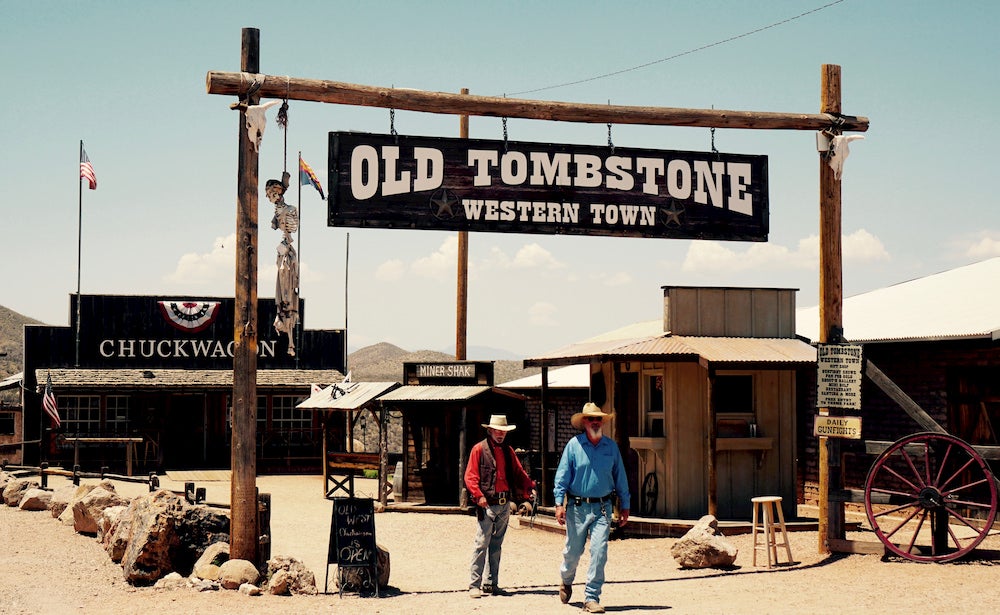 If you're a Western movie buff, you've likely heard of Tombstone, AZ. You might know it as the backdrop for the 1957 classic, Gunfight at the O.K. Corral. The town's history lends itself to be the perfect setting for a classic Western, having hosted actual gunfights, brothels and one of Arizona's largest silver mines for decades. While the town boomed and busted in the early 20th century, visiting Tombstone now feels like stepping back in its heyday. Saloons line dirt roads and swinging barn doors draw tourists into late-1800 style bars and shops like a general store and post office to give you an authentic Wild West feel. Three staged gunfights each day reenact the feel of Tombstone back in the day.
The tourist-friendly Tombstone RV and Campground puts campers within walking distance of the kitschy western town while providing modern amenities like a swimming pool, level hook-up sites, and a camp store. There's even a shuttle service to avoid downtown parking, or if you choose to imbibe some of those strong, old-west brews.
4. Fairbank, Arizona
Fairbank acted as the friendly neighbor and gateway to nearby Tombstone, with the closest rail line and railway station to what was, at the time, the largest city in the western U.S. Before the railway came in, a Native American settlement called Santa Cruz stood in this spot. Now, after the rise and fall of Tombstone, Fairbank is managed by the BLM and is an outcropping of abandoned buildings–allowing visitors to picture a town that once was a travel hotspot for the better part of the 20th century
The Tombstone Territories RV Resort — just two miles from the ghost town of Fairbank — offers giant sites for RVs of all sizes. All sites are pull-through and keep spending to a minimum–$33 for a single night with discounts for Good Sam, Military, and AARP members. There are tons of amenities onsite too, like an indoor swimming pool, a nearby river, disc golf, a dog park, and billiards in the clubroom.
5. Seneca Lake, Arizona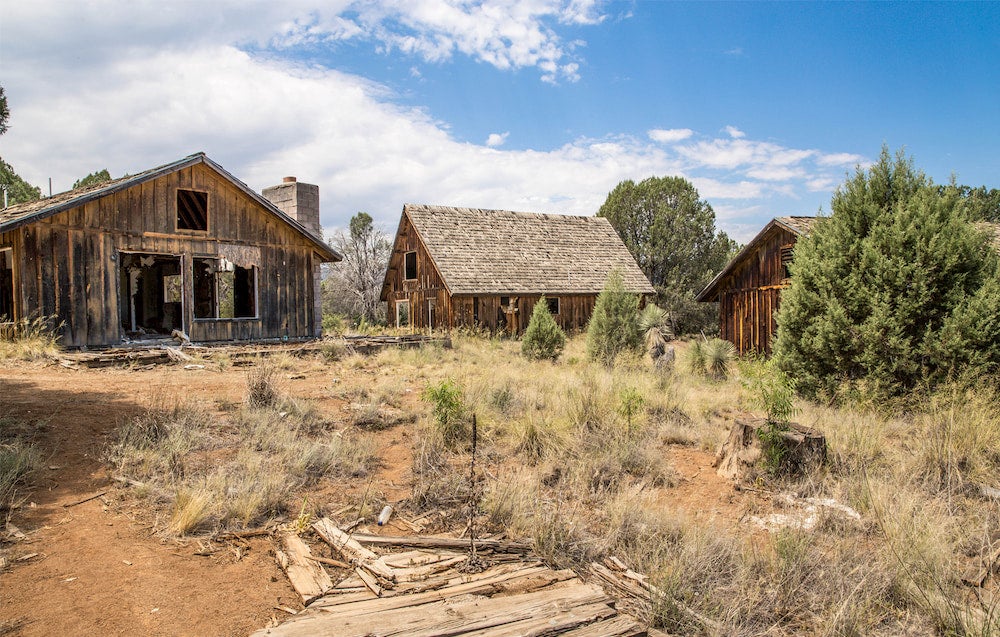 Different from other ghost towns in Arizona, Seneca Lake isn't a story of boom-and-bust, but instead of default and destruction. Seneca Lake's designers intended it to be a resort town, equipped with a 90-room motel, golf course, and riding stables. Unfortunately, after building a trading post, restaurant, bar, and gas station, the borrowers defaulted on their loan and now all that remains of Seneca Lake is abandoned buildings and the promise of what could have been.
This campground, managed by the Tonto National Forest, offers a spacious group site that can also be used as 13 individual first-come-first-serve campsites when a group doesn't have a reservation. Visitors heading to Seneca Lake from the national forest will be just under 20 minutes from the ghost town. Ponderosa and pinyon pine offer shade and respite after a long day in the Arizona sun.
6. Two Guns, Arizona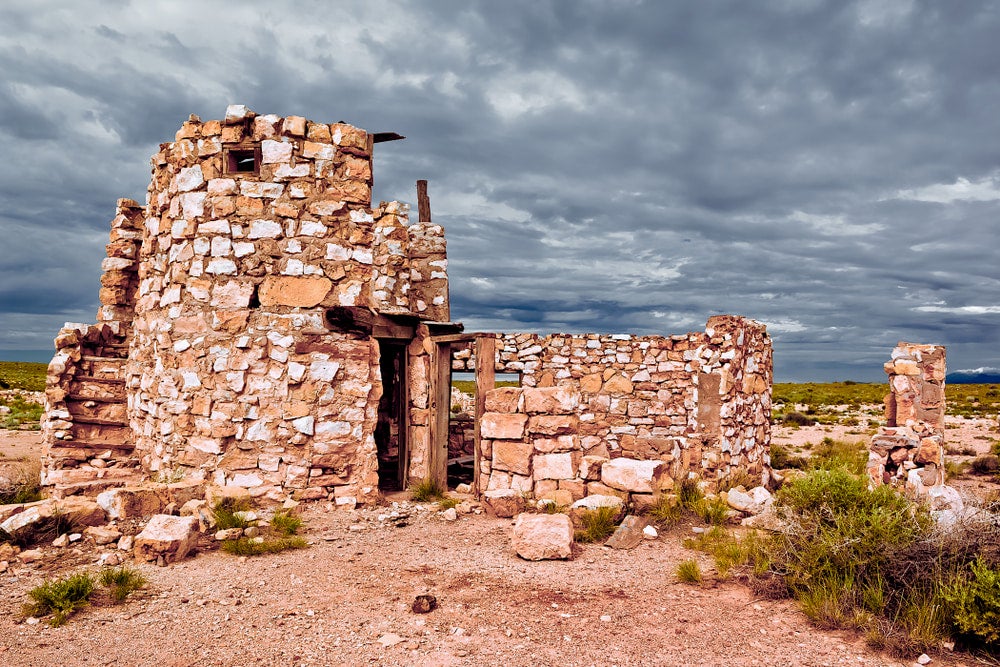 Rife with money and glory, Two Guns holds the story of a man who appropriated Native American culture and history and paid the price for it. When Route 66 started making its slow construction toward Arizona, Harry Miller decided to buy land and make his fortune on tourism. He braided his hair and called himself "Chief Crazy Thunder". He was later mauled by not one, but two mountain lions, and bitten by a Gila monster — a reptile with a poisonous and infectious bite. There's plenty more mystery wrapped up in Two Guns that you'll have to see for yourself.
If you're coming out of Two Guns and heading east, you'll drive by Meteor Crater RV Park just three minutes down the road off I-40. The park is nearly a desert oasis. With a gas station, country store, and large, secluded sites that perfectly blend convenience and comfort. As the name suggests, you can find the world's "best preserved" meteor crater just feet away from your RV site — a natural wonder that will leave you in awe.
7. Swansea
Swansea's life as a town was tumultuous and short-lived. Though ore was discovered in the 1860s, the remote location kept prospectors from pursuing extraction until the railroad came to nearby Parker and then Bouse. This alone spurred the growth of Swansea in a short amount of time–allowing the development of an auto-dealership, a saloon, theatres, and a smelter. After less than ten years from serious development, the holding company collapsed. Even though a new owner bought the town in 1914, the town met its ultimate collapse after World War I. Just like many ghost towns in Arizona.
Getting out to Swansea is a trek, and while there's plenty of BLM land nearby if you want to camp primitively and for free, you'll want to stay west in Parker if you're looking for hook-ups and amenities. Check out Buckskin State Park, a good 45 miles away, which has immediate river access to beat the Arizona heat and spacious pull-thru sites. Leave the rig here while you venture further out to abandoned Swansea.
---
This article was brought to you by GCI Outdoor.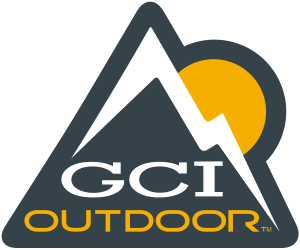 Add their camping chairs to your camp kit today!
---
Related Articles:
---
Related Campgrounds:
Popular Articles: