Conundrum Hot Springs is the most famous alpine hot spring in Colorado, which is part of the reason why it's also a hot spot (pun intended) of conservation controversy. The Forest Service implemented a strict permit system for overnight visitors to dramatically decrease the impact to the wilderness area. To snag a permit, you have to be well-informed and a little lucky.
Protecting and Embracing Conundrum Hot Springs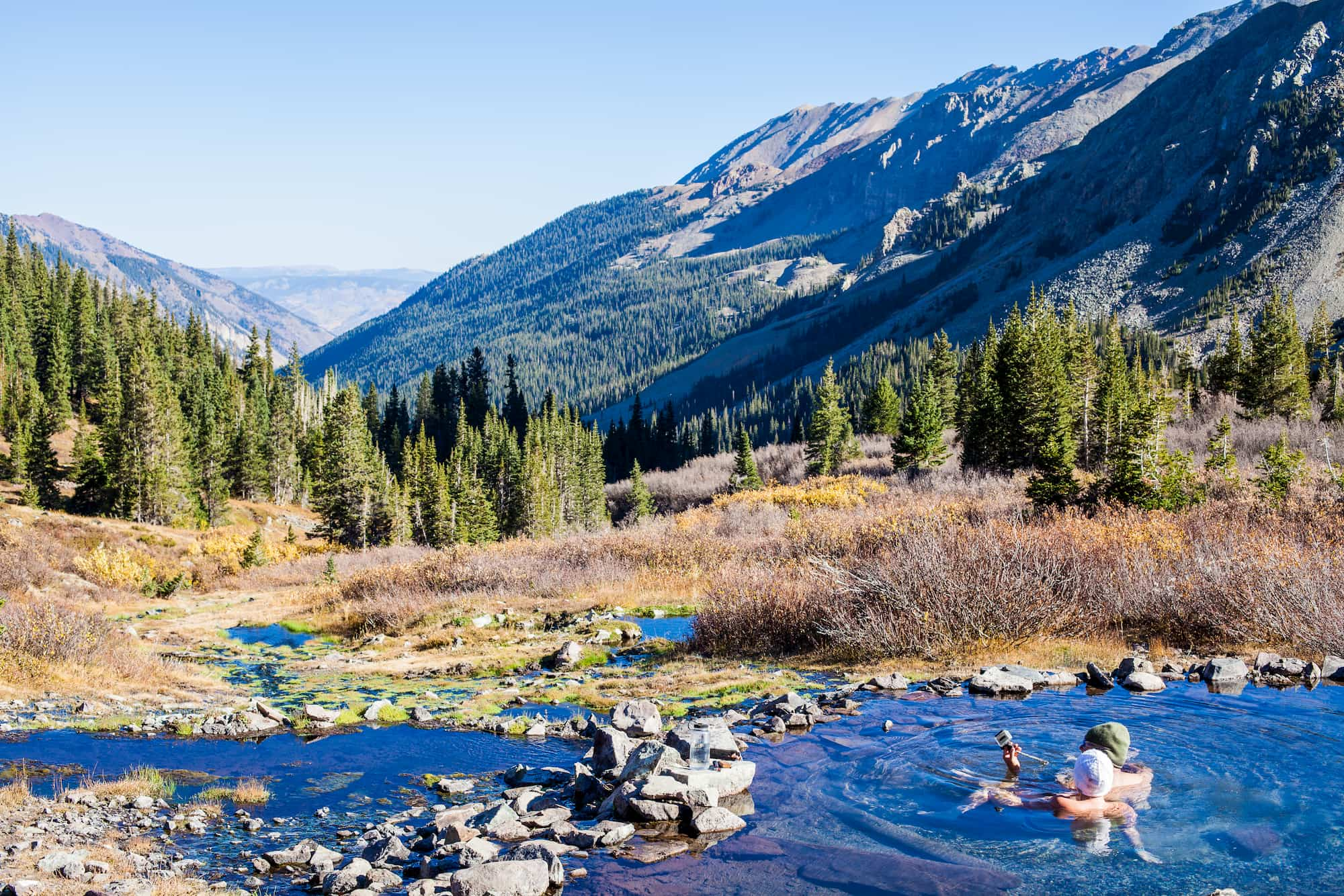 The appeal of Conundrum Hot Springs is undeniable. Assuming you don't mind the 8.5-mile trail and 2,400-foot elevation gain on approach.
After hiking through aspens, pine and fir, you get to camp near treeline. In addition, you get to soak in a natural spring while taking in the vistas of the Elk Mountains. In the summer, there are millions of wildflowers of every color. Enormous aspen groves put on a gold-leaf show in the fall. Day hike over mountain passes, spot elk herds, and then relax while stargazing at 11,200 feet in the warm waters.
For all of the above reasons, Conundrum Hot Springs has been thronged by an average of 50 people a day. A huge number for a wilderness area without trash cans or bathrooms. Most visitors do their best when it comes to taking care of the land. But even proper LNT practices- like burying human waste- were creating unsafe conditions. After trace amounts of human fecal matter began showing up in the water, and rangers had to bury 140 piles of human waste one month in 2017, the Forest Service decided to limit access to the hot springs via a permit system starting in 2018.
Visitors and locals alike reported that during last summer, the permit system seemed to work very well. Instances of human-bear interactions, illegal fire rings, and trash were drastically reduced. Now that this permit system has been in place for years, the pristine wilderness area has largely returned. The summer of 2020 will be an excellent time to hike to Conundrum Hot Springs.
Hiking and Camping at Conundrum Hot Springs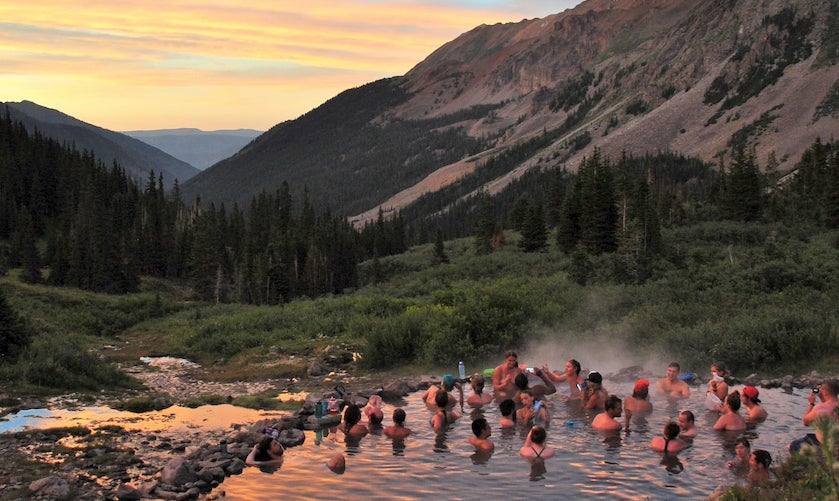 Located at 11,200 ft, the hot springs and surrounding campsites are subject to the conditions associated with high elevation travel. Backpackers are more susceptible to altitude sickness up there, and need to be aware of the symptoms of more serious complications. A water filtration system is necessary, and it is important to drink more than two liters every day. The hike crosses Conundrum Creek three times, so finding a place to refill water bottles is not difficult.
Before July, especially after a wet winter like 2018, expect to see snow in or around your campsite. By mid-July, the snow will have likely melted, but you will need to plan around the regular summer storms associated with 'monsoon' season. These storms can appear quickly, and often involve cloud to ground lightning and intense bouts of precipitation. Safe lightning travel recommendations involve being back below treeline by noon, or 2 PM at the latest, and using the lightning position if no dense, uniform cover is available.
The clothing you pack must provide warmth to freezing temps and protection from these storms, including rain pants and jacket. It is strongly recommended that you always travel with a partner, as there is no cell service, and rescue from that altitude is difficult.
Wildlife local to Conundrum includes elk, moose, bear, foxes, coyotes, and very pesky jays. Keeping a clean camp at all times is necessary. Hikers are required to bring their own bear canisters to camp here. Food left out during the day or night is an attractive nuisance for wildlife, and can bring unwanted attention from bruins. Camp jays are notorious in the area for helping themselves to any tasty items available, even from your plate!
Rules and Etiquette
Solid human waste must be packed out. The heavy use of the area does not allow for waste deposited in catholes to fully decompose. Bring a wag bag or three, depending on the number of nights you plan to stay, and follow all the proper directions for disposing of those. Wag bags are also available at the trailhead, although they can run out, so better to bring your own.
Remember that there is a ban on both dogs and campfires throughout the year as well.
For more information on camping in this wilderness area, watch the following video, which is mandatory viewing for overnight visitors.
When to Visit Conundrum Hot Springs
Summer camping in high country areas like this really exists only from early July to mid-September. During this peak season, the snow is (mostly) gone, the temperatures are milder, and the wildflowers appear. Hiking and soaking are wonderful under the clear blue skies during the day and looking up at brilliant Milky Way galaxy each night.
During the fall colors season, mid-September to early October depending on the year, backpackers experience the floor to ceiling gold of Colorado's aspen groves. The aspens cover most of the trail for the first four miles, although the actual hot springs and campsites are located primarily in dense pine and fir. The tundra above treeline puts on its own display in the fall, however. The tiny plants turn a brilliant orange or deep red, and the alpine lake nearby is surrounded by this colorful carpet. Be prepared for temperature to drop well below freezing at night during this season.
After early November through until April or May, expect winter-like conditions. The access road, trail and all campsites will be covered in snow, requiring cross-country or AT skis, or snowshoes for approach. The trail is largely protected in forests, but it does cross a few potential avalanche areas. If any snow is on the ground during your planned visit, be sure to check the Colorado Avalanche Information Center for zone reports. Backpacking during the winter is very challenging and potentially dangerous, even for the very prepared and experienced backcountry enthusiasts.
Getting a Permit For Conundrum Hot Springs
The twenty designated campsites allow between two and six people allowed each.
The highly competitive permits become available on three release dates throughout the year. If you have a certain date in mind, or want to get up there on a weekend, you need to have a Recreation.gov account and be ready to make a reservation almost immediately on the following days:
February 15 at 8 AM MST- Overnight reservations for April 1 – July 31
June 15 at 8 AM MST- Overnight reservations for August 1 – November 30
October 15 at 8 AM MST- Overnight reservations for December 1 – March 31
If you just want to hike up for the day, you do not need to make reservations, but you must be on the trail, heading down before sunset.
Parking is available in a small lot at the trailhead. Once this parking lot is full, however, you may not park on the road, and will need to arrange a shuttle. Snow covers the parking lotfrom December through May and this may extend the length of your hike by several miles.
What to Do While Camping at Conundrum Hot Springs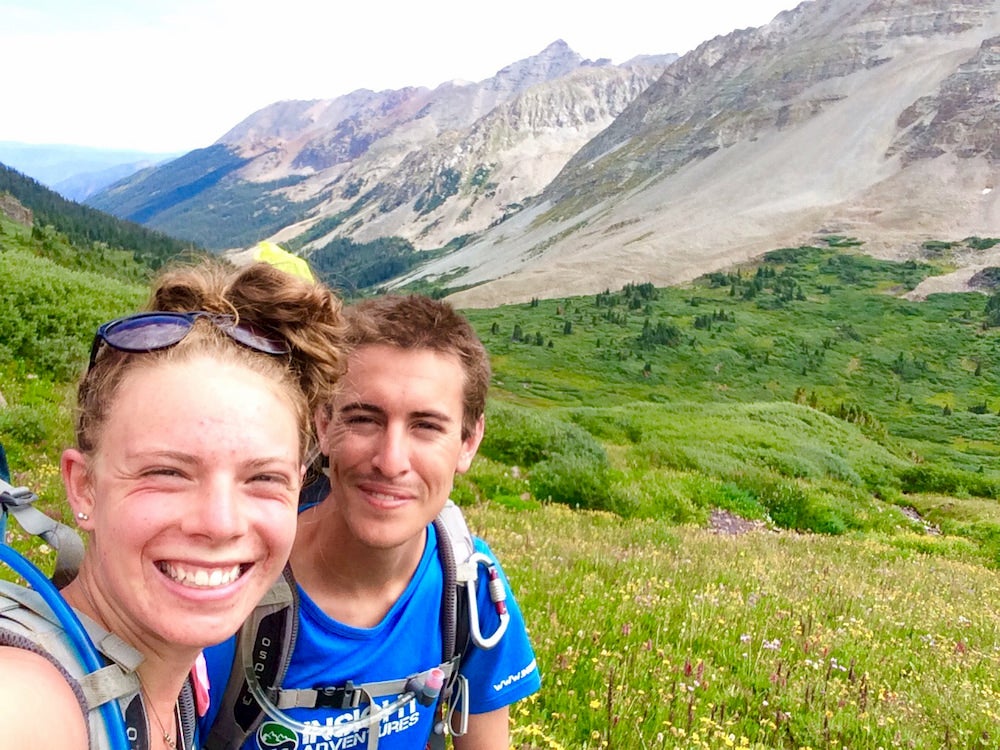 Soaking in the Springs
All day and all night, the hot springs are there for your relaxation. There is one large pool and a few smaller ones, but with up to 30 people camping there every night, expect to have some company. After sunset, clothing is often optional.
Make sure that you do not bring any glass containers into a wilderness area. Beverages and libations must be in a can or box, and packed out with you.
Day Hiking Around the Springs
There are several excellent day hikes available from the campsites at Conundrum Hot Springs. Triangle Pass is on the same trail continuing up above treeline and connects with Copper Creek Trail on the other side. Many experienced backpackers like to connect the trails and pick up a ride down the other side from into Crested Butte. Take in the views of the 14er Castle Peak, and nearby Cathedral Peak from this hike.
Meeting the People
Expect to meet people and socialize on a Conundrum Hot Springs trip. Visitors from local areas, around the state and the world adore this gem of a wilderness area. Listen to stories, share your own, and be respectful at all times of other's experience. In fact, the personalities and conversations are often the highlight of the trip as long as you go without the expectation of solitude.
For the prepared backpacker, Conundrum Hot Springs offers a perfect balance of hiking, relaxation, and world-class views.
---
Related Articles:
---
Related Campgrounds
Popular Articles: