You've waited (kind of) patiently, and it's finally here: spooky season 2021. The leaves are changing, the air is cool and crisp, and you've got pumpkins and ghosts on your mind. This year, double up on the Halloween festivities with a hike or drive through the fall leaves, followed by a night around a crackling campfire in the woods. These tricks and treats even work for backyard camping, if you need to stick close to home!
Read on to see our favorite Halloween camping activities. They're just what you need to get together, get outside, and get a little spooky.
1. Carve jack-o-lanterns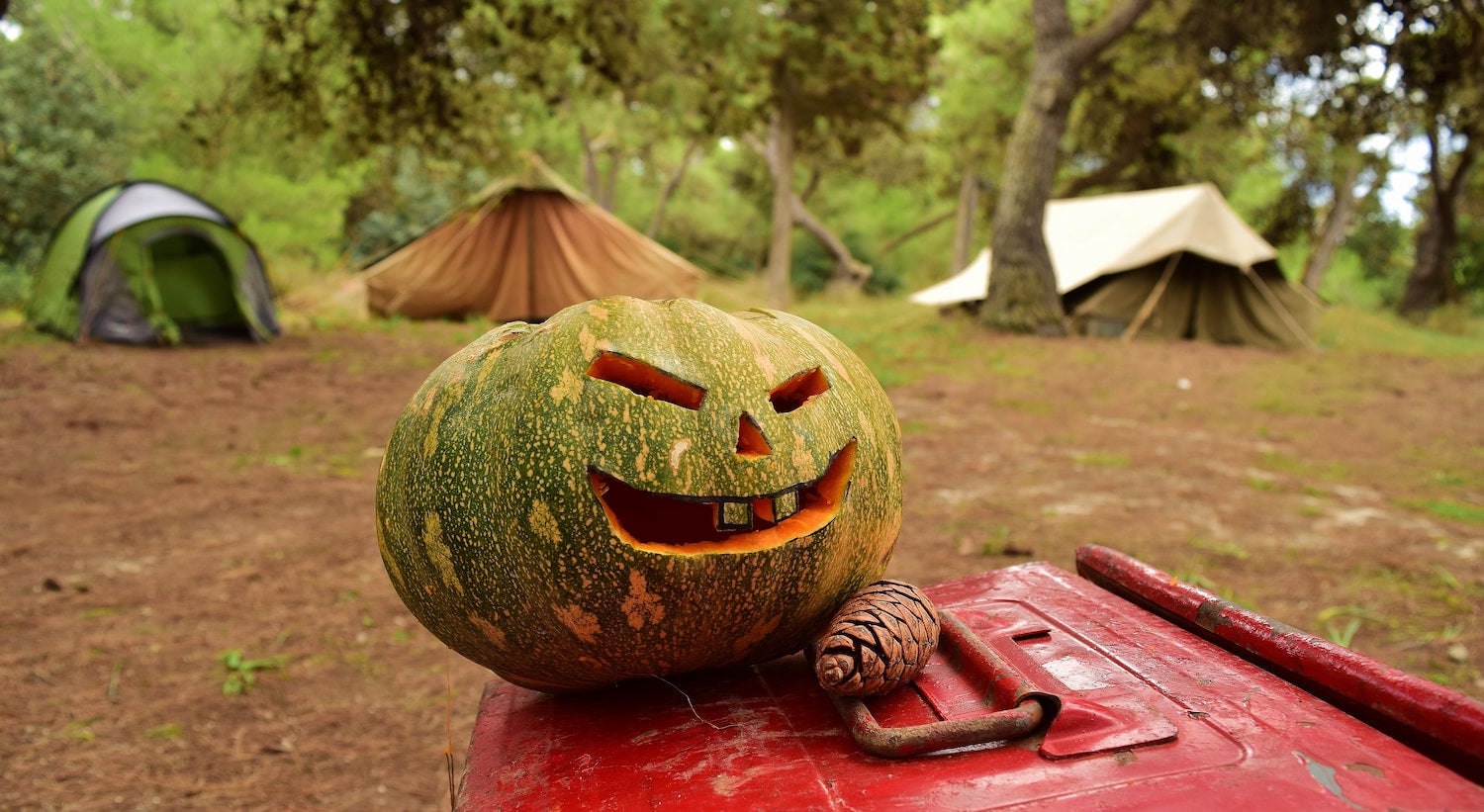 The tell-tale sign that Halloween is coming: flickering jack-o-lanterns in the evenings. This year, bring your pumpkins to the campsite and enjoy an outdoor carving party. They're the perfect way to set the mood for your Halloweekend in the woods, and you can even toast the seeds over your campfire for a crunchy snack.
2. Host a campsite costume party
You've already got the jack-o-lanterns. Add some battery-powered twinkle lights and hanging tree ghosts, and you've got a fully decorated Halloween party. Pack a costume and some tasty beverages and host a Halloween gathering in the woods, complete with costume contests. Just remember to be respectful of your camper neighbors, or invite them to join in on the fun!
3. Screen a classic Halloween movie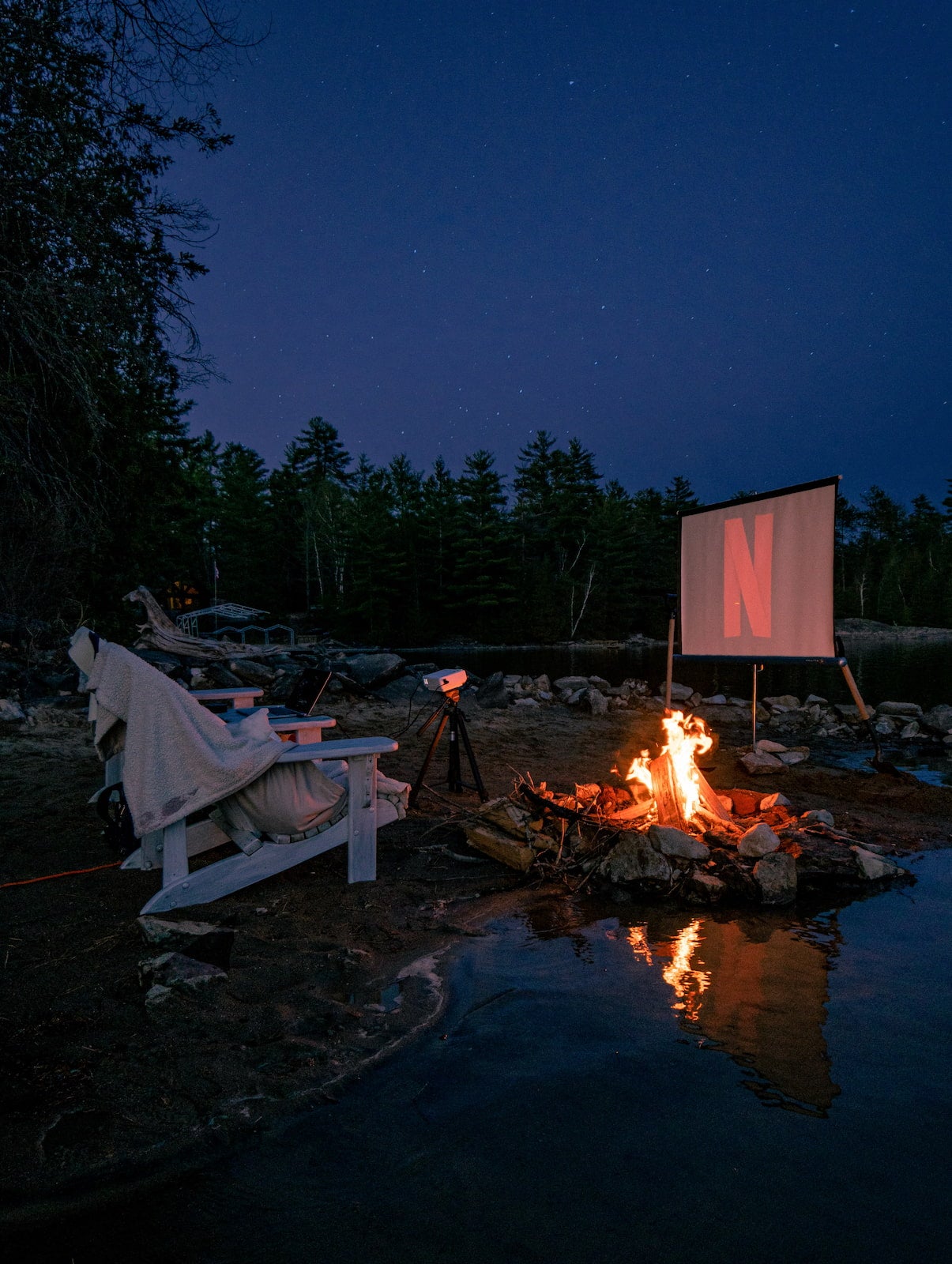 Bring some jiffy pop and a laptop for a Halloween double-feature. With The Dyrt PRO, you can find campgrounds with WiFi and cell service for streaming the perfect movie, from downright terrifying to delightfully campy (see what we did there?). You can even pack a portable projector to screen the movie on your tent!

4. Tell ghost stories around the fire
What's a scary story without a campfire? Brush up on your most spine-chilling tales ahead of your trip, or use our list of favorites to read aloud. Of course, a headlamp or flashlight should be held under your chin for optimum spookiness.
5. Gorge yourself on a fall feast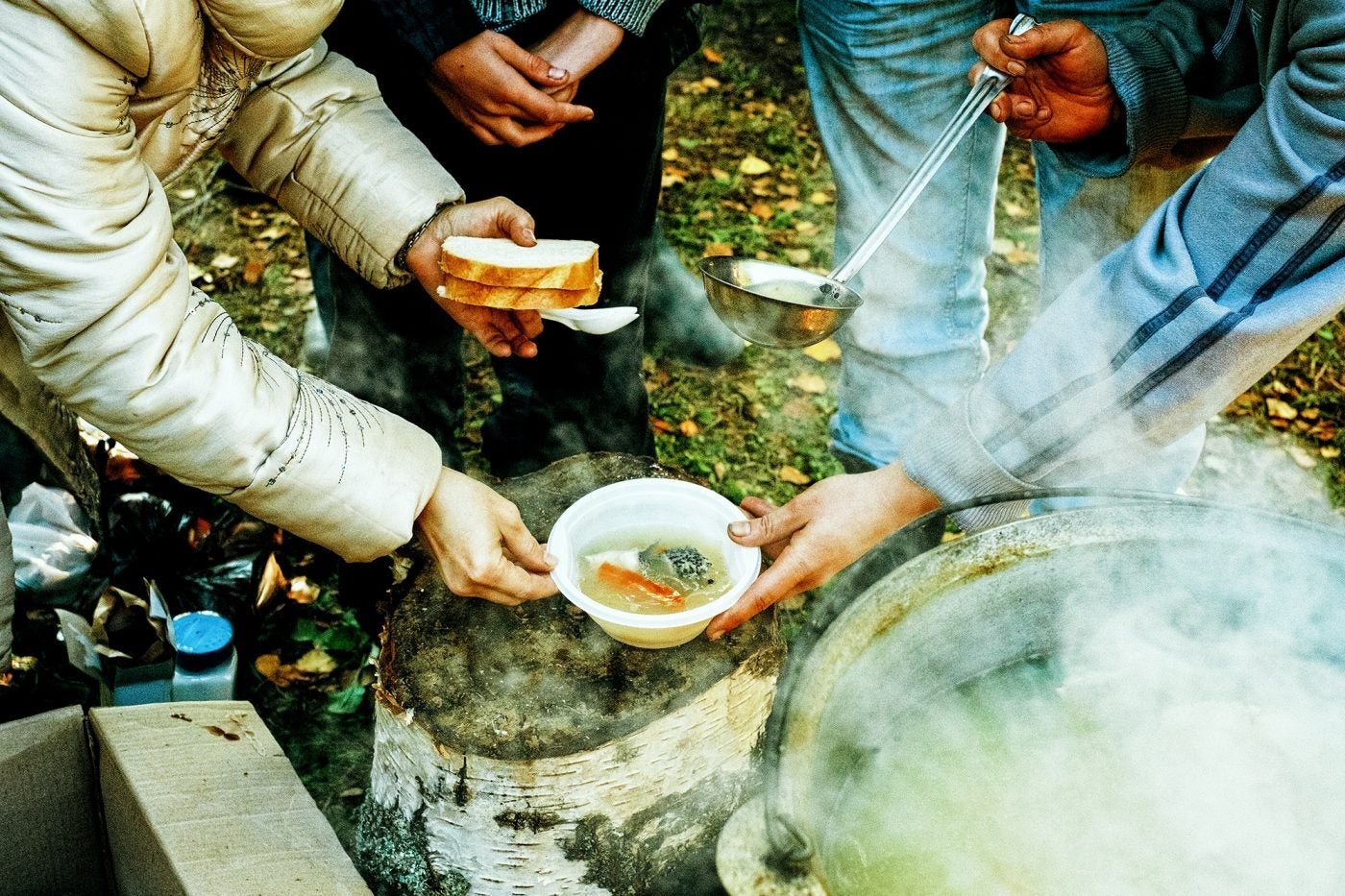 Sure, you could probably survive the weekend on Halloween candy and party punch alone. But for the gourmands in your group—or the folks who just crave a little more sustenance—these fall recipes are hearty, warming, and oh-so seasonal.
6. Tune into a scary podcast
The best thing about podcasts? There's one for pretty much anything. Get into the Halloween spirit shows like REI's Camp Monsters and Audioboom's National Park After Dark. They're perfect for your drive to the campsite. (But we won't tell if you have to wait until the trip home to hear about cryptids and ghosts.)
7. Attend a state park Halloween event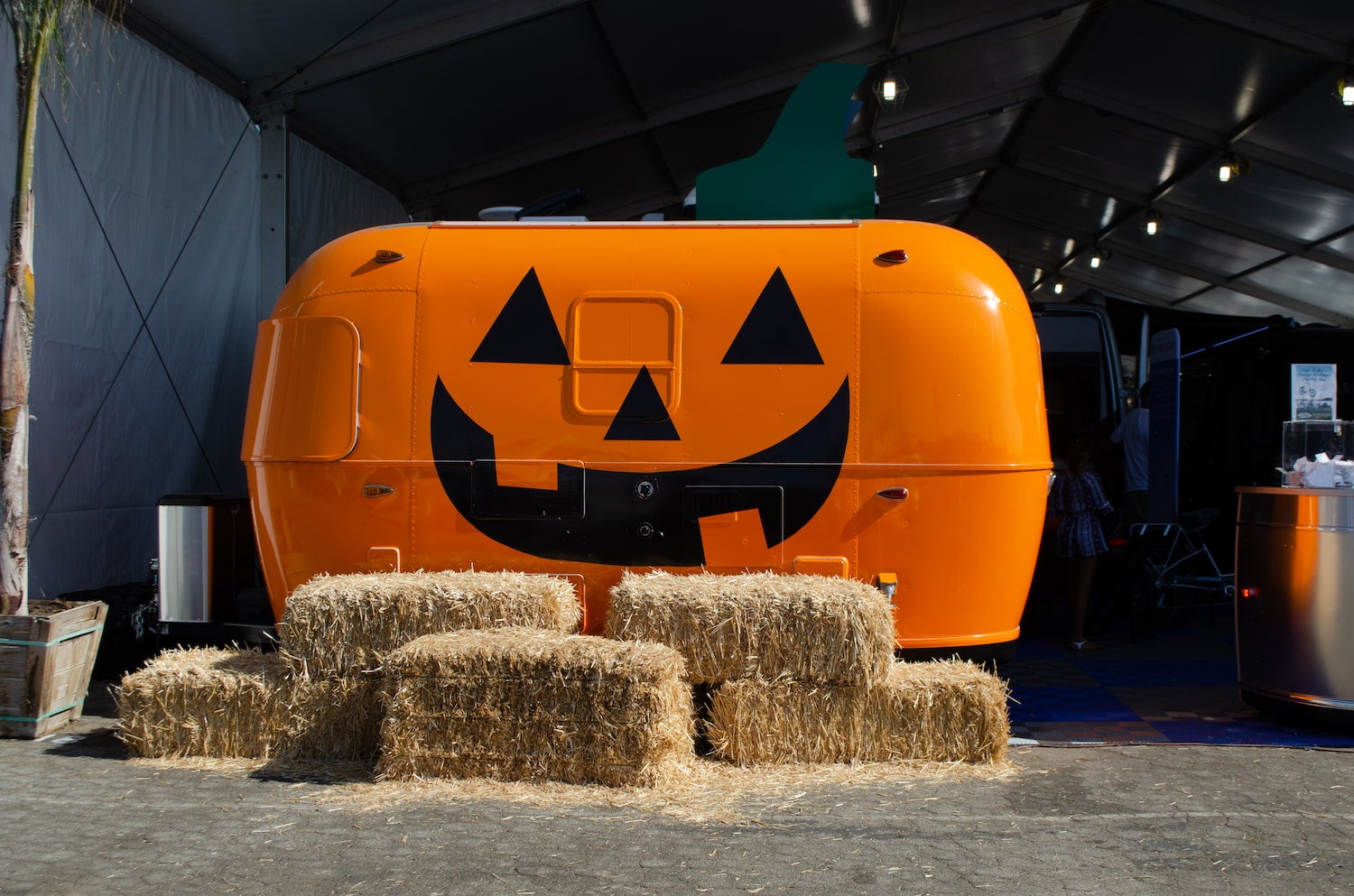 Did you know that many state parks host special events this time of year? Hop on a spooky steam train at California's Railtown 1897 State Historic Park. Let the kids partake in a scavenger hunt and jack-o-lantern contest at Meramec State Park's annual Spooktacular event in Missouri. There are so many events to choose from—check your state parks to find one near you.
8. Trick-or-treat at the campground
The little ones don't have to miss out on candy hunting, just because you're camping. Lots of established campgrounds host fun trick-or-treating events, like Prince Gallitzin State Park in Pennsylvania. At the very least, they might come away with some extra bug spray or firewood.
9. Get your s'mores sugar rush
View this post on Instagram
An upgrade on the classic tradition. Try making s'mores with all that Halloween candy you couldn't stop yourself from buying. Marshmallows with peanut butter pumpkins or candy corn? We're not here to judge. See what tasty and toasty treats you can create.
10. Host the fall Olympic games
Bobbing for apples, donuts on a string, candy corn relay, Halloween movie trivia, potato sack races—with this many autumnal games, you can literally have a field day. Divide into teams and make a bracket system. The winner gets all the candy…or maybe the booze.
11. Cozy up with a cocktail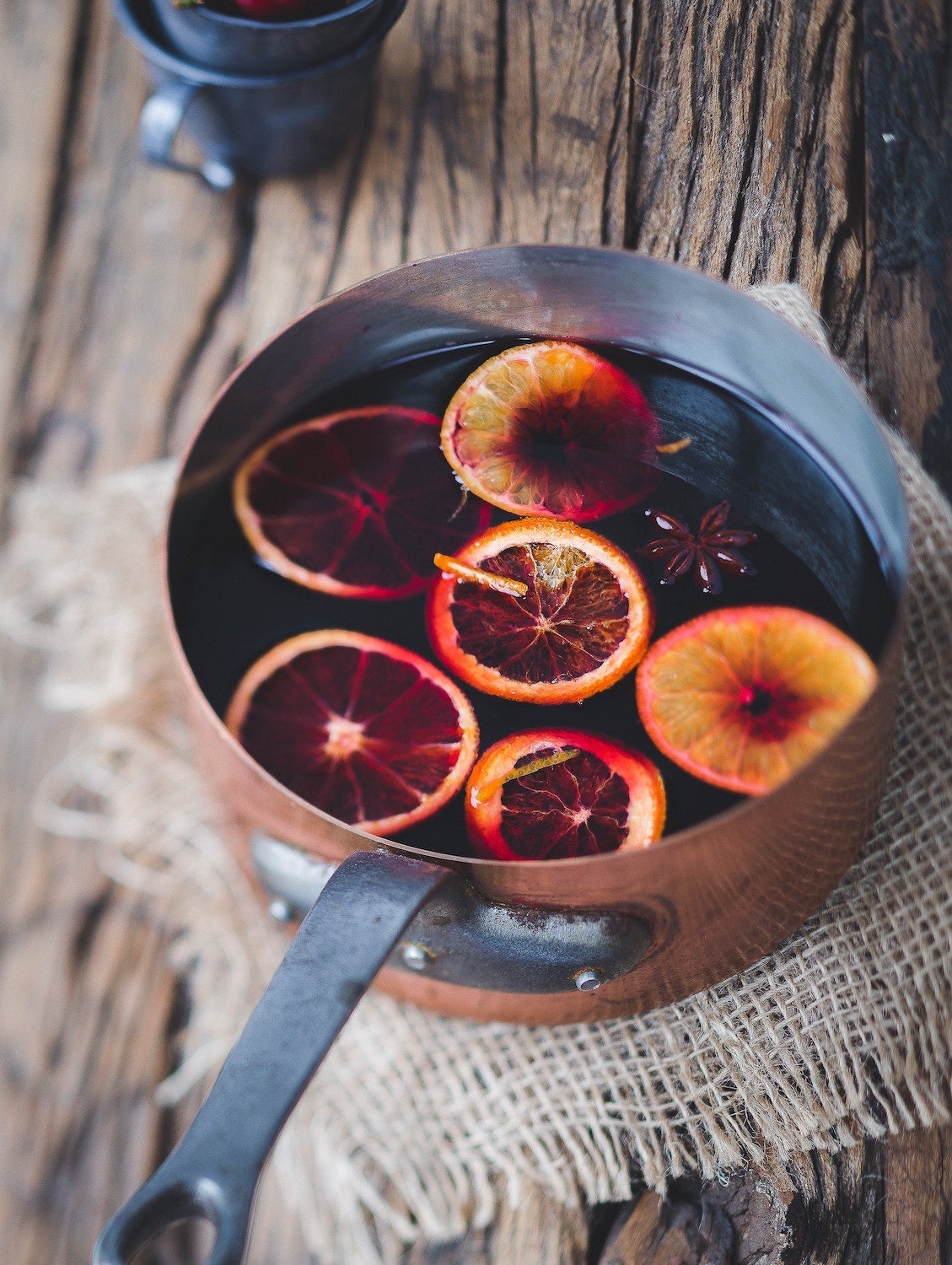 Speaking of which, these hot cocktails are perfect for staying nice and snug around the campfire. Keep it easy with a simple hot toddy or prepare a whole cauldron of mulled wine for everyone in your coven to enjoy.
12. Make an orchard day trip
Just like carving pumpkins, apple picking is another time-honored fall tradition. Whether you're planning on baking them, smothering them in caramel, or biting straight into one, nothing says "fall" quite like a freshly-picked apple. There are tons of great places to camp near apple orchards. Find an orchard near you and search on The Dyrt for the nearest camping that suits your style.
13. Join the conversation on The Dyrt Forums
Want to find more ideas or share some of your own? Head over to our Campfire Forums to see what your fellow campers are up to this spooky season.
---
Calling all ghost hunters and road-trippers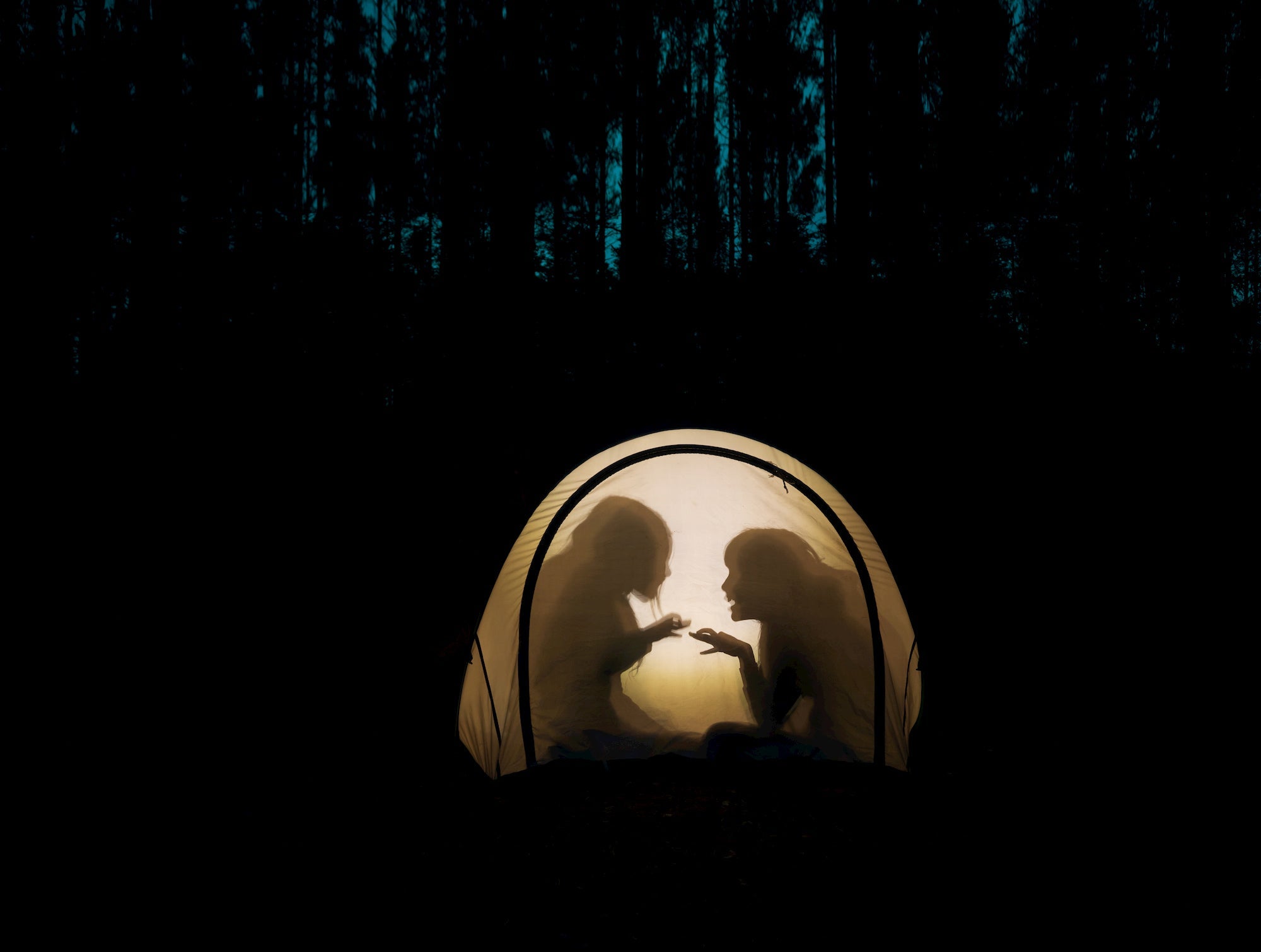 Maybe the idea of visiting a regular old campground for Halloween isn't spooky enough. Perhaps there's even an electromagnetic field reader sitting in your closet. Or maybe you just love the idea of hitting the open road.
Whatever your reason, these haunted campgrounds and spooky sites should be right up your (dark and perilous) alley. Use Trip Planner to create a driving route for your Halloween camping adventure, or hit them all for a bone-chillingly fun road trip.
Popular Articles: