These backyard camping ideas were brought to you by Wenzel. Their wide variety of tents and screen houses can fit the whole family in the backyard or the backcountry!
---
Looking for a fun activity close to home or a way to test-run camping with the kids? Starting in (literally) your own backyard is a no-brainer. Backyard camping is an ideal way to introduce your children to sleeping outside and learning more about the outdoors. The experience is a great way to get in some family bonding time or offer a fun alternative to your kids' traditional sleepovers.
7 Steps to Plan the Perfect Backyard Camping Trip
The great thing about backyard camping is it takes almost no planning! All you really need to check is whether or not you have good weather. Beyond that, just dust off your tent, or even make your own structure if you don't have a tent yet. Go to the grocery store and pick up some firewood and s'more supplies, and you're set for the ultimate backyard camping trip!
1. Start with a Local Adventure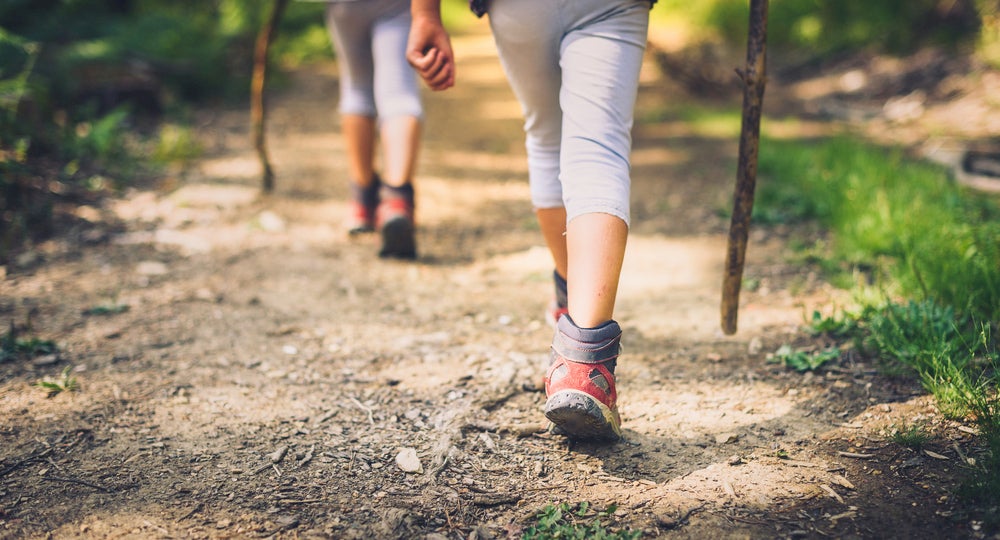 Depending on the age of your kids, this is a great time for a nature walk on a nearby trail or a swim at the local pond. This will get them into the outdoors mindset and set a theme for the day. If you don't want to even leave the neighborhood, take a nature walk around the block and teach your kids the names of plants, maybe even do some flower pressing!
---
Prepare for your next adventure by downloading maps. The Dyrt PRO lets you download maps and campgrounds without cell service. "My alternative to using pro would be to drive back out to cell service".
---
2. Setup Camp Together
Teaching your kids how to properly set up camp will make them feel both involved and even more excited when you pitch your tent somewhere wilder. Walk them through shaking it out, putting in the stakes, connecting the poles, and putting on the rain fly. Although they may not be experiencing wild weather in the backyard, make sure they know what each element of the tent is for so they can better understand the whole structure.
3. Make A Glampsite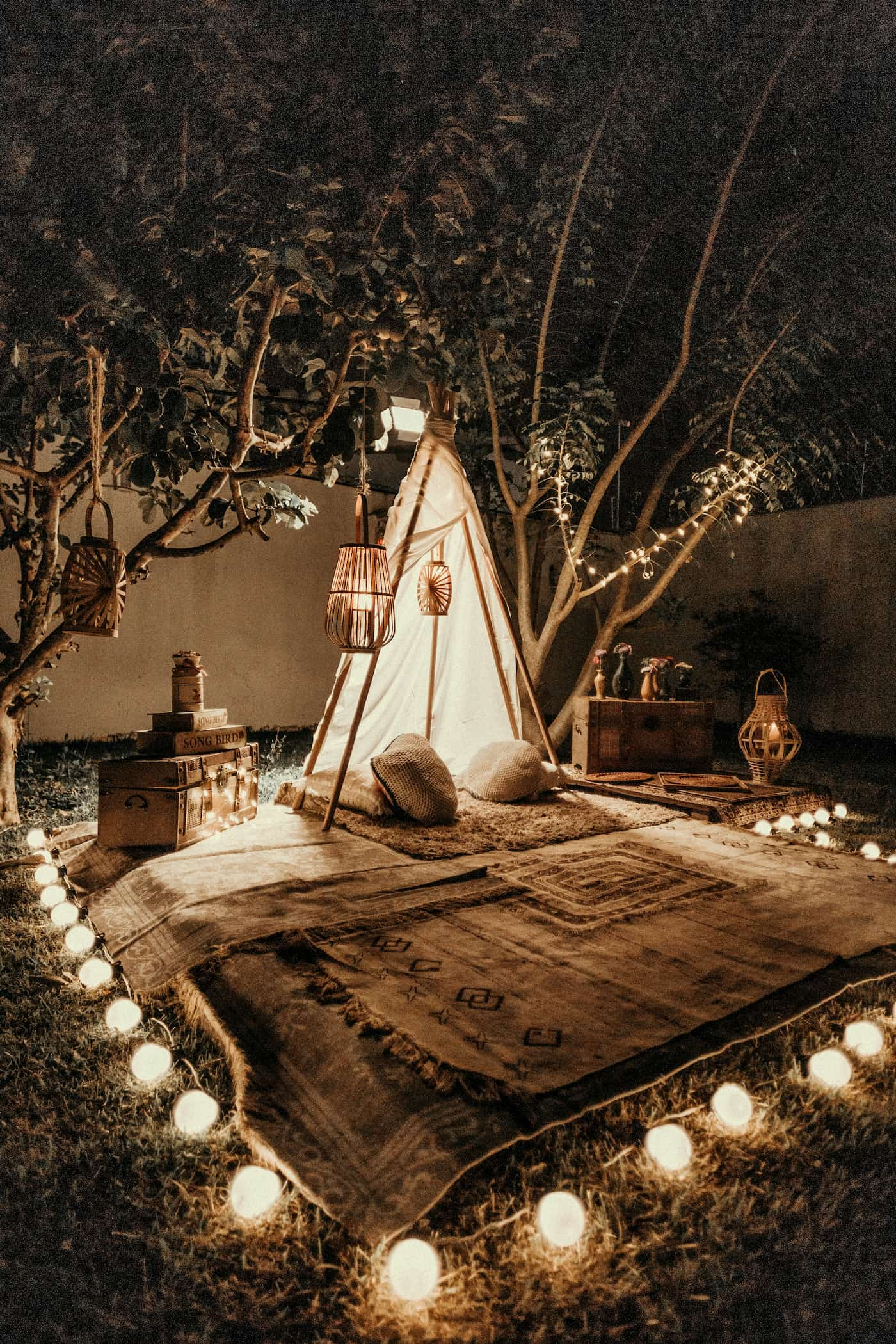 Do your kids love building forts? Take the fun outdoors by helping them set up a tipi or a frame style structure with sticks and a blanket. Make the inside cozy by bringing in quilts and pillows from the house and maybe your kids' favorite stuffed animals. Decorate your backyard by hanging some pennant flags or get crafty and make your own. Setup some twinkle lights or hang a lantern so that everyone can find their way between the tent and the house when they need to use the bathroom.
4. Plan your Backyard Camping around an Astronomical Event
Plan your backyard camping for a night when you are sure to get in some stargazing. Check out an astronomical events calendar for the next meteor shower and count how many shooting stars you can see. Camping under a full moon is also a great way to stay up without the addition of too many flashlights.
5. Watch an Outdoorsy Movie from your Tent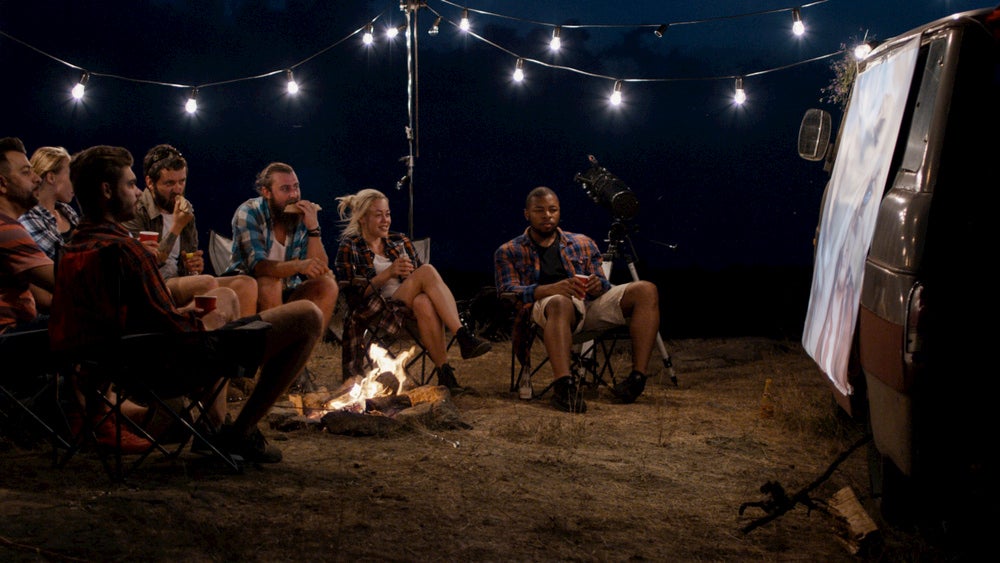 While this may be time for your kids to acclimate to the outdoors, an outdoors-inspired movie will allow their imagination to run wild and make them feel like they are far from home. Set up this mini projector and stream a movie against your fence, house, or a white bedsheet. Some of our favorite kid-friendly flicks are: The Parent Trap, The Great Outdoors, Moonrise Kingdom, Spirit: The Stallion of Cimarron, Into The Wild, Pochahontas, Swiss Family Robinson, A Walk in The Woods and Wild. Remember that nothing pairs better with an outdoor movie than some jiffy pop.
6. Cook a Meal Outside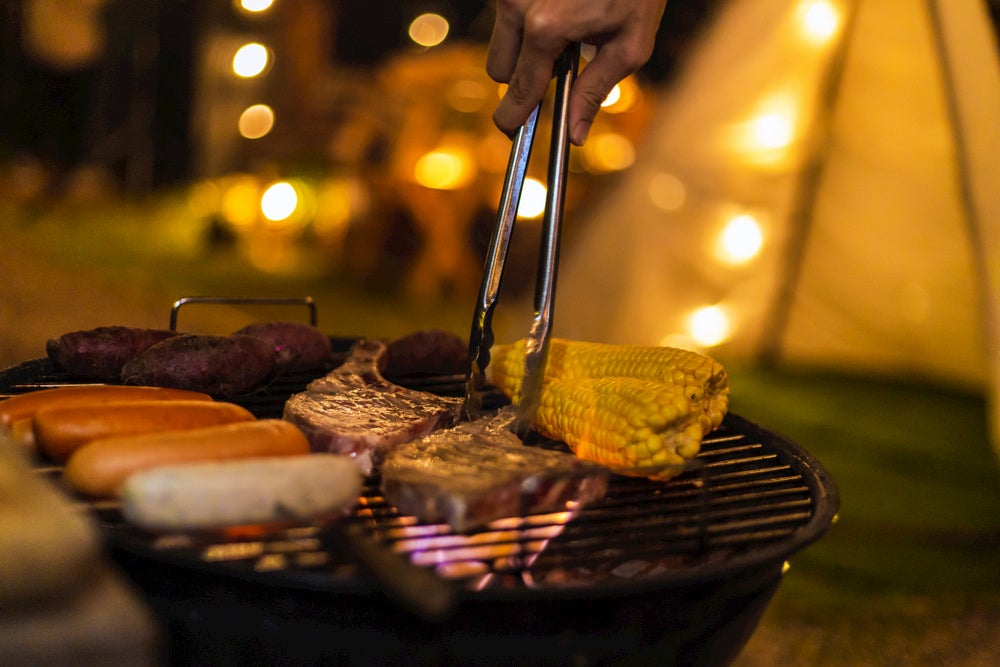 Whether this means hot dogs over the fire pit, personal pizzas on your charcoal grill or just mac and cheese on your camp stove, making food outside of the kitchen will be a novelty experience for you and your kids. Get them involved by having them add toppings or mixing the pasta. Check out some of our favorite kid-friendly camp meals for inspiration. Don't forget the s'mores!
7. Rent a Tent for Fun With The Whole Family
Life in Tents makes gorgeous canvas tents to rent or buy for the whole family to enjoy. They are a great addition to your backyard camping setup. You can rent, glamp and return. These tents are 16-feet in diameter and sleep up to 8 people in sleeping bags or 4 people in two queen sized beds. Tent rentals are $175 for 1-3 nights.
---
This article was brought to you by Wenzel.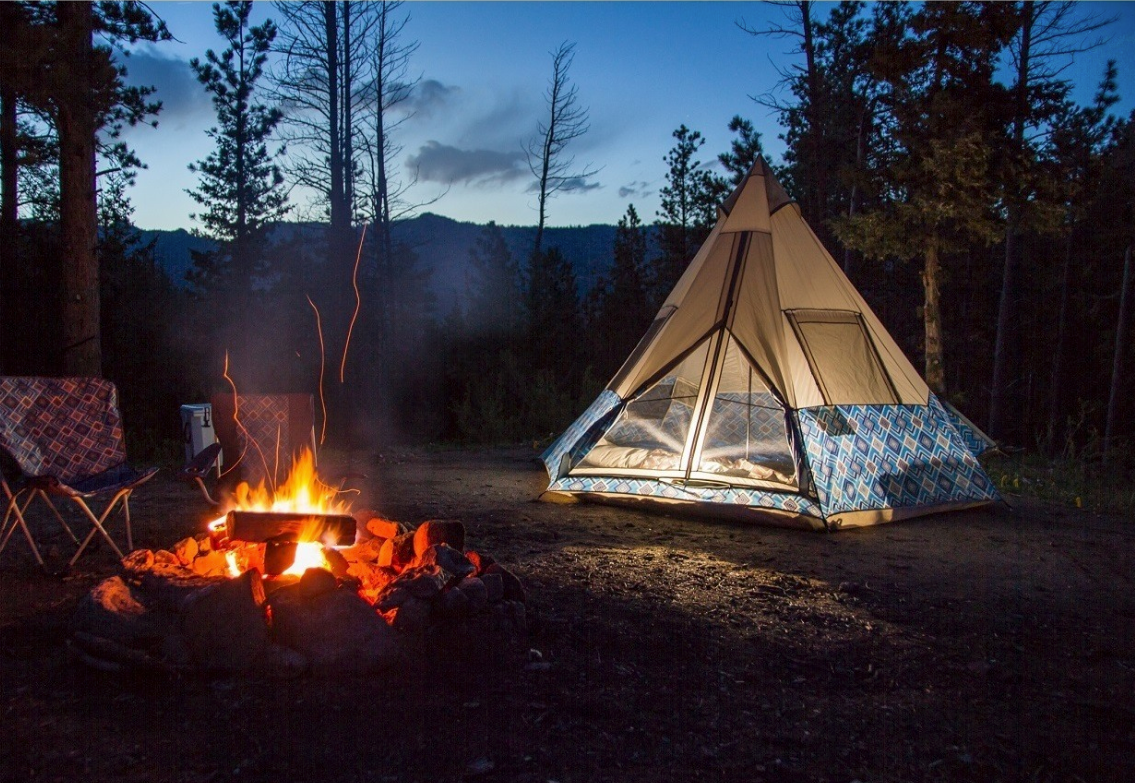 Check out Wenzel's tents, hammocks, and camping accessories for your next family camping trip.
Popular Articles: