For one reason or another, there are a lot of people out there that find great pleasure in the stomach-dropping, heart-racing feeling of getting thoroughly creeped out. Halloween is our yearly reminder of the scary side of life. However, with 2020 being such a unique year, things like haunted houses and scary movie premieres will be a rarity. But don't worry, you can still seek out plenty of chills and thrills this year—you may just have to get a little more creative. So, in honor of Halloween, we have put together a list of 10 haunted and/or notoriously creepy destinations across the US. And since we prefer to do our traveling with a tent in tow, we've also included a few nearby camping options for each of these spooky sites.
1. Alcatraz Island, CA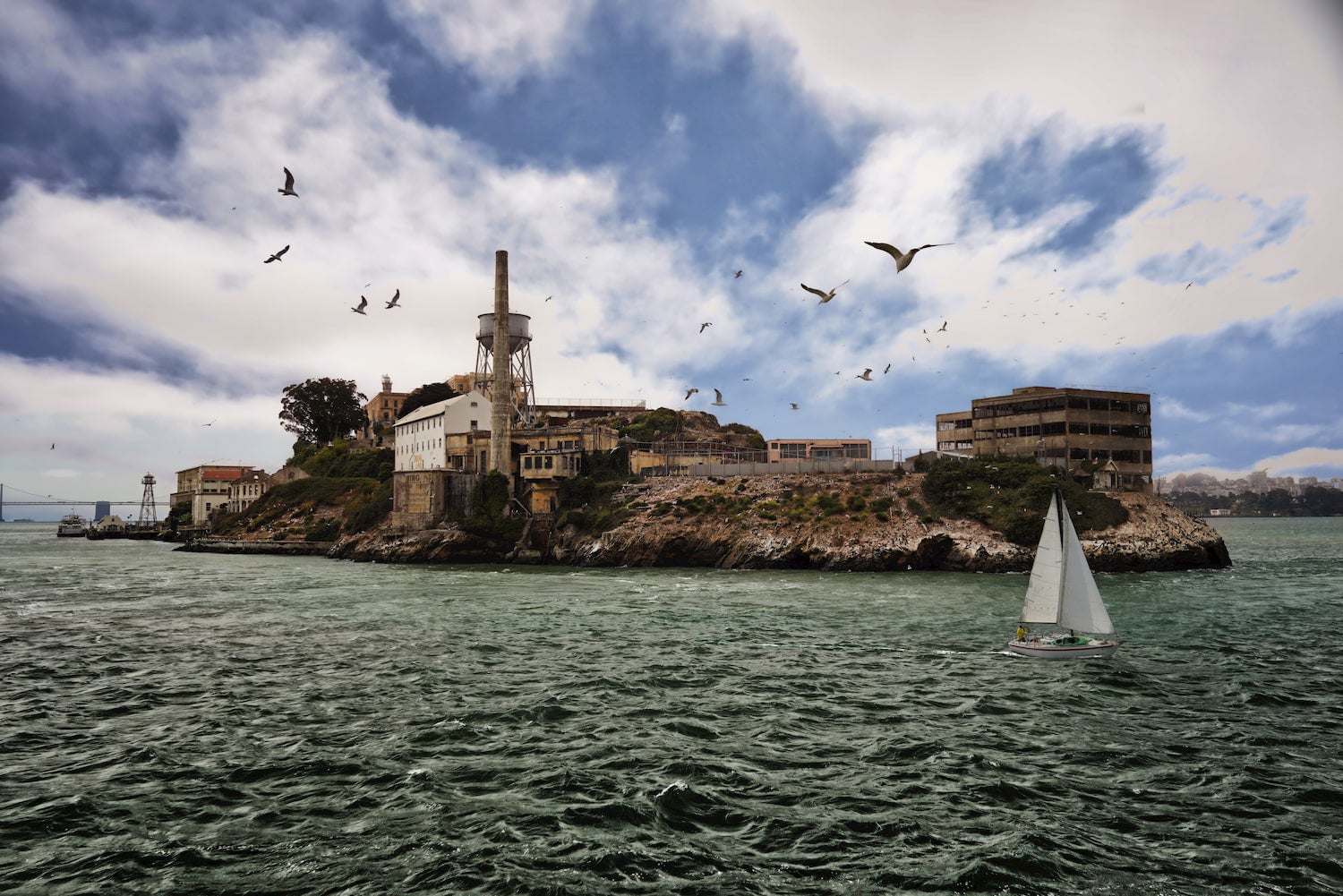 Alcatraz is said to be haunted by the ghosts of a countless number of former, long dead prisoners, which once served their sentence on this forsaken rock. The island prison was so difficult and expensive to manage that even though it was—by nearly all accounts—escape-proof, it was shut down in 1963. Alcatraz island operated as a prison for nearly 30 years and was, in its day, considered a "super max" facility. Only three men are known to have escaped the island, but most believe that all three perished in the rough waters of the San Francisco Bay.
Nearby camping includes Sunrise Angel State Park for an unbelievable $5 fee and a stunning view of Alcatraz.
---
2. Amityville, NY
The famous house of horrors in Amityville still stands. The seemingly ordinary home has been profiled—most famously—in a book, a film, and a few film sequels after that. Controversy about whether it's an urban legend lingers, but the list of creepy happenings reported at the home are very intriguing indeed:
Green slime oozing out of the walls
Random cold spots inside the house
Swarms of buzzing flies in winter
Strange noises at all hours
The haunting is the supposed result of a mass murder, when a son butchered his whole family (he is still in prison). He claimed that ghosts and demons drove him to it. The next family to move in, the Lutzes, reported much of the same and hired an author to document it in the bestselling novel, The Amityville Horror.
Check out Camp Rockaway for beach glamping nearby. Wildwood campground also gets high marks from experienced campers and has water access.
---
3. Devil's Tower, WY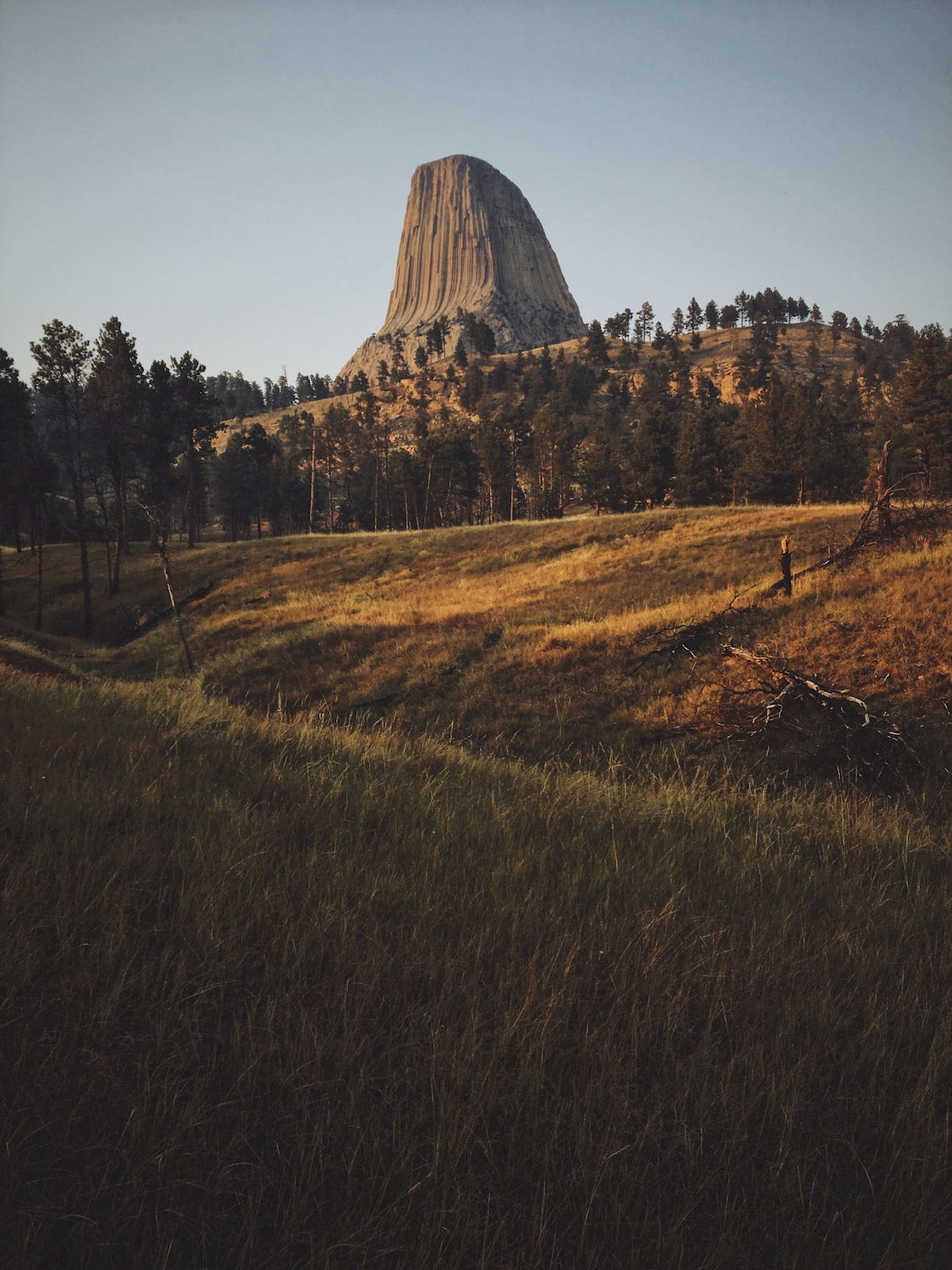 Devil's Tower is a sacred place for Native American tribes from the region. In Kiawa myth, the tower rose up from the ground in just one night, acting as a fortress to protect girls who were running away from bears. As the bears tried to climb after the girls, their claws put deep grooves into the rock.
With a name like Devil's Tower, there may be ghosts or possibly demons nearby. Even if the undead and otherworldly don't appear, the view of the tower is reason enough to visit. It does, however, have an unfortunately deadly history of its own, as six climbers have died on the way to the summit. This is definitely not a beginners' climb. But, visitors can rest assured that it is completely safe to hike around the area.
In 1977, the tower was immortalized in the sci-fi classic Close Encounters of the Third Kind.
Nearby lodging has dozens of choices. For upscale, try the fantastic Wikiup Village Cabins, starting at $146/night. Likewise, Devil's Tower View campground offers camping at reasonable rates and a spectacular view of the tower.
---
4. Goblin Valley, UT
Goblin Valley State Park is not haunted (as far as we know) but it is a great fall destination, ideal for Halloween. The hiking, through red rocks, is sublime. The skies are usually clear with dry weather and plentiful sunshine.
The goblins here are hoodoos or small rock towers. They range from the size of a large mushroom to man-sized. The options for play in this state park are endless, from hiking to mountain biking to rappelling. Nearby is the town of Green River, Utah, which has access to one of the west's premier rivers by either kayak or raft.
The rock is a delightful amber sandstone. The classic cult hit Galaxy Quest was filmed here.
The Goblin Valley Campground offers tents, teepees, cabins, and yurts. For $30 a night, the tent camping is a great deal.
---
5. The Ghost Ranch, NM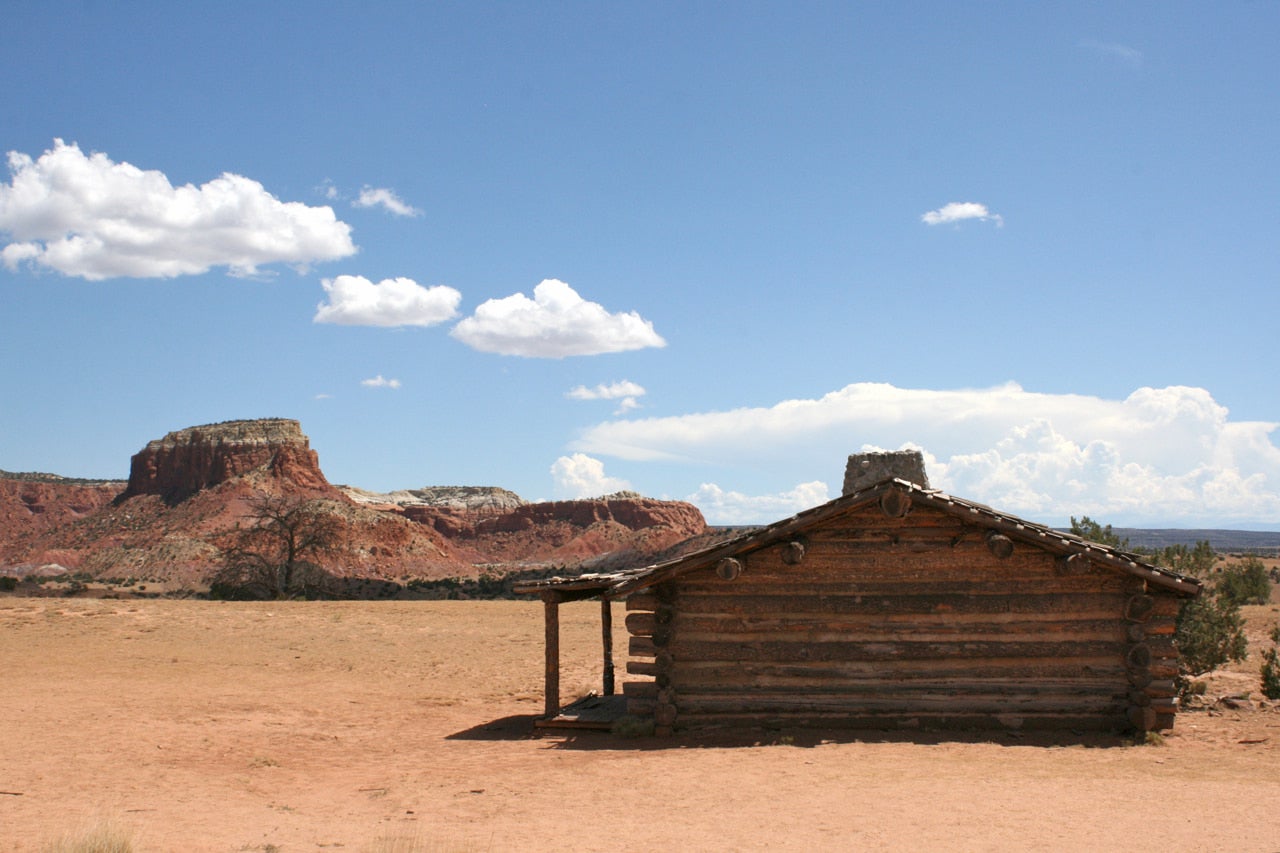 In the middle of nowhere sits an old lodge, once owned by a famous artist. Does the ghost of Georgia O'Keefe haunt the grounds of The Ghost Ranch? To find out, book a room or camp nearby.
O'Keefe is a famous late-modernist painter who was most well known for her depictions of flowers. She lived to a ripe old age on this very ranch, which was remote in the 1930's when she bought it, and is just as remote now!
Nearby camping includes Carson National Forest land (free) along the Chama River. Or, you can camp at the Ghost Ranch year-round, for a reasonable rate. Tours of the ranch are worth your time and money, even if you aren't an art lover. The skies here are as dark as you'll find in the lower 48, so it's fabulous for stargazing.
---
6. The Shanghai Tunnels — Portland, OR
This haunted destination can be accessed with a tour guide. The tunnels lead under the city, covering an area that once made up Portland's own "Old Chinatown". Commercial businesses used them to distribute goods, but organized crime groups in the city favored the tunnels as a reliable way to escape the law.
The crime of "shanghaiing" meant to kidnap a man and sell him into slavery as a ship crewman. It is rumored that this practice (also known as "crimping") occurred in the tunnels, but there is no direct proof of these allegations. However, it is widely agreed upon that the tunnels were used for a variety of illegal and black-market activities.
Portland offers walking tours, which lets visitors and ghost hunters alike explore the parts of the tunnels that are still safe to traverse.
If you go, camp at Champoeg, south of town, which is affordable and offers every type of camping. Or, if you want to be close to the city, Government Island is an urban gem.
---
7. The "Breaking Bad" House, NM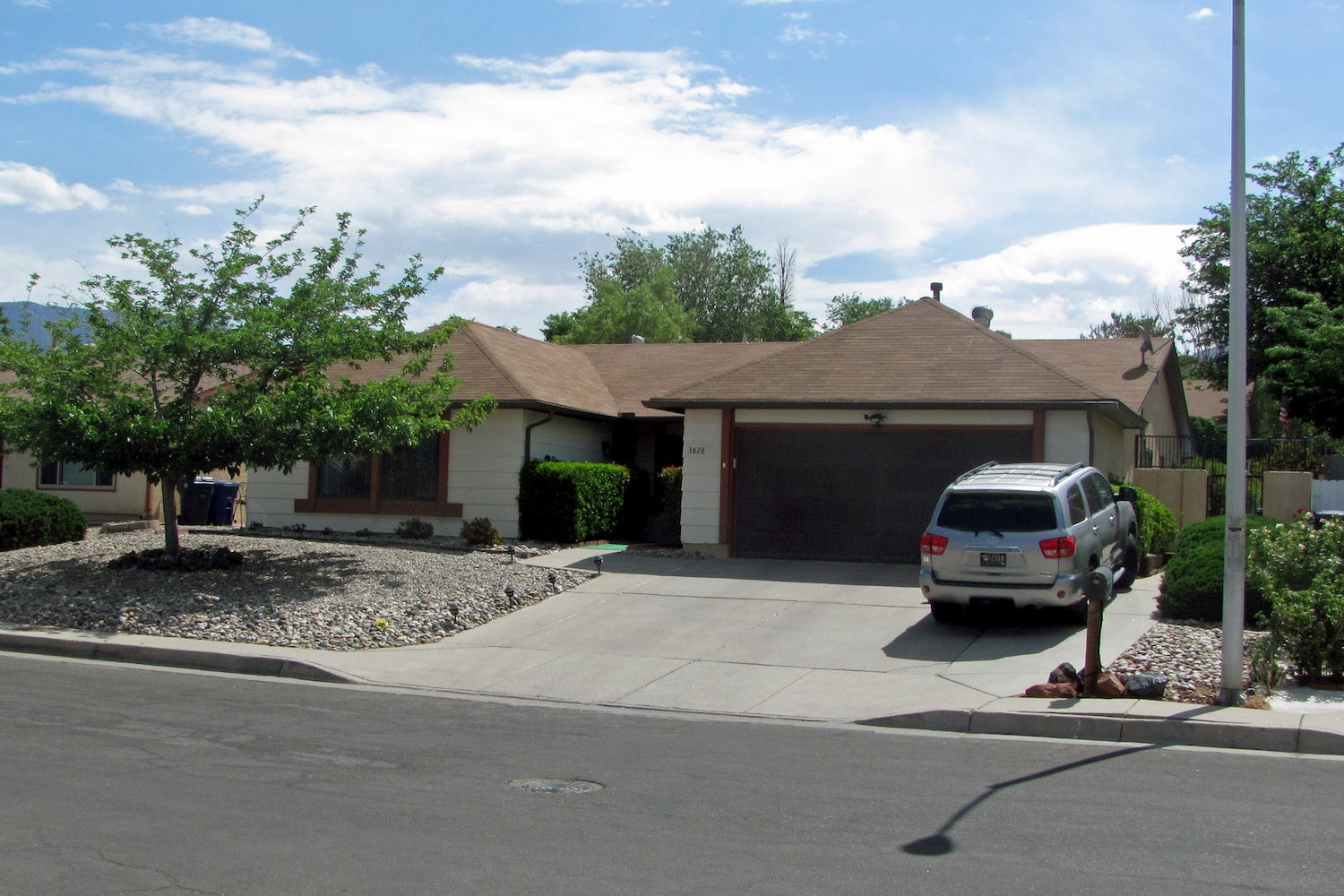 Most people who watched Breaking Bad became die-hard fans of the HBO show. In five seasons, it chronicled the slow decline of Walter White, a nice-guy chemistry teacher turned drug kingpin. The series was filmed in and around Albuquerque, with the house where the Whites lived being an especially popular destination.
In fact, Albuquerque has "Breaking Bad" tours that are informative and entertaining. Is the White house haunted? A lot of lying and other bad things were fictionalized there, and by the end of Breaking Bad it had been vandalized—on screen, at least. Walter White (spoiler) died, too, and some say his ghost can still be heard floating over their backyard pool.
Nearby campgrounds include the wonderful Mother Bosque Gardens in the city (limited sites), as well as The Turquoise Trail, which is about 45 minutes east of the city. The Turquoise Trail is a large campground that accommodates tent campers, RVs, and offers cabin rentals.
If you are visiting Albuquerque and looking for reasonable camping then look no farther than Sandia District dispersed camping in Tijeras, NM. This is free camping, not far off of I-40 and less than 20 minutes from Albuquerque proper. It is a primitive setup, but there is a toilet nearby for campers to use.
---
8. Mystery Castle, AZ
Just outside Phoenix, in the heart of the desert, is a wonderful one-off called The Mystery Castle. It was built near the turn of the century by a family man who, finding he had tuberculosis, fled to Arizona to keep his family safe. He did not tell anyone in his family where he was going, and his wife and young daughter (who gave tours until her death about ten years ago) assumed he had died.
Near Phoenix, he built a mansion, stone by stone. Using the volcanic rock from the region, he fashioned a 17-room "castle" complete with a gold mine underneath the living room, a tower to scan the horizon, and exotic decorations he collected over the years. His health improved and he sent for his family. His wife and daughter lived here for years, exploring the hidden passageways that led up and down the castle's four floors.
The Mystery Castle is cool in summer and insulated in winter. Is it haunted? Quite possibly, but you can only discover for yourself with a visit. As a winter destination, the Phoenix area and the Mystery Castle can't be beaten.
Check out Lost Dutchman State Park campground and for a great winter hike, La Barge Canyon at nearby Canyon Lake is exquisite. Another great Phoenix spot is Usery Mountain Regional Park.
---
9. Salem, MA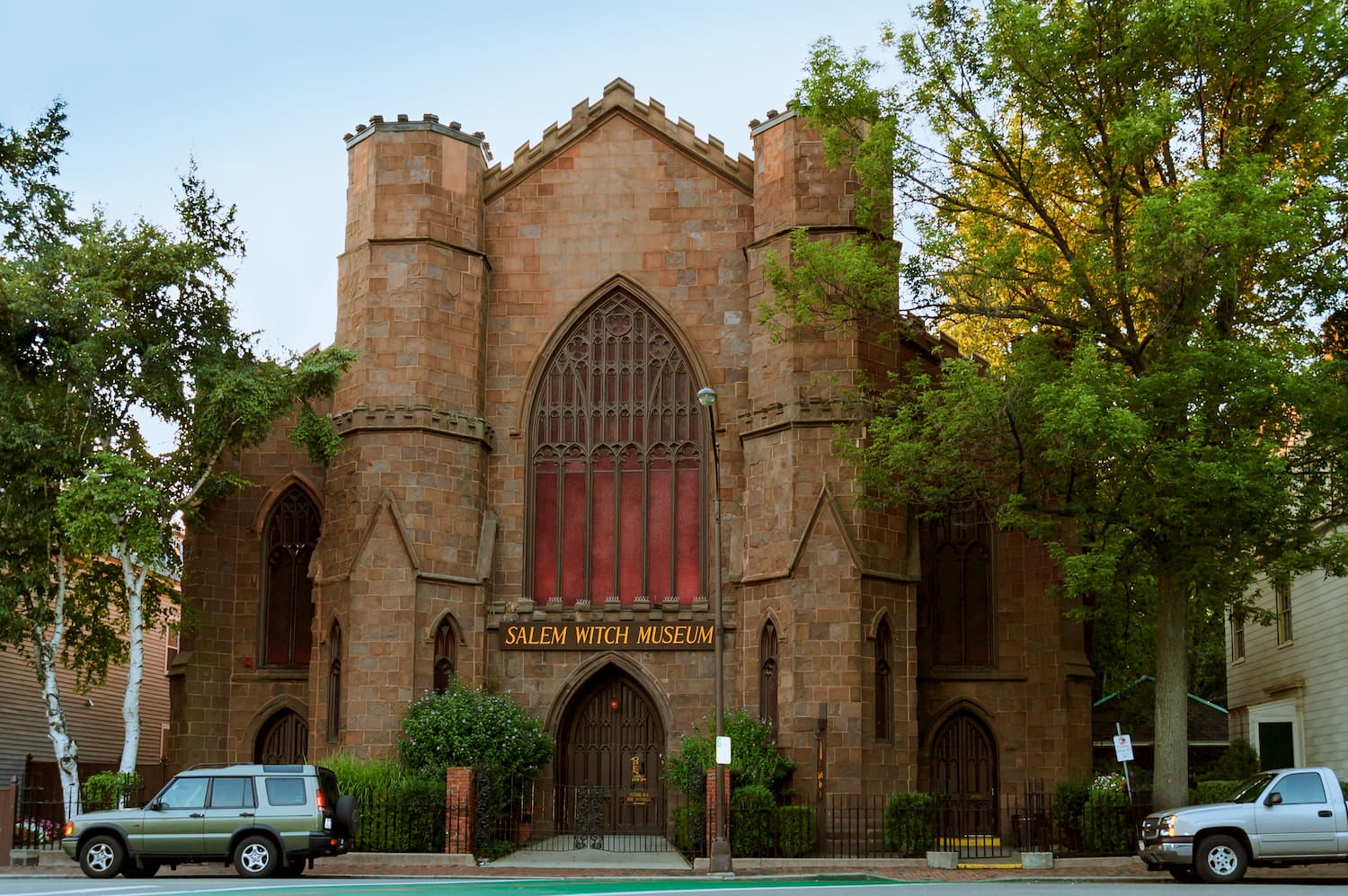 Infamous for the Salem Witch Trials, this quaint New England town is steeped in haunted history—as well as present-day Halloween cheer.
During the end of the 17th century, rumors of witchcraft brought fear and hysteria to a town already fraught with tension. Finger-pointing and paranoia eventually lead to the accusation of 300 women, ultimately resulting in 18 executions. Salem was the first community in a domino effect of witch hysteria in the Northeastern U.S. during colonial times.
Today, the community of Salem has embraced this history, putting the stories of witch trials on display through local landmarks and tourist attractions. Visit Salem during the month of October and you will be greeted by some of the most festive Halloween events in the area, not to mention scenic foliage. Salem offers spooky activities like a variety of ghost tours and The Salem Witch Museum.
Find camping in Salem along the North shore of Massachusetts at Winter Island Park. This campground offers scenic views of the Atlantic ocean and a local lighthouse and has full hookups.
---
10. Yorktown Memorial Hospital – Yorktown, TX
Texas Highways Magazine produced a list of the five most haunted places in Texas. It's a big state with a lot of history, but in the city of Yorktown you'll find the particularly notorious Memorial Hospital.
It was built in the 1950s, raising from its foundation in monolithic splendor, taking up 30,000 square feet in downtown Yorktown. The hospital has an unsettling reputation, which includes a laundry list of very bad things happening at the hospital from the time it opened until it shut its doors in 1986. It was a drug rehab center for a few years after that, finally closing its doors for good in 1992. Tours of Memorial Hospital start at $25 a day, or you can really test your nerve by actually staying in the hospital overnight for a cool (and creepy) $500.
Find camping nearby at Southbound RV and Cabins. Or, if you're looking for tent camping, you can head out of town a little further to Goliad State Park (where you can also rent casitas).
Popular Articles: