For many campers, the season doesn't begin until September, when temperatures cool, bugs are sparse and, of course, the chance of having a campfire is a lot higher. It also means less crowded campgrounds, when family vacations are over and kids are back to school—especially if you can get away mid-week!
Arguably the best part of fall camping is waking up beneath the brilliant red-and-orange canopy. Though fall foliage only lasts a few weeks in any given area, you can definitely chase it. In fact, there are even sites like SmokyMountains.com with in-depth foliage maps that predict when leaves will change across the country. With prime leaf-peeping season upon us, we at The Dyrt used one of our favorite tools in the app, the PRO Trip planner, to create a seven-week camping road trip with the best places for fantastic foliage. Unable to head out on this ambitious, 12-state trek among the trees? We understand. Pick a week or weekend and get to exploring.
Sept. 9-12 — Oxbow Bend, Grand Teton National Park
Our first stop is the iconic Oxbow Bend lookout in Grand Teton National Park. At 7,000 feet, this area's aspen trees turn bright yellow in early September. This stunning overlook also provides a great view of the Grand Teton in a lesser-known pull-off. Snow flurries are possible, so pack warm clothes—and a pair of binoculars for the snow-dusted mountains above this forest of yellow!
Stay 10 minutes down the road at Signal Mountain Campground. Row on Jackson Lake or hike from the trailheads that leave directly from the campground.
Price: $22
Number of sites: 81
RV sites: Yes
Fires allowed: Yes
Pets allowed: Yes
Travel time to next destination: 8 hours
Stop-over campground
Break up your drive in southern Wyoming in the Medicine Bow-Routt National Forests. This area offers myriad dispersed camping options, but for those who prefer amenities, check out Brooklyn Lake.
(Due to its elevation, this campground closes on Oct. 1 when snowfall is common.)
Sept. 13-19 — Rocky Mountain National Park, Colorado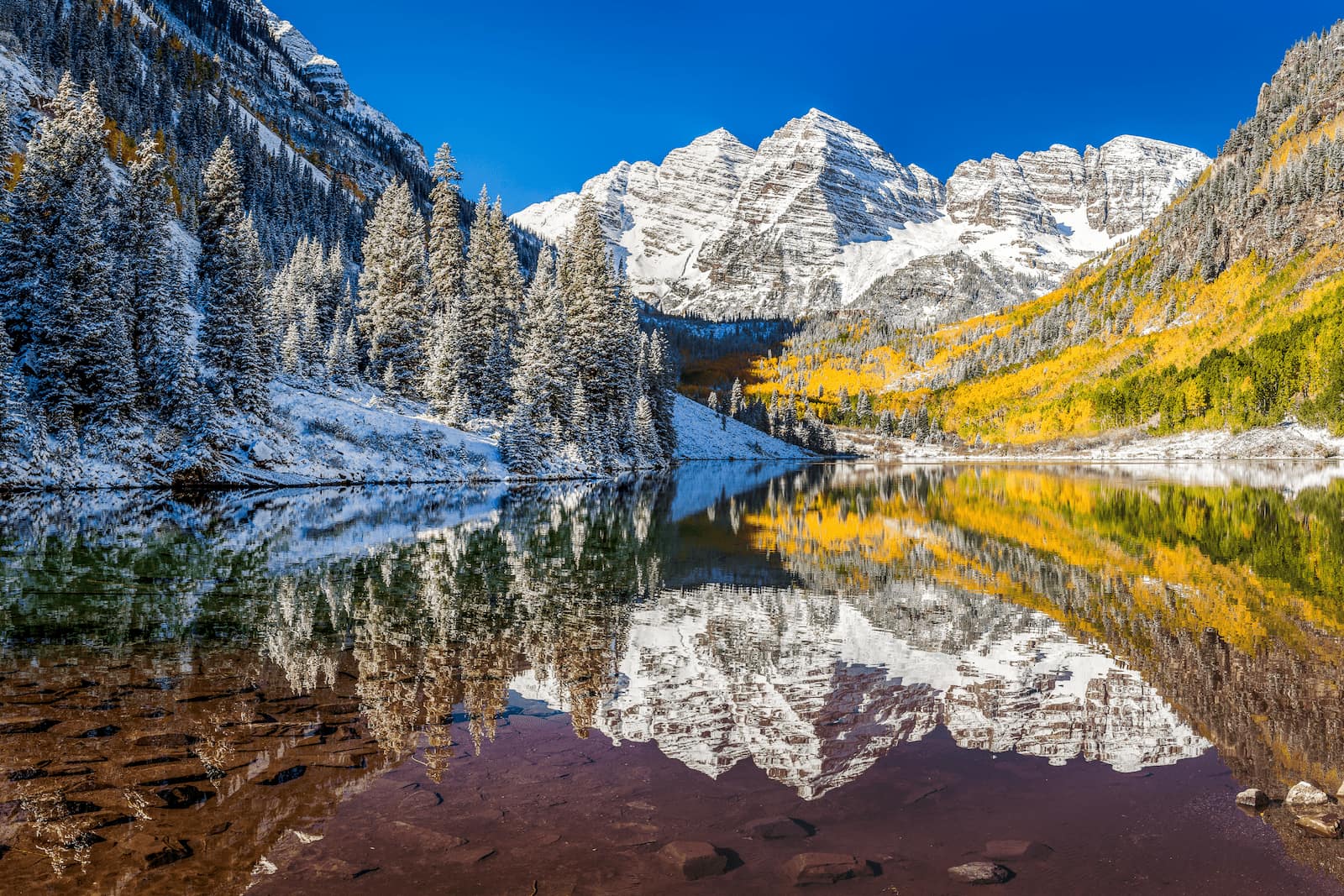 This next stop will bring you to Rocky Mountain National Park, an area also known for its plethora of aspen trees. While you could spend months hiking here, we recommend catching the highlight reel from your car. Pack a picnic and head to the Peak to Peak Scenic Byway: a 55-mile road with awe-inspiring views of mountains pops of golden yellow, and evergreen trees.
Camp in the park at Aspen Glen Campground for aspen views and a front-row seat to the annual elk rut. During their breeding season, swarms of elk head to the valleys to find a mate—you may even experience them waltzing through your campsite.
Price: $30
Number of sites: 50
RV sites: yes
Fires allowed: yes
Pets allowed: yes
Viewpoint: Peak to Peak Scenic Byway (Estes Park to I-70)
Travel time to next destination: 6 hours
Stop-over campground
Exit at Glendo State Park along the Glendo Reservoir, an ideal spot for paddling or swimming if it's not too cold!
Sept. 20-26 — Spearfish Canyon, South Dakota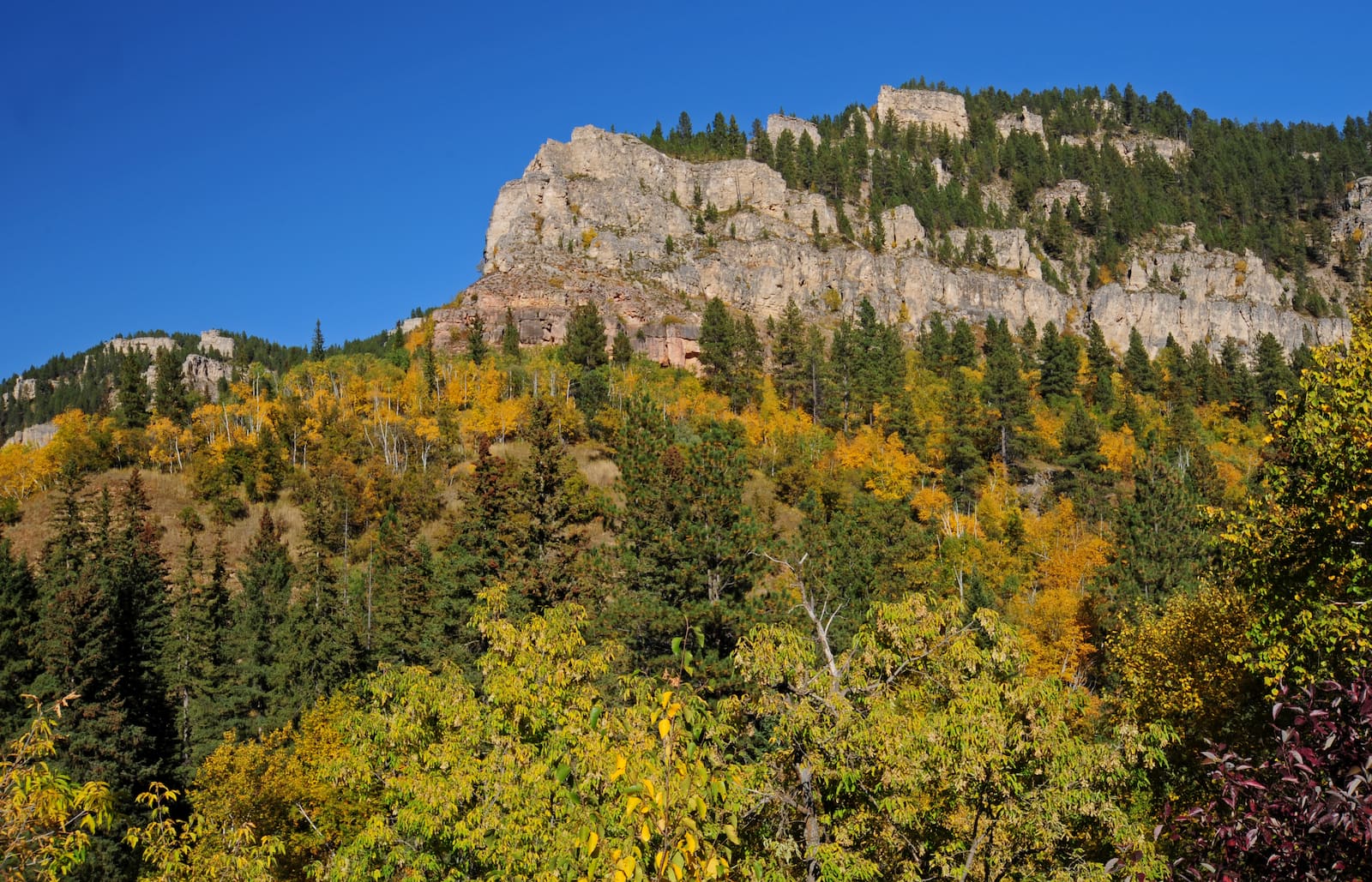 After crossing into South Dakota, take the Spearfish Canyon Scenic Byway for turning foliage below and towering cliffs above. This limestone canyon is home to waterfalls, with a handful of shorter hiking trails that will bring you to roaring brooks and cascades.
With The Dyrt PRO, you can try your hand at dispersed camping in Black Hills National Forest. Download offline Map Layers to check national forest boundaries. Pick a road within the area—many sites are already booked on The Dyrt—and stop at a designated pull-off to enjoy your dry campsite.
Camp at Black Hills National Forest Dispersed
Price: $0
Number of sites: N/A (dispersed)
RV sites: Yes (no hookups)
Fires allowed: Yes
Pets allowed: Yes
Travel time to next destination: 20 hours
Stop-over campground
Break up your beeline across South Dakota and Minnesota with a stop at Nelson Dewey State Park. Be sure to peep some leaves with a hike along the Mississippi River.
Sept. 27-Oct. 3 — Cuyahoga Valley National Park, Ohio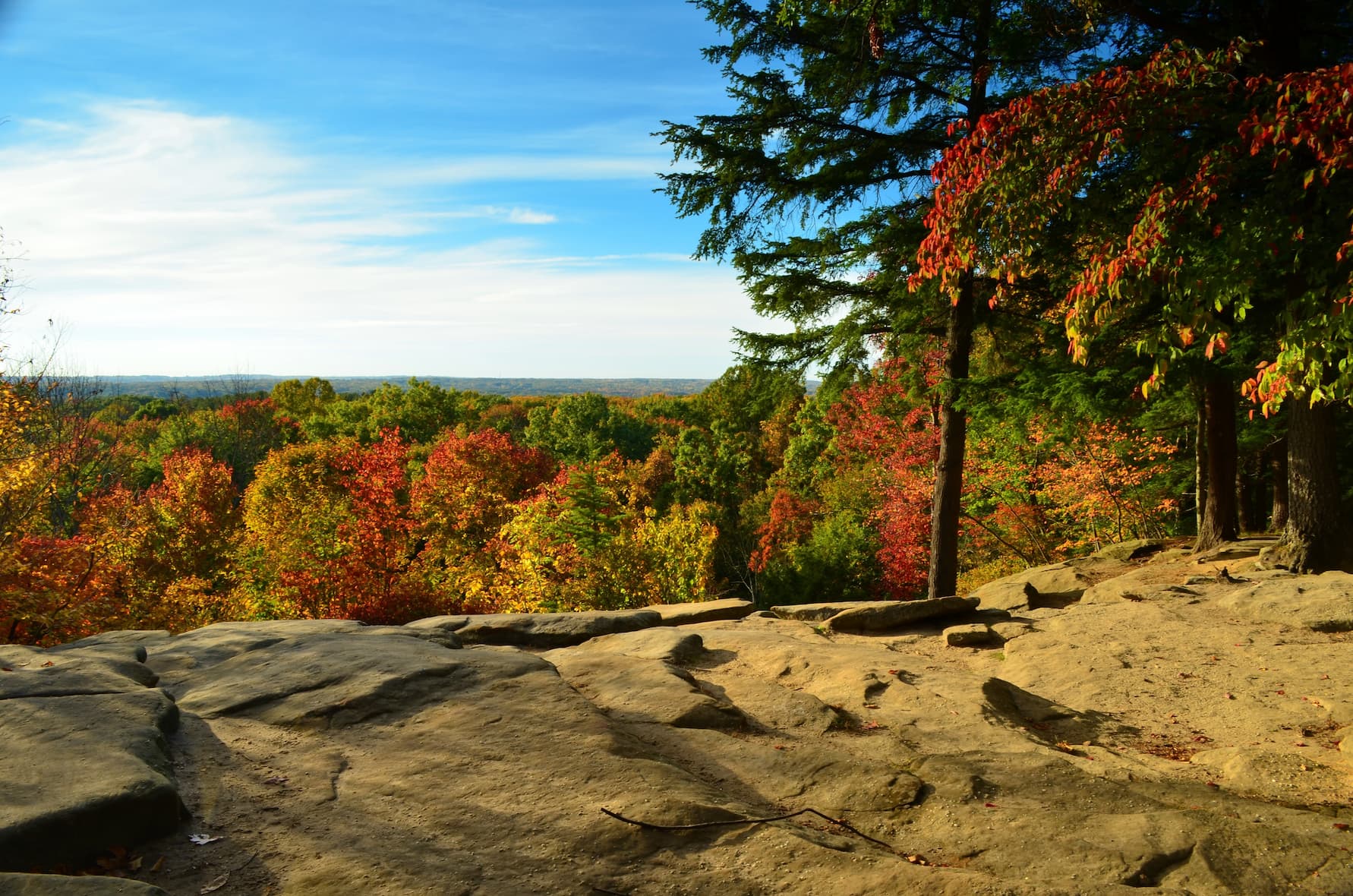 Head to Cuyahoga Valley National Park for an iconic Midwestern scene, including covered bridges and cascading waterfalls. This lesser-known national park is one of the best spots to see fall foliage in all of Ohio. Explore 125 miles of hiking trails or cruise your bike along the tree-lined Towpath Trail. Either way, you'll leave Ohio raving about Cuyahoga.
While there's no camping in the national park, neighboring Punderson State Park offers lakeside camping surrounded by deciduous trees. Make sure to check out the haunted Punderson Lodge for an early spooky season scare!
Price: $38
Number of sites: 172
RV sites: Yes
Fires allowed: Yes
Pets allowed: Yes
Viewpoint: Cuyahoga Valley NP
Travel time to next destination: 20 hours
Oct. 4-10 — Smuggler's Notch, Vermont

Every October, Vermont's rolling Green Mountains turn golden. Then again, when your state tree is the sugar maple, you're bound to be a pinnacle of fall foliage. "The Notch" sits below Mt. Mansfield, the tallest mountain in the state, and offers multiple hikes with amazing views. Be sure to stop at a local taphouse for some Vermont maple syrup for a campsite pancake breakfast!
Camp in Smuggler's Notch State Park for access to a handful of Green Mountain hiking trails, only a quick drive to downtown Stowe. Campers rave about this campground like The Dyrt camper Fransheshka A. who said: "We stayed last year during the fall and the views were breathtaking".
Price: $19-32
Number of sites: 28
RV sites: Yes
Fires allowed: Yes
Pets allowed: Yes
Travel time to next destination: 5 hours
Stop-over campground
Stop in Lake George to experience the southern Adirondacks and views of the High Peaks Region on a clear day. Stay at the top-rated Moose Hillock Camping Resorts, only 10 miles from the lake.
Oct. 11-17 — Catskill Mountain Range, New York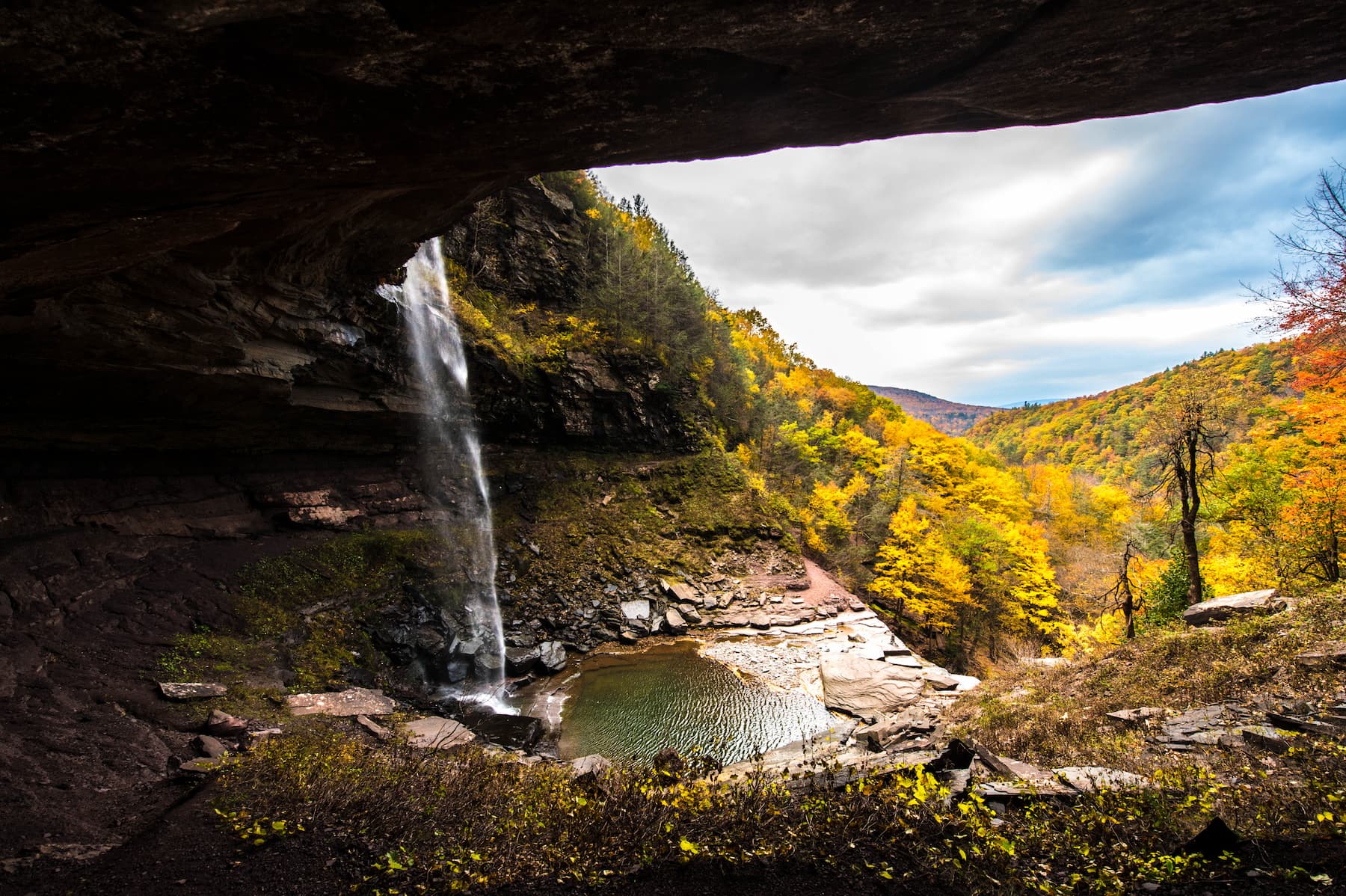 If you need any convincing on camping in the Catskills, check out the paintings they inspired by John Frederick Kensett and Asher Brown Durand. These vignettes are a great reminder of the whimsical nature that lies in this little mountain range. We recommend Mount Utsayantha, where you can view the changing leaves from a summit fire tower.
Camp at North-South Lake Campground
Whether you plan to camp out, paint en plein air, or just open your tent to a sweeping view of the mountain foliage, head to North-South Lake Campground. Take it from The Dyrt camper Maggie R.: "End of October the leaves are still incredible and there are great hikes in the area, including right from the site!"
Price: $19-32
Number of sites: 28
RV sites: Yes
Fires allowed: Yes
Pets allowed: Yes
Travel time to next destination: 8 hours
Stop-over campground
Stop along the Appalachian Trail at Michaux State Forest and enjoy some section hiking!
Oct. 18-24 — Shenandoah National Park, Virginia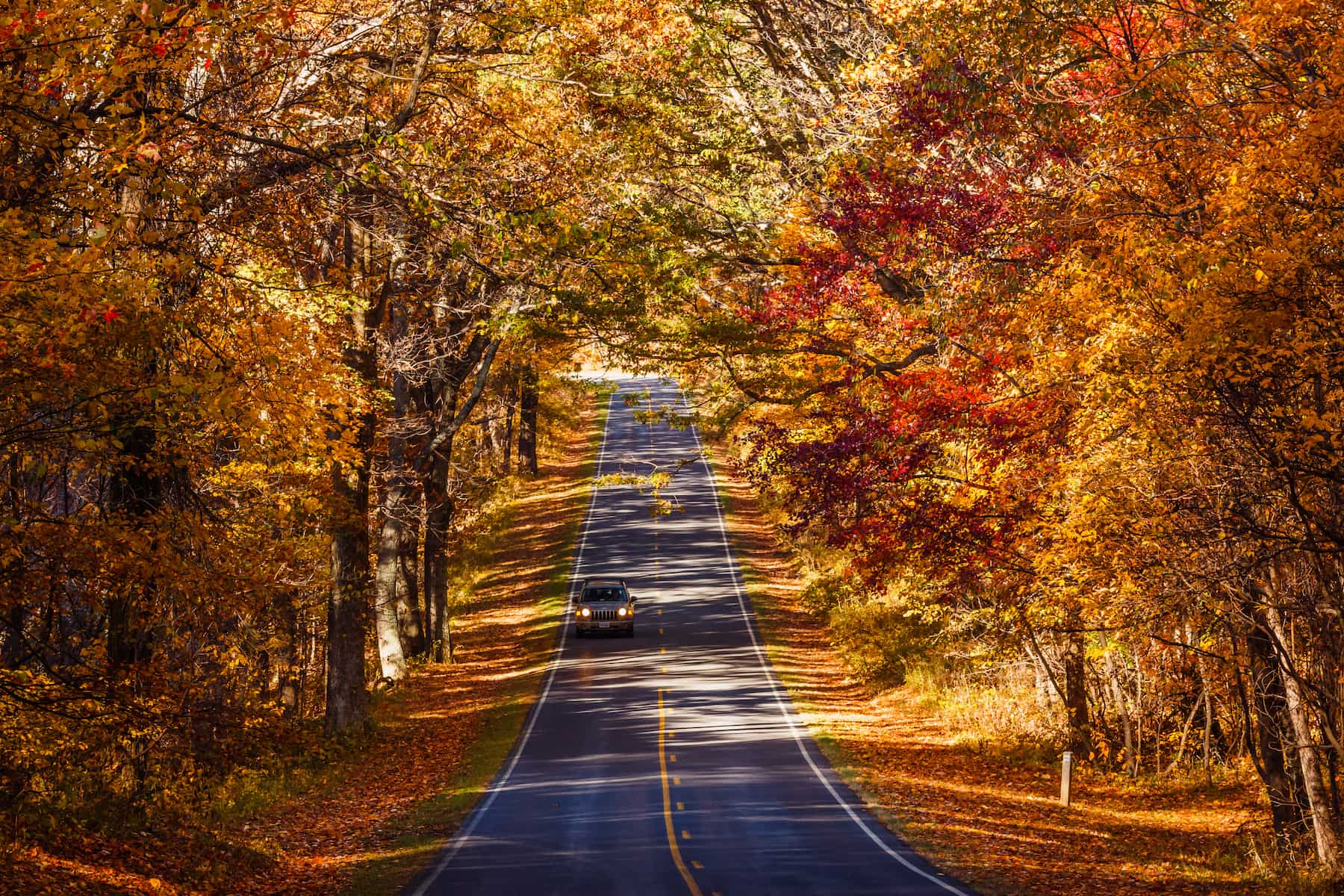 Our last stop brings us to Shenandoah National Park in Virginia. One of the best parts about road tripping during the fall is that, if you time it right, you can catch peak foliage in the north and the south! By mid-October, the peaks and valleys of the Blue Ridge Mountains will be technicolor, so we recommend heading down the Skyline Drive to the Pinnacles Overlook (30 minutes from Big Meadows Campground) for a great view of Pinnacles Ridge and the valley below.
Camp within the forest at Big Meadows Campground and hike from your tent or RV to nearby waterfalls and mountaintops.
Price: $20
Number of sites: 208
RV sites: Yes
Fires allowed: Yes
Pets allowed: Yes
---
Make sure to check out The Dyrt's Ultimate Fall Foliage Camping Road Trip or check out PRO trip planner and create your own fall camping road trip.
Popular Articles: