This post is brought to you by our friends at Primus, architects of an efficient and durable outdoor stove that's perfect for camping and concocting hot cocktails around the campfire. 
---
In the fall and winter months, the chill of the night rolls in with haste compared to the long dusk of summer sunsets. Darkness falls early, leaving you with plenty of time to have fun around the campfire. — as long as you stay warm.
The key to fall and winter camping—besides enjoying yourself—is staying warm, and that's possible with the right preparation, a roaring campfire, and a deliciously steaming cocktail (if you're of drinking age, obviously).
Why Do You Feel Warm When You Drink Alcohol?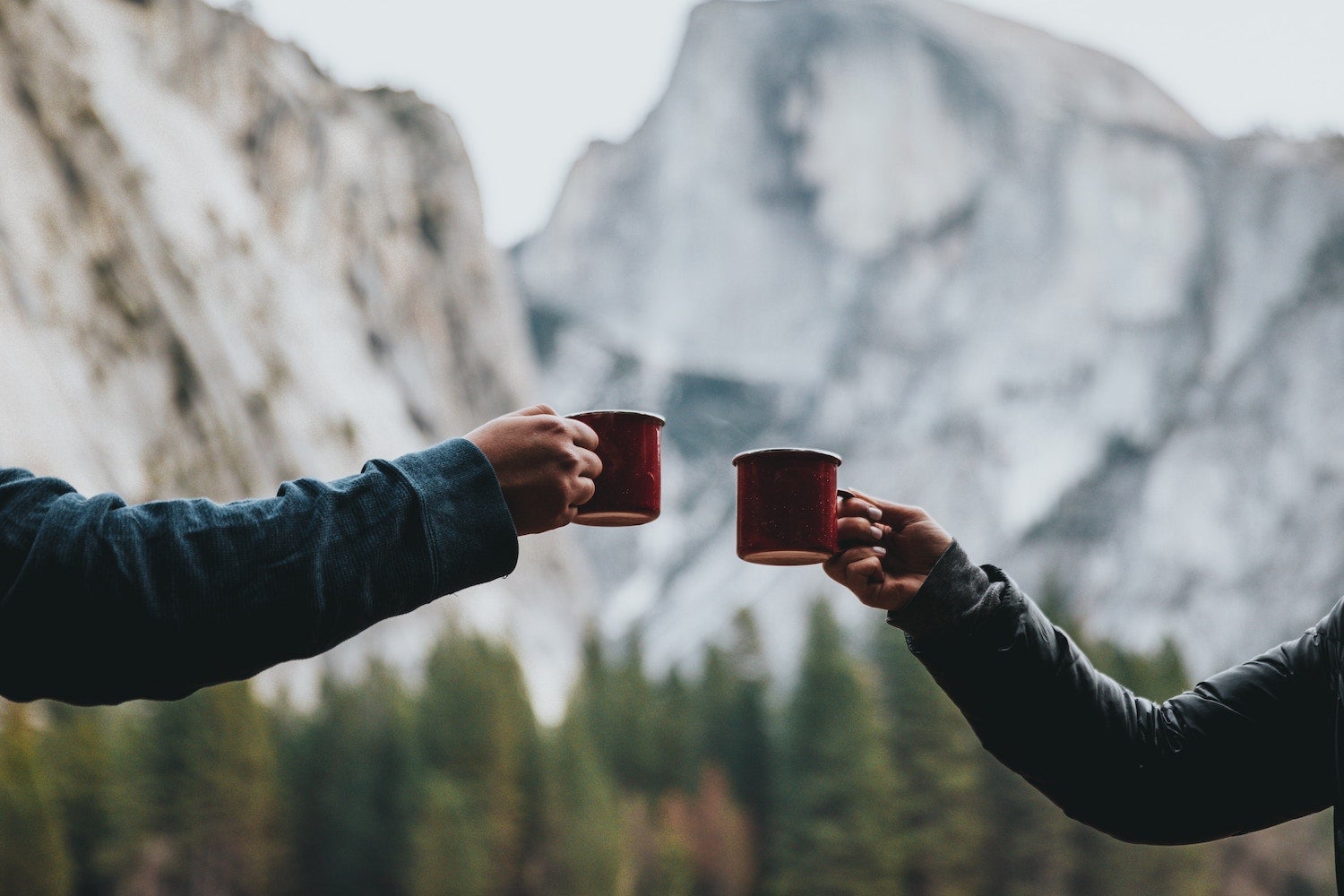 Before we get into fun recipes for hot cocktails at your campsite, let's touch on the science of alcohol and warmth. Many who drink alcohol might comment on feeling warm—socially, this is also known as the "beer blanket." But while you might feel warm and cozy—alcohol actually lowers your body's temperature.
Your body's temperature is controlled by your organs; primarily the brain, heart, and liver. Exercise and digestion produce even more heat, and when you drink alcohol, your liver is working overtime. When your liver metabolizes a lot of alcohol, your blood supply goes to your liver which releases more heat. However, during this process, your core temperature goes down as you sweat, though many do not notice.
While drinking hot cocktails—or any kind of cocktails—is fun, it's important to stay hydrated and safe. If someone does have one cocktail too many, be sure that they keep their jackets on when the weather is cold. Though they might feel hot, their temperature might actually be lower than normal, and they could be at risk for hypothermia.
Stay safe, hydrated, and enjoy these hot cocktails responsibly at your next fall or winter camping trip.
These Hot Cocktails Are Perfect for Fall and Winter Camping
While a beer at your campsite is perfect for the summer, these hot alcoholic drinks taste just right on a chilly night.
There are two parts to this take on the classic winter cocktail. First, you need to make the spiced simple syrup which combines cinnamon, cloves, lemon juice, sugar and water. Combine in a saucepan over your camping stove. Cook until all of the sugar has dissolved and then set aside to come to the temperature of the outdoors. Separately, mix together cinnamon, room temperature butter, and brown sugar to create the base of the cocktail. Last, combine all of the ingredients with the rum, which offers a sweet and spicy taste that's perfect with a side of s'mores.
Get the Recipe
---
Speaking of s'mores, if you don't feel like assembling the delicious camp desserts, you can make this hot cocktail instead. The difference in ingredients? Just add whiskey. While this recipe requires a microwave, you can just melt the chocolate chips in a saucepan along with the milk.
Get the Recipe
---
Cider is the ultimate fall drink — it tastes like autumn in a cup, and warms you from the inside out. With just four ingredients including vanilla vodka, this Vanilla Cider Cocktail is easy to make over your camp stove. Simply heat the non alcoholic cider just before a boil, and then combine with hard cider, vodka, and heavy whipping cream. It's as easy as drinking the cocktail itself.
Get the Recipe
---
A staple at holiday parties, this cozy drink is great to make for a big camping group as it requires a whole bottle of red wine and a large pot. Combine red wine, brandy, orange slices, various hard spices, and sugar into a pot and simmer for at least 15 minutes. Then strain the liquid and enjoy your mulled wine while telling ghost stories around the campfire.
Get the Recipe
---
Warm tequila with hot chocolate? We know, it sounds weird but bourbons, rums, and brandies aren't the only liquors that bode delicious hot cocktails. This Mexican hot chocolate is rich and spicy with dashes of cayenne pepper, cinnamon, and a hearty helping of cocoa. While tequila might seem off base for the flavor combo, it tastily adds to the richness and complexity of this camping cocktail.
Get the Recipe
---
Whether it's made with gin or bourbon, this mixed drink is cozy, easy-to-drink, and even easier to make. All you do is boil water and add it to a mug filled with lemon juice, honey, and bourbon. Sip and enjoy in your camp chair while you bask in fall's crisp weather.
Get the Recipe
---
This traditional Victorian recipe hails from the 1800s, and it's just as good now as it was then. Serving 4-5 people, this is another hot cocktail that is best with a large group of campers. Combine lemon juice, lemon zest, brown sugar, and water. Once this steams for five minutes, add sherry, and gin in a saucepan and bring to a boil. Stir, enjoy, and toast to nights camping by a warm fire.
Get the Recipe
Popular Articles: