This article on Finger Lakes wineries was brought to you by our friends at IceMule, who make some of the best backpack coolers for enjoying cold beverages anywhere you roam, from lakeside wineries to cozy campgrounds.
---
Getting up close and personal with landscapes — that's one thing that outdoor and wine enthusiasts have in common. And there are few better ways to understand how massive glaciers once shaped the land than heading to New York's Finger Lakes for hiking, biking, camping and wine tasting. After all, the same conditions that made destinations like the famous Ithaca gorges also made the Finger Lakes ideal for certain varieties of wine grapes. It's no wonder that this has been a destination renowned for rieslings and excellent scenery since the 19th century.
Enjoy Every Drop From these Finger Lakes Wineries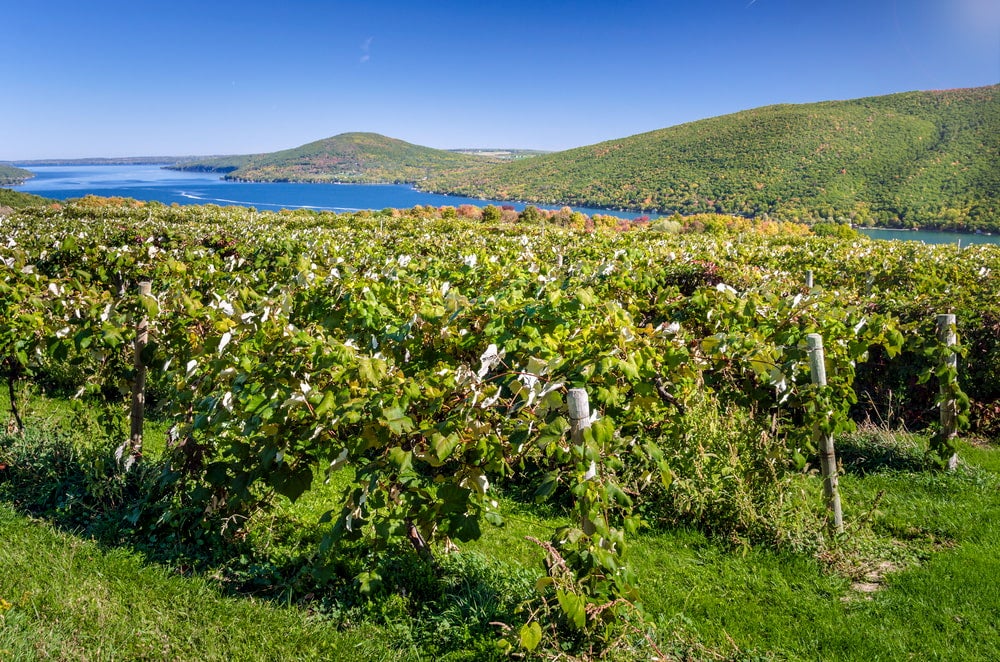 Today you can see that carved topography for yourself by hiking, biking and paddling the Finger Lakes region — and it is stunning. Not only are there the titular lakes, there are also miles of stunning waterways, waterfalls and shale bluffs.
Just within 10 miles of downtown Ithaca, for example, there are over 150 waterfalls, including Taughannock Falls, which is even higher than the far more famous Niagara Falls 150 miles east. And tucked around those gorges are dozens of wineries in the Finger Lakes that produce vintages as delicious as the vineyards are picturesque.
The Geologic Foundations of the Finger Lakes
Before European colonization, the Finger Lakes were home to the powerful Iroquois nation. According to tribal legends, the Finger Lakes formed when the Great Spirit pressed his hand into the earth, leaving the shape of his fingers behind.

The geologic explanation for these long, narrow lakes is that the massive Laurentide Ice Sheet overtook a series of small streams and rivers and gouged those riverbeds deeper and wider around 2.5 million years ago. When the glaciers receded, the debris they'd pushed ahead of them became dams, transforming those ancient streams into deep, cold lakes.
Today there are eleven finger lakes spread from just west of Rochester to Syracuse, New York: Otisco Lake, Skaneateles Lake, Owasco Lake, Cayuga Lake, Seneca Lake, Keuka Lake, Canandaigua Lake, Honeoye Lake, Canadice Lake, Hemlock Lake, and Conesus Lake.
What Makes Finger Lakes Wineries So Special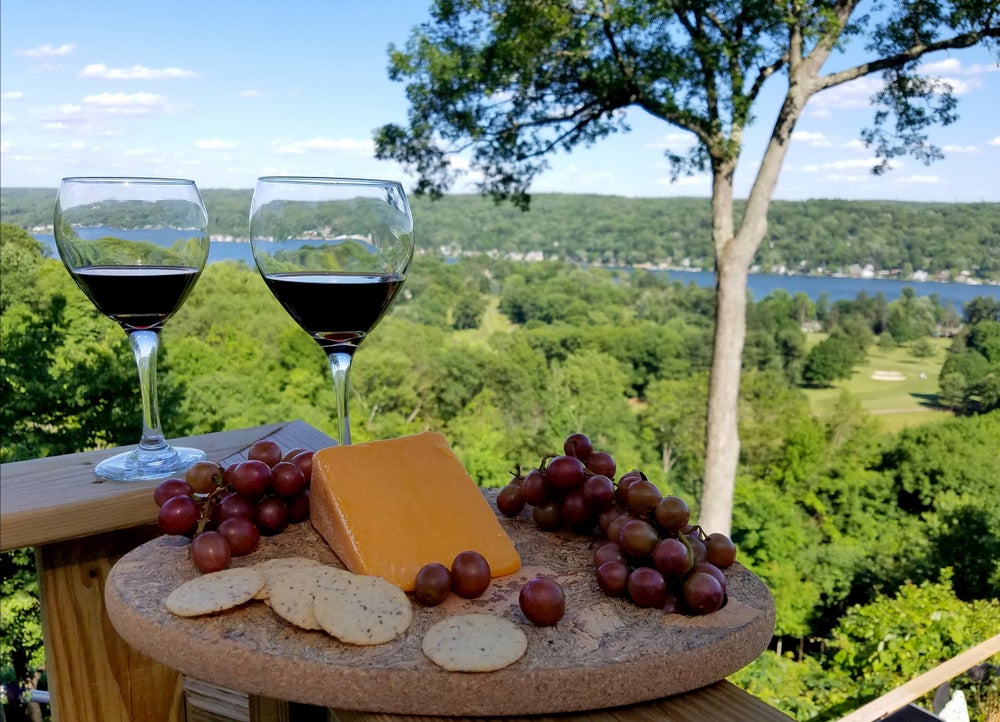 What was left behind by all that geologic activity was rocky, mineral-rich soils similar to those found in wine regions like Burgundy, Bordeaux, Chianti or the Mosel Valley. Seneca Lake and Cayuga Lake are the deepest of the Finger Lakes, creating a winter lake effect weather pattern that helps the vines stay warmer than they would elsewhere in the valley.
These lakes also have some of the richest sediments around them, full of limestone and calcareous shale. That's why so many of the Finger Lakes vineyards are concentrated around those two lakes. The steep slopes around Seneca and Cayuga also make it good for grapes because it's easier for the sunlight to reach all the vines, and it improves airflow.
Before prohibition, FLX — shorthand for the Finger Lakes wine region — followed only California as the largest producer of wine in the U.S. Early wineries included: Pleasant Valley Wine (Hammondsport; founded in 1860, and the only early winery that still survives); Urbana Wine (founded in 1865, in Urbana, a town a few miles north of Hammondsport); Taylor Wine (1880, Hammondsport); and Widmer's Wine Cellars (1888, on Canandaigua Lake in Naples).
These local Finger Lakes wineries got through the hard times during Prohibition by producing sacramental wines and non-wine grape products. Afterward, however, they got right back to producing the cabernet franc, gewürztraminer, grüner veltliner, merlot, muscat, pinot gris/grigio, riesling, chardonnay, and sparklers like blanc de blanc and blanc de noir. And today, you can enjoy all the wines the Finger Lakes region has to offer while also camping nearby.
Pair these 6 Campgrounds with Finger Lakes Wines
Though many of those pre-prohibition Finger Lakes wineries have since closed, new generations of vineyards have sprouted up, some with family histories that go back even further than the Finger Lakes wine region itself. And because so many of these wineries are close to the lakes, it's easy to find fantastic camping close to all the places where you're tasting, sipping and exploring. Here are some of the best wineries in the Finger Lakes, and their perfect campground pairings.
Damiani is definitely a must-visit Finger Lakes winery, with an outsize reputation. Planted in 1997 and first offered in 2004, Damiani has a wide variety of reds, including a Bordeaux-esque meritage, a growing selection of whites and a sparkling blend, Bollicini. Damiani quickly earned a stellar reputation, scoring high marks within fours years of their first vintage. They have a great selection in their tasting room, along with a lot of books about the area, making this a great first stop on your Finger Lakes wine and camping tour.
The other nice thing about Damiani is that it's close to several other wineries on Seneca Lake's eastern shore. You could easily camp at Smith Memorial Park to be equidistant between Damiani and Standing Stones Vineyards, but to shake things up a little, head 10 minutes south to the very tip of Seneca Lake. There you'll find Clute Park and Campground, which is a short walk from both Watkins Glen State Park and the town of the same name. If you have time, grab a bite along the way at Elf in the Oak, a quirky sandwich shop that serves breakfast and lunch.
Like many campgrounds in the Finger Lakes, you'll find a mix of dedicated seasonal campers and those visiting for the first time or shorter periods. You'll find a lot of RVs, as you will anywhere that people are camping near vineyards, but also plenty of tent sites. Most of the lakefront campgrounds aren't much of a backcountry experience, but they make up for it in amenities, hiking trails, water views and access to delicious wine.
"The best thing about this park is location, location, location! Directly across the street from the park is a local park with a small beach for swimming. Staff were very friendly and helpful with anything you may need to know about the area. Needless to say, you are in wine country with wineries and breweries galore to explore!" –The Dyrt camper Cheryl W.
One of the most gorgeous settings on Lake Seneca, Standing Stone Vineyards has recently started to transition into new hands. Founders Tom and Marti Macinski, who earned the winery's outstanding reputation, chose partners Fred Merwarth and Oskar Bynke of Hermann J. Wiemer Vineyard to take over the operations when they opted for a slow transition into retirement over the next few years. The winery's focus will continue to be on what they've always done well, including riesling, gewürztraminer and saperavi, along with quite a few other varietals and blends.
Just four miles down the road, Smith Memorial Park offers lovely camping right on the lake. There are plenty of nearby hiking trails that will lead you through stands of trees, some as old as 200 years. There is also a boat launch and swimming beach, with showers and a pavilion that comes complete with WiFi. The whole campground was just renovated in 2018 and early 2019, so the amenities are brand spanking new. In addition to wineries nearby, there are great restaurants, too, or venues that combine the best of both like Red Newt Cellars.
"Nice clean sites with picnic tables that are in good shape. It is just a short walk to the beautiful lake front. Very nice little beach for swimming and the perfect spot for going to the wineries. Sites are not very private, but I have encountered very nice neighbors every time so it hasn't been an issue." –The Dyrt Camper Elena C.
Hermann J. Wiemer came to the U.S. from Germany in 1966, and brought with him extensive knowledge about the grapes of his native Mosel region. He worked with several of the biggest, oldest Finger Lakes wineries before he found 80 acres of land where he could cultivate his own vines. In the years since, more acreage has been added. Their signature wine is riesling, and they produce a wide range from dry and semi-dry to sweet, and also offer other whites, rosés, light reds and sparkling wines. In addition to taking a bottle or two home, their gift shop also offers you the option to take a grapevine with you for home cultivation.
Don't get too tipsy at the tasting, though, because one of the best places to camp west of Lake Seneca is actually on another of the Finger Lakes, at Keuka Lake State Park. It's just 20 minutes away, with three loops of lush campsites shaded by hardwood trees. There is some lovely hiking here, including one trail that will take you past the Beddoe-Rose family cemetery, where some of the Finger Lakes' earliest settlers are interred. There is also a small beach, picnic tables, and a gazebo at Keuka Lake State Park.
"It is family friendly and part of the NY State Campgrounds, so if you have an annual pass you will save money. The sites are well maintained. Bathrooms and showers are clean. There is a dumping station right near the entry/exit.There is a large park area with a beach for swimming, fishing, and plenty of room for launching your kayak." –The Dyrt camper Karen S.
Unlike many of the other Fingers Lakes wineries, Dr. Konstantin Frank is a bit of an outlier because it's not on either Seneca or Cayuga Lake, but it does have a fascinating history. Dr. Frank was born in Ukraine in 1899 and earned a doctorate in viticulture and agronomy from Odessa Polytechnic Institute. He started his career in the Soviet Union, but with the upheaval of World War II, he moved first to Austria and then to the United States.
Dr. Frank found his way to Geneva, New York, where his experience with growing wine in the unforgiving Soviet climate earned him a job grafting vines to make them hardier against New York winters. After a falling out with his employer, however, Dr. Frank started planting vines on what would eventually become his own vineyard near Keuka Lake. He was already 62 years old when he was finally able to bring his signature hand-crafted approach to the Finger Lakes, and today his descendants run the winery still.
It won't take you nearly as long to find the right place to settle in for an outdoor getaway. After trying the wines at Dr. Konstantin Frank, head to Hickory Hill Camping Resort. Halfway in between the two are Urbana State Forest and Pigtail Hollow State Forest, which are full of hiking trails and wildflowers. True to the name, Hickory Hill is amenity-packed, with lots to do for the whole family. And because it's privately run, there's no problem with bringing a couple bottles of Dr. Frank's whites, reds and roses in your best backpack cooler.
"There is a lot to do at Hickory Hill, and everything is included in your site fee. The staff is helpful. They have multiple pools, a sprayground, mini golf, crafts, clean bathrooms and dog stations throughout the grounds, to name a few of our favorite things about this campground." –The Dyrt camper Amy T.
This Finger Lakes winery is run by husband-and-wife team Morten and Lisa Hallgren. Morten comes from winemaking stock; his family has run vineyards in Provence, France since the 14th century. After he left France for the United States, Morten landed at Dr. Konstantin Frank Cellars, where he worked until he and Lisa, a chef, bought some land on Keuka Lake in 2000.
The current tasting room location on Seneca Lake was added in 2012. Their signature wines are a dry riesling and cabernet franc. They also offer reds and whites, a Bordeaux-style blend, and some sparkling wines, along with some magnums and double magnums.
Camp closeby at Cheerful Valley, just 25 minutes north from the Ravines tasting room on Seneca Lake. They're proud to be on the New York Wine Trail and offer their own wine tastings on site. There are 125 campsites to choose from, including tent sites, dry RV sites, RV sites with full hookups, cabins and cottages. It's a family-friendly spot, too, with a game room, vintage fire truck rides and a swimming pool.
"This is a great place to relax. The creek is wonderful to fish in and sit by. There are things for kids to do and they have planned activities." –The Dyrt camper Amy T.
If you're a fan of "Dirty Dancing," the name of this winery on Cayuga Lake might perk up your ears. But the Catskills, where the 1980s romcom was set, are three hours east. Instead, Sheldrake Point Winery is named for the plot of land it sits on and which juts out into Cayuga Lake. It's ideal for making wine, with the lake providing stable, slightly elevated temperatures compared to the surrounding landscape. Grapes have been grown here along with other fruit since the 1800s.
The winery you can visit today, however, has only been in operation since 1997, a collaboration put on by a small group of wine enthusiasts that now produces 8,500 cases each year, mostly dry roses and ice wines. The later is a type of sweet dessert wine made from grapes that are frozen while still on the vine, concentrating their natural sugars. The Finger Lakes is one of the few wine regions in the U.S. that gets the very specific set of conditions needed to make good-quality ice wine. Even southern Oregon's wine region is too warm; on the West Coast, most ice wines hail from Washington.
Camp nearby at Sned Acres, another family-friendly campground right off the lake. They have tent sites, RV sites, cabins and even parked RVs you can rent for a taste of the rig life. There is wifi available throughout the campground, a camp store, hiking trails, video and book library, arcade, 18-hole disc golf course, and boat parking so you can easily access Cayuga Lake. Just across the lake from Sned and, more precisely, Sheldrake, is Long Point State Park, where there is even more hiking and lake activities to enjoy, and where hunting is popular in season.
"We were welcomed with a fresh loaf of bread and the owners made sure our group was able to stay together on neighboring sites. Our site was nicely shaded and across from the small lake. The showers were hot and the facilities were clean. It is a family campground with quiet hours after 9 p.m., so consider that when booking." –The Dyrt camper Katie K.
---
Related Campgrounds:
Popular Articles: