This roundup of dog friendly campgrounds in California is brought to you by Wenzel, the makers of camping gear like tents, blankets and fleece sleeping bags that are sure to keep you and your pup comfy while camping in California. 
---
Visiting California to see its natural wonders can seem overwhelming at first, especially when considering what's on offer. There's the bright beaches of southern California, the welcoming fog of sequoia-rich forests, and the deep deserts that seem ever-inviting.
California is teeming with opportunities to stay the night in the wilderness. This state is renowned for containing copious amounts of diverse landscapes including forests, beaches, mountains, and more. But can the dog come along?
To make sure you and your pup have a comfortable camping trip—whether it's your first time in California or you're a local—these 10 dog friendly campgrounds in California are hand-picked for a dog-friendly good time.
Death Valley National Park rests on the California/Nevada border, and its Furnace Creek campground is a great basecamp for anyone looking for dog-friendly campgrounds in California. It is the largest national park in the contiguous United States, and is home to badlands, salt-flats, and sand dunes, among other geological wonders. Many of the park's popular destinations are dog-friendly, and can act as a playground for eager pups. Furnace Creek includes large spaces for tents and RVs, fire pits, and picnic tables. Death Valley is renowned for its intensely hot weather, so visitors must be careful when deciding what time of year to go, especially when bringing dogs along.
---
Crystal Cove State Park stretches over 3.2 miles of Southern California coastline, a slice of backcountry beach camping situated near the uber-popular Laguna and Huntington beaches. Likely one of the most primitive dog-friendly campgrounds in California, campers can enjoy hiking, bird-watching, swimming, surfing, and yes, spending time with their dogs—just be sure to come ready with your own water and all the gear you need to go primitive camping.
Moro Campground is pet-friendly, so campers won't have to worry about leaving their dogs behind. However, the park states dogs must be on-leash at all times. The campground has plenty of hiking trails and ocean views—just be sure to watch for rattlesnakes!

---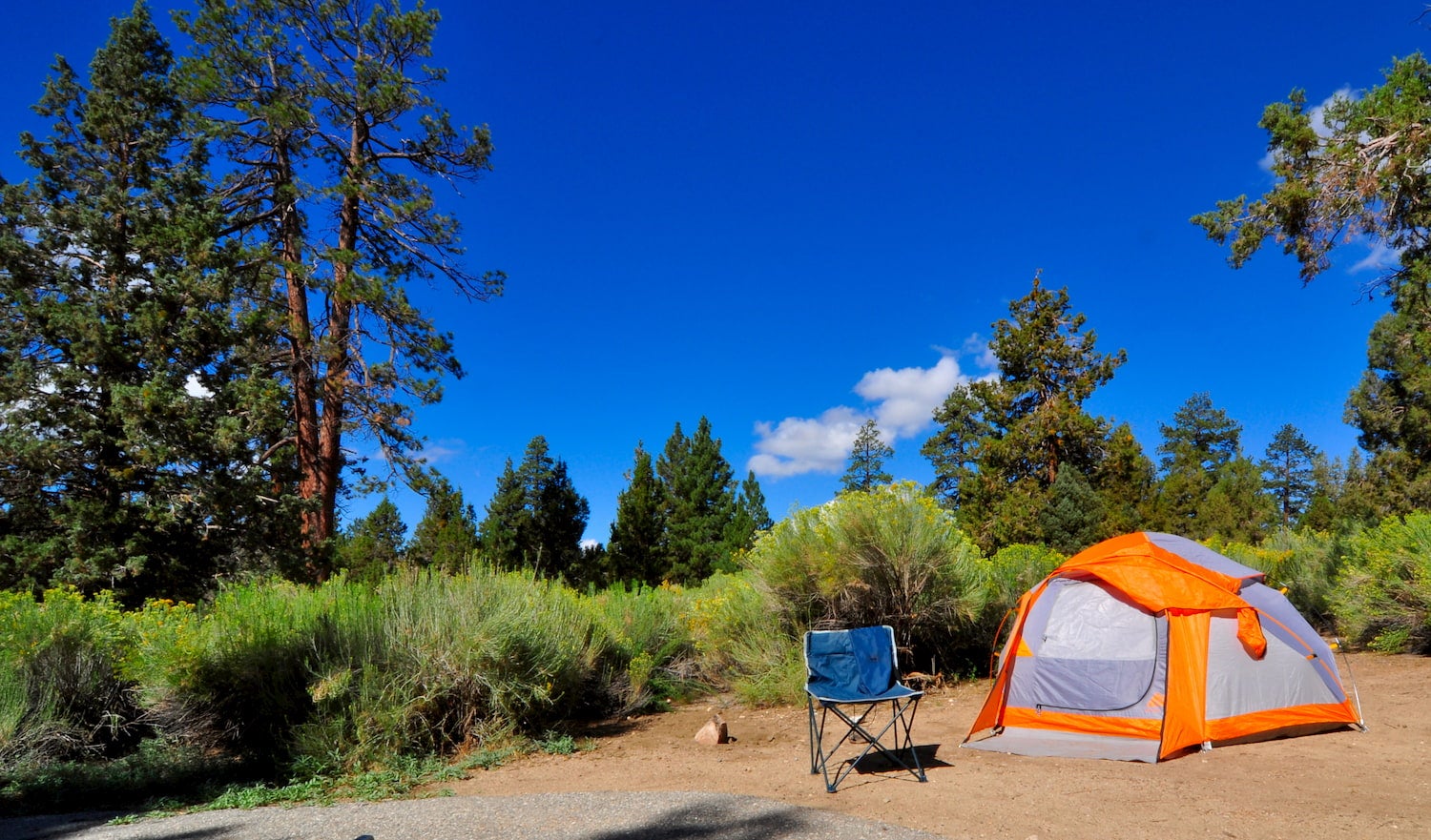 Visiting Serrano Campground is a memorable way to spend time at Big Bear Lake with friend, family, or even just your dog. The lake is located in the San Bernardino mountain range of Southern California, and if a hot spot for Californians to swim, hike, and get away from the city with their pets.
The campground has more than 100 sites, bathrooms, and drinkable water. Sites contain utility hookups for RVs.
---
Campers can spend a weekend or longer with their dogs at the Circle X Ranch in the Santa Monica Mountains for only $2 a night! Better yet, dogs are allowed on trails as long as they're kept on a leash.
This place is easy to get to from Los Angeles; it's located in the mountains just above Malibu. Here, campers enjoy a great break from the city, especially when taking on the hike to the top of the mountains. Sweeping views can be expected.
---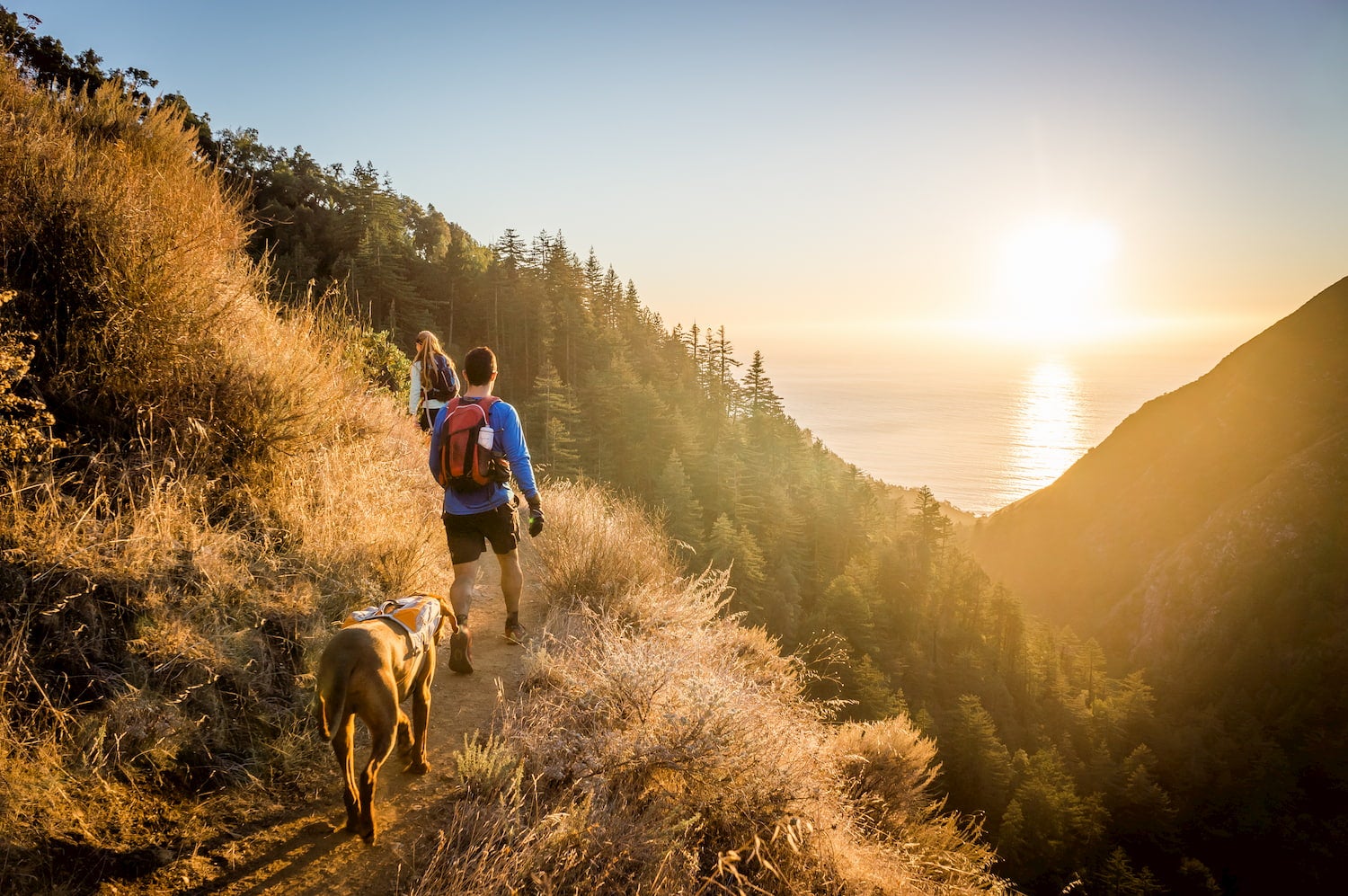 Plaskett Creek Campground near the central coast Big Sur wilderness allows dogs at their group campsites, perfect for both for tent and RV camping. The campsites don't include hookups, but do have picnic benches and fire rings.
Recreation in the surrounding Big Sur wilderness is limitless; hiking, mountain biking, and visiting the beautiful Sand Dollar Beach just south of the campground. Sand Dollar Beach is a dog-friendly beach, making Plaskett Creek an especially good choice for dog-owning campers.
---
Surrounded by Los Padres National Forest, Ocean Mesa is only 20 minutes north of Santa Barbara. This is a great campground to visit with a dog while in the central coast area, especially when seeking a more glamorous camping experience. The facility offers a pool and spa, televisions, wifi and more.
---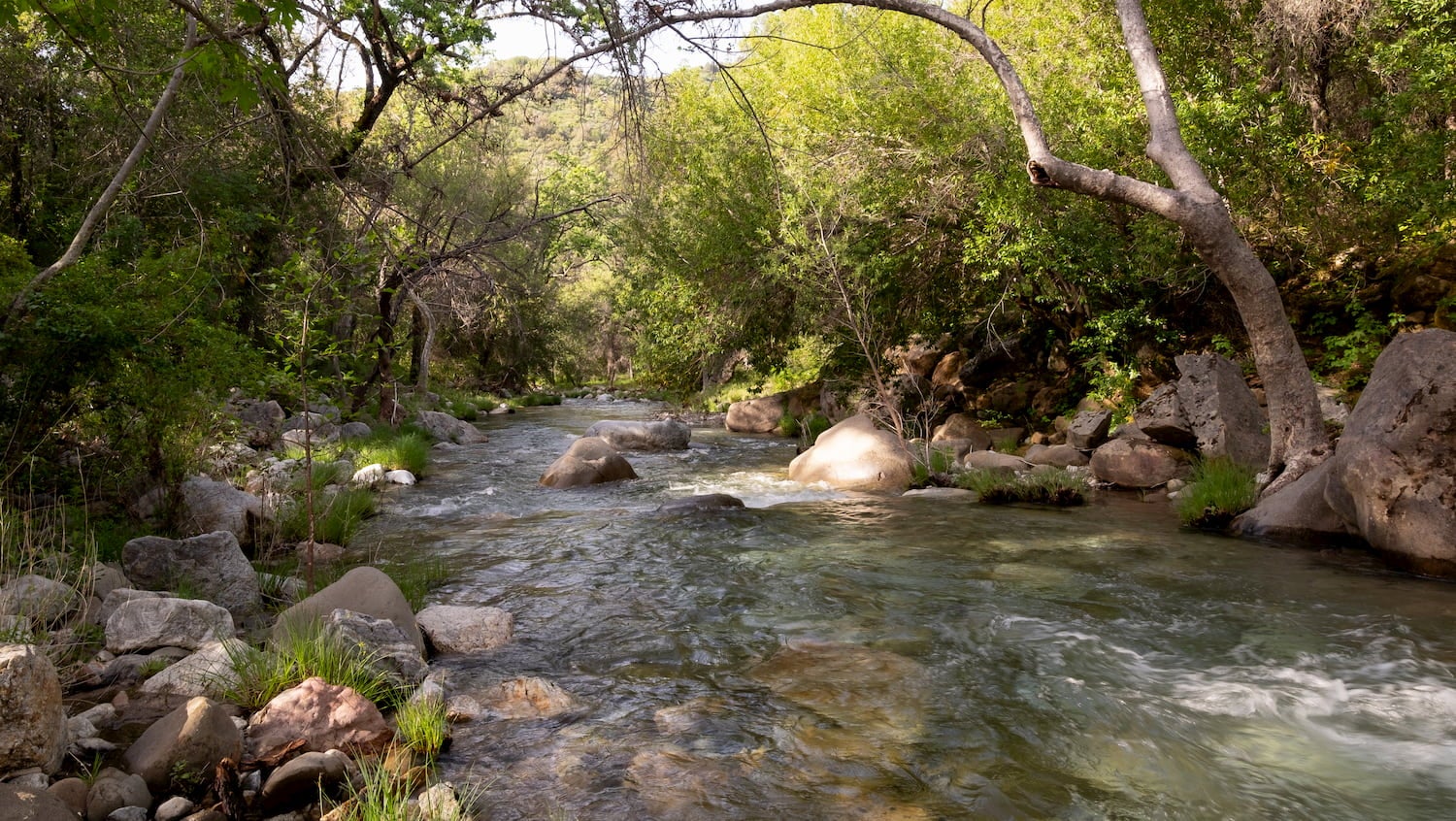 This dog friendly campground offers a place for pups to roam around in the spacious national forest lands off leash. Here campers have a wonderful opportunity to spend time with their pets in the thicket of oak trees. The nearest towns are Santa Barbara, Solvang, and Santa Ynez.
Each campsite is equipped with a fire ring and picnic bench. Firewood is on sale from the campsite, just ask! There's also drinkable water, bathrooms, as well as both tent and trailer camping.
---
When campers think about dog friendly campgrounds in California, many look to national forests. Dogs are allowed in most national forest campgrounds and can roam free leashless throughout the forests or on leashes during trail hiking.
Fern Basin Campground near Idyllwild is in the San Bernardino National Forest. It's a wonderful place to indulge in the pine-forest covered outdoors with a dog. Each campsite is equipped with a picnic table, a fire ring, and drinking water.
---
Located in Shasta-Trinity National Forest, the Hirz Mountain Lookout provides a wonderful experience to enjoy nature by way of staying in a lookout cabin equipped with beds, a vault toilet, and picnic tables below. Activities include sightseeing, stargazing, and hiking nearby. Dogs are allowed in the lookout and on nearby trails, and are sure to love the sweeping views as much as you will.
---
Visiting the Sequoia trees that dot the Sequoia National Forest is one of the best Californian experiences you can have with your pet in tow. These towering trees are extremely pleasant to camp around—and your pup will appreciate the massive stretches of forest to sprint to their heart's desire. There are some of the best dog friendly campgrounds in California spread out among the Sequoia National Forest, and like all national forests, dogs are allowed on hiking trails.
---
This article is brought to you by Wenzel

Try their fleece sleeping bag on your next camping trip with your dog!
---
Related Campgrounds:
Popular Articles: