This article on Colorado car camping is brought to you by Primus, whose Tupike Stove is the ideal setup for cooking up some multi-dish car camping meals or just boiling your morning oats because everyone knows that food tastes better when you are dining outside!
---
Between Colorado's 50-some peaks over 14,000 feet (nicknamed "14ers") and the near-infinite quantity of backcountry terrain, the Colorado car camping scene often gets overshadowed by the sheer volume of other ways to camp, hike, and explore.
That said, car camping in Colorado might be as awesome as all of its other outdoor attractions, namely because there are some incredible spots that are surprisingly accessible by vehicle. Whether you're looking for a high-altitude adventure or a simple weekend away from the city, Colorado car camping is tough to beat when it comes to destinations just off the beaten path.
Colorado Car Camping: The Spots
Mueller State Park is a heavily-visited hiking and camping area located within 45 minutes of Colorado Springs. It's extreme accessibility by car makes it a super popular option for families and weekend warriors looking to get out for a day or a weekend. Mueller's campground offers excellent views of the Continental Divide, and includes 134 campsites, each with a fire ring and picnic table. Of the 134, 99 offer electricity as well as tent pads. Unique to Mueller is their RV camping loop, which includes 11 campsites that can only be reserved as one group — if you're friends with enough RVers, you can rent the entire loop out for yourselves.
The beauty of Mueller is that it's open year-round, and its native population of Elk and Bighorn Sheep are popular to local visitors and guests. Campers willing to brave the chillier temps of early Fall can expect to wake up to the unique yet piercing Elk bugling call. Other family-friendly activities include hiking, wildlife viewing, and fishing in one of the man ponds that dot the area.
"Mueller State Park is a great location, close to Colorado Springs and far away enough to have that quiet camping experience. There were amazing views of Pikes Peak and so many camping spots…The 5 kids in our group had a great time and I was impressed with how clean the campsites were kept. I would highly recommend camping at Mueller State Park and would love to return for another camping experience." — The Dyrt camper Andrea K.
Baby Doe is the best of both worlds when it comes to Colorado car camping, offering direct access to Turquoise Lake without being too far off the beaten path. Known as one of the state's most iconic water destinations, this alpine lake offers campers the chance to boat, fish, hike, and swim throughout the warmer summer months.
Baby Doe Campground is located on the eastern shore of the lake, and is walking distance from the shoreline as well as the popular Turquoise Lake Nature Trail. Baby Doe offers 51 family sites that include a picnic table and fire ring. Popular destinations near this campground include Independence Pass, which at 12,095 feet is the highest paved mountain pass in the country.
"Just west of Leadville Colorado sits Turquoise Lake at an elevation of around 10,000 ft. Baby Doe Campground is one of the few camps that are situated around the lake on its east side. You camp under the pine trees beside the lake with beautiful views of Mt. Massive and Mt. Elbert to the south over turquoise water." — The Dyrt camper Fain H.
Located southeast of the small mountain town of Jefferson, Lost Park campground features 12 campsites, each of which are available on a first-come, first-served basis. Lost Park is Colorado car camping at its smallest, as each site is set evenly throughout a large area, and can accommodate a max RV length of 22 feet. That said, at 10,000 feet in elevation, Lost Park offers its own set of stunning views and excellent high-altitude hiking opportunities in close proximity to the campground.
For car campers seeking a bit of solitude and a chance to take beautiful drives around some of the most scenic mountain passes in the nation, Lost Park is the place for you. If you're willing to brave the chillier temperatures of the fall, Lost Park is the ideal spot for car campers to camp amongst the iconic Aspens, whose colors transform the mountainous region into a living masterpiece.
"Beautiful drive [to get] there over Kenosha Pass, [especially] during Aspen Yellow season. Chilly, windy, panoramic!" — The Dyrt camper Terrie J.
A small lake on a mountainside flush with gorgeous Aspen trees, Cottonwood Lake campground is a super popular summer destination for Colorado car camping enthusiasts, and particularly for anglers on the hunt for some high altitude trout. With several different areas to fish and hike, this campground is perfect for families toting their fishing gear along in the car as well as those that want a heavy-duty high-altitude hike to round out their weekend camping adventure. The facility offers 25 campsites that can accommodate both RVs and trailers, but its small size makes for a rich and uncrowded-feeling camping experience.
The upper portion of the wilderness area also offers several trails for ATV and dirt bike riders, making it a haven for the hardcore truck-bed campers as well as the car camping families who haul their kid-size ATVs with them to the campground. The area is located within 30 minutes of the beautiful Buena Vista, Colorado.
"We came here last year during the summer and it was so beautiful and quiet. Great scenery, not crowded, plenty of sites to choose from." — The Dyrt camper Alyssa B.
Lakeview Gunnison Campground is set on Taylor Park Reservoir, offering stunning views of the water and the surrounding wilderness. While most visitors who camp here are anglers looking to snag a vintage Colorado trout or two, the area is well known for its off-roading and biking trails as well. It's ideal for families who want an easy drive into a campground that offers a classic car camping experience, complete with easy access to the lake and stunning views directly from the campsites.
Apart from the occasional Colorado thunderstorm, this campground is a perfect place to get a taste for Colorado car camping, high altitude views and all! The campground itself includes 62 campsites, a handful of which have electric hookups. Each site comes with a picnic table and fire ring, and the campground offers drinking water, trash collection, and vault toilets for all visitors.
"I definitely see why the campground is called Lakeview! We had an excellent stay here with the exception of the hail and thunderstorm, but there was no planning for that. The site hosts were very welcoming and friendly!" — The Dyrt camper Elizabeth M.
While accessible by car, this campground is a tent-only campground with a whopping 6 sites available, making it the smallest Colorado car camping destination on our list. All of the campsites are first-come, first-served, and although there's no water available onsite, there is one restroom as well as firewood for sale. This campground is unique in that it provides legitimate backcountry access while still allowing visitors to camp from the comfort of their vehicles.
If you or your family are interested in seeing the wilder side of Colorado—whitewater rapids, epic, untouched mountain views, native Cutthroat Trout—then this campground is for you. Located at the lower end of Taylor Canyon, Granite Canyon campground provides excellent backcountry hiking, fishing, and rafting opportunities for those with the gusto to get there!
Kelly Dahl Campground is located just outside of the small mountain town of Nederland, Colorado, and offers some of the best proximity to hiking of all the Colorado car camping destinations on our list. Visitors have the chance to explore both the West Magnolia Trailhead and the East Portal Trailhead, both of which just a short drive from the campground entrance. Kelly Dahl Campground offers 46 single-family campsites that are large enough to accommodate both tents and RVs. 20 of Kelly Dahl's 46 sites are first-come, first-served while the others are reservable year-round. Each site comes with a fire ring and picnic table, and drinking water and trash collection is available at the campground as well.
"Nice peaceful campground on the weekdays. Near Boulder Canyon. Easy access to bike trails, hikes, rock climbing and scenic drives." — The Dyrt camper Robyn O.
One of the most popular places to camp for residents of Colorado Springs, Thunder Ridge campground at Rampart Range Reservoir is a pristine and well-trafficked campground that overlooks the water. The area is heavily used for hiking and fishing, and is popular large-in-part for its proximity to Pikes Peak, as it sits along the Front Range of the Rocky Mountains.
There are 21 campsites at Thunder Ridge, 3 of which are fully accessible. Drinking water is provided throughout the campground and each site comes with a picnic table and fire ring. At an altitude of 9,200 feet, Thunder Ridge Campground is the perfect way to get away from the city without having to venture far off the well-traveled road.
"Perfect place for a quiet weekend away near CO Springs. Highlights include a quick path from campground to reservoir, very friendly camp host, and the campground sites are all very roomy. Ours was wonderful and looking around other people's were too." — The Dyrt camper Kayla M.
Located in the stunning Brainard Lake Recreation Area, Pawnee Campground includes 47 campsites for tents and RVs alike. While there are no electrical hookups available here, the campground does offer water, picnic tables, fire rings, and dump stations.
Due to its elevation and location in Boulder County, Colorado, Pawnee Campground experiences a shorter camping season for many of its sites, as they're only available starting in early July and running through Labor Day. That said, the activities here are abundant, and include fishing, hunting, and hiking throughout the recreation area, and even into the popular and scenic Indian Peaks Wilderness.
"Excellent stay – camp is at Brainard Lake recreation area and one of our all time favs ! Clean vaults excellent hosts and cleanest sites – many things to do including hikes on multiple trails and kayaking on [the] lake or just looking for moose and casually relaxing." — The Dyrt camper Marty L.
Located in the Colorado National Monument territory, this campground is unique in its proximity to a wide variety of activities. The red rock canyon in this area offers spectacular views and opportunities for hiking, cycling, and climbing. Set within unique red rock formations and large Pinyon and Juniper forest, Saddlehorn provides visitors the chance to get away in an area with breathtaking views and ample opportunities for outdoor recreation.
The area is also popular for wildlife viewing, as campers can regularly catch glimpses of Bighorn sheep, Golden Eagles, and a variety of other creatures. The campground offers 50 campsites, and includes restrooms with flush toilets. Water is available throughout the campground, as well as picnic tables and fire rings at each site.
"Absolutely breathtaking views on your drive up to this site! It's only a 15 minute drive from Fruita. Tucked away ON TOP OF A MOUNTAIN! We camped on the side of the mountain, so when we woke up we were rewarded with the most beautiful overview of the city and mountains." — The Dyrt camper Keisha M.
---
This article was brought to you by Primus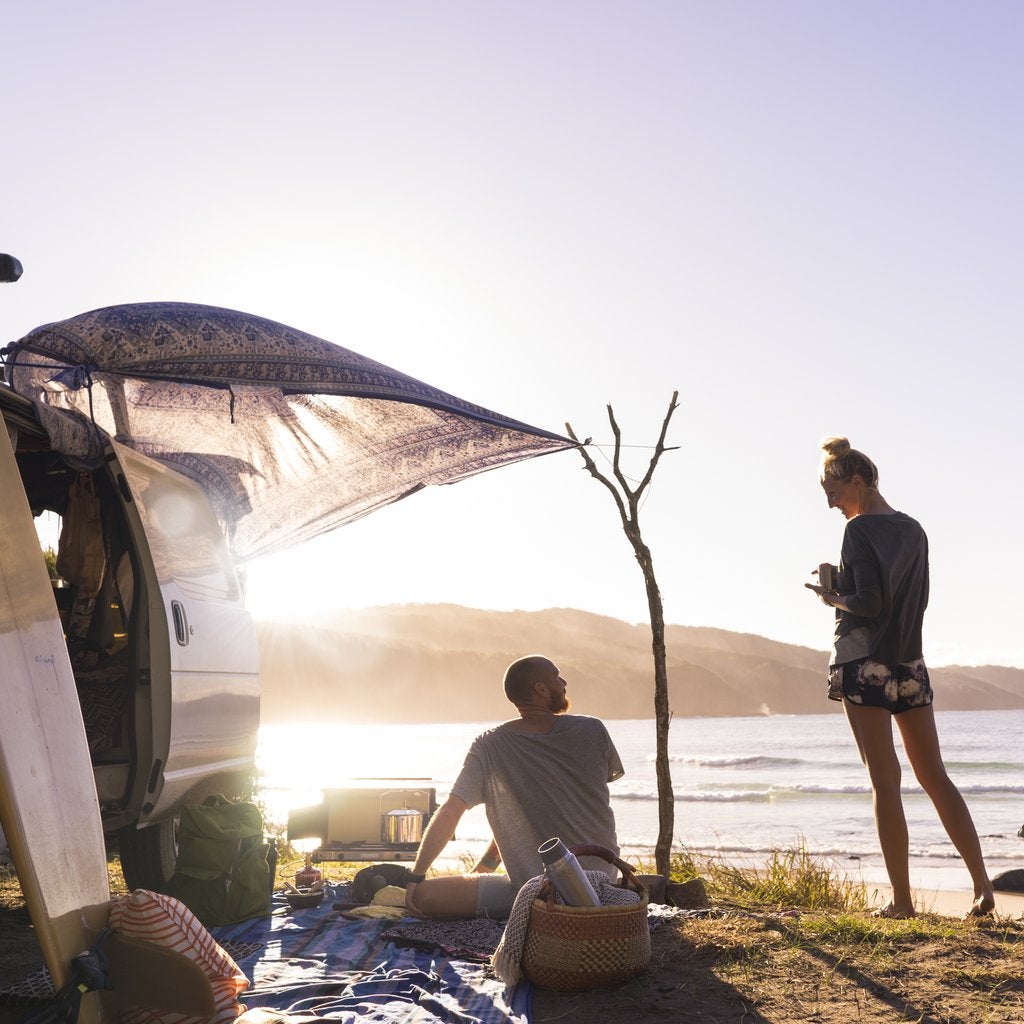 Primus' Tupike Stove has the capacity to cook you camp worthy meals night after night so you'll never want to leave the comforts of your campsite!
---
Related Campgrounds:
Popular Articles: