The alarm went off at 4 a.m., a tinny beep reminding me that those who want to make the summit get up early. I wriggled out of my sleeping bag, dismayed by the light frost layer covering it from the chilly alpine night. After a pair of gloves, a beanie and a puffy coat prepared me for the even colder outdoors, I ventured forth, shaking the surrounding tents with a gleeful glint in my eyes, listening to the pre-teen protests emanating from inside.
Day bags packed, breakfast scarfed and kids layered appropriately, our group from a Colorado adventure summer camp hit the trail. We took turns carrying a pineapple named Señor Colada and hiked by headlamps until we broke tree line. Sunrise found us having a snack on the scree at about 11,500 feet. Above us loomed Mt. Elbert—one of more than 50 14,000-foot mountains in Colorado—and it would be another four hours of hiking before myself, two other counselors and eight kids, ages 8 to 14, stood on the highest rock in the Centennial State, 14,433 feet above sea level.
But with clouds rolling in, we didn't linger long. We were back to tree line before 2 p.m. and down at camp about 12 hours after my alarm had gone off, gratefully sitting out an afternoon thundershower in the comfort of our tents.
What to Know about 14ers in Colorado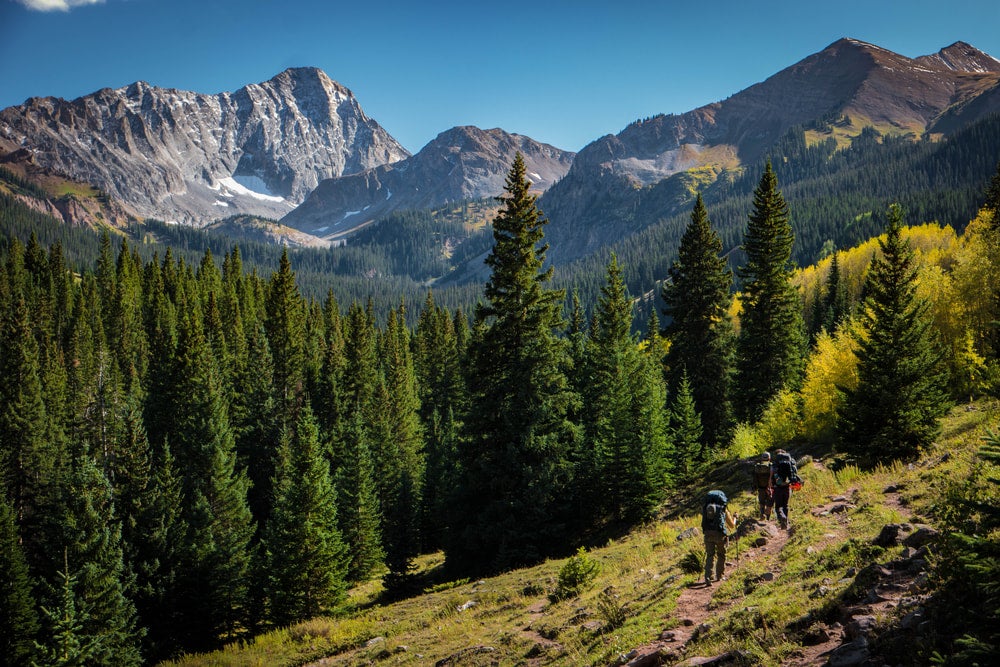 Hiking 14,000-foot peaks—or 14ers, as they're called in Colorado—has become many Coloradan's favorite summer goal. The Colorado Fourteeners Initiative estimated that these stunning Rocky Mountain peaks experienced 334,000 user days in 2017 (the most recent data available). A huge boom in popularity during recent years can be attributed to popular social media accounts of those hikes and, of course, the stunning photos from the summits. Hiking above tree line and stepping out on the top of the Colorado Rockies is, indeed, an incredible experience.
Yet with the increase in popularity, there has also been a dangerous narrative growing that hiking some 14ers in Colorado is easy. In fact, Googling "easiest 14er"' has become a common way to choose a hike. Local search and rescue teams across the state, most of whom are volunteers, have all noted an increase in the number of rescues of unprepared hikers on these so-called easy 14ers. While beginners can indeed find a 14er that allows them a reasonable chance of reaching the summit, it is dangerous to assume that any 14er is easy.
How to Get Ready to Hike a 14er in Colorado
Gear & Supplies
Packing for a strenuous hike up any of the numerous 14ers in Colorado can be tricky. It is important not to overload yourself with weight, but there are many essential items to consider bringing along.

Backpack: Your hiking pack needs to have a waist buckle and, ideally, a chest buckle as well. This keeps weight on your hips (not your shoulders and back) and provides stability and balance.
Hiking boots: Sturdy shoes that are already broken in should be worn even when hiking an easy 14er in Colorado. Scree fields cover the peaks of nearly every mountain in the state, and the rocks are sharp and often unstable.
Water: At least three liters of water should travel with each person. Hiking at high altitude in a semi-arid environment depletes your body much faster than in lower, humid climates.
Food: Light snacks with high calorie counts are best, and you can't go wrong with the backpacker's classic PB&J tortilla wrap.
First aid kit: A first aid kit is essential for any backcountry trip.
Extra warm layers: Starting in the cold morning before sunrise will help you bring enough warm layers, but if you end up with a late start for some reason, remember that you need to prepare for the potential of rain, high winds and snow at the peak.
GPS locator: In the event of an emergency, GPS coordinates are the best way to get rescued sooner rather than later. Assume that your phone will run out of batteries, and bring a SPOT or other locator as a backup.
Sunscreen/hat: Sun protection is essential, as burns happen much faster at high altitude where the atmosphere is thinner.
Map: Remember, don't expect to be able to rely on your phone in the backcountry. Purchase a topo map of the surrounding area to bring with you on the hike in case you get turned around
Safety Tips
In response to seven hiking-related deaths on the 14ers of the Elk Mountain Range in 2017, Mountain Rescue Aspen created a Mountain Safety Class that they put on, free of charge, around the state. Below is a list of the their most important tips for hiking a 14er in Colorado during the summer.
Summer storms bring cloud to ground lightning most days after 1 p.m. To avoid being exposed above tree line, plan to reach the summit by 10 a.m. and then return to tree line by early afternoon.
Cairns can be misleading and trails can fade out. Make sure you study the route ahead of time, bring a map and look for landmarks for the hike down.
Take measures to avoid becoming separated from your group.
Know how to use the GPS locator on your phone to give an accurate location to search and rescue in case of an emergency. Remember that cold weather quickly depletes phone batteries, and reception is unlikely on the summit.
Be aware of rockfall, wildlife and warming temperatures.
Stay alert to changing conditions. Dark grey clouds are a warning of dangerous weather ahead. In addition to lightning, snow can occur on almost any day of the year, and high winds quickly reduce visibility.
Be prepared with extra warm and waterproof layers, even if the forecast looks good.
When to Hike
Mid-summer through early fall is the best season to attempt a 14er for the first time.
Keep in mind that while the valleys melt off and feel warm and spring-like, snow remains on the ground above 12,000 feet through the end of June on an average year, making many 14ers in Colorado a risk to plan for. On a big snow year (like 2019), it is very likely that the summit of these popular trails will still be covered with snow even through July. Avalanches that occurred during the winter may also obstruct both trails and access roads, so be sure to check with the Forest Service ranger district to find out about current conditions.
Top Five 'Beginner' 14ers in Colorado
Mount Elbert—14,433'
Although it is Colorado's highest peak, Mount Elbert is surprisingly an excellent beginner peak among 14ers in Colorado. There are two well-traveled trails, clearly marked and very popular, which allow access to the peak. North Mount Elbert trail starts at 10,050 feet near Halfmoon Campground. The South Mount Elbert trail starts at 9,560 feet from the beautiful Twin Lakes side of the mountain.
Camping is available near both of these trailheads at the Halfmoon Campground for the North Trail and White Star Campground for the South trail.
Quandary Peak—14,265'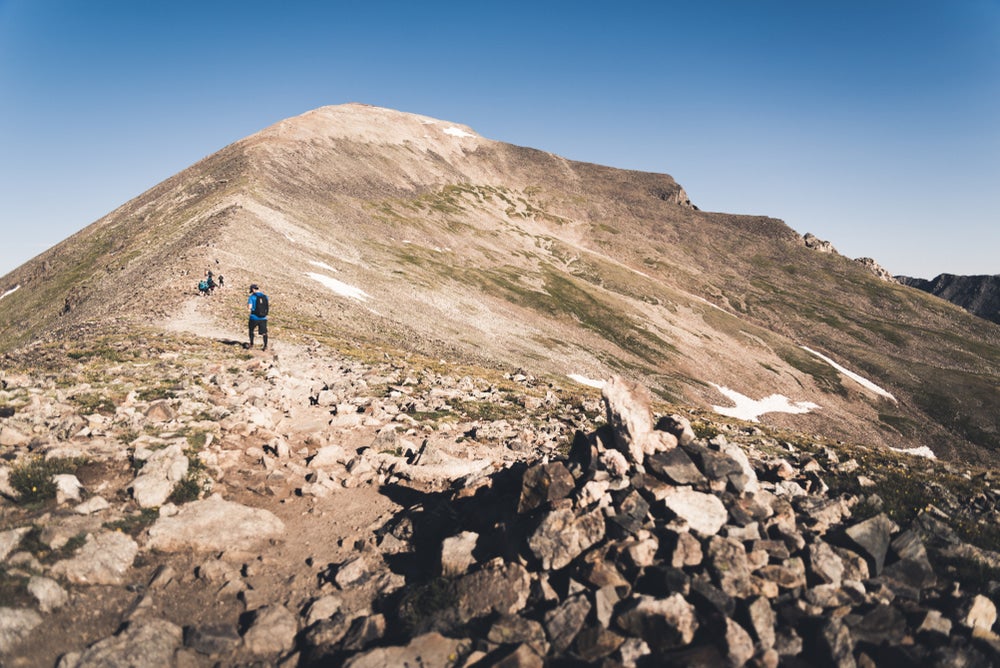 The only 14er in the Tenmile Range near Breckenridge, Quandary Peak is a very popular trail for first-time climbers. The only Class 1 (or non-technical) trail is the East Ridge Trail, which is 6.25 miles long, but it has a relatively gentle grade for the entire length. Many hikers will take advantage of the numerous campgrounds surrounding Lake Dillon the night before, or find a primitive campsite closer to the trailhead for an earlier start. While Quandary Peak does have trails that appear much shorter on the map, they are also a great deal more technically challenging than they appear, involving scrambling along steep cliffs and route finding.
Grays and Torreys Peaks—14,270' and 14,267'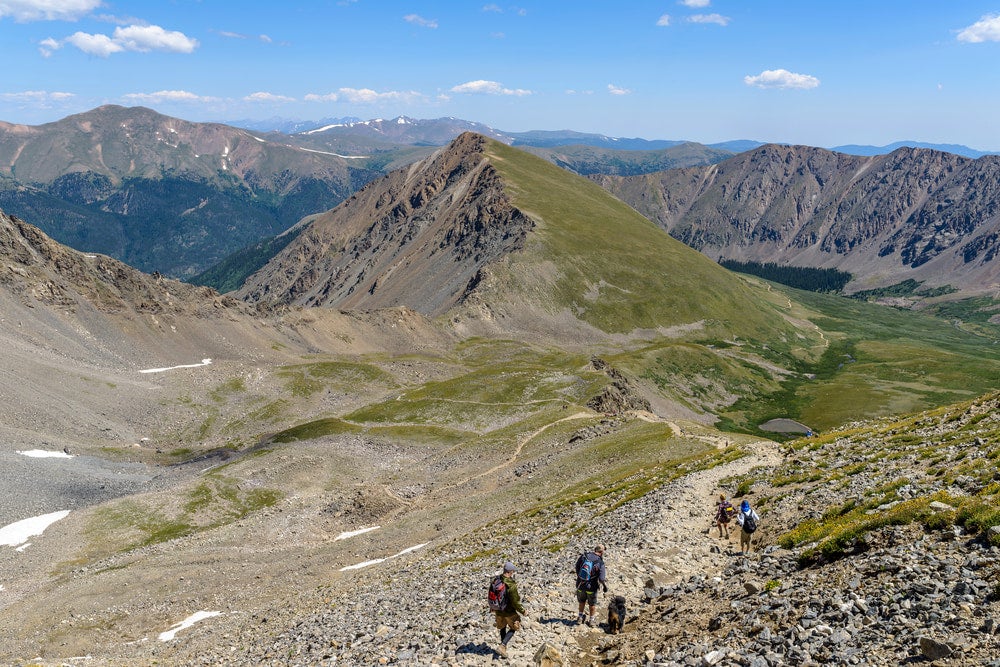 This pair of very approachable 14ers in Colorado is joined by a high saddle or rocky ridge, so many hikers enjoy connecting them on the same hike. The Bakerville exit off of I-70, east of the Eisenhower Tunnel, turns quickly into a forest road that provides 4×4 access to the trailhead. The easiest route up these 14ers in Colorado is about eight miles long and begins summiting Grays Peak with the optional hike to Torreys.
The trail winds up through their shared valley and is full of beautiful wildflowers and a flowing mountain stream. Be aware that there are multiple route combination options, some of which are popular with advanced mountaineers, but can be very dangerous to the unprepared. Look carefully at the route you have chosen and be sure to stick to that trail the entire time. Primitive camping is available at the trailhead.
Mount Bierstadt—14,060'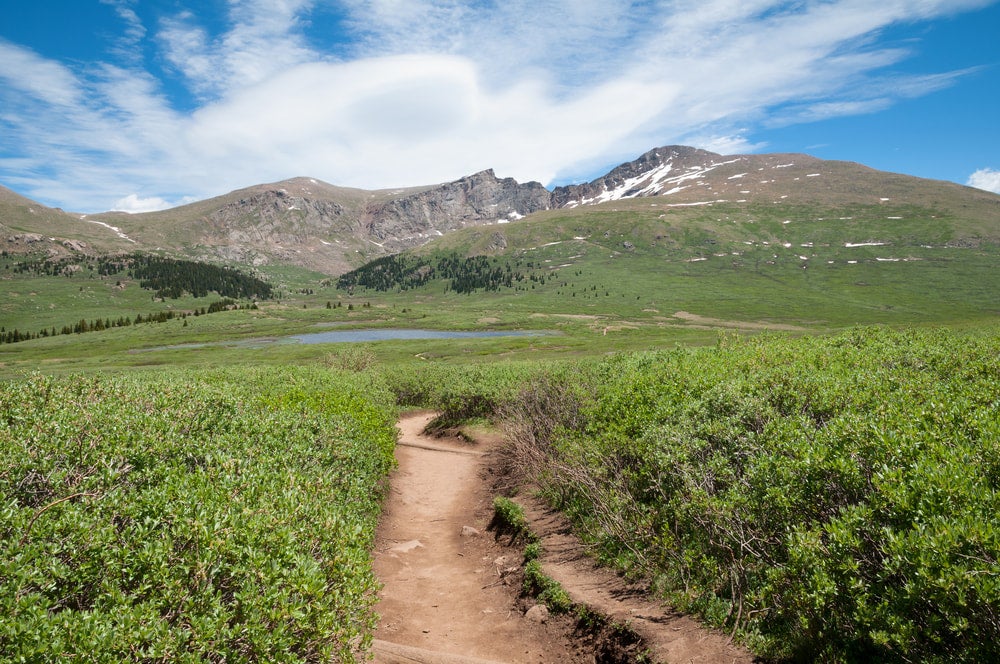 Adjacent to the drivable Mount Evans, Mount Bierstadt is best approached via a trail on its western side. Park near the top of Guanella Pass, and the seven-mile round-trip hike can take people anywhere from four to seven hours. The trail winds through a high alpine marsh and has been improved with wooden bridges and trail markers to keep people from getting lost in the willows. This route is identified as a class 2 trail due to an increase in rockfall danger during a section of tight switchbacks on the scree field.
Mount Bierstadt was the most-climbed of the 14ers in Colorado in 2017, with close to 40,000 user days in the year. If you are traveling with more experienced route-finders, Mount Bierstadt may be linked to Mount Evans via the famous Sawtooth scramble. There is significant exposure on this route (i.e. cliffs on both sides), and there are no formal trail markers. Guanella Pass Campground and Geneva Park Campground both offer camping options nearby.
Handies Peak—14,048'
Hiking through beautiful American Basin up to Handies Peak will definitely get you off the beaten track. Drive to the remote mountain town of Lake City to access the trailhead about two miles south on Colorado 149. The round-trip hike is about 5.5 miles if your car can handle a rocky stream crossing or 7.5 miles if you need to park lower on the 4×4 road. The route does not follow the ridge the whole time, but veers past Sloan Lake, offering mind-blowing views well before the summit. There is a steeper trail that shortens the distance but increases the technical aspect of the hike. That trail turns off to the left before Sloan Lake, so be sure to thoroughly research the route before beginning.
The only nearby camping is primitive, roadside campsites near the trailhead.
---
Related Campgrounds:
Popular Articles: