Meet "The Road Schoolers"! This family of four is embarking on a campervan adventure, exploring and homeschooling from their Class C campervan—and sharing stories with The Dyrt along the way. 
---
The internet is full of ideas on how to plan a road trip for the family. We could do a loop of all the national parks and maximize our "Every Kid in a Park" pass. We could stop and see all the kitschy roadside attractions or ride the best mountain biking trails or surf the endless summer.
We're about to hit the road for an extended family road trip and we'll be "road schooling" our two daughters along the way. When planning our road trip, we haven't picked a specific theme; unlike many of our friends, we aren't passionate weekend warriors who hit the slopes every time there's fresh powder or find a new beach every spring break.
As we prepare for this road trip, we are embracing our inner "possibilitarians" — the parts of ourselves who are spontaneous and open to new possibilities and experiences based on who we know and who we meet along the way.
Here are 9 things we're doing to prepare for this road trip so we have the structure that helps us say yes to new possibilities.
1. Rough Out the Plans
After living in the Pacific Northwest for 13 years, we're accustomed to gray and wet winters. But camping in the rain is not our idea of fun. We decided to spend the winter in the warmth and sunshine. We discovered Meteoblue, a free app that lets us search by day and driving distance to find where it will be the sunniest.
We're often deciding our next stops along our general path based on its predictions. Sunshine in the winter is fortuitous serendipity to us Northwesterners.
We have a rough idea of where we're heading and when. But we've left enough wiggle room in our plans for plenty of detours.
2. Say "Yes" to Learning New Things
View this post on Instagram
The possibilities we most love saying "yes" to are those that arise when people want to share their passion with us. One of our first experiences traveling this way was on a trip to Walla Walla, Washington while our daughters were young.
While we were sampling excellent farm-made goat cheese, we spoke to a woman who had left the Los Angeles' art world to open an art gallery and an amazing restaurant. Her passion for good food was inspiring so we changed our plans to try her restaurant that night for dinner. She sat us in her gallery since the bar didn't allow kids, and we feasted on amazing food. The serendipity of our conversation was only enhanced by the delicious food and drink that night—it was the highlight of our trip.
Being open to fortuitous serendipities and passion-fueled possibilities doesn't preclude some planning — rather it is enhanced by structure and support. Having ideas and resources ready to go can be helpful, especially when you're traveling with a family of four. And we're Virgos… we can't help it!
3. Plan to Avoid Freeways (as well as ice & snow)
Our country has amazing arteries to funnel traffic efficiently from big city to big city. While we appreciate that we can use this amazing infrastructure, we also want to slow down from our city lives and enjoy the sites, people, and products of the rural parts of the country.
While using smaller roads allows us to connect with more people and places that are unhurried, we also have to be careful of weather and traffic conditions while winter road tripping. The free app, Highway Weather, allows us to watch the weather reports not just for the starting and ending locations, but the areas in between.
4. Build Out a Map
There are lots of things to keep track of on a road trip: where you want to stay, things you want to do, where you want to eat, museums to visit, parks to explore, friends to see, etc. To keep track of all the possibilities and to see where they are in relation to each other, we build out a custom google map.
Whenever someone offers a suggestion of a place we should go, we add it to the map. We download sections of the Google Map so we can access them offline. This can be tremendously helpful if our road trip takes us through areas of no cell service.
5. Keep the Kids Engaged
View this post on Instagram

Like every other parent, we don't enjoy hearing "are we there yet?" or having our kids plugged into technology constantly. One of the best ways we have found to get them excited about climbing back into the car for another hour of driving is to tire them out and engage their brains in new ways.
A friend once said about her puppy: "She is best when she is well exercised and her brain has been stimulated." We think that is true for everyone we know…especially children. When we pass an amazing beach or fun tree to climb, we pull over and let everyone stretch their bodies. Likewise, we are members of a science museum and children's museum. These are part of an alliance of similar museums across the country that offer reciprocal admission (free or discounted). To help stretch their minds, we use the lists of participating science or children's museums to find locations near our road trip destinations. We'll add particularly cool museums to our google map as well.
6. Find Cool Places to Stay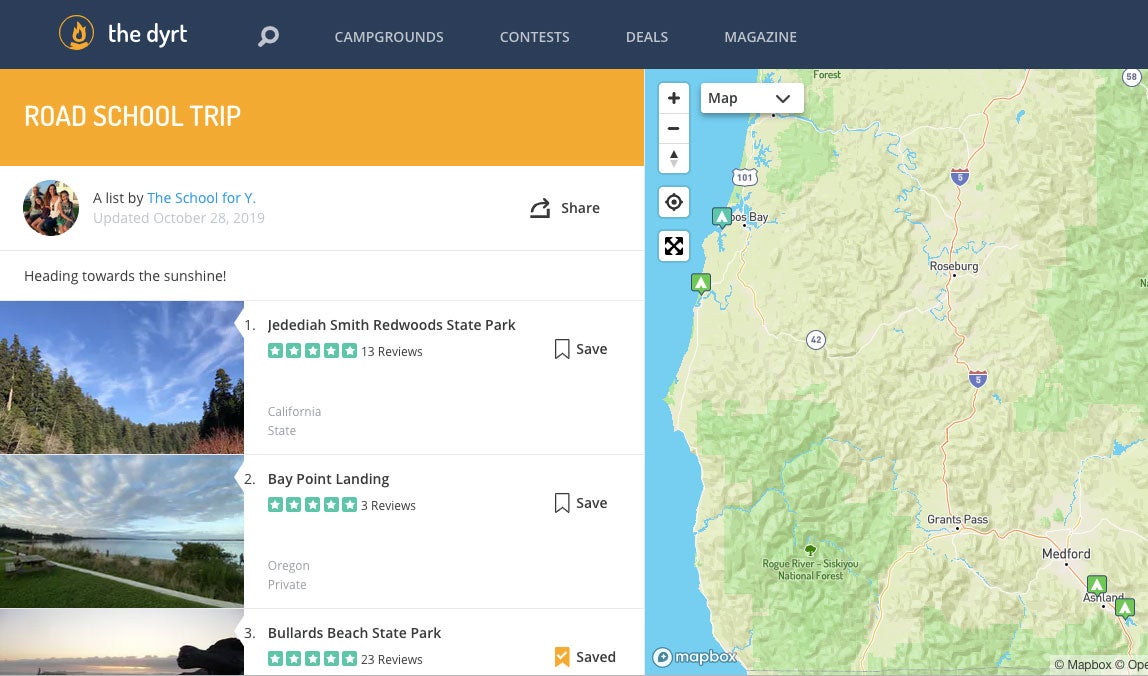 The Dyrt app is our first stop when looking for cool camping spots. We will often do a broad search of areas where we think we might be driving through on the road trip. We'll save campgrounds we like in the app so we can go to the "me" area and see all of them in one place.
We'll also add the ones we really like to our Google Map so we can see how they relate to the other places we want to visit. We have become big fans of the photos, video and descriptions on The Dyrt. The opportunity to win new gear is an added bonus.
7. Planning to Eat Healthy and Well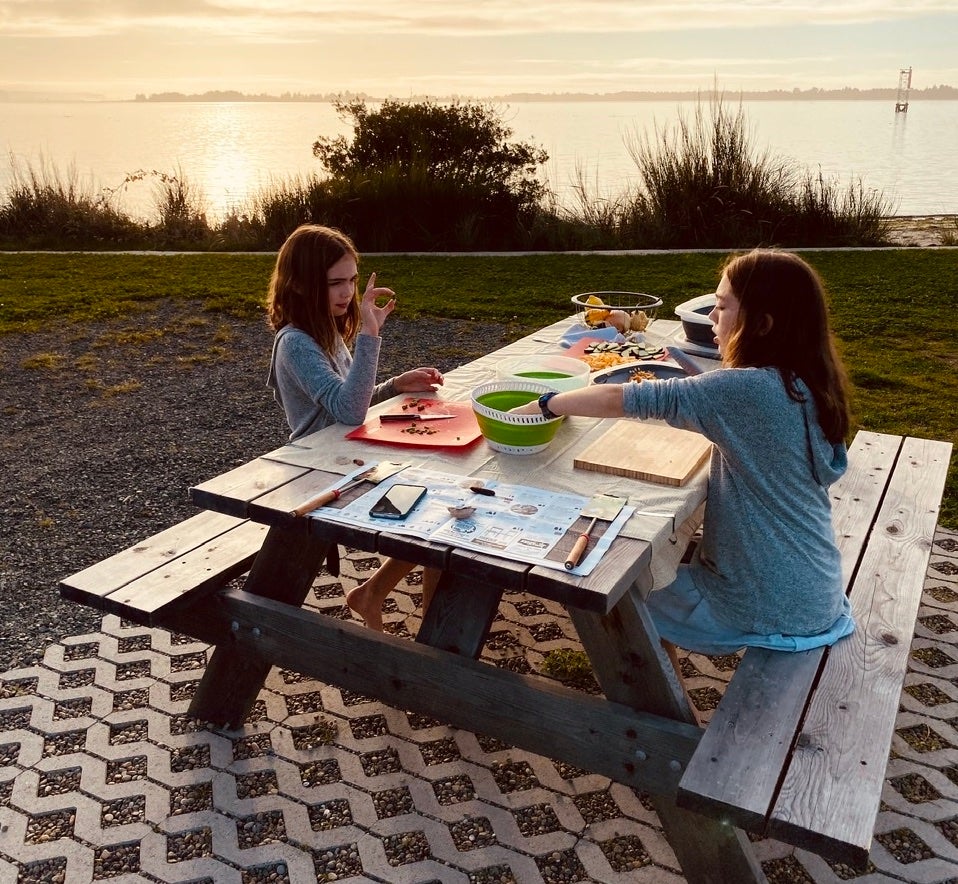 We are trying to do a lot of cooking in the RV and want to stock up on healthy, local ingredients whenever possible. While we search for farmer's markets and add those to the Google Map, it's been helpful to find people with similar values around food who can share the places they like to shop and eat.
The best springboard has been asking for advice from people at the markets or approaching passionate foodies at restaurants and asking where else they like to go. We will also search for "organic" on yelp and add interesting markets, co-ops, and health food stores to the road trip list.
8. Plan to Leave a Small Footprint
We feel strongly about walking-our-talk (and driving-our-talk) around minimizing our impact on the planet. We've tried hard to continue our less-waste lifestyle when transitioning to RV living.
In order to do so, there is a bit of planning involved. We come prepared with package-free items like bar soap, lightweight laundry strips, and washable baggies and drying racks. But food continues to be the most difficult area to minimize our waste.
Stopping at farmer's markets and buying unpackaged food directly from the growers makes a huge impact. Parking our kitchen in front of the grocery store makes bringing in our own shopping and produce bags easy. We also use sites like Litterless.com to find stores along our road trip path that have bulk bins and refills for our soap and other zero-waste supplies.
9. Discover Interesting Things and People
We typically turn to a few apps when researching places to add to our road trip possibilities map. Searching on Pinterest by location often turns up great articles from bloggers who have written about different areas. We rarely want to follow a blogger's full itinerary, but we'll pull out a suggestion or two that sounds fun and add it to the map.
We also search Roadtrippers, particularly for strange or unusual attractions, factory tours and the like along our route.
Reaching out to friends who live in areas we are traveling through, or hearing from friends who have been there before, is a great way to find out about interesting things, too.
We love asking the cashiers at small shops or the servers at local restaurants for advice. The bulletin boards at local natural-food markets offer information on concerts, movie screenings, live theater and other interesting things to do when staying in an area for more than a few days. Hearing others' passions about places and things often helps us discover new passions ourselves.
---
Related Campgrounds:
Popular Articles: