The Dyrt's new search features and saved campground lists make it even easier to research campgrounds. It's time to start planning your summer camping trip. 
---
In the past, planning a camping trip was never simple. Campground websites were mostly archaic, or non-existent, and it was hard to know what the campground would look like before you got there. We'd ask our friends for recommendations, but information online was tricky to find and even trickier to keep organized once you found it.
Sarah Smith, co-founder of The Dyrt, was frustrated with how difficult it was to find and research campgrounds online.
"We should make an app that helps you find and review campgrounds!" she said to her husband and soon-to-be-co-founder, Kevin, while they were out hiking one day.
The rest is history. And today, it's much easier for any level of camper — even first-timers — to search for campgrounds, read reviews, view photos, save campgrounds, and plan camping trips. The Dyrt makes it simple. Our newest version of The Dyrt app makes it even easier, with enhanced search features and lists.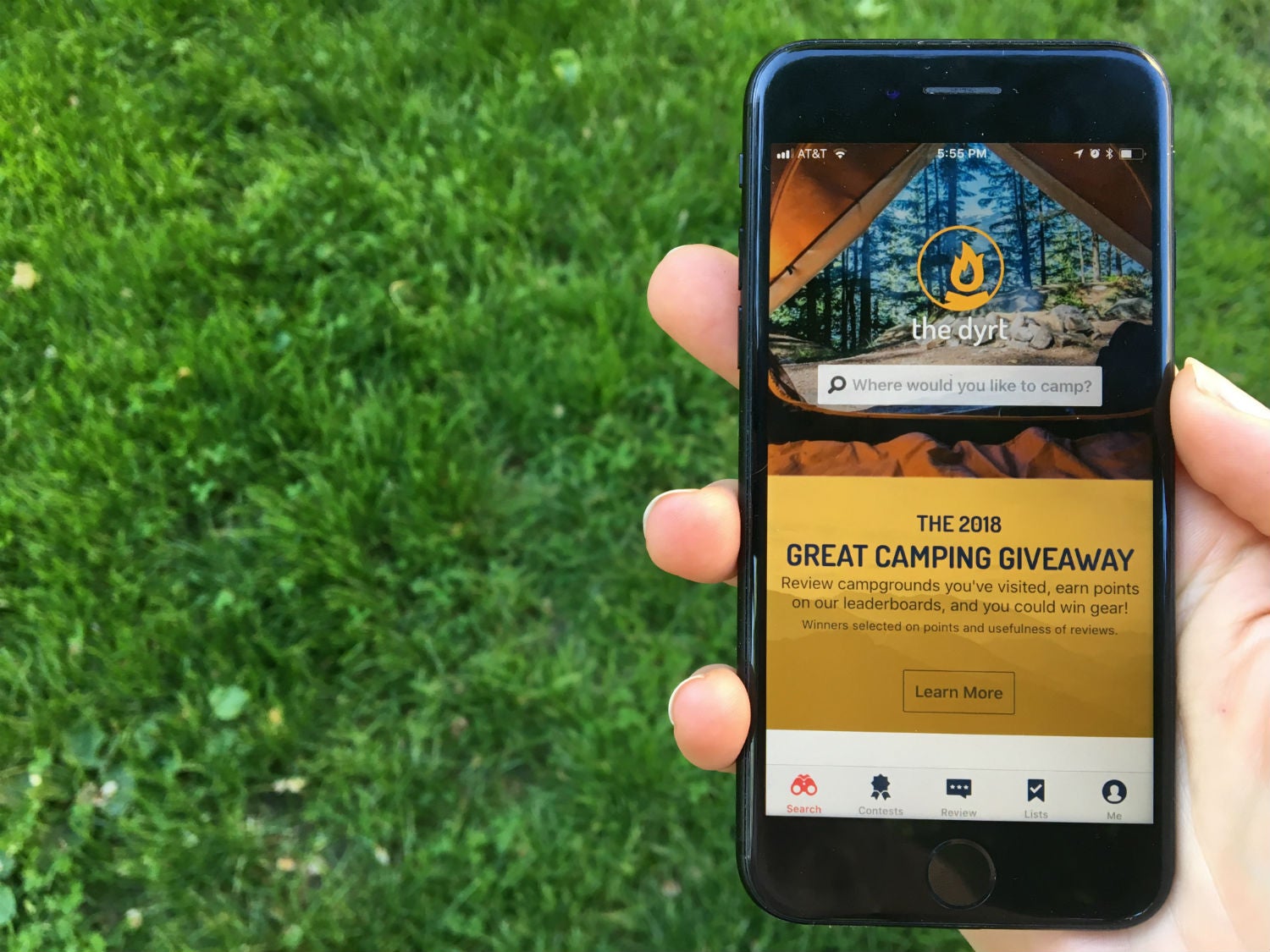 Searching and finding a campground is a big part of planning a summer camping trip. But there are many other considerations, as well.
Start with these questions to plan your 2018 summer camping trip:
1. When do you want to camp?
Since you'll be sleeping outside, the season and the weather will have a big impact on your trip. Waking up to the patter of raindrops on your tent can be lovely. But do you want to risk a long weekend with soggy gear for a springtime camping trip in Olympic National Park, which sees 150 inches of rain per year?
A lot of people have more freedom to take time off in the summer, when offices slow down and kids are out of school. But that also means bigger crowds, especially at popular campgrounds and national parks. If you're looking for peace and quiet, are you able to take time off in the shoulder season instead? Or check out these national parks with backcountry camping.
The southwest desert is a great place to go in the spring time, when places like Death Valley National Park and Joshua Tree National Park present relatively pleasant weather. (Definitely avoid camping in Death Valley during the summer, when temperatures spike well into the triple digits.)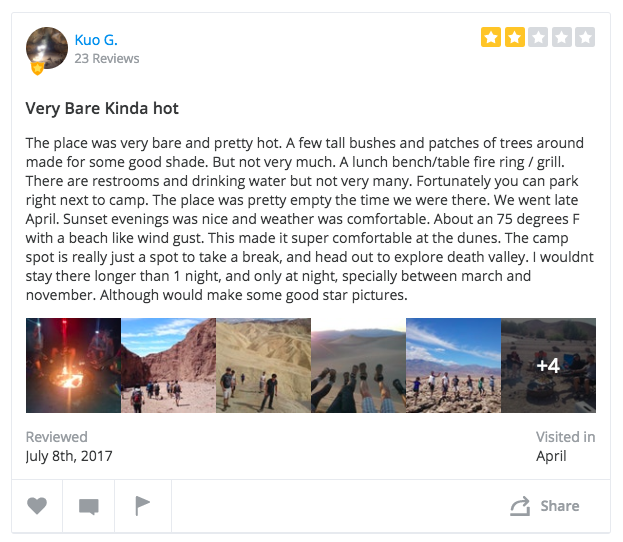 Not only will you find current weather reviews for campgrounds on The Dyrt, you'll also find helpful accounts of the type of weather campers experienced while they were there.
When deciding when to camp, check out National Parks free days to save some money for other things, like extra s'mores ingredients.
2. Where do you want to camp?
Backcountry or state park? Desert or jungle? Near or far?
At the same time that you're thinking about when, you should also be thinking about where. The United States has such a diverse landscape to explore, from the ocean-carved cliffs of the Pacific coastline and the vast plains of the midwest, to the thick forests next to quaint towns in New England and the jungly swampland of Florida.
Perhaps you want to camp near hot springs or waterfalls. Or maybe you'd like to sip on a craft beer after camping, in which case, camping near a brewery can be fun.
While the options are endless, you might also consider staying close to home. There's often more to explore in our backyards than we realize, and staying close will save you time and money.
---
Related Reading:
---
3. What kind of activities are you looking for?
Ask yourself this: will you be content to spend your time enjoying the campground, or do you camp as a means to reach other activities, like hiking, rock climbing, or mountain biking?
There are plenty of ways to enjoy your time at the campground. But if activities outside of the campground are your priority, then you'll want to think about access to your outdoor adventure of choice.
You can find campgrounds near runnings trails, or bouldering destinations with campgrounds nearby. You can camp near streams for fishing and boating, or camp near trails for hiking.
There's a campground for every adventure and every camper. Use The Dyrt to read campground reviews and find out what campers are up to, in and around the campground.
4. How will you get there?
Car camping is the most convenient way to reach the campground. (Car camping refers to driving up to a campground — not sleeping in your car.) When you car camp, you don't have to worry about packing extremely light. You can bring the double burner stove, the cooler full of beer, and the dutch oven desserts.
If you're hiking into a campground, you'll have to be more selective. But backcountry camping can be a great way to avoid the crowds on your camping trip and discover some solitude in nature.
Other campgrounds are only accessible by boat, which can be a unique way to embrace the elements.
Don't own a car? Consider campgrounds you can reach via public transportation.
5. How many people are coming?
It's time to rally the troops. Or don't, and camp solo.
Your group size will dictate what kind of campsite you require, how much food to pack, and the level of organizing between parties. Too many people can make camping a logistical nightmare. (Who was supposed to bring the tent stakes??) But lots of campgrounds accommodate large groups. So if you are bringing a party, be sure to find a campground that can comfortably fit all your friends.
6. Do you need campground reservations?
Don't forget to make reservations if you need them! This is especially important in the summer months when many campgrounds are full on the weekends. You'll find information on whether a campground is reservable in the campground details tab on The Dyrt.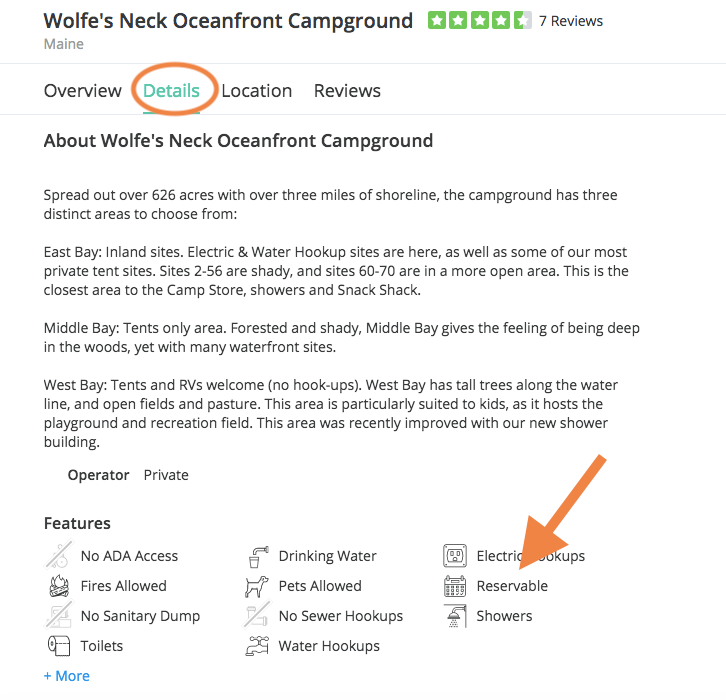 Some campgrounds restrict the number of guests in order to preserve a delicate environment. They do this through limited camping reservations and permits. If you want to camp in a place like Havasu Falls — a sacred place to the Havasupai people and a delicate desert ecosystem in Arizona — you'll need to get a permit months in advance.
Some popular hikes require permits as well. You'll need to enter the lottery for Half Dome permits in March of the year you want to climb this iconic dome face. Other outdoor activities that require permits include driving Denali Road in Alaska, backpacking through the Enchantments in Washington, and rafting the Colorado River through the Grand Canyon.
7. Which campground is best for you?
The Dyrt search feature allows you to view campground photos, videos, and reviews, so you can compare your options and make the best decision on a campground.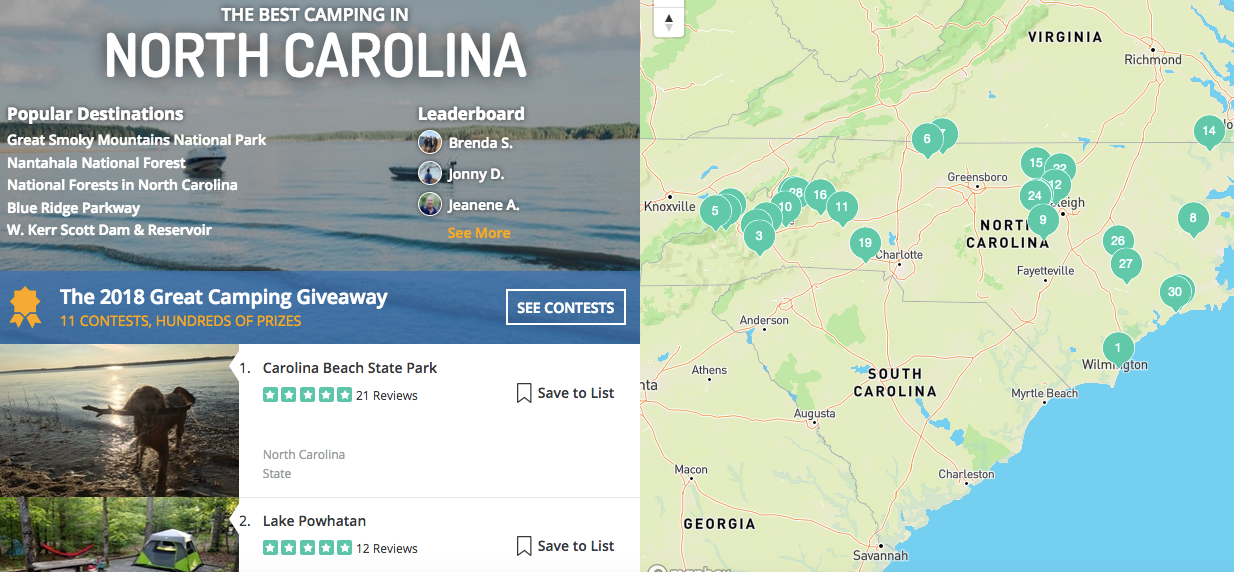 Once you start browsing campgrounds, save a list so you have them all in one place. The Dyrt's Save a List function allows you to create custom lists, and add notes to each campground. Did your friend tell you about a great campground you should check out on your next camping trip? Add it to a list? Did you discover a campground that looks perfect on The Dyrt? Add it to a lsit!
We've created some themed lists that might give you some inspiration on where to camp:
Creating your own list allows you to keep track of the campgrounds you're interested in, so you don't lose that perfect discovery once you find it.
If you're picking a campsite once you arrive at your campground, look for even ground, shade, and natural features that offer privacy.
8. What kind of food and gear will you bring?
Now that you know where and when you want to go camping, you can start to plan for meals and the gear you'll need to bring with you on your camping trip.
If you're just getting started camping, we recommend keeping it simple. When it comes to gear, you really only need 6 basic camping necessities for your first time at the campground.
When it comes to cooking, you can get adventurous or keep it simple. We created this guide to simple campground cooking to get you started. But if you love to work the kitchen, bring the extra ingredients and have yourself a feast!
If you're camping with other people, be sure to collaborate on ingredients so you don't end up with ten bags of marshmallows and nothing to eat for dinner.
9. Ready to camp? Download the app, review campgrounds, win prizes.

You've found your campground and marked your dates on the calendar. You are ready to go camping.
Now don't forget to download The Dyrt app for iOS and Android so you can find and review your campgrounds on-the-go. When you add photos and reviews of your campground on The Dyrt, not only will you be making camping better for everyone — you'll also be in the running for a ton of free camping gear as part of the 2018 Great Camping Giveaway. We've partnered with 20 outdoor gear brands who want to make camping better for everyone. Don't miss out on the fun.
We can't wait to see all of the places you camp this summer!