I have a confession to make: Last week I packed peanut butter and jelly sandwiches in disposable plastic bags for a day of hiking and climbing at Smith Rock State Park.
Plastic is a big problem for our planet. I know that. I understand that it inevitably drifts out of garbage cans, lands in our rivers, and floats out to our oceans. It might end up adding to the 1.6 million square kilometers of the Great Pacific Garbage Patch, or choke marine life along the way. Single-use plastic is bad, bad, bad–and we should all be working hard to reduce plastic waste. But plastic is a hard habit to kick. For me, it's especially hard when I'm camping–when convenience and portability of food for the day is a priority.
So I was thrilled to discover two new products at this year's Outdoor Retailer–where our planet's climate crisis and plastic pollution was a potent theme amongst outdoor brands. It seemed as though every single marketing display said something about recycling plastic or how we need to reduce plastic waste.
The Khala Cloth and Stasher bags are two products that make plastic obsolete when it comes to food storage. And for me, that's where plastic happens. These are two items that have me convinced me that reducing plastic while camping and enjoying the outdoors (or wherever you're bringing food for that matter) isn't that hard.
Stasher and Khala & Co. Help Reduce Plastic Waste
Camping requires quick and simple food options, and that includes food storage. These two products offer just that, while helping you to reduce plastic waste in your outdoor adventures. Here's how each of them works, and why every camper should own them:
Khala Cloth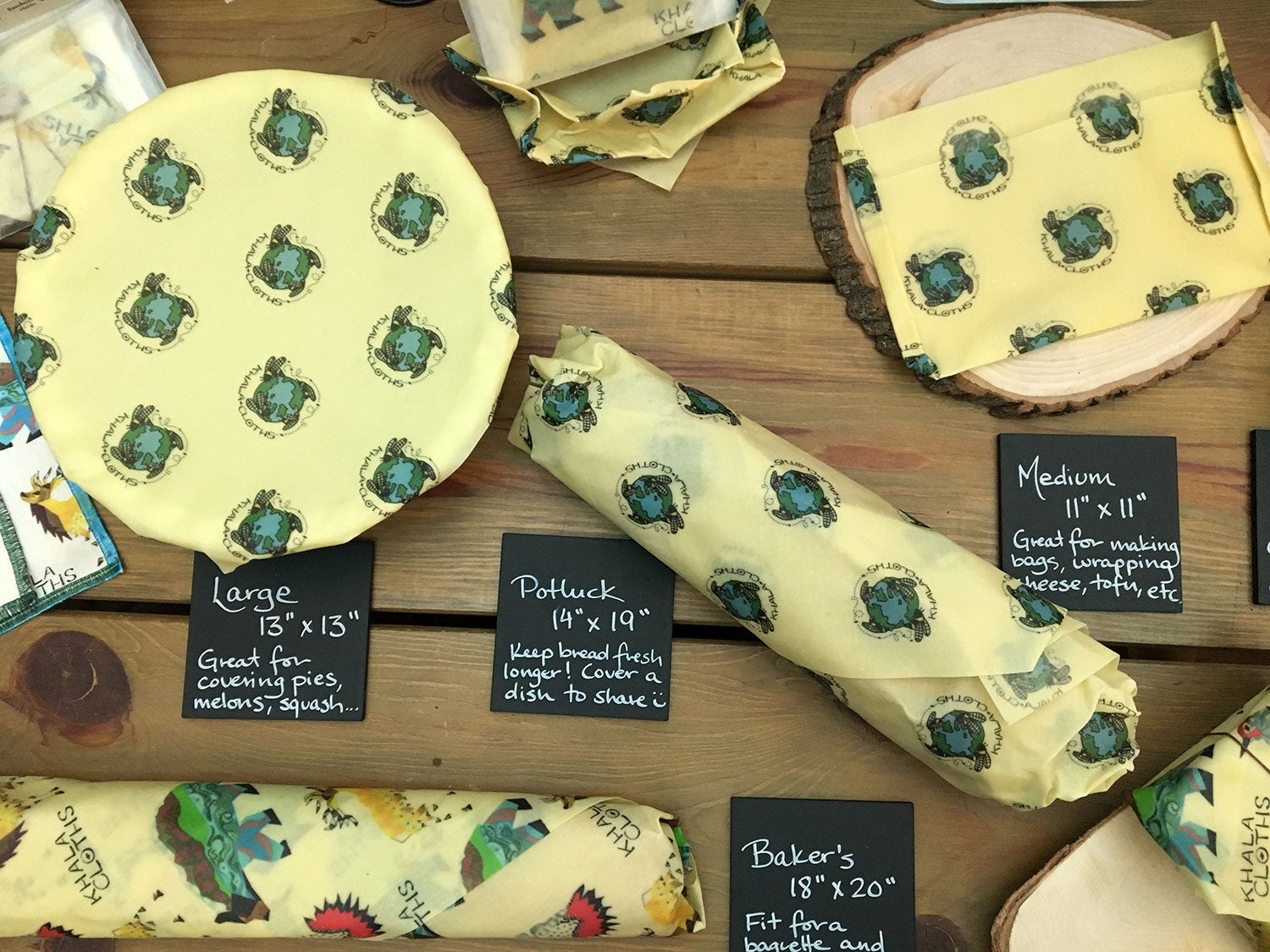 Husband and wife team, Asa and Tamara, started making beeswax food wraps in their home to reduce their families environmental footprint. They founded Khala & Co. to help others do the same.
Khala Cloths are washable and reusable. Made with a blend of natural waxes, coconut oil, and tree resin, the material adheres to itself and becomes moldable with the warmth of your hands—perfect for replacing plastic baggies and saran wrap for storing or transporting food. You can use the sheets of slightly tacky, moldable cloth to tightly cover a bowl of leftovers, store a sandwich (in the baggie version), or wrap up a sliced-open avocado. Apparently, an open avocado will stay fresh this way for up to a week!
I was impressed by how well these sheets, available in multiple sizes, stick to the things you want to wrap, without actually feeling sticky. Campers who want to ditch the frustration and waste of saran wrap when storing food at the campground (or at home) will love the variety pack which includes 4 sizes, from 6X6 inches to 13X13 inches. Buy Now: $23.99
Stasher Bags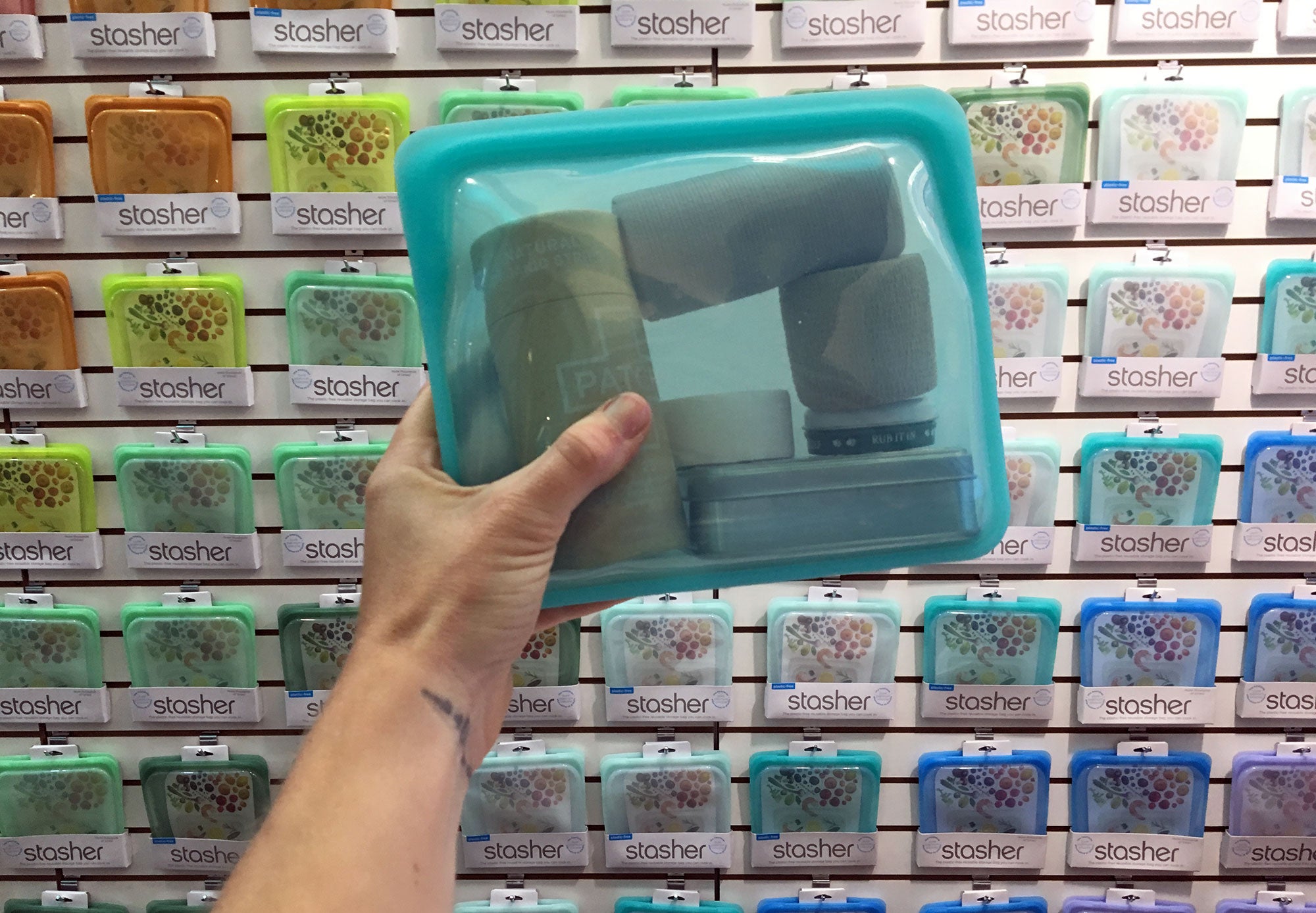 While Khala Cloths are great for wrapping and storing food, Stasher bags are my newly discovered obsession for packing a lunch or a snack for the road. The silicone pockets function much like Ziploc baggies, but they're washable, reusable, and way more durable–and they're NOT plastic!
I haven't tried this yet, but apparently you can throw some scrambled eggs and fixings in a Stasher bag, seal it with their patented pinch seal, and drop it in boiling water for a super convenient campground omelet. (I'll be testing this ASAP.) They're also microwave- and dishwasher-safe.
View this post on Instagram

There's even more to love. Stasher is a woman-founded, woman-run company. Founder, Kat Nouri, came up with the idea when she found herself making wholesome, organic meals for her kids to bring to school, and then stuffing them into wasteful plastic bags. So she went searching for a solution and developed one herself.
"I built the company that I wished existed," she writes on the website's About page, "centered on positivity, activism, wellness, and transparency." Stasher is a certified B Corporation and a member of 1% for the Planet.
I've already started storing my half used produce in Stasher bags and so far it's staying surprisingly fresh. The next time I pack up my PB&Js for a day outside, they're going in one of these, too. Buy Now: $54 (4-pack)
Popular Articles: