Heading out for a winter road trip? These 12 road trip tips might just save you from being stranded in the snow. 
---
I had 2,000 miles ahead of me as a blizzard was building strength in southern Iowa—a sprawling, satellite green blob of inconvenience on my winter road trip route. It was late October when I embarked on this cross-country adventure from Oregon to Connecticut to visit family, and I hadn't really thought about snow. But now it was late November, and I was on my way back across the country, completely unprepared for the challenges of winter road tripping.
I found a thin pair of cotton gloves in my trunk and used a credit card to scrape ice off my windshield in a Motel 6 parking lot while I assessed my detour options.
Road trips hold a special place in my heart. I've driven from Crater Lake to Death Valley; I've zigzagged across the country, camping solo along the way; I've packed all my belongings into a trunk multiple times in pursuit of new cities to call home. Usually, these road trips involve bare feet, cheap sunglasses, and a bright summer sun bouncing off the asphalt. But this winter road trip was a whole new game. And I wasn't prepared.
Lucky for you, I learned quite a few road trip tips along these 6,000+ miles of winter driving. Despite the challenges, I encourage you to explore the open road in the colder of seasons.
13 Winter Road Trip Tips to Help You Stay Warm and Safe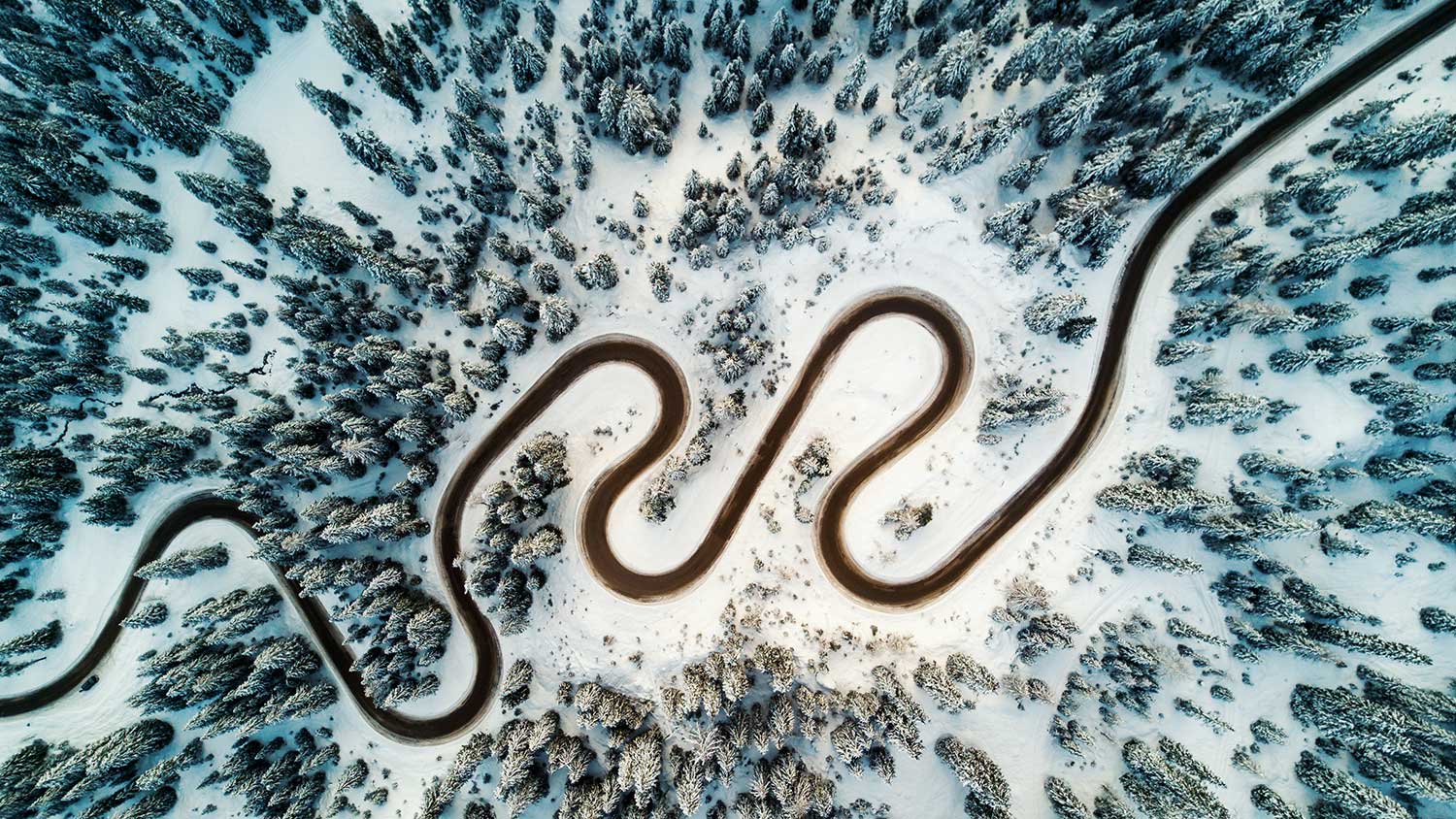 Whatever your motivation for a winter road trip, here are some important road trip tips that will make it much less stressful and way more fun:
1. Bring an atlas
Your phone will be completely useless at some point on your winter road trip, so do not rely on Google Maps or Waze for directions. I used my atlas almost every day. When that storm was coming at me in Iowa, I unfolded the big book of maps on my lap for a convenient visual of my options. It's so much easier to understand the overview of your route when you're looking at a real map, rather than the zoomed in version on your phone.
Along with losing service, phones tend to die quickly when it's cold out. You'll want a paper map when you're waiting for the phone to charge.
2. Check the weather where you're sleeping
This might be the most important road trip tip I learned on this adventure: know the weather where you're going, not just where you are.
Checking the weather on your winter road trip route is tricky because you're moving from place to place so quickly. Had I not checked the weather in Des Moines as I was leaving Cincinnati, I never would have known that a massive storm was on my path.
It's also helpful to tune into AM traffic and weather stations for local conditions as you drive.
Prepare for the weather ahead by checking the forecast each morning in the location you hope to reach by the end of the day. It might be sunny where you are, with ice and sleet, straight ahead.
3. Prepare for mountain passes
Temperatures drop quickly when you're driving through a mountain range. Bring chains for your tires if you don't have snow tires. Even if you don't plan on crossing a mountain pass, you should be prepared for them in the event that you need to adjust your route.
4. Pack wool
I slept in my car and also tent camped a handful of times on my winter road trip, and my wool blankets were a game-changer. I don't care how warm your sleeping bag is, draping that heavy wool on top provides so much extra warmth. Consider bringing two wool blankets; one to go under your sleeping bag and one to go on top.
5. A sleeping bag blanket is even better than a sleeping bag.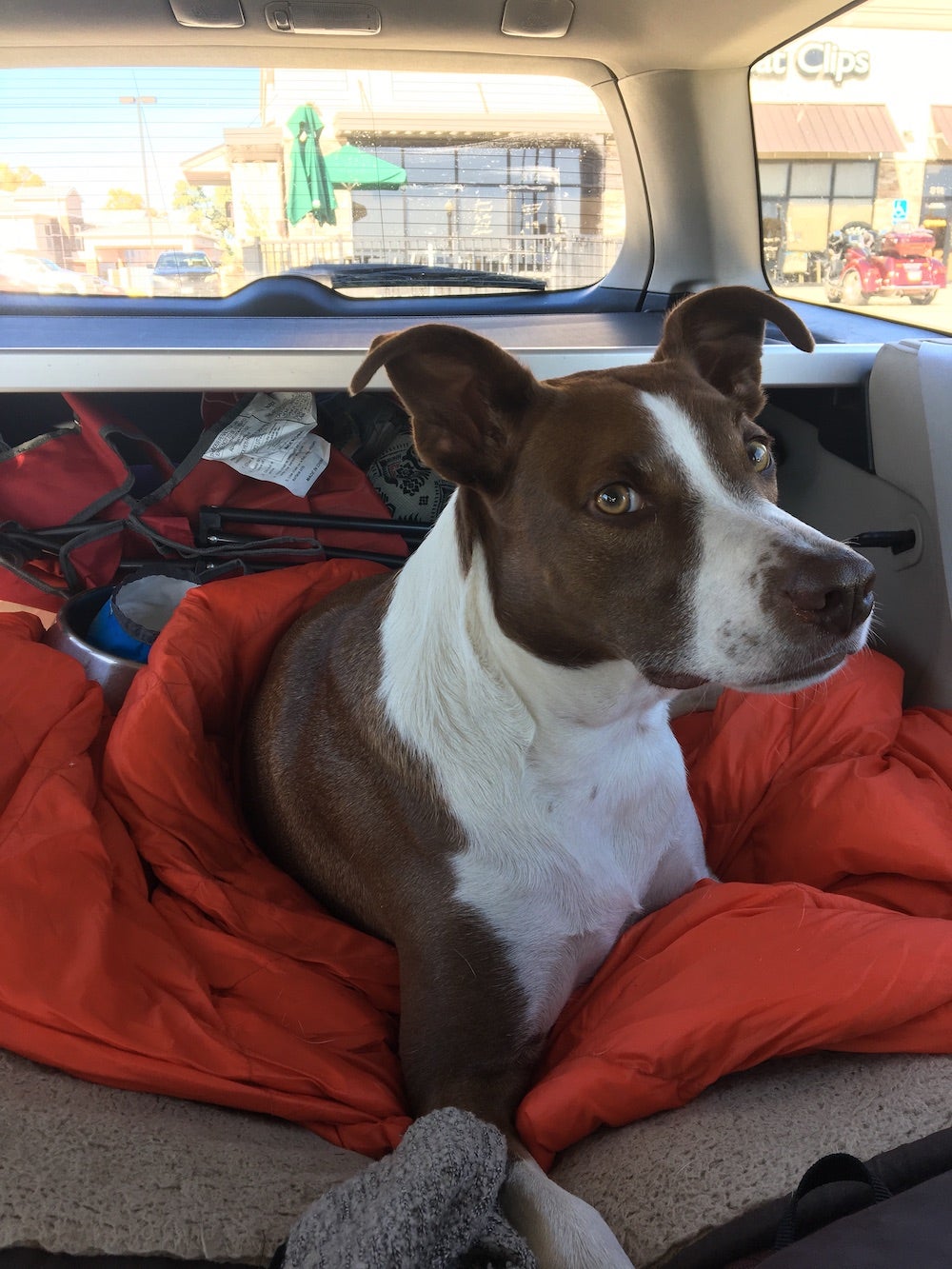 In addition to my wool blankets, I brought along the Bobcat Trail Quilt from Hammock. The sleeping bag material was ideal for getting cozy for sleeping at night, throwing in the back for the dog to lay on during the day, and shaking it off for easy clean-up when my car turned into a messy disaster of crumbs and dirt. I love the easy-to-clean and 45-degree-rated sleeping bag material (wool blankets are NOT easy to clean), and because it's a blanket, I had more freedom to integrate it with the rest of my sleeping gear when sprawled out in the back of the car at night. Versatility is key when everything has to fit in your car, and a sleeping bag blanket is much more versatile than your standard sleeping bag.
6. Assume you'll get stuck in the snow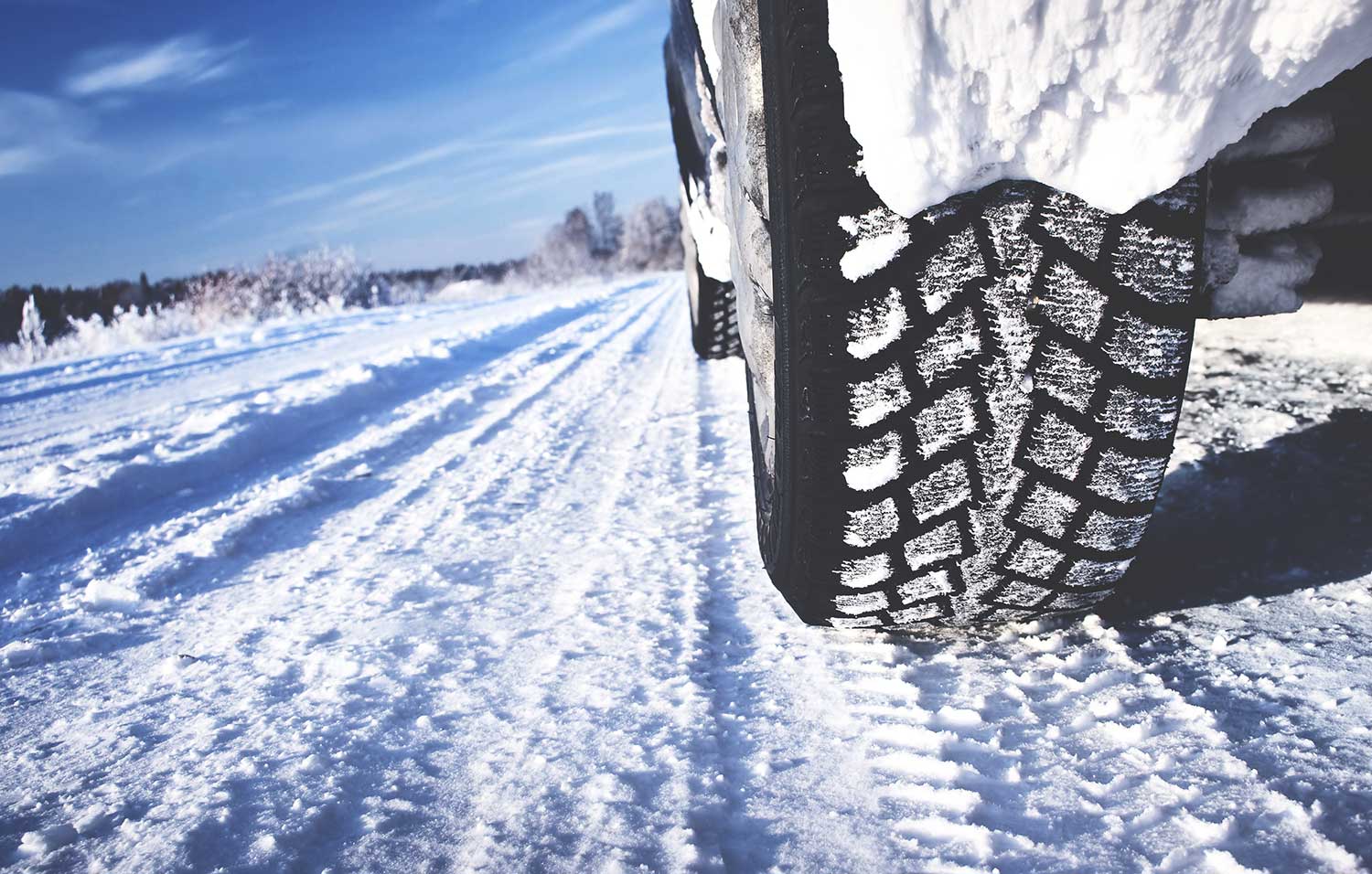 Hopefully, you won't. But you should have everything you need in your car, in case you do get stuck in the snow. Keep extra layers, water, food, emergency road flares, and a first aid kit on hand. It's also helpful to have a bag of kitty litter, which you can sprinkle on an ice patch for traction to get you going when you're stuck. Also, don't let that gas tank get too low. If you do get stuck somewhere, you'll need enough gas to run the engine and keep the heat on while you wait for help.
7. Sign up for AAA
I was on a first name basis with the Montana dispatcher of AAA on one fateful road trip last winter in which my campervan broke down several times over the course of three days. They saved me, again and again. They also saved me a ton of money on tows. Having AAA has provided me with so much peace of mind on long road trips. As long as I have cell service, I know I can reach someone who can help me out.
8. Bring outside shoes and driving shoes
I'm kind of obsessed with my Teva camping slippers, and wore them almost every day while driving. They way more comfortable than snow boots, and they're easy to slip on and off when I do need to change into something with a little more traction.
No matter how comfortable your bulky snow boots feel when you're walking around, driving in them is another story. So bring an alternative pair that will keep your toes warm and cozy in the car.
9. Keep your headlamp handy
Darkness sneaks up on your quickly in the winter months, and rummaging through your car in the dark is no fun. Even with the interior lights on, it can be difficult to see when you're digging through your backpack or trying to locate the ice scraper that slid under the seat. I kept my headlamp in my center console and used it almost every night, even when I wasn't camping.
10. Start early, stop early
If you're an ambitious driver who likes to cram twelve hours of car time into one day, remember that days are much shorter in the winter, and those long days can feel even longer when you're forced to drive in the dark.
When you need to cover a lot of ground, it's best to start early so you can stop earlier, too. This is especially important if you're looking for places to camp at the end of the day. It's much easier to locate that forest service road to dispersed camping when the sun is still up.
Speaking of which, dispersed camping in national forests is a great way to camp for free on winter road trips, provided you don't mind the cold weather.
11. Research campgrounds ahead of time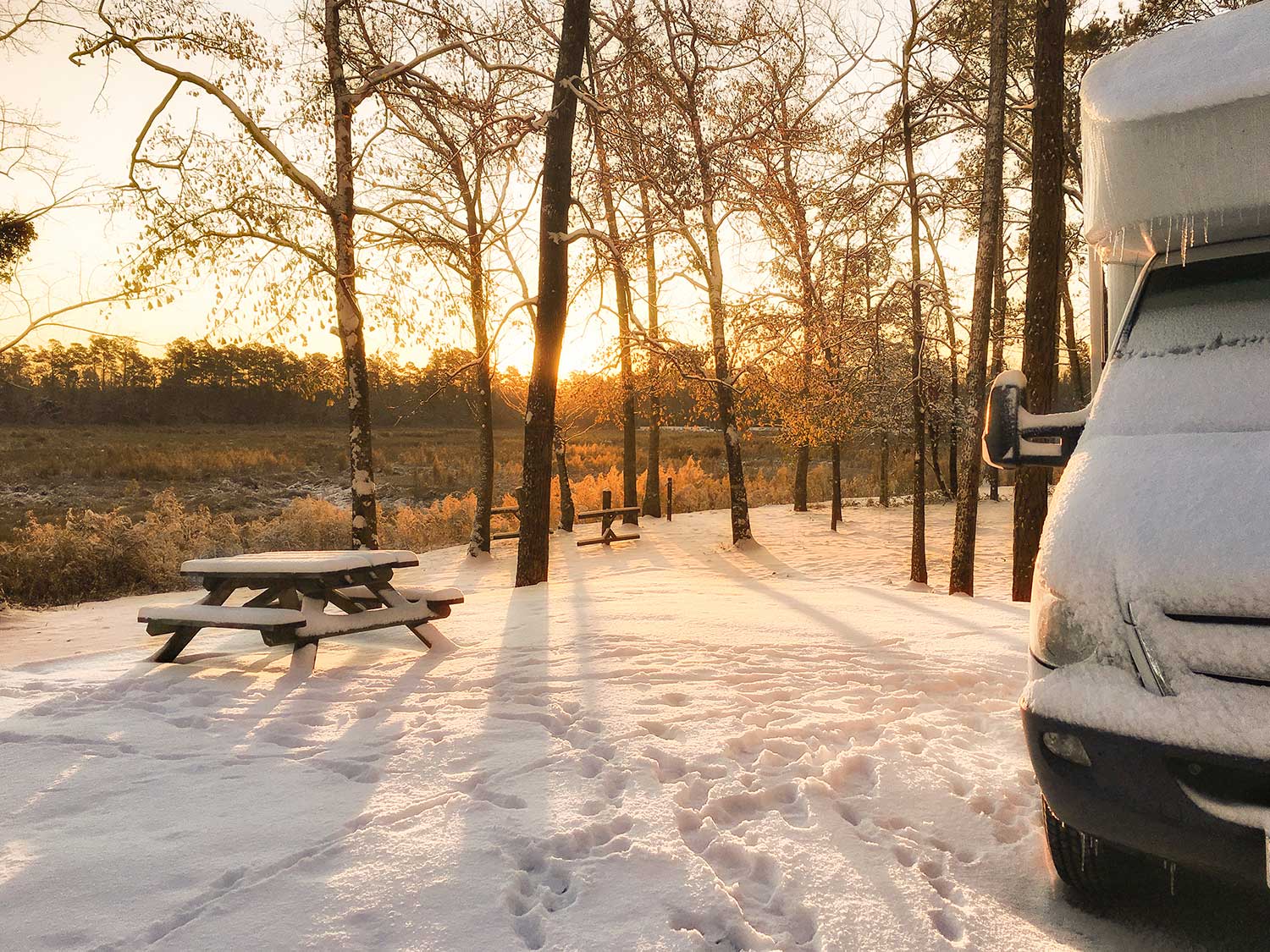 There are a surprising number of campgrounds that are open year-round, but you'll want to do your research ahead of time. Some of them are cheaper or free in the off-season. Some are extra crowded as snowbirds head to southern campgrounds for warmer temperatures. Find campgrounds on The Dyrt, and check out reviews from campers who have been.
It's also a good idea to call ahead for confirmation—seasonal closures can vary, based on the weather.
12. Be flexible with your plans
I never planned to drive through North Dakota in December. But that Iowa snowstorm forced me north, which means I had a chance to visit the Crazy Horse Memorial and drive through the Badlands.
Winter road tripping is rarely predictable. So embrace the opportunity to change your route when winter weather happens.
Hot road trip tip: Hunkering down with Netflix and a mug of hot chocolate in a cheap motel during a snowstorm actually isn't so bad.
13. Stay aware
I got a little too confident with the quiet empty road in Idaho, when I decided to pass a slow moving truck. Just as I merged into the left lane, I came upon a stretch of frozen snow on the highway. Suddenly, snow was flying off the truck and coating my windshield, and my tires were losing traction on the frozen slush.
Just because the sun is shining or the road is clear doesn't mean you can let your mind wander. Winter road trip weather and driving conditions are unpredictable—sometimes dangerous—and you should always be prepared for the worse.
Popular Articles: