Route 66 camping is the perfect addition to your iconic American road trip. 
Route 66 became an escape path for Americans during the Dust Bowl (1930's), when over 2 million people migrated west towards California, in search of new lives. As one of the original highways, it offered hope and opportunity to those who traveled its length.
Stretching from Chicago, Illinois to Santa Monica, California, Route 66 covers 2,448 miles. This famous route is known as "The Mother Road" and "Main Street of America."
Despite decades of change, the route remains a cherished American symbol of adventure and discovery.
Campgrounds are plentiful along the road.  After packing your days with attractions, from the world's largest totem pole in Foyil, Oklahoma, to the Petrified Forest National Park in Holbrook, Arizona, you'll be grateful for comfortable Route 66 camping options where you can escape your car and enjoy the starry skies of the West.
Find Route 66 Camping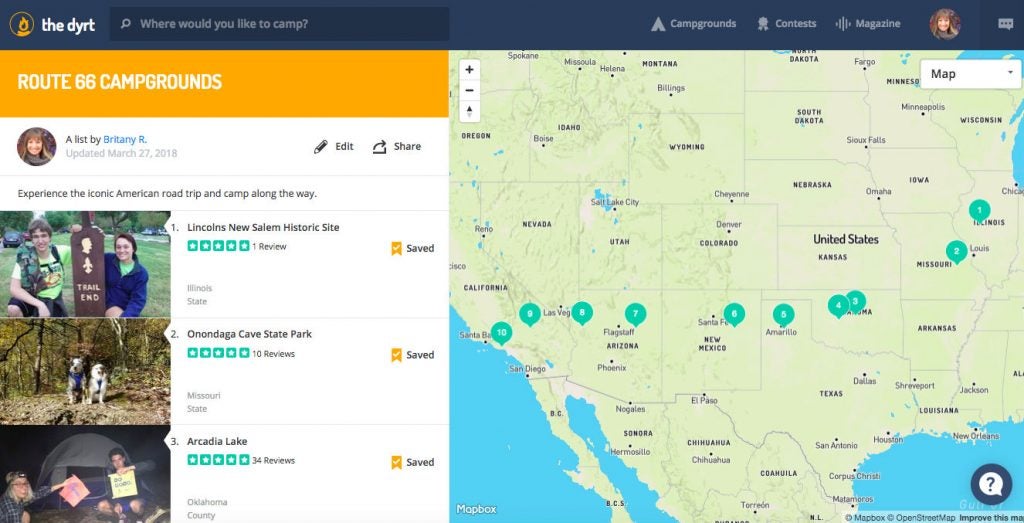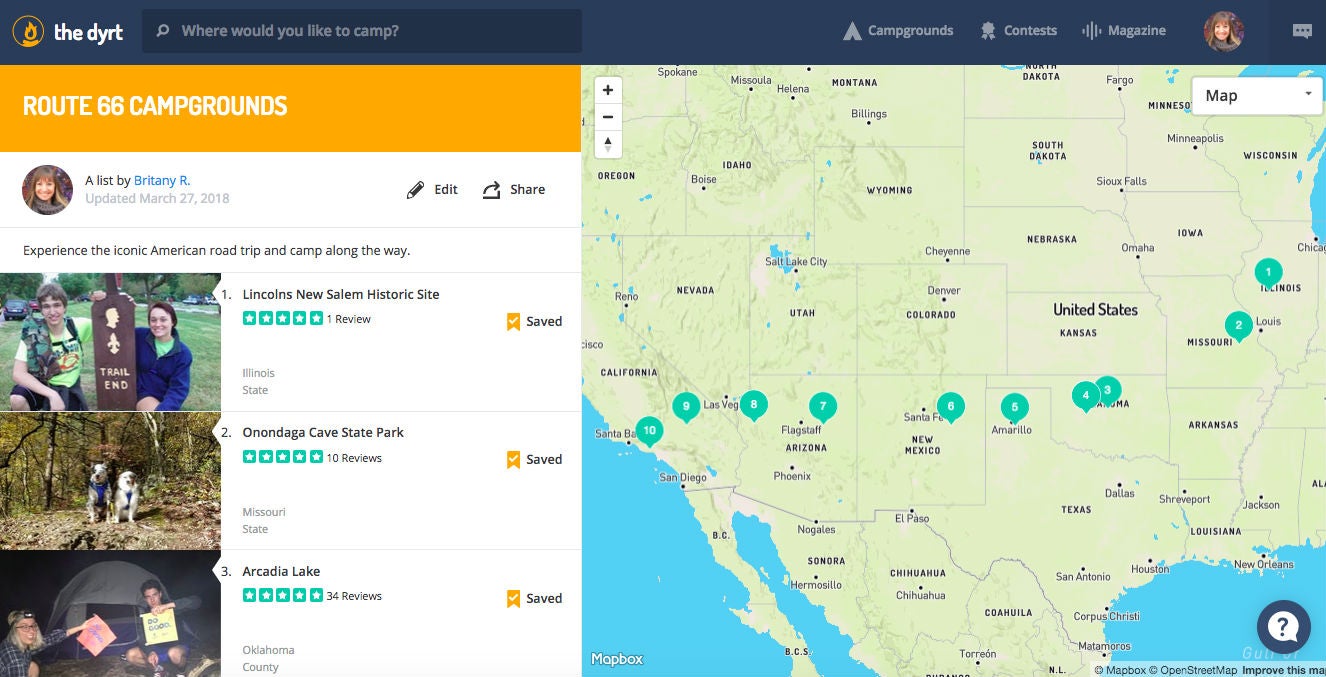 Ready to hit the road and experience all that Route 66 has to offer? You bring the snacks. We've got the campgrounds.

Some of these are right along the route, while others require detours. But what's a road trip without a few of those??
1. Lincoln's New Salem Historic Site, Illinois
The Lincoln's New Salem Historic Site is a state park, an educational point of interest, and a campsite all in one. Abraham Lincoln, the 16th president of the United States of America spent considerable time in this area during his early adult years. Visiting this park requires an 18-mile detour from Route 66, but it's worth the stop for history buffs. There are 200 campsites available and they're open from April through October on a walk in basis.
"I love to walk through all the old buildings and learn about Lincoln's way of life. They even had horses and a bull out in the pastures! All the kids were feeding one of the horses handfuls of grass over the fence. And I love that everyone is in period clothing for events. It's quite charming like a step back in time. There is also a little diner/ice cream shop for lunch or a snack. And plays in the outdoor amphitheater in the evenings. Great place!" – The Dyrt camper Leah H.
Camp Here
2. Onodaga Cave State Park, Missouri
Take full advantage of your time in America's "Cave State" with a special visit to the Onondaga Cave State Park in the Ozarks. This campground, located 7-miles away from Bourbon, Missouri, has spectacular sights above and below ground, with unique geological features. Book a guided tour between April and October to check out the impressive stalagmites rising from the ground and the stalactites that form the cave ceilings.
"I have never seen so much wildlife in a cave tour before, and I have been in caves not normally open to the public. This park is very protective of its cave and takes many measures to ensure the health of its wildlife. Well staffed and everyone is very friendly, helpful and informed." – The Dyrt camper Leah H.
Camp Here
3. Arcadia Lake, Oklahoma
Arcadia Lake has all the ingredients for an ideal Route 66 camping excursion, and it's just 5-miles from the road. With opportunities for biking, fishing, boating, water sports, disc golf, and hiking, you might need more than a night in this Oklahoman oasis.
"Great campsite! Picnic tables and fire pits. Walking distance to the beautiful lake. Fairly private site lots of trees between each. Plenty of sites to choose from water front or in the woods." – The Dyrt camper Madison P.
Camp Here
4. Red Rock Canyon State Park, Oklahoma
The sun-torched formations at Red Rock Canyon State Park are stunning in their own rights. Those looking to inject some adrenaline into their road trip can partake in rappelling activities down the canyon walls. Not only is this natural playground a climber's dream, it also tells a piece of American history as it was once a stop for wagons moving along the historic California trail. This Route 66 camping destination offers hiking, fishing, climbing, and gorgeous photo opportunities during sunrise and sunset. It's located 8-miles from Bridgeport and is open year-round.
"We had a great time. Lots of opportunity in this canyon from rappelling, rock climbing, tent /RV campsites to day sites, a remodeled pool with two slides and rock climbing wall, it has it all." – The Dyrt camper Taryn W.
Camp Here
5. Palo Duro Canyon State Park, Texas
The Grand Canyon's beauty is no secret. But have you heard of the second largest canyon in America?
Palo Duro Canyon State Park boasts dramatic cliffs and colors that rival the GC. Located 24-miles from Amarillo in the center of the Texas Panhandle, this park has several campground options to choose from. Why not make these canyons your home base for exploration?
Equestrian enthusiasts will enjoy the 1,500 acres for horseback riding throughout the entire year.
Be sure to pack appropriately, as the temperatures can drop below 20 degrees during the winter and climb well over 90 degrees in the summer.
"If you don't mind a little red dirt, Palo Duro is an outstanding place to explore. It's large enough to spend several days and not feel like you've exhausted the area. Catch the overlook as you enter, and then camp as far into the park as you can. Don't miss the ~3 mile trail out to the iconic Lighthouse and the big cave all the way in by the equestrian area." – The Dyrt camper Gretchen N.
Camp Here
6. Santa Rosa Lake State Park, New Mexico
Santa Rosa Lake State Park is conveniently located 8 miles from Santa Rosa town off of Route 66. It is a picturesque place to unwind with classic camping activities like hiking, fishing, and kayaking. You'll also find recreational fishing for largemouth bass, walleye, and catfish in the reservoir.
There are trails available for horseback riding and plenty of opportunities for bird watching along the lakeside. The campgrounds are open year-round.
"There is a nice little shoreline trail that takes you around the lake. Campsites were nice, each site had a table." – The Dyrt camper Nicole P.
Camp Here
7. Homolovi Ruins State Park
Take a 4-mile cultural detour from Route 66 to the Homolovi Ruins State Park where you can learn more about the ancient Homolovi people. This native group left their homes to travel north, eventually joining the Hopi Mesas to become the ancestors of the Hopi tribe. The visitor center has a colorful collection of traditional Hopi artifacts and prehistoric tools. RV and tent camping is available.
"Beautiful area and this park makes a nice one-day stop as part of a road trip. We saw archeologists studying the site, such a treat! Main artifacts are pieces of pottery, petroglyphs, and stone work. Unlike when you see these things in museums they let you touch them and you can find them everywhere, which takes it to a whole other level for me. There are even more impressive and extensive ruins in the southwest, but this one is quite nice. There are Hopi cultural events in the area frequently, ask rangers for event info." – The Dyrt camper Amber A.
Camp Here
8. Hualapai Mountain Park, Arizona
Spend a night away from the desert in the refreshing pine trees at Hualapai Mountain Park, 11-miles off of the road. This park's expanse covers an elevation of 4,000 to 8,000 feet, with some areas situated at the top of the Hualapai Mountain Range. This Route 66 camping option has an array of accommodations including rustic cabins, to RV parks, and tent camping. Hikers, mountain bikers, and equestrians can enjoy the spectacular views of the surrounding desert below. Their campgrounds are open throughout the year and are reservable online.
"I saw a sign for Hualapai Mountain Park, and, knowing nothing about it, I took a chance. Within a couple of miles, the temperature had dropped and the air was fresh. I rolled into the park about midnight, somehow found a camping spot amid the towering Ponderosas and slipped into a deep sleep in the cool air." – The Dyrt Camper Charlotte W.
Camp Here
9. Owl Canyon/Rainbow Basin Campground, California
The Owl Canyon/Rainbow Basin Campground in California has been flying under the radar for some time now. At an easy 8-miles away from Barstow, this little campground takes on a welcome sense of isolation despite its close proximity to the city. Campers can expect to hike among multi-colored canyons and spot desert wildlife. For those looking to do some rough road driving, the Fossil Canyon Loop dirt road is a great route to put some dust on the wheels. While there is some potable water available, it is advised to also come prepared with your own. This Route 66 camping gem is available on a first-come-first serve basis throughout the year.
"Needed a place to stay on our way up to Tahoe and found this little gem. Isolated but easy to get to and recently upgraded. Each camping spot as a picnic table, fire pit, garbage, and nice flat spot for our 4-wheel camper. Toilets, some water, and a playground if you have kids." – The Dyrt camper Sara S.
10. Malibu Creek State Park, California
Start or end your Route 66 camping road trip by soaking in the Pacific Ocean air at Malibu Creek State Park, California. This breathtaking campground is located 20-miles from Santa Monica with a drive along California's scenic Highway-1. Campers can enjoy coastal vistas and volcanic rock formations while partaking in activities such as mountain biking, hiking, fishing, rock climbing, and horseback riding. This site was once home to the Chumash Native Americans. Those interested learning more about this area's cultural history can visit the Sepulveda Adobe or the Mott Adobe ruins. The campgrounds are available throughout the year and reservable online.
"Campground is beautiful!! Spacious campsites with fire pits, and clean bathrooms (bring your own hand soap). Be aware of the limited hours for entering with a vehicle (8am-10pm). Would definitely camp here again!" – The Dyrt camper Lizzie C.
Camp Here
---
Ready for your own Route 66 camping road trip? Start with this list of campgrounds, or save campgrounds to your own with the List function on The Dyrt. 
---
Related Campgrounds:
Popular Articles: