NPS Interactive Map + PRO Trip Planner: Find the Best Fall Camping of 2020
---
The best of both worlds – an interactive 2020 Fall Foliage map created by Great Smoky Mountains National Park and The Dyrt PRO Trip Planner are two awesome visual tools for planning your fall foliage camping trips and hikes this season. Catching the leaves at their peak can be tricky, especially when colors change at vastly different times depending on the location and weather conditions, and can require extra strategizing in states like Colorado, Montana or California where elevation is also a consideration.
The maps do the work for you, helping both travelers and locals time their trips to catch peak color for 2020 fall camping. Combined with The Dyrt PRO Trip Planner, you'll be able to follow the leaf peeper trail north to south as colors start popping across the country.  Follow the map and check out The Dyrt's database of over 1 million campground reviews, tips, and photos to find the perfect camp spot for your foliage road trip.
September 28 – October 15th: Rocky Mountains, Washington, Sierra Nevada, North East, Great Lake States, New York
These first 15 days of October will see a huge change in fall foliage in many regions of the U.S. this year.
Rocky Mountains
The aspens of the Rocky Mountains are stunning and shouldn't be missed. Rocky Mountain National Park is striking in fall, along with Kenosha Pass and Golden Gate State Park, all in the state of Colorado. Utah's Manti-La Sal National Forest is equally as stunning, along with Grand Teton National Park in Wyoming, an idyllic locale for a fall foliage camping trip surrounded by Aspens.
Check out Golden Gate Canyon State Park, either just for the day if you're a local, or stay a couple of nights if you're visiting and really want to soak up the bright yellow colors. It is lower-elevation than some other parts of the Rockies, so early October won't be too cold.
Gros Ventre Campground in Grand Teton National Park should not be overlooked, either. This campground is just south of the park, and at their peak, the aspens and cottonwoods are unparalleled. The campground closes October 11th, so you'll have to make moves quickly.
Washington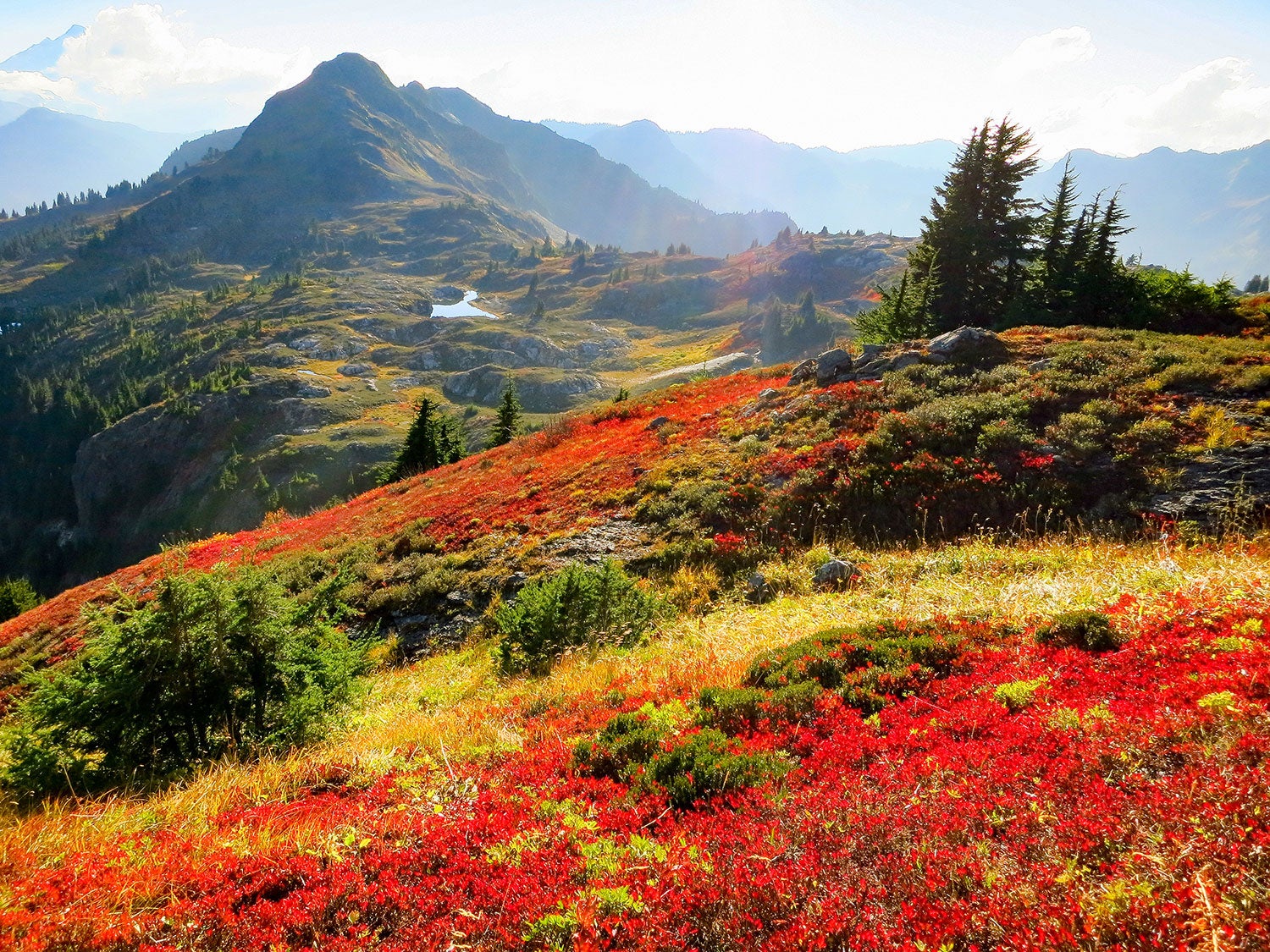 For some of the most beautiful leaf-peeping and fall foliage camping in Washington, we recommend the Olympic Peninsula and North Cascades National Park.
In the Olympic Peninsula, check out Fairholme Campground , located on the shores of Crescent Lake, a first-come, first-served campground, surrounded by red alder that explode with color come fall. The peninsula gets cold and rainy in autumn, so make sure to have the proper rain gear.
In North Cascades National Park, stay at Colonial Creek South Campground. There are epic views nearby, and plenty of trees that dot the mountains with color. The campground is remote yet bustling and located in an old-growth forest. Don't miss the fall colors surrounding Diablo Lake, either.
Sierra Nevada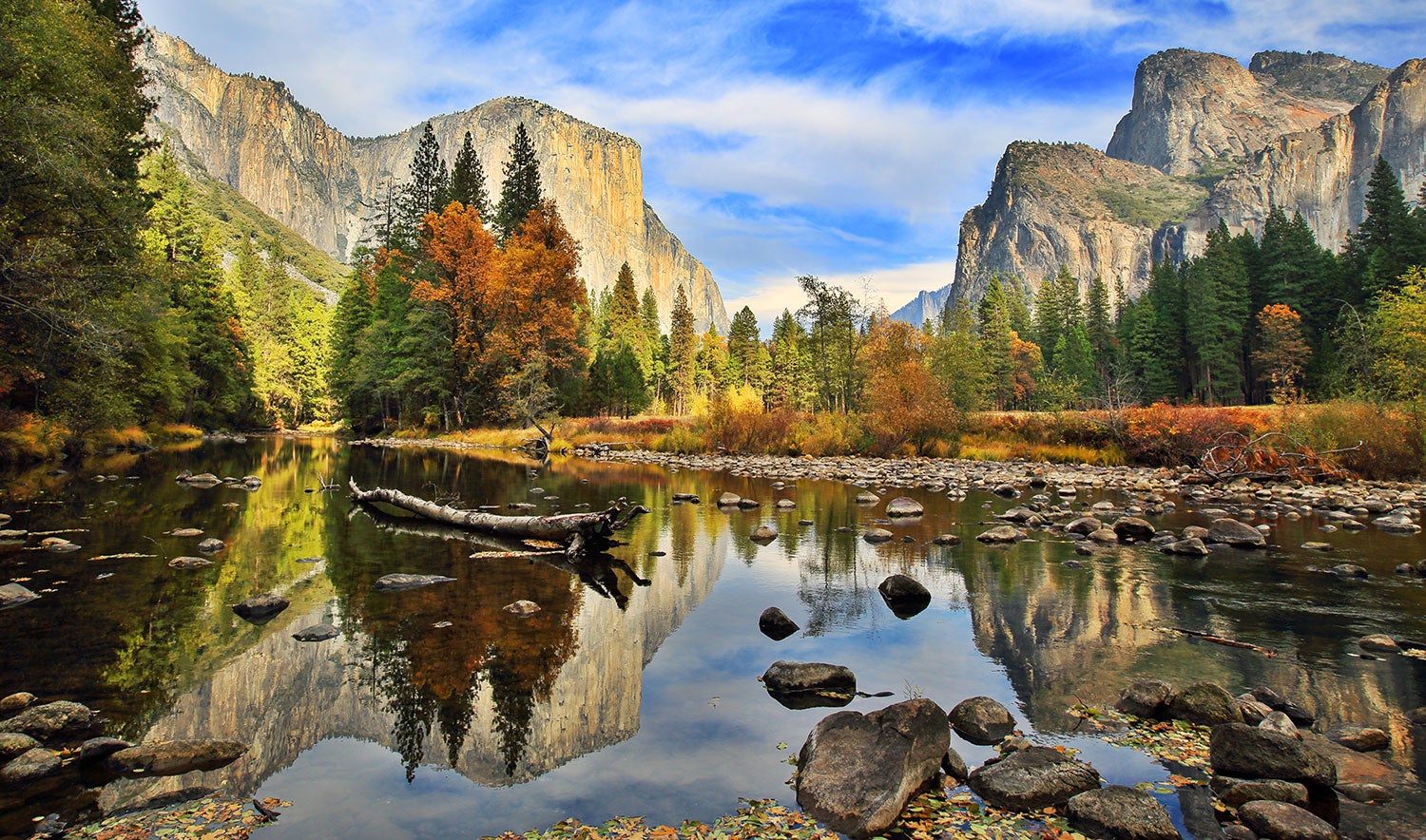 The Sierra Nevada is absolutely stunning in the fall, particularly in Yosemite National Park and Kings and Sequoia National Parks.
There are a myriad of trees that turn yellow, red and even purple in the Yosemite Valley and beyond. Keep an eye out for the quaking aspens (yellow), dogwood (red), big-leaf maples (bright yellow), black oak (orange), cottonwood (yellow), and poison oak (red and purple).
During your visit to Yosemite, stay at Upper Pines Campground for easy access to the national park and over 238 sites with space for tents and RVs, so you're especially likely to find a spot, especially during shoulder season.
In Sequoia and Kings National Parks, Sentinel Campground showcases what makes Kings Canyon so beautiful: expansive meadows, the babble of nearby King's River, and glowing, glacial mountainsides. The dogwoods and ferns paint this valley yellow and orange in the autumn.
New England
There are countless places in New England that boast some of the country's best autumn hues. Green Mountain National Forest in Vermont, Acadia National Park in Maine and The White Mountains in New Hampshire have some of the most stunning opportunity.
In Vermont, stay in Woodford State Park , where there are 76 tent and RV sites available, as well as 20 lean-to sites. Four cabins are available to rent as well. The high elevation spruce, fir and birch forest creates an ideal setting for visitors. In Acadia National Park, head to Blackwoods Campground for views of the spectacular Maine coastline and views of changing fall colors from the campsite. Pawtuckaway State Park is one of your best bets for The White Mountains, with 192 sites available and a nearby camp store with canoe and kayak rentals if it's not too chilly for paddling.
New York
With an incredible variety of trees and campgrounds in New York, people flock to its state parks and mountain areas to get their fall fix. There are over 21 species of trees that change color in the fall in New York, and the various gorges and lakes in upstate and Western New York will add another element of beauty to your fall foliage camping trip.
The Adirondacks and Letchworth State Park are highlights of the state during peak foliage. In the Adirondacks, head to Fish Creek Pond Campground, with 355 campsites and pond access for kayaking and canoeing. Letchworth State Park is 45 miles south of Rochester and offers surreal fall colors. The campground is large, with 270 sites available.
Great Lakes States
Many flock to the Northeast for leaf peeping season, but the midwest is home to some seriously beautiful deciduous and coniferous forests that boast magnificent fall colors. The North Shore and Sawtooth Mountains in Minnesota and Petoskey and the Upper Peninsula in Michigan are our top picks for this upcoming fall.
At North Shore, stay at Tettegouche State Park, located 58 miles northeast of Duluth. The park is situated on the shores of Lake Superior, and is a marvel that boasts waterfalls, shorelines and forest areas. Petoskey State Park is located on the sandy shores of Lake Michigan's Little Traverse Bay, and is well-known for its forested campgrounds. The two campgrounds at the park offer a total of 180 tent and RV sites. There are 3.5 miles of hiking trails for leaf peeping access.
October 12-19th: Pacific Northwest, Mid-Atlantic
Pacific Northwest
There are so many beautiful places to see the leaves and embark on a fall foliage camping venture in the Pacific Northwest, it's hard to only choose a few spots. The Columbia River Gorge National Scenic Area, which separates a large portion of Oregon and Washington, is filled to the brim with autumnal hues come peak season. This stretch is particularly unique because the gorge transitions between temperate rainforest to dry grasslands in only 80 miles, causing the foliage to change drastically from west to east. Central Oregon is another highlight in the mighty Pacific Northwest.
In the Gorge, stay at Beacon Rock State Park on the Washington side of the Columbia River, where there are several campgrounds and hiking trails with panoramic views of the gorge and even some trad climbing on Beacon Rock. In central Oregon, check out North Waldo Campground near Bend. Waldo Lake is one of the largest lakes in Oregon and offers a peaceful ambiance with remote shorelines. There are 20 miles of hiking among the fiery leaves. Pick one of 58 sites available at the campground.
Mid-Atlantic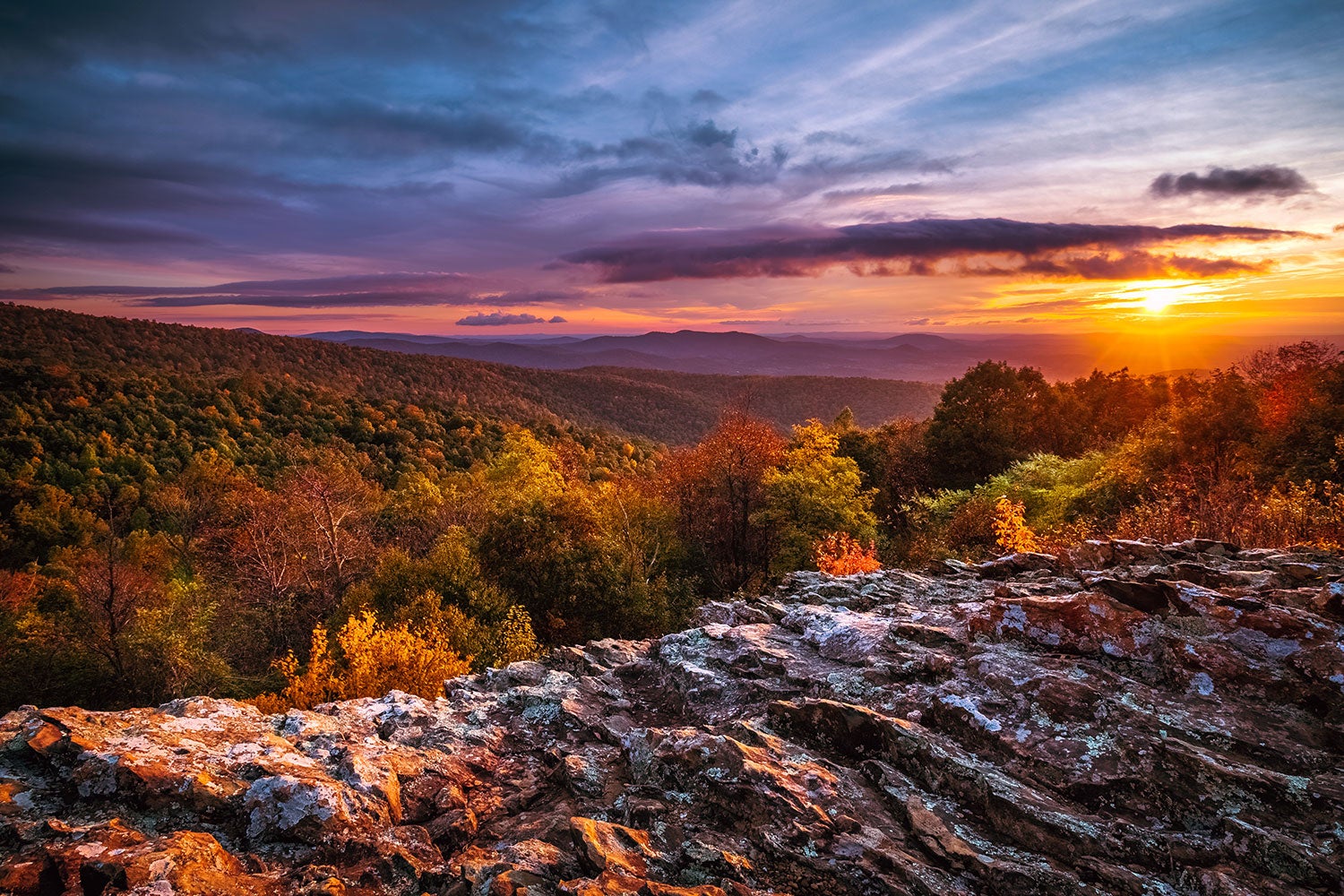 The Mid-Atlantic sees some impressive fall foliage, too. The birch, dogwood, maple, elm, and sycamore trees have some of the most striking warm-toned hues come fall. Highlights of the region include Grayson Highlands State Park in Southwest Virginia, Shenandoah National Park, and Allegheny National Forest in Pennsylvania. Each boasts deciduous forests with stunning fall landscapes.
Grayson Highlands offers 4,500 acres of forested hills, mountain meadows, and bubbling trout streams surrounded by some of the areas highest peaks. There are a total of 89 sites at this state park, and pets are permitted! Check out Cook Forest State Park, located within Allegheny National Forest. This area is known for being an old-growth forest. The park's Forest Cathedral of white pines and hemlocks is a National Natural Landmark and is stunning in the fall.
"The Grayson Highlands in SW Virginia! Standing on top of some bald hills, you get phenomenal views of fall foliage." –The Dyrt user Kevin Johnson
October 2oth-November 2nd: The South and the Southwest
The South
Our top locales for fall foliage camping in the South are easily the Great Smoky Mountains, Cloud Canyon State Park in Georgia and Jackson County, North Carolina.
The Great Smoky Mountains are renowned for their plant diversity and animal life, as well as for their impeccable views of the ancient Appalachian mountains. In the Smokies, stay at Twin Creeks Picnic Pavilion, which is located in a more secluded area of the park, but has all of the views. This area is a hiker's paradise, and it's especially stunning during autumn.
Stay at Cloudland Canyon State Park – East Rim for easy access to trails and a peaceful stay. The panoramic views of the colorful valleys and nearby waterfall are a fall lover's paradise.
"Cloudland Canyon is my family's top destination for our autumn camping experience. Between the rock cliffs, amazing overlook, beautiful waterfalls and great hiking trails… Cloudland Canyon really has it all! Definitely worth a trip if you have never been there!" — The Dyrt camper Jason B.
The Southwest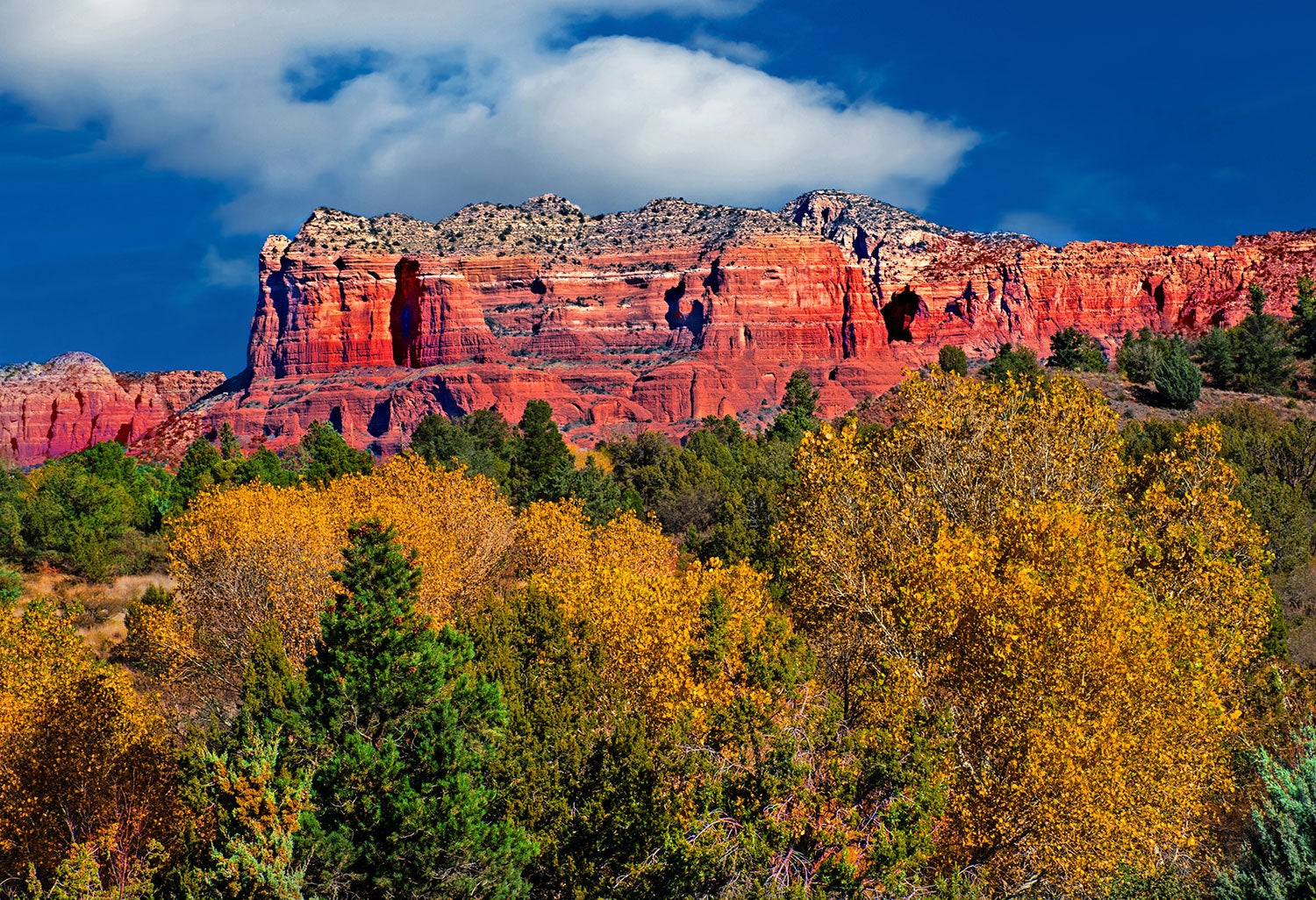 Southwestern states of the U.S. see gorgeous changes in color, particularly Northern Arizona and Northern New Mexico. Abiquiu and Taos in New Mexico are the fall must-visit places, as they are gorgeous in a landscape by themselves and are elevated beyond comprehension when the aspens light up. Visit Flagstaff in Arizona for shimmering cottonwoods against rugged peaks.
In Abiquiu, stay at Rianna near Abiquiu Lake, located in a bluff overlooking the shimmering blue-green Abiquiu Lake. The campground is located just an hour northwest of Santa Fe. There are 52 campgrounds here, 13 of which have electric hookups. The aspens pop against the technicolor, painted hills here. There are also lots of great RV campgrounds around Santa Fe for those who are bringing the big rigs.
When in Flagstaff, stay at Pine Flat Campground West, located in scenic Oak Creek Canyon in the Coconino National Forest. There are plenty of hiking trails nearby and 52 campsites to choose from.
November 2-9: Texas and Florida
Texas
Our top picks for Texas in the fall are Garner State Park, Lost Maples State Natural Area, and Daingerfield State Park.
Garner State Park, located in southern Texas, sits along the Frio River and offers over 300 campsites. Visitors can rent boats or kayaks to see the changing leaves from the scenic river. Lost Maples State Natural Area is located in the Texas Hill Country and protects a special stand of Uvalde bigtooth maples that attract many folks to visit come fall. The area contains 30 miles of hiking trails with steep terrain and 30 campsites with water and electricity
Florida
Better-known for its white-sand beaches and family vacations to Disney World, Florida is not well-recognized for its fall foliage, but the panhandle boasts maple trees that flaunt their colors come late fall. Head to the higher hills of Florida, where the oranges and reds deepen.
Torreya State Park is named for an extremely rare species of tree in the area, the Torreya Tree, which only grow on the bluffs along the Apalachicola River. They do not change, but are worth noting, as this area hosts some unique endemic species. For your fall foliage camping trip, check out the hardwood trees in the park, as they provide some of the best fall color in Florida. There are 24 tent sites available and 2 yurts for camping.
Edward Ball Wakulla Springs State Park also sees beautiful fall colors. There are plenty of maple trees that showcase their red and orange flair. There are only hotel accommodations at Wakulla Springs, but campers can stay at Panacea RV Park, located 23 miles from the park.
---
Ready to Go?
Get a free trial of The Dyrt Pro and hit the road! You'll even be able to plan your trip from the car with PRO Trip Planner. Check it out >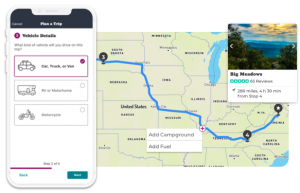 Related Articles:
---
Related Campgrounds: