"Be compassionate. Love is abundant. Don't sacrifice happiness." 
These instructions are a far cry from the, "flush nothing but toilet paper" rules you might find at other Alabama campgrounds. But the owners of Parksland Retreat have laid the foundation for a very intentional, community-minded experience in the peaceful wilderness of rural Alabama.
Parksland Retreat sits on a creek on the western edge of the Talladega National Forest. The yoga platform, a circular structure elevated amongst the trees, and the dining pavilion are both used for yoga classes which campers can add to their stay for an additional fee. While some campers come here to simply embrace a peaceful camping destination, others are here to be a part of this growing off-grid homestead as volunteers or workers helping to create an off-grid community space.
What You Get With Camping Reservations at Parksland Retreat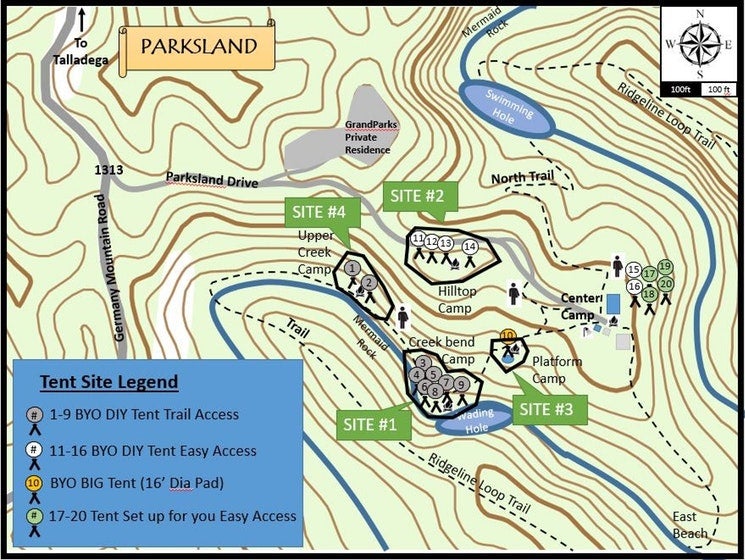 Sites are simple, wooded spaces offering minimal amenities in favor of a natural atmosphere. Three of the four campsites are walk-in and one is drive-up. There are no RV or 5th wheel sites here.
Speaking of natural, if you're interested in a nude camping experience, contact the hosts in advance and they can designate sites as clothing optional for your stay.
Site 1 is a short hike (1/8th of a mile) up the trail, and handles up to six moderately sized tents. It features a fire ring and is mostly private (except when hikers pass by) and sits beside the creek.
Site 2 is large enough for three tents; it's the only drive-up option. This is called the "Hill Top"  and although not completely private, Site 2 is convenient as a base for exploring the area.
Site 3 has a 16′ diameter "yoga" platform on which to pitch a tent (or three). Bring your friends to share in communal yoga right at your campsite. Or use the platform as a level spot to pitch your tents. When SIte 3 is booked, the regularly offered yoga classes are held in dining pavilion instead.
Site 4 is another creekside spot, set in a glen and absolutely private. This site handles one or two tents. Campers walk 1/6th of a mile to reach this secluded gem.
The campground includes potable water, trash, and showers. Campers have access to wifi, can bring their pets, and alcohol is permitted. The dining pavilion is not included in the cost of a site, but if you're interested in using this space, contact the hosts for special accommodations and pricing.
All sites at Parksland are $20 per night except the "yoga" site, which is $30.
What To Do Around Parksland
Since Parksland is surrounded by the Talladega National Forest, campers often choose to hike within the forest boundaries. The campground hosts offer a guided, two-mile hike to get to know the area.
The campground is only a 1/2 mile upstream from the spectacular Blue Hole waterfall and swimming hole, where campers will find clear bright blue water for a refreshing dip.
Alabama caving and rock climbing are also popular in the surrounding region.
Book Now
---
Related Campgrounds:
Popular Articles: