Naked camping is a unique and freeing experience. Read on for tips and naked campground locations. 
---
It's another beautiful summer morning as you step outside your tent. The birds are singing, the sun is rising, and the breeze is brushing by your cheeks. Both pairs of them. Maybe your tent is pitched in a high alpine meadow, or deep in the hardwood forests of the East Coast, and the moment is tranquil and solitary. Or perhaps, you wave a friendly hello to the naked neighbors in the campsite next to you, and turn on the camp stove for a communal pot of coffee.
Naked camping, or 'naturist' camping, might just be the way you roll in the morning when you're sleeping outside. But more and more people are catching on to "naked camping" as an intentional way to feel closer to the great outdoors. Naturist clubs can be found in many urban areas and nude or clothing-optional campgrounds are scattered across the country. 
Naked Camping is One Way to Get Even Closer to Nature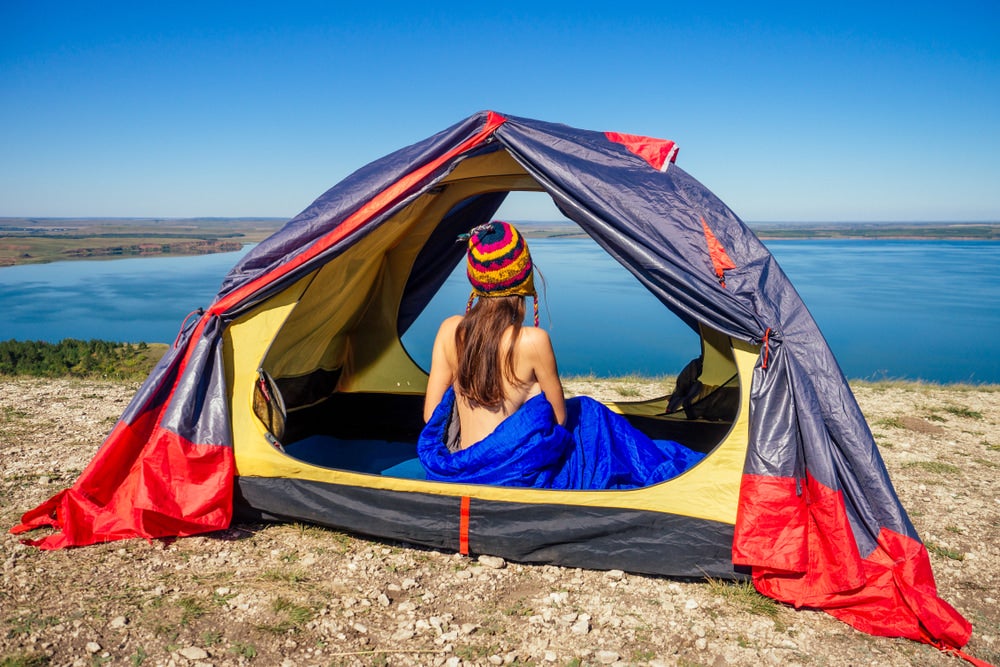 There is something deliciously freeing and deeply relaxing about shedding clothes and letting your whole body feel the world around you. Some of us are lucky to be surrounded by public land, and even know where to find a few off-the-beaten-track hot springs which historically have a 'clothing optional' standard. Others have access to nude beaches, or just like to go skinny-dipping after the sun goes down. But what about nudity in more popular areas? Can you camp naked in places where you are likely to have a few neighbors?
There are actually no laws prohibiting nudity on most public lands. In fact, National Parks, BLM land and National Forests do not have any laws preventing nudity and only ticket people if their nudity is for sexual purposes or if it becomes a 'public nuisance.' You do need to be aware of state and county laws, however, as rangers will enforce those and they can vary tremendously.
If you are planning a nude camping trip in a remote area, or somewhere where the social precedent makes it acceptable, the best way to approach it is with a sense of respect. If your nudity is diminishing the outdoor experience for others, then maybe just bring a sarong. Otherwise, just make sure to put on lots of sunscreen!
---
The Dyrt PRO ensures easy trip planning and helps you deal with last-minute cancellations. With the upgraded version of The Dyrt app, you can access campgrounds, maps, and photos for offline use during outdoor adventures.
---
Naturist Clubs and Campgrounds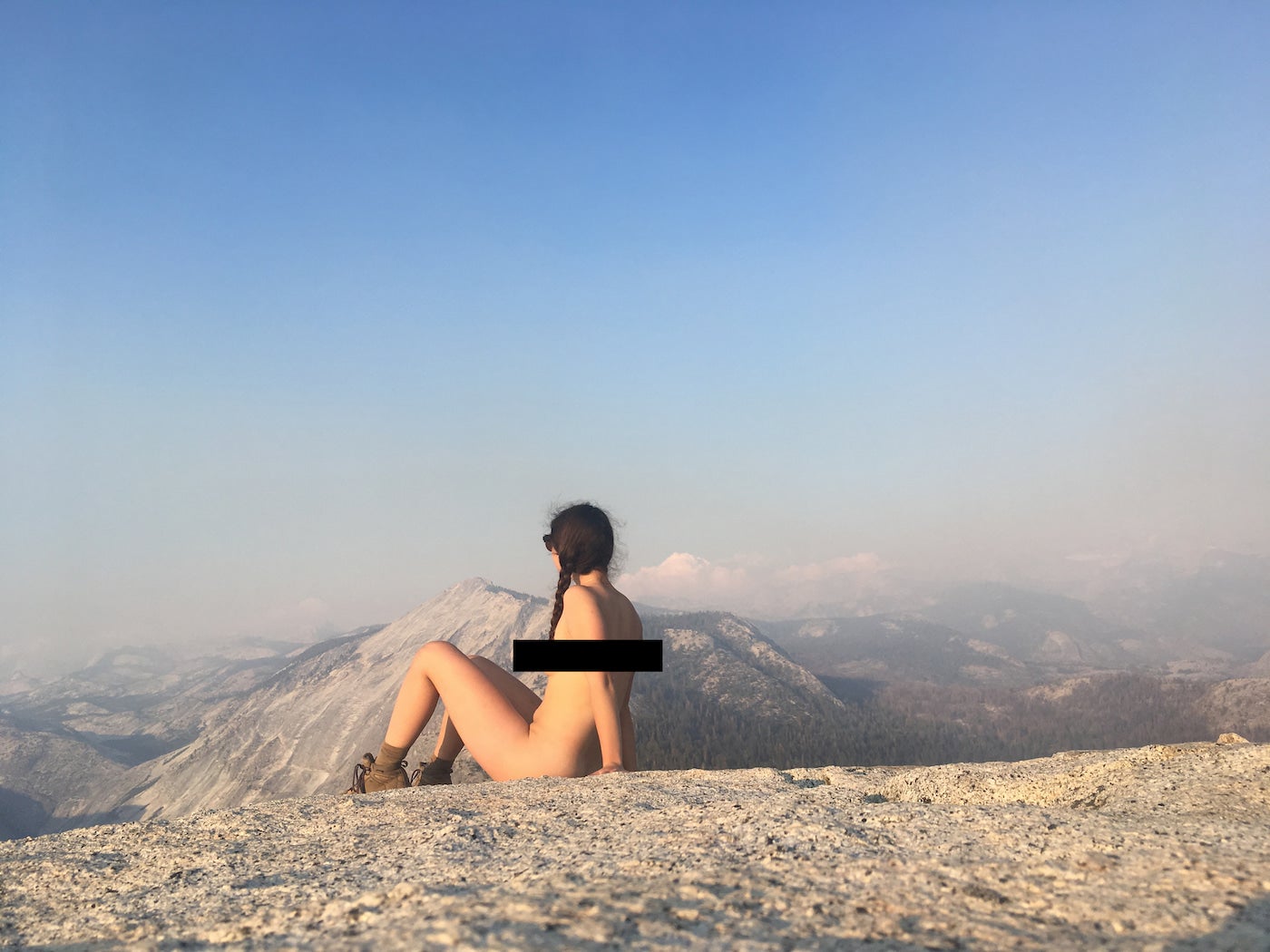 "We recognize the essential wholesomeness of the human body and that life is enhanced by the naturalness of social nudity. From exercise to relaxation, physical health and mental well-being are enriched through social nude recreation. " — Founding Principle of the American Association of Nude Recreation
Naked camping allows people to fully embrace the idea that bodies are just bodies and we all have one. The American Association of Nude Recreation is the national chapter of official naturist resorts, and was founded in 1931. The AANR has provided a standard set of regulations for official nudism destinations as well as political advocacy and support for nudist recreation. According to their website, nudity levels the playing field.
"You'll find a cross-section of society, with people representing all colors, religions, occupations, body types, age groups, and income brackets. Without clothes, however, it's less likely you'll know a bank president from a bus driver."
Naked camping in an established nudist resort is a very social experience; expect to meet people and make friends. According to the AANR, members spend between ten and sixty days participating in naturist adventures across the country in an average year. The nude lifestyle is surprisingly popular, with membership numbers around 230,000 and over 180 affiliated resorts.
How to Visit a Nude Campground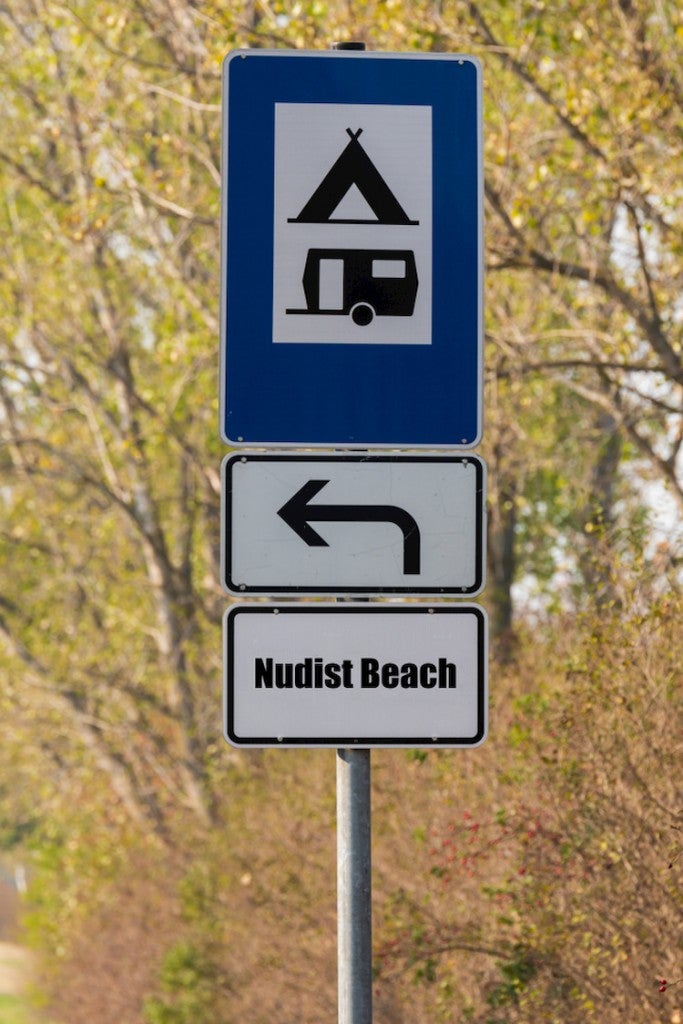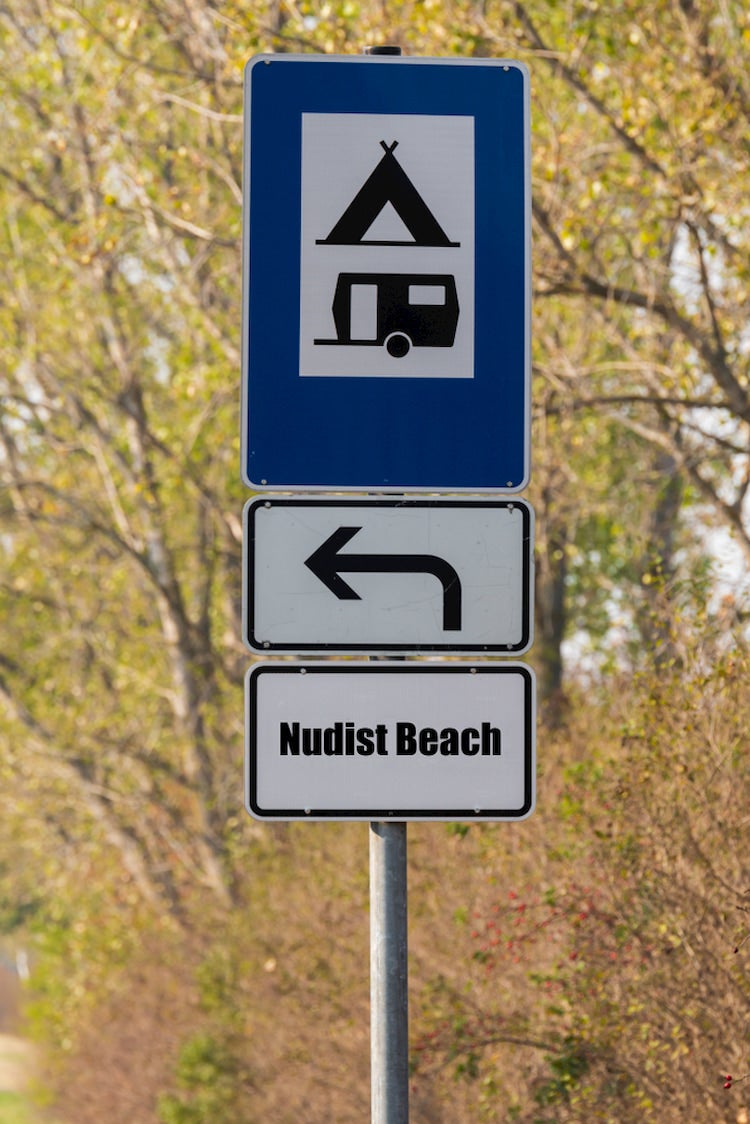 Camping at an established nude campground is a wonderful way to step out of your comfort zone and leave the 'textile' world behind. According to a British blogger, YesYes Marsha, her first nude camping experience involved two hours of getting over the giggles, then she realized something important:
"You don't need to feel self-conscious. Especially in a naturist resort, where people truly have more important things to think about than how you look naked. Not least because everyone is naked, so you don't stand out."
Expect to meet people of all ages who like to hang out, cook, party, explore and connect with like-minded individuals. Although the first time can feel awkward, most people quickly realize that no one is actually looking at them. Use the following tips to make that first transition as comfortable as possible.
Research: Make sure you read up on the nude destination of your choice. Some nude campgrounds actually require everyone to be naked the whole time, while others have clothing-optional standards. The AANR is a great resource when it comes to choosing your first naturist experience. As a regulatory agency, only clubs and campgrounds which adhere to their requirements for safe, healthy environments are given affiliate status. Check out their Principles and Standards here, and their list of clubs by region here.
Bring a towel (or two): To keep things sanitary, always bring a towel to sit on, and a separate one for the pool.
Sunscreen by the gallon: If your 'bathing suit area' hasn't seen the sun (ever?), make sure to protect them from harmful UV rays. Slather it on to prevent very uncomfortable sunburns.
 Learn the meaning of 'family social nudity': Many naturists get their start at a young age, and most nude communities welcome bodies of all ages. Many first-time campers are surprised by this, expecting to see only adults.
Join the American Association of Nude Recreation: If you enjoy your first camping trip in the buff, registering for this well-respected, nation-wide organization will get you the inside scoop on all the naked fun a camper could want!
Leave your camera/phone behind: It makes sense that photography is restricted or banned at most naked camping areas and naturist clubs. Until you are familiar with the norms and etiquette of a certain group, do not brandish any device with image capture.
10 Nudist Campgrounds Across the Country
Although many states have some registered nude recreation opportunities, Florida and California have the most, by far. This is understandable, considering their temperate climates year-round. Check out the full AANR list of naturist clubs and campgrounds here.
This combination campground, natural hot springs, and hiking destination covers 2,200 acres and is a stunning introduction to camping naked. The San Luis Valley is a remote and geologically diverse area of Colorado, also home to the Great Sand Dunes National Park. Family social nudity is practiced throughout the park with a clothing optional allowance. Advance reservations are highly recommended since they will turn visitors away once their daily quota is met. They offer beautiful, primitive tent sites as well as RV and vehicle options.
Olive Dell Ranch offers RV sites and cabin rentals. Close to Riverside and San Bernadino, it is a low-key introduction to nudism and naked camping. They have a small pool and tennis courts, and they schedule fun events like the Bare Burro 5k race. Entrance fees vary by season.
Glen Eden is one of California's premier naturist clubs. They offer camping options for both RVs and tents in a variety of well-shaded and pleasant sites.  First timers get in free for a day pass! They have on-going events throughout the year, and are a family friendly environment. Along with a pool, tennis courts and generous open spaces, Glen Eden offers art classes and clay throwing workshops.
Hidden Lake Resort stands in the tall pines near Jay, FL, north of Pensacola, and has a large variety of camping options. You can choose between primitive tent camping, tent and RV sites with water and electric available, or premier full hook-up RV sites by the lake. Rates vary by location. This resort remains open year round. There are monthly potlucks, fishing, hiking, and swimming available.
Just south of Orlando, FL, Sunny Sands offers a great 'au naturale' getaway from urban life. They have tent and RV sites and rental cabins available. Membership provides a reduced rate. This nudist resort also has a pool and a nine-hole, par three golf course.
Blue Lake Resort is Illinois's only registered naked camping option as per the AANR. It sprawls across a lovely 98 acres of forest and farmland about 30 miles northeast of the Quad Cities area. Visitors can choose camping in a variety of options including tent and RV sites, both shaded and non-shaded. The resort also has a pool, whirlpool tub, as well as volleyball courts, frisbee golf, children's playground and weekly events and activities.
Spruce Hollow campground opens for the summer and contains many acres sheltered by the tall pines of northern Michigan. They have a pool and the usual amenities, but it's the secluded, backcountry feel of their campsites which set this resort apart as a fantastic option for naked camping. Explore the surrounding woods or lounge by the pool. Nearby attractions include a variety of wineries and Sleeping Bear National Dunes.
Cape Cod has a great naked camping option in Sandy Terraces. A family-friendly campground with tent and RV sites, this naturist club has beautiful trails leading through hardwood forests to a sauna, pool, and tennis courts. The resort is open seasonally starting in May and offers a huge variety of family-friendly activities throughout the summer.
Open year-round under Arizona's sunny skies, Shangri La Ranch waits just north of crowded Phoenix. The ranch offers tent and RV sites for campers. Activities include pool, sauna, clubhouse and many outdoor games like horseshoes, tennis and a children's playground. The clubhouse has other indoor social opportunities.
This beautiful naked camping option is only a short hour's drive from Chicago's eastern suburbs. Lake O' The Woods is a seasonal naturist club featuring a 20-acre, spring-fed lake on 130 acres of wooded rolling hills. Besides the usual activities, the lake offers premier fishing, paddle-boarding, and boating opportunities. Lake O' The Woods is the second-longest running nude recreation club in the country, founded in 1933. Check out their social primitive camping area, RV sites with hook-ups, or a variety of cabin rentals.
---
Related Campgrounds:
Popular Articles: