Situated between the Atlantic Ocean and the Isle of Wight Bay, Ocean City, Maryland, is all about the sand, sun and—horses?
Yes, horses indeed.
While Ocean City is best known as a resort town with a popular boardwalk packed with tourists, it's also a popular launching-off point for Assateague National Seashore, a protected barrier island famous for the wild horses that roam the island. Whether you're drawn to the undeveloped shores of Assateague or the hustle and bustle of a seaside tourist town, you'll find everything you're looking for at these Ocean City, Maryland campgrounds.
10 of the Best Ocean City, Maryland Campgrounds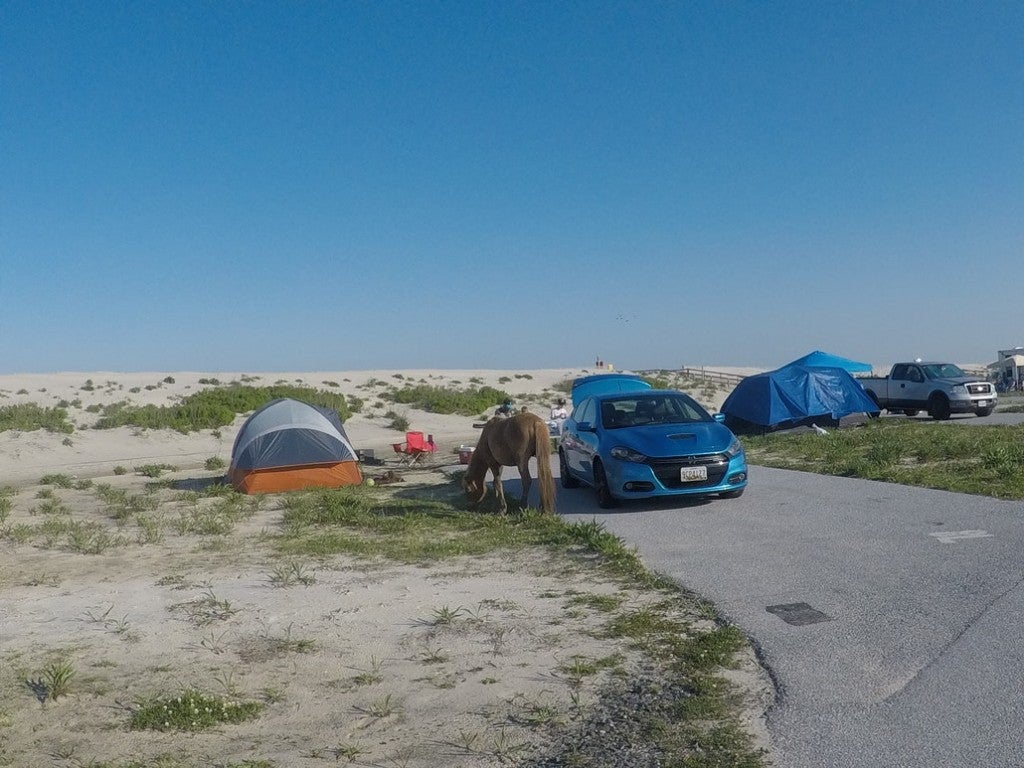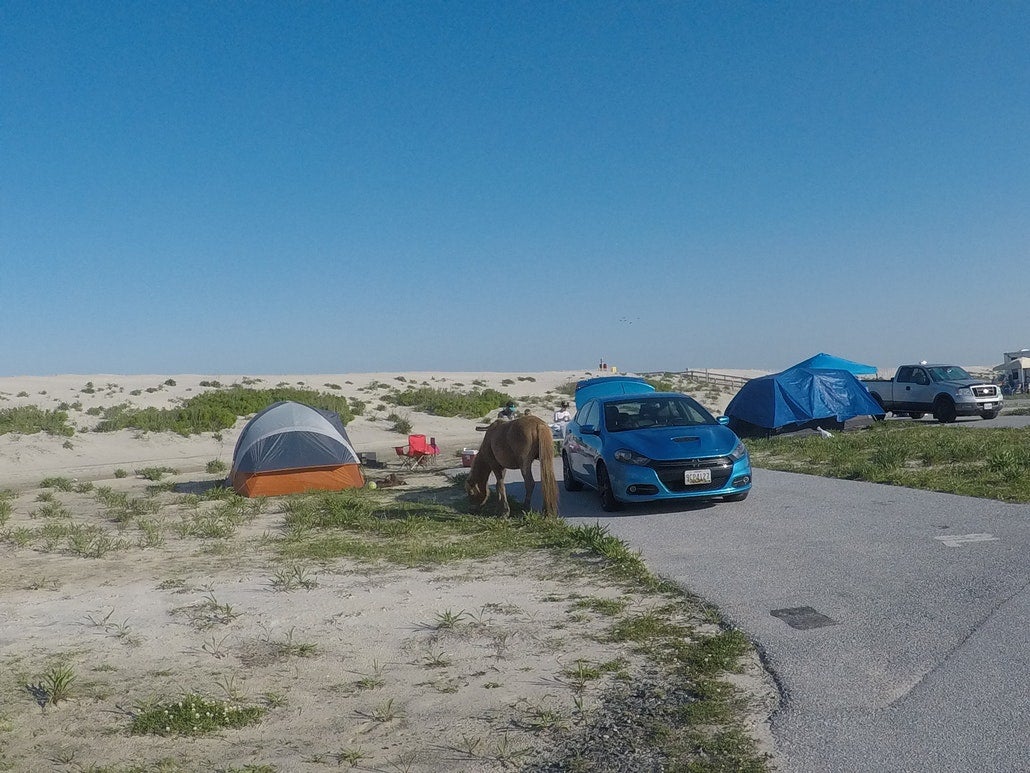 Assateague State Park is Maryland's only oceanfront campground. With two miles of sandy beaches great for swimming, sunbathing and fishing, Assateague State Park draws campers to pitch their tents near the surf.
The park campground has 342 sandy sites, each with a fire ring and picnic table. Electricity is available in the G loop as well as at a few sites in the I loop. The Dyrt campers rave about the campground's clean showers and the fearless, wild horses that are happy to come up and say hello as you sunbathe on the beach.
"I love this campground. It's very clean and the water is only a short walk away. You can hear the ocean at night while you are sleeping and see the wild ponies during the day." —The Dyrt camper Heidi K.
Located just five miles from Ocean City, this private, family-friendly campground has so much to do that you might have to force yourself to venture into town (there's a shuttle from the campground to take you into Ocean City) or over to the beach. Frontier Town boasts a waterpark with a lazy river, an 18-hole putt-putt golf course, a swimming pool, playground, high ropes adventure course (with zip lines!) and a Western theme park. Frontier Town also has waterfront access to the bay if you prefer kayaking over water slides.
The Frontier Town campground has more than 500 campsites to choose from, ranging from primitive tent sites to waterfront campsites with full hookups. The campground has three bathhouses, a laundromat, and Wi-Fi. Campers also enjoy fun camper-only deals, like free access to the waterpark.
"This campground is the best campground I've seen for kids. They have a waterpark that is included in your stay. The activities are great and you're only minutes away from Ocean City or Assateague State Park, where the ponies run wild." —The Dyrt camper Dawn T.
Located just across state lines in Delaware, Cape Henlopen State Park is a beautiful stretch of beach popular with clammers, swimmers, anglers, kayakers and windsurfers. The park is popular with history buffs, too, because long before this land became Cape Henlopen State Park it was the homesite of Fort Miles, a key coastal defense point during World War II.
The Cape Henlopen campground is nestled among pine-covered dunes and can accommodate everyone from tent campers to large rigs. Some of the campsites have electricity, and all of them have access to flush toilets and warm showers. For those who don't want to rough it there are also camping cabins available with access to a communal shower house.
"I've done a lot of camping and Cape Henlopen is one of the best places I've stayed. I have stayed here at least a dozen times and have never had any complaints. There are lots of walking and biking trails, clean facilities and the sites are very nice." —The Dyrt camper Gina M.
A smaller, private bayside camping resort, Castaways is one of a handful of Ocean City, Maryland campgrounds just minutes from the boardwalk; some campsites even have views of the skyline. The 50-acre campground has multiple private beaches — even one for your four-legged friends — as well as a fitness center, pool, golf cart rentals, live music and a waterside bar and grill.
The campground offers both RV and tent sites. All campsites have Wi-Fi, cable TV hookup, water and electric. There are four shower and restroom facilities open 24 hours a day. Some campsites are waterfront.
"Beautiful, well equipped and appointed campground on the water facing the beautiful Assateague National Seashore, home of the wild Assateague ponies. You won't be disappointed in your stay here!" —The Dyrt camper Karen H.
This Delaware state park is just a 30-minute drive from Ocean City, and boasts some of the best ocean camping in the region. The campground is just a five-minute walk from the water and the lifeguarded beaches are great for swimming, surfing or building sandcastles with the kids.
There are two campgrounds at Delaware Seashore State Park, one on each side of the river. The campgrounds can accommodate tent and RV campers. The North Inlet campground has full hookup sites and standard sites without hookups. Tent campers will find a place to set up camp at the South Inlet campground. Both campgrounds have access to beaches, restaurants within walking distance, and clean bathhouses.
"This is one of favorite local parks! The location is PERFECT. You have close access to miles and miles of touristy beaches and uninhabited beaches." —The Dyrt camper Eric R.
Tucked into the shores of Assawoman Bay and located close to Ocean City, Treasure Beach RV Park and Campground is the perfect place to cool off during the hot summer weather. In addition to its quick access to saltwater, the campground also has two swimming pools with lifeguards and a splash pad for kids. There's also a large playground, bike rentals, fishing piers and a boat ramp; fishing gear is available for rent if you are without.
This is one of the largest Ocean City, Maryland campgrounds; containing more than 1,000 campsites. Many of the campsites are right on the water and all include water, electric, sewer and cable TV hookups. Campers have access to clean bathhouses with hot water. There is also a dump station on site.
"Treasure Beach is one of our favorite campgrounds in Delaware. Beautiful sites on the water and a lot of activities for the kids." —The Dyrt camper Tammy K.
There are two ways to camp on Assateague Island National Seashore—oceanside, and bayside.
As one might expect with beach camping, the Oceanside campsites are flat and sandy. There's no shade at the campsites, so The Dyrt campers recommend bringing a canopy. Bugs can also cause a problem in the summer months, but the breeze off the water can keep them at bay (as can bug spray.) The most important detail of this campground is, of course, the feral ponies! Campers report that the ponies are everywhere and will wander into camp, thrilling the equestrian in all of us.
Both drive-in and walk-in oceanside campsites are available. Drive-in sites can accommodate RVs, trailers and tents, while the walk-in sites are located about 1,000-2,000 feet from the parking area and are for tents only. None of the campsites have hookups but all of them have fire rings and picnic tables. During the high season, basic bathrooms with cold water showers are available.
"Whether you love camping in your RV or a tent, Assateague Island National Seashore is an incredible place to visit. From the docile wild ponies on the beach, to the gorgeous sunrise every morning, to being able to see the Milky Way with the naked eye, there is no shortage of sights to see here." —The Dyrt camper Grace E.
Much like Assateague's Oceanside campground, the Bayside campground is within walking distance of the ocean and frequented by ponies. One major difference between Bayside and Oceanside, however, is that campers report that the mosquitos at Bayside are much more intense than Oceanside during the summer months and much better than Oceanside during the spring and fall — so plan accordingly.
All campsites at Bayside are drive-in and can accommodate RVs, trailers and tents. There are no hookups at the campsites but there are fire rings and picnic tables. During the high season, basic bathrooms with cold water showers are available.
"Camping here for a week was incredible for many reasons. The gorgeous ponies and an abundance of wildlife were amazing. Being able to walk right over to the ocean was also amazing." — The Dyrt camper Angel G.
Located just 15 miles down the road from Ocean City, Fort Whaley is one of many amenity-filled, privately-owned Ocean City, Maryland campgrounds. Available comforts at this campground include mini-golf, a private pool, game room, catch and release fishing pond, a laser tag course and a dog park for the fur babies. Fort Whaley is associated with the Frontier Town Campground (above) and all campers also enjoy free access to the waterpark, high ropes adventure park and the western theme park. A free shuttle from Fort Whaley to Frontier town will get you there.
Fort Whaley has nearly 200 campsites to choose from, ranging from primitive tent camping to full hookup sites. Amenities include a clean bathhouse and a laundromat as well as a poolside clubhouse with TV and fun games to play when you want to escape the heat.
"This is our favorite campground! It is close enough to Ocean City we can enjoy the beach daily but far enough to relax in the woods!" —The Dyrt camper Randi J.
One of the only Ocean City, Maryland campgrounds not located right on the saltwater, Trap Pond State Park is in Delaware on the freshwaters of Trap Pond, about 45 minutes from Ocean City. The park boasts docks for fishing or launching your kayak or canoe, hiking, biking and horse trails and an impressive nature center that tells the story of the swamp on which the park is located. The nature center hosts live music during the summer months.
Settled under the pines, some of the campsites at Trap Pond State Park have lakeside views. The campground has RV and tent sites with water and electric, walk-in tent sites and two tent sites on islands. There are also climate-controlled cabins and yurts available to rent. Flush toilets and hot showers are open to campers, and canoe and kayak rentals are available to those who want to head out on the water but don't have their own boat.
"Trap Pond is wonderful. We camp there a lot. It's great for kayaking and canoeing, freshwater fishing, birding, biking and hiking. There are miles of well-maintained trails for bicycles, and free bike rentals from the campground bike shed. There are also loads of well-marked water trails, one of which leads to a really nice cypress swamp with active beaver dam." —The Dyrt camper Lisa B.
---
Related Campgrounds:
Popular Articles: