This article on Marfa camping is brought to you by OOFOS, whose women's footwear line is made with patented foam that enhances muscle recovery and helps prevent future injury.
---
There are some places that just exude eccentricity, culture, and art. Nashville, Venice Beach, Portland, and…Marfa, Texas? With a population the size of a small gymnasium's worth of people (2,000), this tiny Texan town is home to a vibrant array of artistic and cultural relics. These relics include some of the finest minimalist art in the world, such as the iconic and well-Instagram'd Prada Marfa, the Chinati Foundation's world-famous gallery, and a host of other eclectic installations, all in the middle of the West Texas desert.
Thanks in large part to Donald Judd, a famous minimalist artist who used the stark landscape of Marfa as inspiration and canvas in the 70's, the tiny town became a destination for all kinds of creatives— even earning a stamp of approval from Beyoncé herself.
So, what do you get when lots of people start showing up in an eccentric town with a stunning backdrop? Well, they need someone to sleep and visiting a place this beautiful isn't about staying inside a fancy hotel.
What you get is a destination for camping in Texas that is just as eclectic as the community.
Finding Camping in Marfa, Texas: A Minimalist Art Hub and Eclectic Outdoor Destination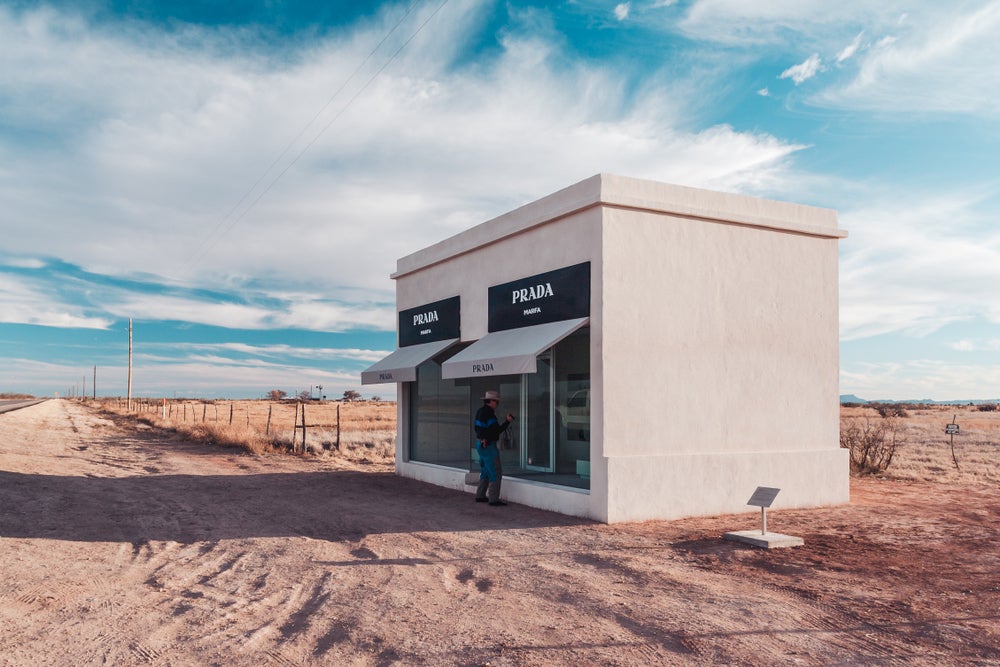 Years before a minimalist artist came and changed its tourism industry forever, Marfa was a small town used as a training ground for thousands of pilots during World War II. Located south of Fort Davis, Marfa was the perfect place for soldiers to train without much distraction and more than enough space.
After the training operation closed in 1945, Marfa fell into relative obscurity. Like many other small towns across the United States, no one expected much to change. But change it did, when Donald Judd arrived in 1971 looking for a quiet summer residence to work on his curious, minimalist-style art. While the town itself didn't have much to offer in the way of arts and culture, Judd saw an opportunity where most saw just a tiny town.
After a few years of making Marfa his summer home, Judd purchased several buildings, including two large hangars and a handful of other structures. The idea? To permanently install his artworks, and, in true Texas fashion, to make them big. Before long, Judd's residence in Marfa, Texas was all but permanent. Shortly after he began installing his art, he bought a ranch where he would live for the majority of the rest of his life.
Judd didn't stop there. With assistance from his bigwig art friends in New York, he eventually purchased Fort D.A. Russell, a decommissioned military base located just outside of Marfa. With the Dia Art Foundation's help, Judd began to establish what he viewed as a true museum of art, one where artists' work was featured forever instead of temporarily. Judd believed that art was more easily and appropriately understood when displayed permanently. This was in contrast to the traditional method of art museums, where work was only featured for a month or two before being put back into storage.
With Judd's vision, Marfa, Texas went from a tiny town to a cultural hub for minimalist art. Although Judd passed away in 1994, multiple foundations have worked to maintain Marfa's reputation as an arts epicenter in the southwestern United States. The Chinati Foundation sponsors an annual open house, which attracts thousands of visitors from all around the world, and now owns nearly a dozen buildings housing hundreds of artworks from various artists.
In addition to the foundational support, Judd's legacy has reached countless artists. Today, several new artists have moved to desert-locked Marfa, Texas in order to work and show their art, which has led to several new galleries and showrooms. Downtown Marfa has been developed into a creativity hub, including a writers-in-residency program, theater group, and multiple new spaces for shows, performances, and art exhibitions.
Today, visitors flock to find camping in Marfa both for its art and for its proximity to the Davis Mountains (30 minutes) and Big Bend National Park (90 mins), making the town an enticing mix of outdoor enthusiasts and self-made creatives.
Marfa's Glamping Scene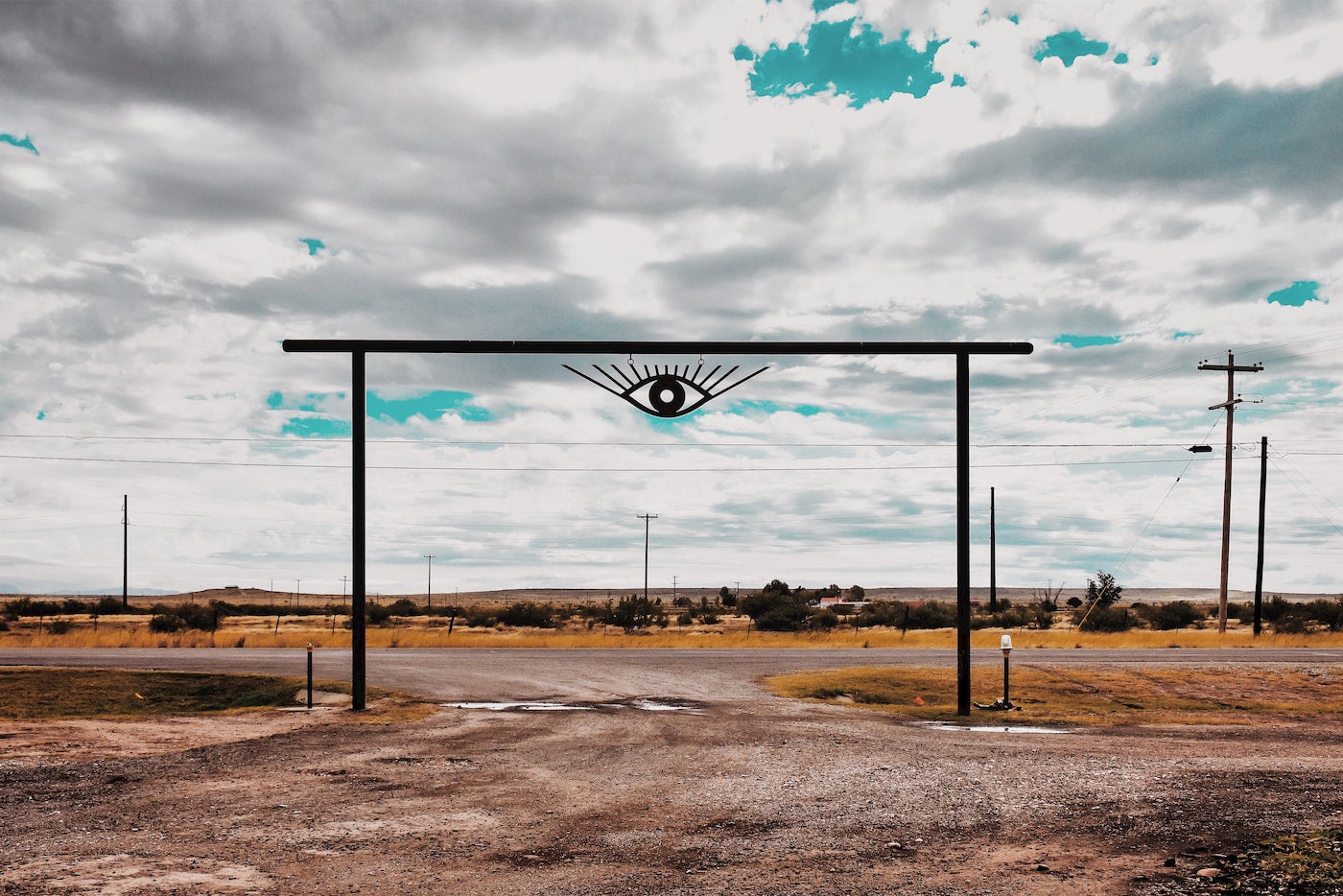 Along with the art has come an array of festivals that attract artists and art-viewers from all over the world. Marfa Myths, an annual music festival and cultural program, began in 2014 and has now assumed a Burning Man-esque reputation in the desert of West Texas. In addition to the annual Marfa Myths, Marfa hosts artist gatherings and independent festivals year-round.
The town has also become noteworthy for the Marfa camping scene, including glamping teepees, airstreams, and massive tents, all under the name El Cosmico. Self-labeled as a "Bohemian West Texas Nomadic Hotel," this utterly unique stay-and-play "hotel" is like a cosmic go-between for desert junkies and van-lifers, with an array of offerings that make up its "shelter" collection.
Taking influences both from the West Texas desert and the modern, minimalist art that Marfa has become known for, this Texas glamping destination is a once-in-a-millennia type of establishment. Along with teepees and more traditional "glamping" tents (think pillows, a bed, the works, all under a convenient canvas roof), camping in Marfa at El Cosmico offers the "Cosmic Kasita," a "limited-edition collaboration between El Cosmico and the award-winning micro-home builder Kasita." This tiny house offers big colors, streamlined designs, and high-quality materials for visitors to enjoy while they take in the weird and wonderful world that is Marfa, Texas.
Looking for something in between a tiny house and a tent? Even El Cosmico's yurts are self-made masterpieces, including vibrantly patterned interiors and vintage furniture straight out of an Anthropologie catalog. Each yurt offers a queen bed, sofa, lighting, A/C or heat, and even includes a writing desk for aspiring novelists who just can't resist Marfa's creative energy. This tiny-yet-mighty glamping destination also has four different styles of trailers, ranging from small to extra large, each with cooking, dining, bathing, and sleeping features in varying forms.
For the more traditional glampers among us, there's no shortage of safari tents, which offer more basic amenities (but include heated blankets in the wintertime) with the advantage of being slightly more cost effective ($95/night) than their cosmic cousins. El Cosmico even has a $20 nightly rate for plain ol' tent camping on a piece of their luxurious land, no bookings required.
Since its inception, El Cosmico has become its own cultural hub, both for Marfa and the many tourists that flock there. With regular activities that run the gamut from bingo to karaoke to yoga to the famed El Cosmico workshop series (with options like ceramics, candle-making, and marbling), visitors who end up at El Cosmico rarely walk away unmarked by Marfa's outdoor and artistic scene.
Whether you end up camping in Marfa, Texas by happenstance or are hoping to catch Beyoncé on her next spontaneous West Texas road trip, take time to indulge in a little bit of everything: the food, the glamping, and the art all make camping in Marfa an unforgettable time, one that's likely to stay on the Millennial and artistic map for decades to come.
---
This article was brought to you by OOFOS
Injured, recovering, or just looking for feel-good kicks? OOFOS knows it all, from running recovery to downright comfort. Pick up a pair of sport slides today!
---
Related Campgrounds:
Lake Somerville State Park, Somerville, TX
Bluebonnet RV Resort, Mission, TX
Boulderdash Cabin & RV Park, Bandera, TX
Lighthouse Resort, Lake Texoma, TX
The Crescent Experience, Silsbee, TX
Triple Creek RV Park, Woodville, TX
4C's Rodeo Ranch, Stephenville, TX
Blue Water RV Resort, Freeport, TX
Popular Articles: