This article about Colorado ghost towns was brought to you by AfterShokz, the designers of cordless headphones that are high quality and make listening to music or your favorite podcasts easy while traveling.
---
Gold mining in Colorado exploded in the mid 1800s, signaling an influx of prospectors with the hope of boundless riches. A scattering of small mining towns rose up near gold-and-silver laden valleys surrounded by the jagged Rocky Mountains. As the times changed, many of these towns lost population as as quickly as they arose. These would age into ghost towns, relics of the wild west dotted across the state of Colorado still today.
Colorado has 640 remaining ghost towns within its four corners. Spend a day exploring a few of the eight Colorado ghost towns listed below, which are some of the most accessible in the state. Some of the most well-preserved include St. Elmo and Vicksburg, where well-preserved buildings allow visitors to envision an unruly stand-off between cowboys or imagine the rambunctious sounds from a seedy saloon.
These Colorado Ghost Towns Give You Peek Into The State's Wild West History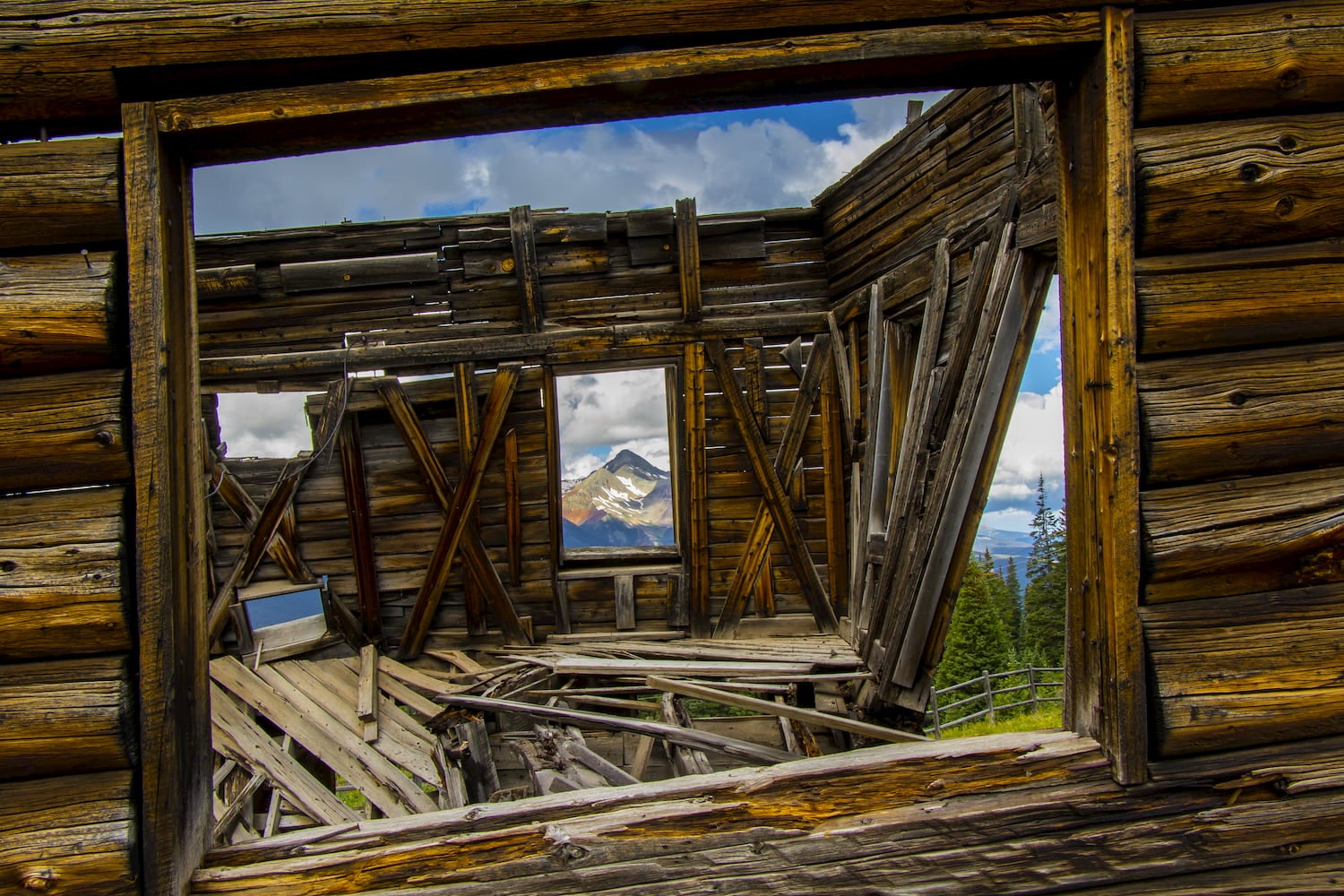 Walk the streets of these eight ghost towns for a peek into the history of Colorado's gold mining boom, when the motto for starry eyed, gold seeking adventurers was "Pike's Peak or Bust." This list of eight Colorado ghost towns are some of the most well-reserved or most accessible. Remember to follow all rules and regulations when visiting these sites, as many of the buildings are unsafe to enter. Many of them are historical sites that are protected, so leave only footprints and take only photos.
1. Animas Forks
Coordinates: 37.932464, -107.571092
Camping Nearby: Molas Lake Public Park
This Colorado ghost town was once a bustling mining community built by prospectors in 1873. Unfortunately, it was plagued by avalanches and a historic blizzard in 1884 that lasted 23 days. Locals had to dig tunnels to get from building to building. Its 450 residents would often flock south to the nearby town of Silverton come winter. At its height, the town boasted 30 cabins, a hotel, a saloon, a post office and a general store. By 1910, mining in Animas Forks stopped, and it became a Colorado ghost town by the 1920s.

Today, Animas Forks is surrounded by the massive peaks that make up the San Juan Mountain range. The ghost town is located on a system of unpaved roads known as the Alpine Loop, which connects the towns of Lake City, Ouray and Silverton. Be wary that the road from Silverton to Animas Forks is only passable in summer, but can be accessed by a two-wheel drive vehicle.
When you arrive, the BLM and San Juan County provide maps and brochures of the ghost town in the parking area. You can enter the buildings freely, but be careful, as some of them are fragile.
From Silverton, take County Road 2 for 12 miles until you hit this Colorado ghost town.
2. Alta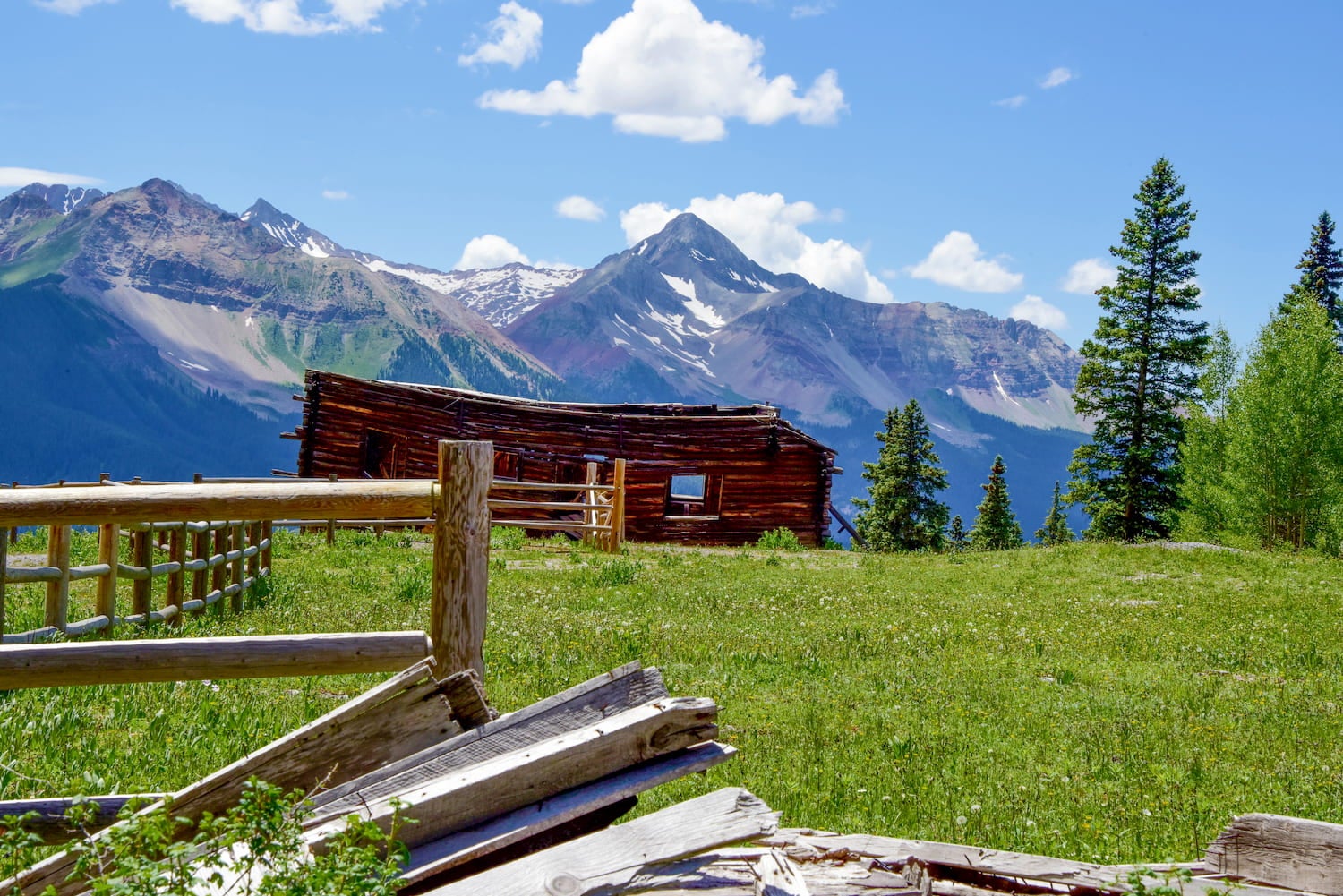 Coordinates: 37.886379, -107.853739
Camping Nearby: Alta Lakes Campground
Situated 10 miles from Telluride, this Colorado ghost town is perhaps one of our most scenic on the list. Alta was the center of gold mining activity from the 1870s to the 1940s, and in its heyday, hundreds of people lived there. Its demise came when a prominent mill burned down in 1948. As residents moved away, buildings and homes were left standing, abandoned and sacrificed to nature. Today, this Colorado ghost town is listed on the National Register of Historic Places, and includes original buildings like cabins, a boarding house and outhouses.
The surrounding areas and Alta Lakes are filled to the brim with camping, hiking and mountain biking opportunities. The ghost town sits at 11,800 feet, so be wary of the high elevation as you plan your peek into the past.
3. Ashcroft
Coordinates: 39.054112, -106.798430
Camping Nearby: Difficult Campground
Located in the Castle Creek Valley, just a few miles south of Aspen, Ashcroft features historic ruins and boasts a stunning mountain backdrop, which looks especially striking in the fall when the aspens paint the mountains gold. Before Ashcroft was a Colorado ghost town, it was known as Castle Forks City and was incredibly bustling. After two Leadville miners found silver in the valley, the town exploded. Two weeks after their discovery, the town had a courthouse and the streets were laid down. At its height, it was bigger than Aspen, had 3,500 residents, six hotels and twenty saloons. A rich strike eventually hit in Aspen, and residents fled there. Jack Leahy, the last remaining resident of the town died in 1939, making Ashcroft an official ghost town.
When you visit this Colorado ghost town today, you'll find several homesteads in a grassy meadow surrounded by mountains. To reach this western town from the past, take CO-82 west from Aspen. After ½ mile you'll reach a traffic circle. Here, take the 3rd exit onto Castle Creek Road. Follow this road for 11 miles to to Ashcroft.
4. Capitol City
Coordinates: 38.005945, -107.465476
Camping Nearby: Highlander RV Campground
Capitol City is located in southwest Colorado, 50 miles south of Gunnison. George S. Lee established the town in 1877, hoping it to be Colorado's capital and dreaming to be governor of the state. After silver was discovered here, Lee built mansion with lavish chambers. His mansion included a theater with an orchestra pit and a few ballrooms. The townsite included hotels, restaurants, bars, a post office, a schoolhouse, a sawmill and mining smelters. The town hit 800 residents, but when the cost of silver dropped, residents fled.
Today, there are only two original buildings left: the old U.S. post office and Lee's smelter shack. Around this Colorado ghost town, you'll also find evidence of outbuildings and brick kilns.
Accessing Capitol City requires a 4×4 vehicle. It is located 9 miles up a four-wheel-drive road called Henson Creek/Engineer Pass road.
5. Gothic
Coordinates: 38.959172, -106.989731
Camping Nearby: Gothic Campground
This Colorado ghost town once showcased 1000 locals, 200 buildings, a newspaper, a post office, and then-president Ulysses S. Grant even paid the town a visit. The town was supported by the region's silver mines, but once silver crashed, the town's population dwindled. The town was almost entirely deserted by 1914, but one man, Garwood Judd, remained 15 more years. A movie was made about him in 1928, entitled "The Man Who Stayed".
That same year, Western Colorado College professor, Dr. John Johnson, arrived in the abandoned town and recognized its rich diversity of local ecosystems. He began bringing students to study among the ruins of this Colorado ghost town. In 1928, he established Rocky Mountain Biological Laboratory. Since then, thousands of students and scientists have studied the ecosystems surrounding Gothic, making these ecosystems some of the most intensively studied in the world. Original buildings in Gothic have either been cleared or restored.
6. Independence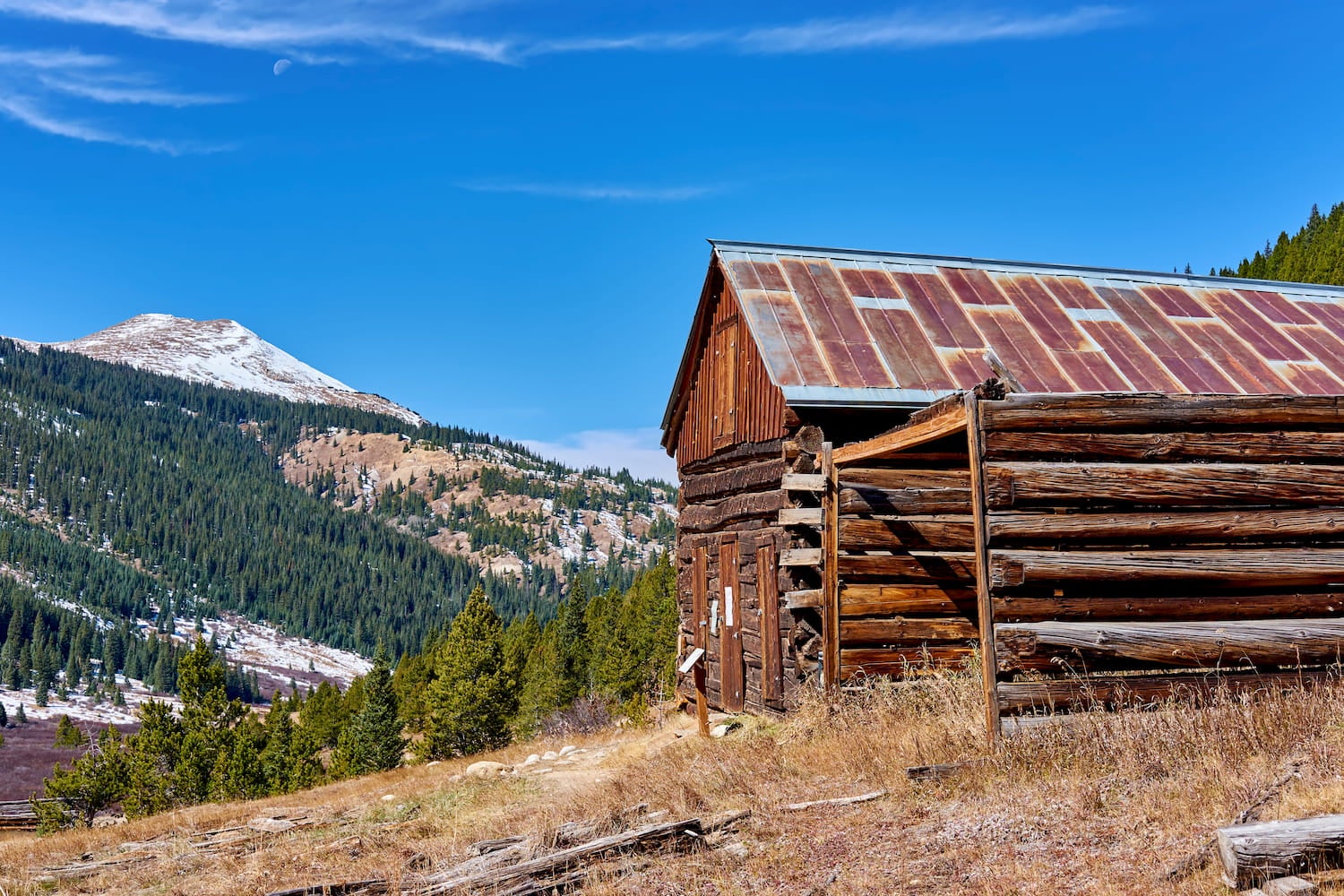 Coordinates: 39.106423, -106.605506
Camping Nearby: Lost Man Campground
Situated at 11,000 feet, Independence suffered extreme weather, so it's no wonder the town's residents didn't remain for long. The town was established in 1879 and at its peak had 1500 people. It was bustling. Independence had 40 businesses including 3 post offices and 3 saloons. But by 1890, people flocked to nearby Aspen, lured by warmer weather and better jobs. It was a vacant town by 1912. Though before it faded, the town produced $190,000 worth of gold between 1881 and 1882.
Situated at 11,000 feet, this Colorado ghost town can be difficult to reach, especially in harsh weather conditions, so we recommend visiting spring through fall. When you step into the mountain air of this ghost town, you'll find yourself surrounded by sweeping views of tall peaks and emerald valleys. With an incredible backdrop, this ghost town includes several remaining structures: a general store, stable, houses and Farwell Stamp Mill, once used to process mined ore. Hike along the dirt trail that connects the buildings to explore the remnants of this once-busting mining town.
7. Vicksburg
Coordinates: 38.998951, -106.376771
Camping Nearby: Chaffee County Dispersed Camping
Vicksburg is another well-preserved Colorado ghost town. It is nestled in Clear Creek Canyon between Buena Vista and Leadville that exploded into a town in 1879. The town's main street is still lined with the trees planted by settlers.
When touring Vicksburg, you'll also have the opportunity to visit three other ghost towns nearby, Vinfield, Rockdale and Beaver City, all strung along the same county road. The town included a black smith, cobbler shop, hotels, saloons, and a stagecoach even made a daily trip from Granite to Vicksburg.
In 1971, the historical society began maintaining the area. Today you can visit the on-site museum and the sprinkling of buildings. Some are even occupied seasonally by private owners.
8. St. Elmo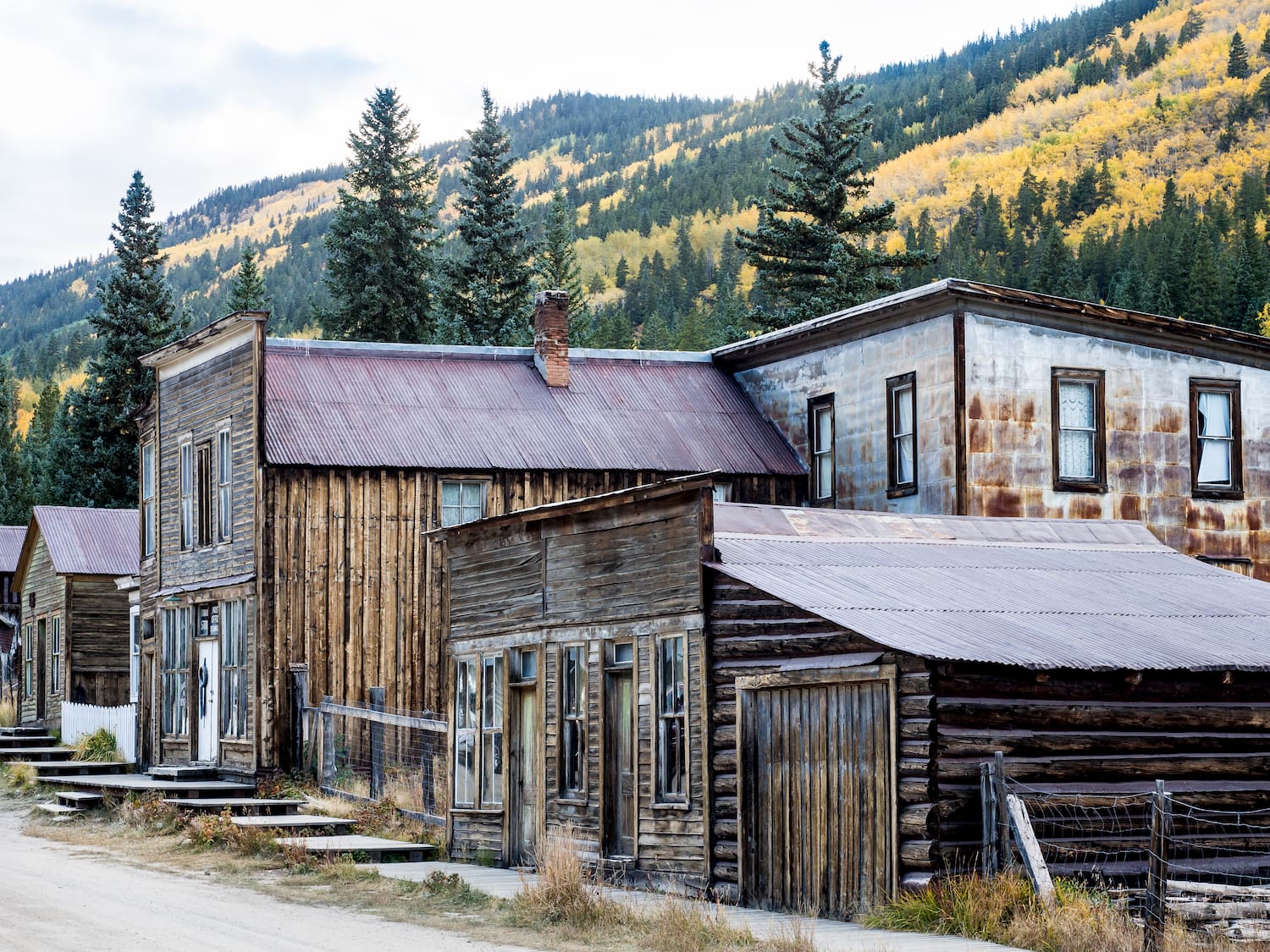 Coordinates: 38.703456, -106.345515
Camping Nearby: Iron City Campground
St. Elmo is one of the most well-preserved ghost towns in all of the western United States. Located in the Collegiate Peaks of Colorado's Rocky Mountains just southwest of Buena Vista, St. Elmo still has 43 buildings peppered throughout the town's skeletal remnants. Visitors will find a saloon, a courthouse/jail, a mercantile, and a litter of private homes.
Miners flocked to the area after finding silver and gold. Eventually, 2,000 residents filled the town at its pinnacle in 1881. The town was filled with saloons, dance halls, and a male-dominated population. The town dwindled with the closing of the train service to Chalk Creek Canyon in 1926. The town was officially population 0 in 1958.
Today, visitors can explore the few resurrected businesses in Saint Elmo. There is a General Store is open seasonally from May to September. The store offers a variety of souvenirs and antiques as well as a resource to rent ATVs and book a stay on a one room cabin which houses up to three people. There is also a year round, bed and breakfast in town, known as the Ghost Town Guest House.
---
This list of Colorado ghost towns was brought to you by AfterShokz

AfterShokz makes wireless headphones with a mic built in!
---
Related Articles
---
Related Campgrounds:
Popular Articles: