Just like Mount Hood's Timberline Trail and Mount Rainier's Wonderland Trail, the Loowit Trail encircles a volcano in the Pacific Northwest (PNW). It loops around Mount St. Helens in Washington State, roughly halfway between its crater and the foothills below.
The difference between the Loowit Trail and other perimeter trails in the region is that this one does not run through any forests or alpine meadows. Instead, you'll hike almost entirely through (the remnants of) a volcanic wasteland. As you circumnavigate Mount St. Helens in Gifford Pinchot National Forest, you'll see from up close what massive damage its 1980 eruption did—and witness first hand the resilience of nature as well.
It's an absolutely beautiful—even unique—hiking experience, a solid alternative to other, more popular, multi-day hikes in the PNW.
Mount St. Helens Hikes: Thru-Hike the Loowit Trail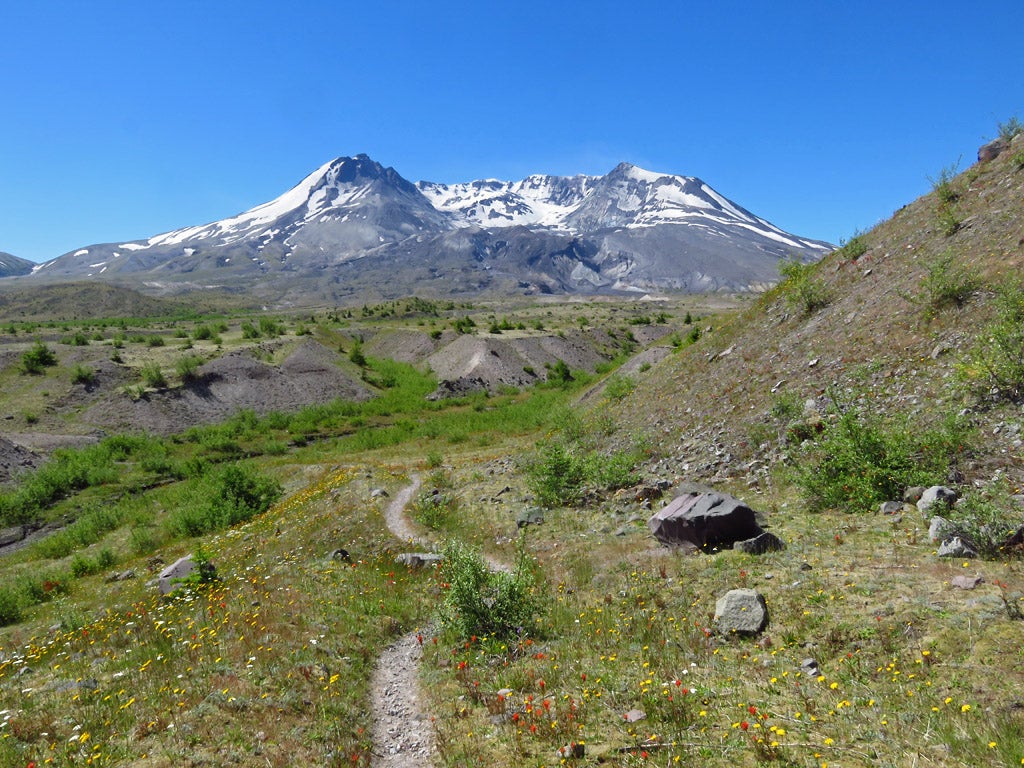 What to Expect from the Loowit Trail
More than 200 miles of trails crisscross Mount St. Helens National Volcanic Monument, offering views of the erupted summit, descending into canyons, and meandering through the blast zone. There are short day hikes and challenging overnight treks. The longest of all Mount St. Helens hikes, by far, is the Loowit Trail.
About 30 miles long, the Loowit Trail encircles the entirety of Mount St. Helens. The exact distance varies between 28 and 34 miles depending on the trailhead you pick. It offers an unparalleled way to see, feel and even smell the aftermath of a huge volcanic eruption. The trail traverses deep gorges and gullies on the mountain's flank, created by debris and lava flows, and crosses vast pumice plains and what's left of the old-growth forests that once covered the slopes.
The scenery is breathtaking, the area's geology fascinating. In summer, millions of wildflowers cover the fertile pumice plains all around the mountain, creating a colorful spectacle.
Note, though, that the Loowit Trail poses many challenges. Although relatively short, there are very few facilities on the way. No roads cross the trail at all, there's almost no water available, camping areas are sparse, and some sections involve crossing loose pumice.
Occasionally, you'll have to figure out your own way to get through deep gullies. Washouts happen regularly, shifting the trail from time to time. Keep in mind that a Loowit Trail thru-hike might involve unexpected detours, steep descents and rock scrambles. The total elevation gain is about 6,000 feet. Additionally, because you're hiking across volcanic plains and slopes, there is hardly any shade anywhere.
Preparation, navigation skills, proper equipment and previous backpacking experience are, therefore, key to a successful hike around Mount St. Helens on the Loowit Trail.
Best Time for Mount St. Helens Hikes
Summer is without question the best time for Mt. St. Helens hikes, including the Loowit Trail. The hiking window is from July through September, which has the highest temperatures, most sun and least precipitation. The best weather of the entire year, in other words. Also important because some sections are rather long, summer has the longest days.
On top of that, summer is also wildflower season. All in all, it's simply the best time of year for hiking Mount St. Helens.
Note, however, that snow may linger well into July at higher elevations, so make sure to check trail conditions before starting your hike. Also be aware that it can rain and even snow in summer, too. At night, it may freeze. Keep an eye on the weather forecast.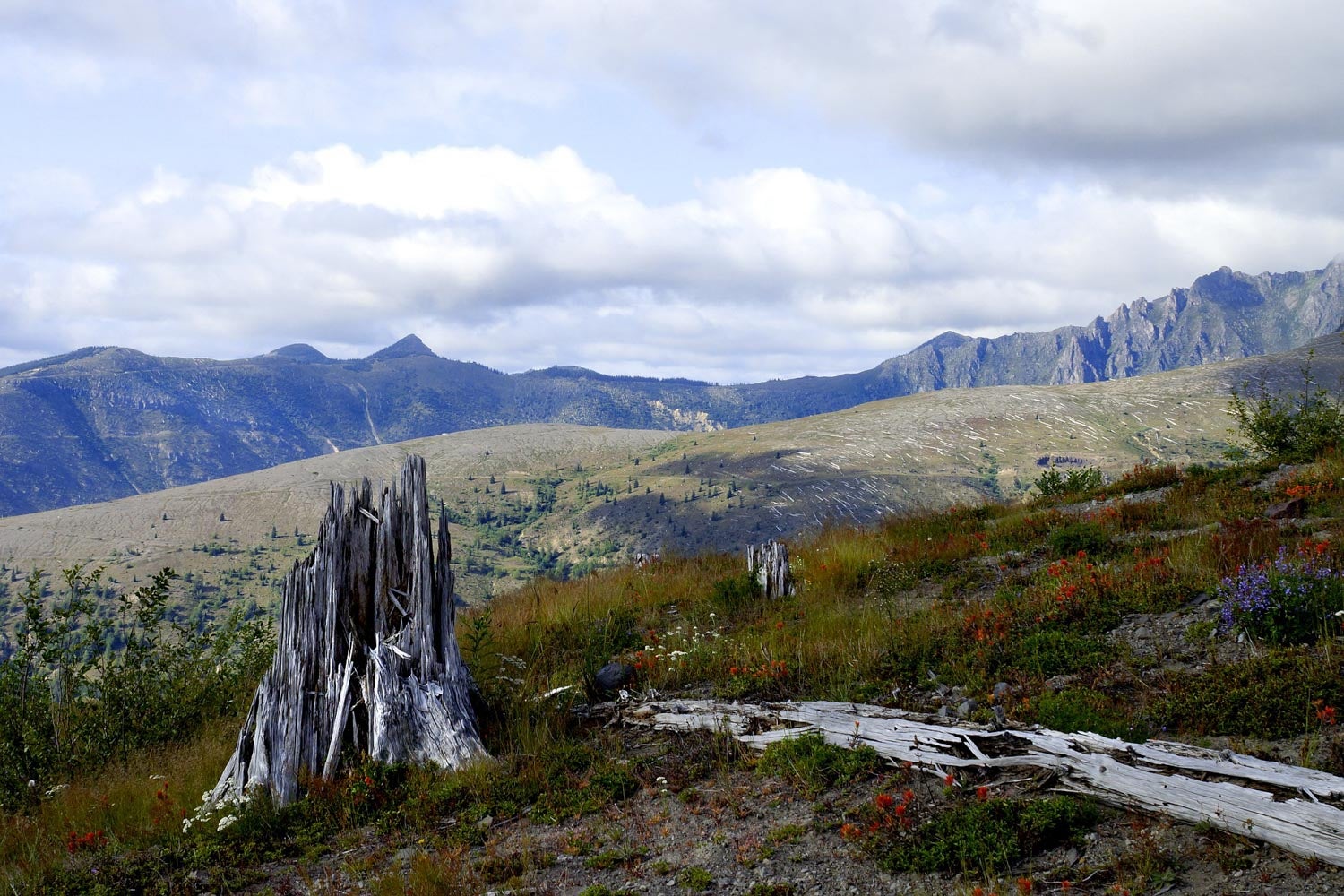 How Long Does It Take to Thru-Hike the Loowit Trail?
The Loowit Trail is 28 to 34 miles long, which means that most hikers are able to complete it in 2 to 4 days. Although undeniably challenging, it does make for a fantastic long weekend hike for experienced backpackers.
The trail is divided into a few separate sections, accessible via a number of trailheads. Those sections, incidentally, also make for a wonderful, yet long, day hike.
Trailheads
There are more than a half-dozen trailheads, offering access to the Loowit Trail on every side of Mount St. Helens. Some of the most popular ones are the Ape Canyon, Windy Ridge, Climber's Bivouac and June Lake Trailheads. Here is a great little map pointing out the different trailheads, along with the distance to the Loowit Trail itself.
You are, of course, free to choose wherever you start your hike and whether you hike in a clockwise or counterclockwise direction, but there are a couple of things to keep in mind.
The Mount St. Helens blast zone is on the north side of the mountain, a 10-mile stretch where absolutely no camping is allowed. Keep in mind that you'll have to cross this section in one push. Additionally, the roughest part of the trail is on the mountain's west side. This is where major washouts occur and where detours and/or scrambles might await. It's a good idea to cover these sections first, when your energy levels are highest.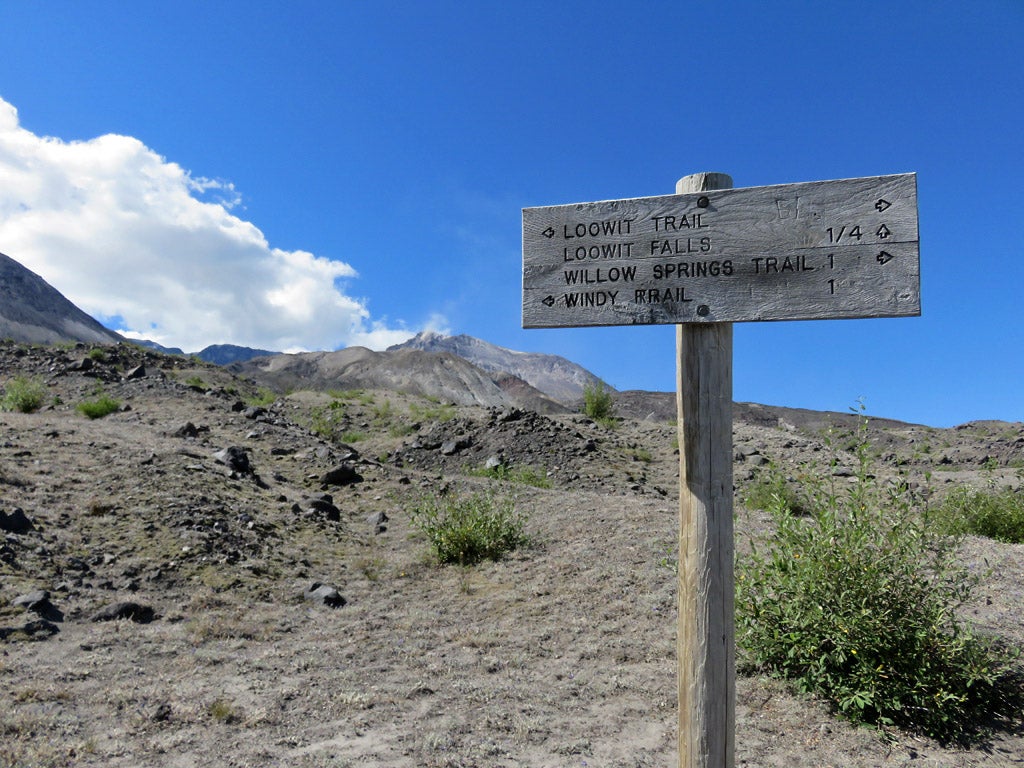 Permits
You do not need a backcountry or camping permit to hike around Mount St. Helens on the Loowit Trail. The only thing required is a valid Recreation Pass, which includes Interagency Passes and Northwest Forest Passes. Display it in your vehicle at your trailhead parking lot.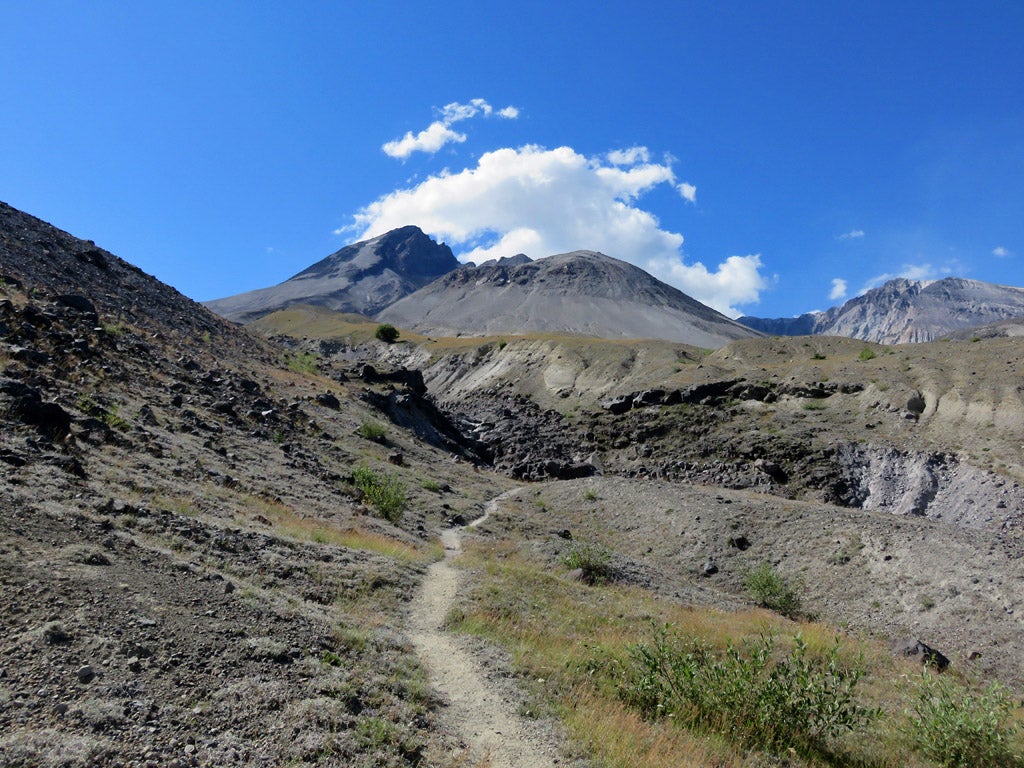 Loowit Trail Camping
Dispersed Camping
Thru-hiking the Loowit Trail involves backcountry camping. There are no designated campsites anywhere along the trail and, as such, no facilities to speak of. However, there are several spots that have clearly been used as dispersed camping areas, which is allowed. You're encouraged to use these previously claimed campsites, in order to keep your impact on the environment as low as possible.
The only thing to note about camping on the Loowit Trail is that the 10-mile section between Windy Pass and the Toutle River's South Fork, along Mount St. Helens' north side, is a no-camping zone. This stretch must be completed in one day.
Also, off-trail camping isn't permitted anywhere in Mount St. Helens National Volcanic Monument either. Stick to the sites you see along the trail.
Climbers Bivouac Campground
The Climbers Bivouac Campground is not on the Loowit Trail, but is right near one of its access trailheads. It's a potential spot to hang out before and after your thru-hike.
It is not recommended, however, to use it as a campsite while hiking the Loowit Trail. Because it's more than 2 miles one way from the campground to the intersection with the Loowit Trail, this would add some unnecessary miles to your total distance.
The campground has pit toilets, but no water. You can pitch a tent at the tent pads, which are available on a first-come, first-served basis. There is a parking fee of $5 per vehicle, but that is waived if you have a valid Recreation Pass.
This is a relatively busy campground, as it also offers access to the summit trail, another of those popular Mt St Helens hikes in summer.
"This is a pretty primitive campground, great for coming in, parking, setting up and spending one night. There are very few amenities at this place: just a few fire rings (note fire bans), no potable water, pit toilets and no tables. On the good side, there are no camper fees and only a $5 car fee. Offers an entry to some great hikes/runs on St Helens." – The Dyrt camper Mary C.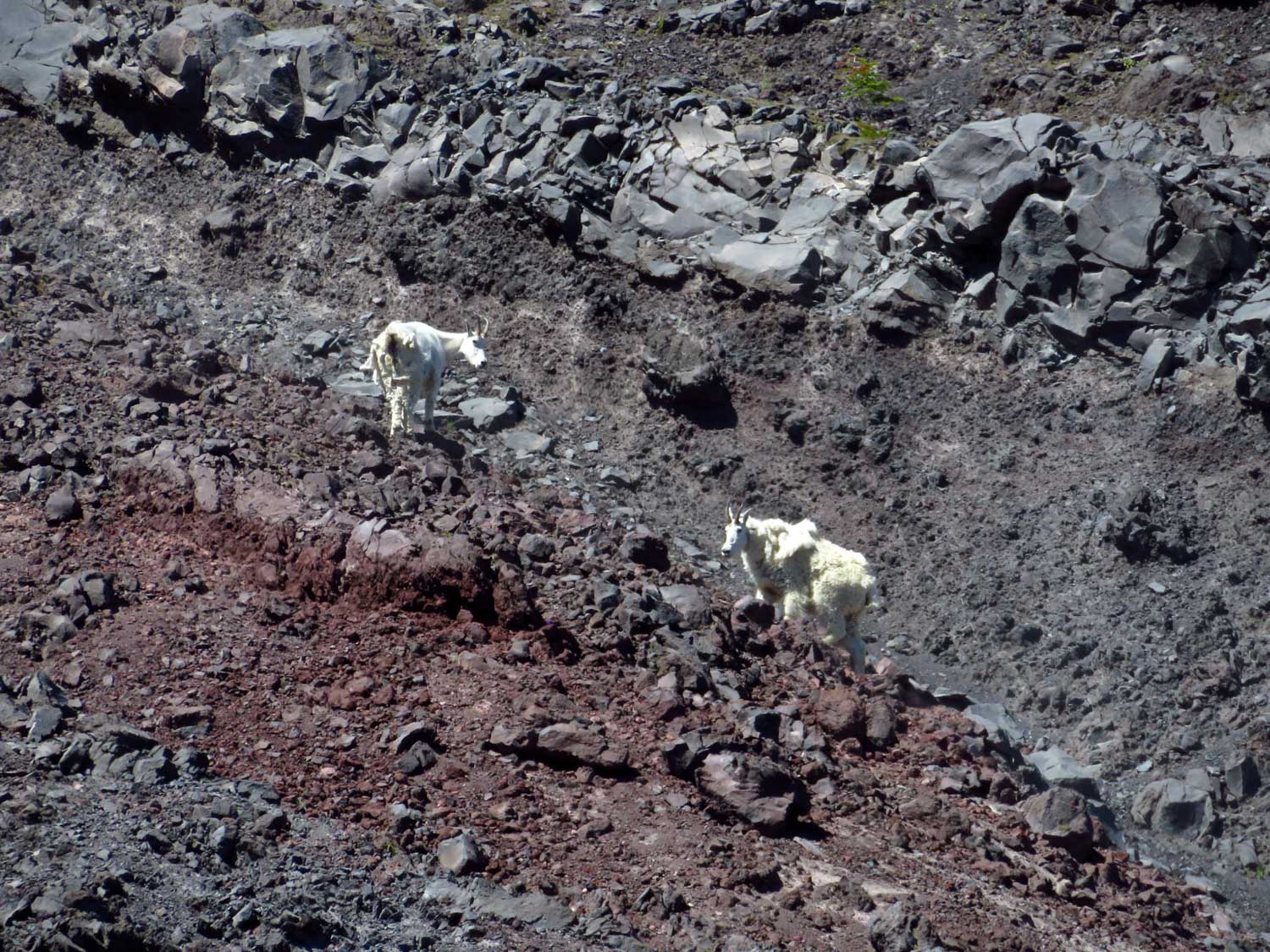 Food & Water
Finding water is one of the biggest challenges you'll face while hiking around Mount St. Helens. While snowmelt still feeds springs and streams in early summer, come August and September, water sources become quite scarce.
There are, however, a few year-round springs on the Loowit Trail, so don't forget to top off your water bottles/camelback. Also make sure to filter all water you find along the trail.
½ mile from the Windy / Loowit intersection
¼ mile from the Toutle / Loowit intersection on the Toutle River
1 mile from the Butte Camp / Loowit intersection on the Butte Camp Trail
Remember that there is very few shade on the Loowit Trail and that it can get quite hot at Mount St. Helens in summer. So, no matter which Mount St. Helens hikes you decide to do, bring and drink plenty of water.
In terms of food, you have to carry all sustenance you'll need for the duration of your hike. There are no supply points of any kind on the way. Pack food and snacks for at least four days, even if you're planning to complete your hike in less time.
Keep in mind that this is a difficult hike and that unexpected detours and other challenges might extend the time needed to finish it.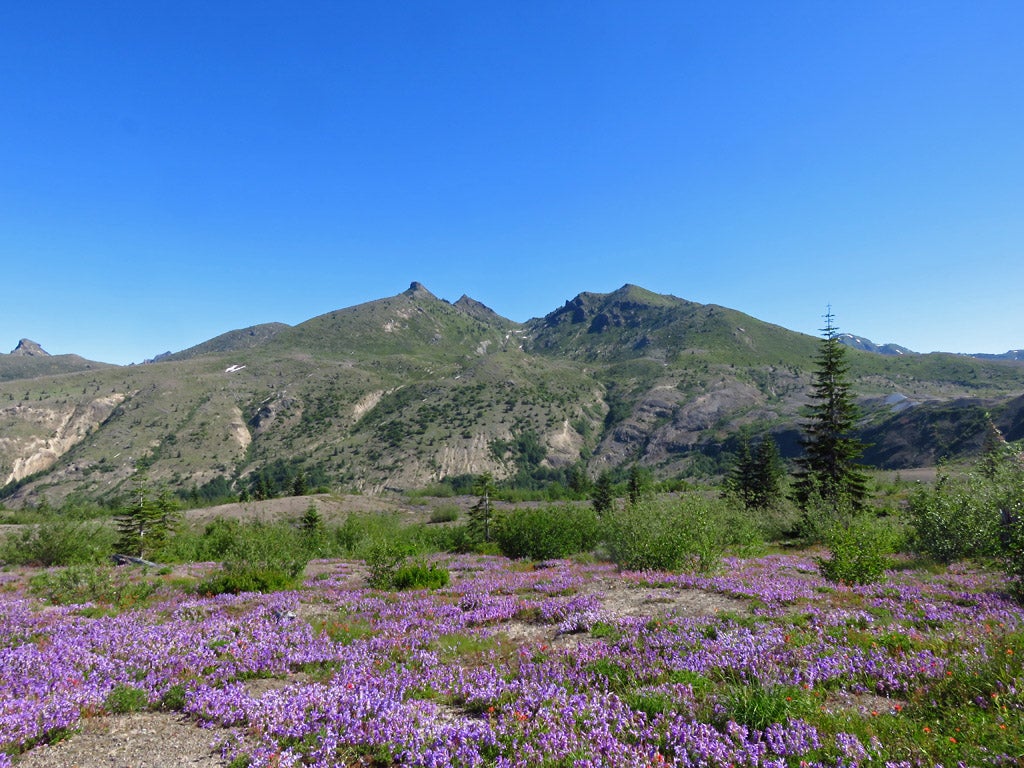 Gifford Pinchot Wilderness Regulations
Several rules apply to the wilderness areas in Gifford Pinchot National Forest. Those that are of importance to thru-hiking the Loowit Trail are the following.
You must have a permit to enter any wilderness in the national forest.
The maximum group size, including pack or stock animals, is 12.
You may not shortcut a switchback trail.
You may not leave equipment, personal gear or supplies unattended (known as caching) for more than 48 hours.
It is prohibited to be in an area that is posted as being closed for wilderness restoration or rehabilitation.
Camping is not allowed in the 10-mile section between Windy Pass and the South Fork of the Toutle River. This restricted area encompasses the 1980 blast zone.
---
Related Campgrounds
Popular Articles: