These historic places are brought to you by our friends at Ethnotek. They are committed to celebrating the stories woven into places around the world, from Guatemala to India to Ghana and Vietnam. Ethnotek's travel daypack is just the right size to go on adventures with you as you live your own stories. 
---
A lot of history has happened in the 242 years since the Declaration of Independence was signed. It's incredible to think about how places we now think of as very close-knit and urban, like the Northeast megalopolis that contains Philadelphia, New York, Baltimore, Boston, and Washington D.C., was once a thickly forested wild frontier, beyond which European settlers had never set foot. As Americans expanded west, however, they left behind a whole host of historic places, artifacts, atrocities, and curiosities that continue to pique modern interests.
Whether you're a big history buff who enjoys things like Civil War reenactments or you just want to keep the kids' knowledge fresh during summer break, it's super easy to turn your long weekends and PTO into a trip back in time. We found seven campgrounds that are as close as possible to where historically significant events took place, often with museums on the property and where you can get a taste of how colonial Minutemen, Antebellum soldiers, frontier pioneers, Western gunslingers, and loyal patriots once lived.
7 Historic Places to Camp in the U.S.
Not only do these campgrounds offer a lot to learn, they also pack plenty of amenities, natural wonders, and opportunities for some good old fashioned R&R.
1. Boston Minuteman Campground, Massachusetts
With a name like "minuteman" it should be no surprise that this campground is smack dab in the middle of colonial and Revolutionary War history. Boston Minuteman Campground offers tent sites, RV hookups, and cabins, so no matter your camping style, there's sure to be something to suit. As The Dyrt Ranger Casi O notes, "For being in an urban area, you don't feel it once in the campground. You might hear a distant train, but not too much else. The location was perfect to see so much in the area (Minute Man National Historical Park, Boston, Salem, Plymouth, Cape Cod, Providence etc)." Camp Here
2. Fort Mcallister State Historic Park Georgia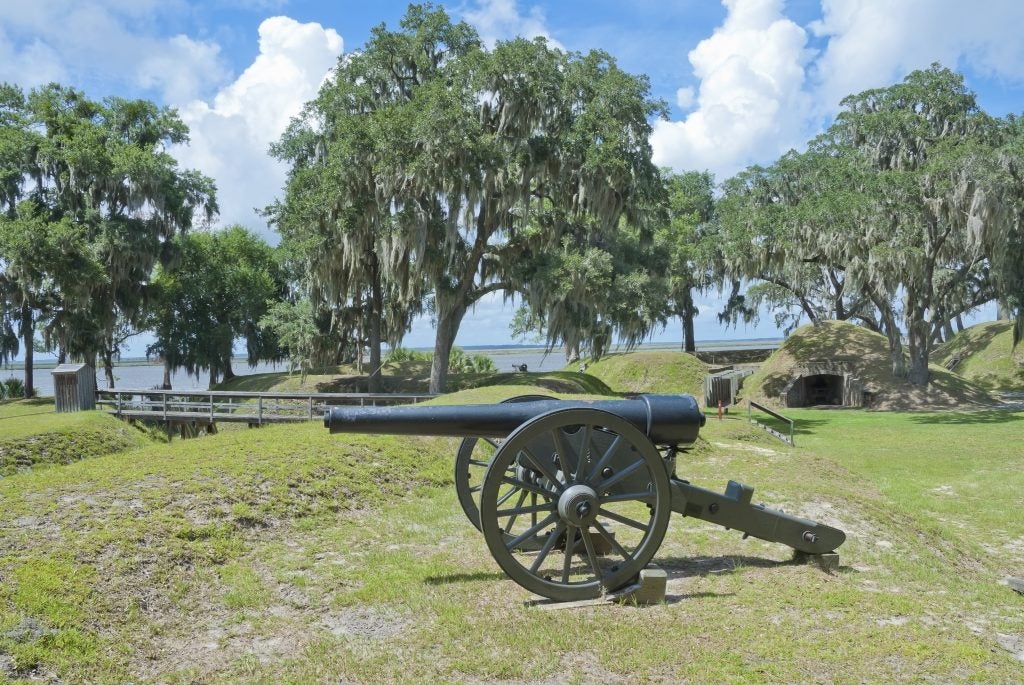 Just south of Savannah, Fort Mcallister State Park is a Civil War buff's dream. The campground is actually on the site of a historic battle, and the old earthworks are still visible. There's a Civil War museum, too, as well as plenty of other artifacts to discover amongst the gorgeous coastal scenery. The Dyrt Ranger Joy D. says, "The fishing pier was nice, and there was canoes and kayaks for rent. The museum was amazing. Make sure you plan at least a half day or more to walk the outside that the Confederate daughters have refurbished. The bunkers, the cannons, the ovens to heat the cannonballs are all a walk down history. It makes it come alive." Camp Here
3. Trail of Tears State Park Missouri
During the winter between 1838 and 1839, thousands of Cherokee were forced to cross the Mississippi River on their way to Oklahoma along the Trail of Tears. This State Park serves as a memorial where they made the crossing, and the visitor's center is also a museum which tells the story of those who passed through these historic places and those who died during the journey. The Dyrt Ranger Lynn G. writes, "Be ready for strong emotions here among the natural beauty. The museum should be visited first, followed by peaceful walks on the many trails."
It isn't all sobering history, however. Trail of Tears State Park is also a beautiful natural area that boasts year round activities. Lynn G. adds, "There are two campgrounds, one for tents and one with electricity/hookups (tents welcome there too). The latter is open all year so you can enjoy XC skiing." And as The Dyrt Ranger Barbara L. notes, there's geocaching to try, too. Camp Here
4. Ingalls Homestead, South Dakota
If you loved the Little House on the Prairie series by Laura Ingalls Wilder, you'll get a kick out of camping on the Ingalls Homestead. It was here in De Smet, South Dakota that the Ingalls family lived during Laura's adolescence and the early years of her marriage to Almanzo Wilder. In fact, the Ingalls family lived in De Smet so long that five of Laura's books are set here, including By the Shores of Silver Lake, The Long Winter, Little Town on the Prairie, These Happy Golden Years, and The First Four Years. At the Ingalls homestead, you get to choose between camping in a tent site, RV site, the bunkhouse, or one of 4 covered wagons. The wagons sleep from 3-5 and are outfitted with electricity, screened windows, a small fan, a campfire ring, and a picnic table. That's appealing even to your friends and family who claim they don't camp (yet!). Camp Here
5. Rock Creek Station Nebraska
Independence City, Missouri and Oregon City, Oregon are far more famous for their Oregon Trail associations than Rock Creek Station. But this Nebraska town is special because you can still see the deep ruts carved by the many wagon trains that passed through here on their way west. Not only that, this former Pony Express station is also famous for the exploits of "Wild Bill" Hickok, one of the original frontier heroes who helped establish the mythology of the Old West. True to the park's pioneer history, you can still enjoy horse camping here, with amenities for both you and your four legged friend. Camp Here
6.  Donner Memorial State Park California
Some might feel the heebie-jeebies camping at the site of the infamous Donner Party tragedy. For those that aren't so squeamish, this State Park is a big piece of California history and one of the more historic places from the expansion of the West. Donner Memorial SP stands out, too, as a handicapped accessible campground. The Dyrt Ranger Chris K. notes, "I am in a wheelchair so we had a handicap site. All the sites were clean and had nice fire pits with a grill grate. Close to the 80 freeway but the noise wasn't bad. Definitely coming back to camp here and explore!"
As well as being close to Donner Lake, Donner Memorial State Park isn't far from Lake Tahoe (aka the Bay Area's back yard). Enjoy the Donner Museum while you're here before popping into the nearby town of Truckee for pizza, filling diner breakfasts, and other good eats. Ethnotek's cross-body Cyclo travel sling is a great alternative to a day pack if you'll be switching back and forth between campgrounds and Main Street sites. Camp Here
7. Sand Island State Recreation Area Hawaii
Hawaii is known for gorgeous beach campgrounds, luscious tropical day hikes, and the occasional volcanic eruption. You can enjoy the first two just a 20-minute drive from some of Honolulu's most serious historic places, including the resting site of the USS Arizona and the Pearl Harbor Memorial. Afterwards, you can unwind by Sand Island's crystalline waters, which The Dyrt Ranger Leah P. reports are ideal for body surfing.
Be aware that Hawaii Sand Island State Recreation Area is a pretty urban campground close to two airports and popular during the day with off-road enthusiasts, so you're swapping convenience and historic significance for complete solitude in nature. That said, it's hard to beat the incredible Hawaiian sunsets you'll catch.  The Ethnotek Padu Zipper Pouch and Padu Dopp Kit Toiletry Bag are perfect for freshening up before you grab a bite at Ethel's Grill, a blue collar Honolulu classic super close to Sand Island. Camp Here
It's a big, big country out there. From coast to coast there are 2,680 miles of America to explore, with historic places to be found around every corner. These seven campgrounds are just the tip of the proverbial iceberg, so don't stop here.
---
You can win free gear from Ethnotek and 20 other outdoor brands by reviewing campgrounds on The Dyrt. Share past camping experiences, photos, and videos to earn points towards monthly prizes in The 2018 Great Camping Giveaway!
---
Related Campgrounds:
Popular Articles: