While the Rocky Mountains aren't known for a tapestry of fall colors like the Smokies and the Appalachians, they do have aspen groves, where gold and crimson leaves flutter between graceful white trunks. It's a unique autumnal scene for lucky campers who know where to look.
Camping in the mountains during the fall means chilly mornings, clear nights, and less crowds than summertime. And for views of those changing aspen leaves, early fall is the perfect time to camp in Colorado.
Colored Aspen Groves Are Coming to Colorado's High Country
In our semi-professional opinion, anyone interested in catching the fall colors will want to pack their gear and get out there ASAP. It's looking like Colorado's fall colors will peak in early to mid-September instead of the usual late September/early October window.
TIP: To make the most of the colorful days, try using the CO State Parks 'Park Finder' to identify just where the fall colors are happening. Even if you don't plan on camping in a park, it is a good indicator of which areas are experiencing peak foliage.
We've narrowed down the hundreds of beautiful campsites to the top five high country beauties: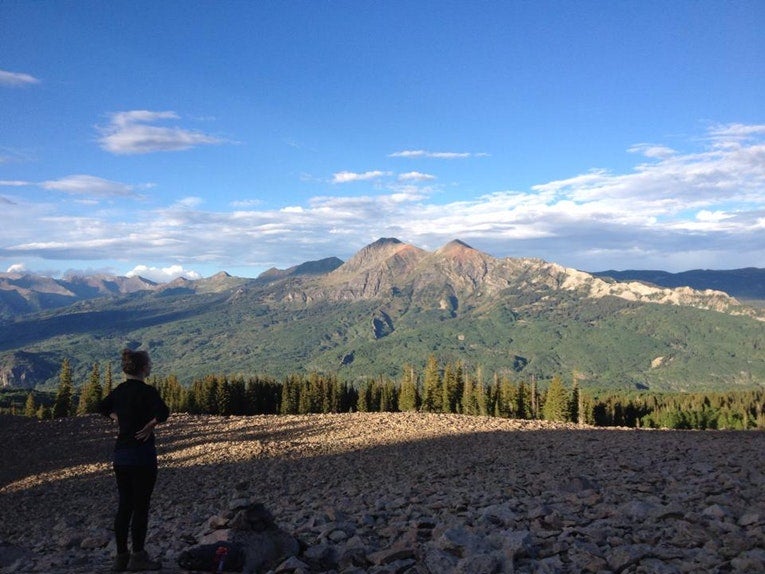 High up in the less-traveled Elk Mountain Range is the lovely Lost Lake Campground. This is an incredible campsite for RVs and families in an area which is notoriously difficult to find camping for either. The aspen trees are woven into the many campsites, and the namesake lake is excellent for fishing, SUPing, and paddling. Be sure to wake up early one morning when the lake is still to capture the fall foliage in perfect reflection! Drive down into nearby Crested Butte for even more stunning leaf displays.
"Great trails surround this campground . Spectacular fall foliage! Camp host you can get wood from. Bathrooms and great hammock spots, nice pull in spots for your car, accessible in any vehicle!" — The Dyrt Camper Ali W. Camp Here
Although the campsite itself is not set in the aspen groves — rather surrounded by grand ponderosas — you can camp with a lake view, looking up at 12, 508′ Hope Pass, and nearby Independence Pass, where giant swathes of gold and crimson aspens cover the landscape. Or if you get bored of that view, you could turn around and take in 14,433′ Mt Elbert (highest peak in Colorado) and the giant groves of color which cover it's southern base. Drive through the town of Aspen and over Independence Pass for further immersion in the color. RV and tent sites available.
"My kids and I have camped here many times. The hosts are always nice. The grounds are clean and uncrowded. Views of the lakes surrounded by mountains are gorgeous!!" — The Dyrt Camper Krista S. Camp Here
Tucked up against the wild Weminuche Wilderness, northeast of Durango, CO, Vallecito Campground is one of the largest in the San Juan National Forest. Again, the drive is half of the appeal. Winding through the rugged peaks of southwestern Colorado, County Road 501 gives you all the stunning fall photos you could want. Just before the campground, Vallecito Reservoir offers further recreational opportunities. There is a mix of foliage within the campground itself. Pine, spruce and gambol oak (also known as scrub oak) create dramatic contrast to the iconic golds of Colorado aspens.
"This area is such a beautiful area. One of the most beautiful in Colorado and that's saying a lot. Our site was big and it was right by Vallecito Creek." — The Dyrt Camper Andy O. Camp Here
Cottonwood Lake Campground is located high above the town of Buena Vista, Colorado, in the Grand Mesa Uncompahgre National Forest. It is easy to get to, and can be quite popular on weekends. The gently sloping hillside of the campground is covered with young aspen groves, and the lake is well known for fishing, so be sure to bring your gear and check regulations with Colorado Department of Wildlife.
"Lots of trees, so hammocking is a great option." — The Dyrt Camper Madeline H. Camp Here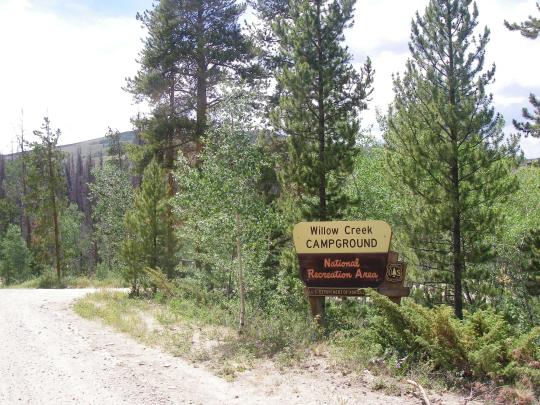 This one is definitely a 'save the best 'till last scenario.' If you are visiting Rocky Mountain National Park for fall color viewing, but want to avoid the crowds, Willow Creek Campground is located just outside the southern entrance to the park near the town of Granby. It is one of the newest campgrounds in the National Forests of Colorado, and has 35 individual sites and one group site. It is a first come, first served site. The hills surrounding the reservoir are dotted with aspen groves, open meadows, and views for miles. We can't wait to hear more about this new little gem from some of our boots-on-the-ground campers, and look forward to seeing the incredible foliage of this fall in the mountains! Camp Here
---
Related Campgrounds:
Popular Articles: