This Colorado backpacking guide was brought to you by Gregory, the makers of backpacking packs that fit comfortably and fit all of your gear for your next backcountry adventure.
---
It's impossible to think of Colorado without picturing the Rocky Mountains. The steep and stunning landscape of Colorado has brought skiing fanatics to its infamous slopes for decades. More recently, however, Colorado has become one of the most moved-to states in all of the country partly due to its year-round adventure access. One of the most holistic, soul-filling and challenging ways to experience this beautiful state is through backpacking.
8 Colorado Backpacking Trips You Shouldn't Miss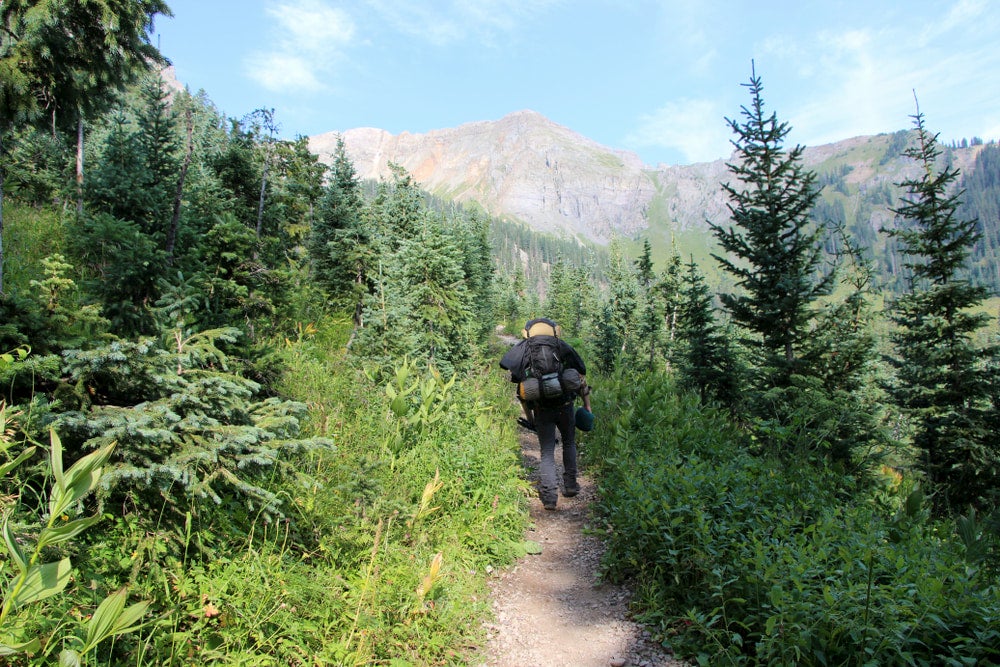 The summer and fall in Colorado offer particularly glorious views and conditions, so for those seeking to explore more of Colorado's wilderness areas, we've identified some of our favorite backpacking trips.
Whether you call the Centennial State your backyard or you're planning an adrenaline-filled vacation, these Colorado backpacking trips will keep you bright-eyed and challenge your athleticism. These eight trips vary in distance, difficulty and seasonality, so make sure you are prepared for your Colorado backpacking trip.
Trailhead: Conundrum Creek Trailhead
Distance: 16.7 miles
Elevation Gain: 2,791 feet
Route Type: Out and Back
Season: June – October
Permit Required?: Yes (year round)
This out-and-back trail has become wildly popular in the past few years and as a result, now requires a permit. Though popularity is a deterrent for some backpackers, backpacking to Conundrum Hot Springs is well worth the hype. Now that this year-round permit system is in place, solitude and peace have been restored to this gorgeous valley.

The 102-degree hot spring is the obvious highlight feature of this backpacking trail, but you'll find plenty of beauty in the 8.5 miles to the springs. While climbing 2,791 feet, you'll pass a myriad of wildflowers in July and shimmering, golden aspens in September and early October. You may even see moose, bears or marmot. Bear canisters are required for this trail as well.
The climb to the springs is difficult, so be prepared for a challenge and remember to pack light, and condense your items as much as possible. The Rockies are infamous for erratic weather, so be prepared for rain or snow depending on the time you go and pack warm layers for night time. There are three major creek crossings, two of which have bridges built for you and one that will require you to cross it. That said, there are plenty of water resources along the trail, but remember to be carrying at least two liters at any given time.
Once you reach the hot springs, you'll have the opportunity to soak in the steamy pool with your friends and make some new friends if you're so inclined. This soaking pool is clothing optional, so be prepared to see those embracing nudity or trying it out for yourself. You can enjoy the panoramic views of the breathtaking valley below and enjoy the presence of the towering Cathedral, Conundrum, and Castle Peaks. There are 20 campsites with varying group sizes.
Post Hike: Try Hops Culture in Aspen for a beer and pizza or a juicy hamburger.
2. Four Pass Loop
Trailhead: Maroon-Snowmass Trailhead
Distance: 27.1 miles
Elevation Gain: 7,327 ft.
Route Type: Loop
Season: No
Permit Required?: No
This Colorado backpacking trip is true to its name – it skirts over four high-elevation passes in 27 miles in the striking Maroon Bells Wilderness and Elk Mountains. This trail is a favorite among Colorado residents and is typically done as a three to four-day backpacking trip but can be completed in one day as a challenging trail run. This loop is particularly popular in the fall, as the aspens are innumerable and entrance hikers with trails lined in gold, red and orange hues. This is a more challenging route, and best for intermediate to advanced backpackers.
You will begin at the trailhead at Maroon Lake, which you can access via your own personal vehicle before 8am or after 5pm. If you want to access the trail during those hours, you'll have to take a shuttle and pay a $10 entrance fee. If necessary, hikers can camp at West Maroon Portal before beginning the journey.
Along the journey, you will witness incredible alpine scenery as you climb four 12,000+ foot mountains, walk among oodles of wild flowers or fall foliage, depending on the season. Be prepared for challenging terrain and many uphill battles. The incredible scenery will keep you motivated, but be aware of your skill level and be prepared for altitude sickness if you are sensitive to high elevation hiking.
Post Hike: Grind in Glenwood Springs offers gourmet burgers for meat enthusiasts and vegan/vegetarians alike.
3. Zirkel Circle

Trailhead: Slavonia Trailhead
Distance: 10.3 miles
Elevation Gain: 2,463 ft.
Route Type: Loop
Season: June – September
Permit Required?: No
Northern Colorado are still somewhat off the beaten path, so trails will likely greet you with more solitude and silence than backpacking trips in the Front Range of Colorado. This trail near Steamboat Springs, Colorado can be done in a day or done as a short, two-day backpacking trip. The Zirkel Circle is a favorite among Northern Coloradans and is only moderately trafficked. The highlight of this trail is easily Gilpin Lake, a shimmering lake surrounded by rugged mountains, a view that easily mimics alpine scenery of Switzerland. The lake is about half-way along the trail, making it an ideal place to camp. Hikers must camp at least ¼ mile away from the lake.
We recommend hiking counterclockwise. Gold Creek Lake is a great place to stop for lunch on the way to camp at Gilpin Lake. Additionally, hiking counterclockwise has a lower sustained grade. Along the trail you'll encounter lakes and streams that are fantastic for fly fishing. You may also encounter black bears, so a bear canister is recommended, but not required.
Post Hike: Aurum in Steamboat Springs is great for fancy cocktail to treat yourself for all of the hard work.
4. Venable-Comanche Trail and Phantom Terrace
Trailhead: Alvarado Trailhead
Distance: 12.3 miles
Elevation Gain: 3,884 ft.
Route Type: Loop
Season: May – November
Permit Required?: No
Located in the heart of the Sangre de Cristo mountains, this Colorado backpacking trip is popular in fall as the trail winds through aspen groves that famously boast their shimmering golden leaves come September. Bring your fishing pole and fish in Venable Lakes or Comanche Lake. This trail offers sweeping views of The Sangre de Cristo Mountains, a rugged and narrow range in Southern Colorado.
You'll begin at Venable Trail and have the option to camp at Alvarado Campground before hiking or go ahead and begin making your way. Make sure to look for open, flat areas where it looks like campers have camped before for best Leave No Trace practices. On the trail, you'll skirt along the very narrow trail known as Phantom Terrace. Its spooky name originates from the trail being difficult to see and the seemingly steep drop off from the trail. But the trail is wider than it looks once you're on it. Starting on the Venable Lake side of the loop (counterclockwise) will allow you to go down the Phantom Terrace, rather than making the hefty climb up.
Post Hike: Chappys Mountain View Bar & Grill in Westcliffe has mouth-watering burgers and steaks to enjoy the flavors of Colorado's western heritage.
5. Baker Gulch to Bowen Gulch Lake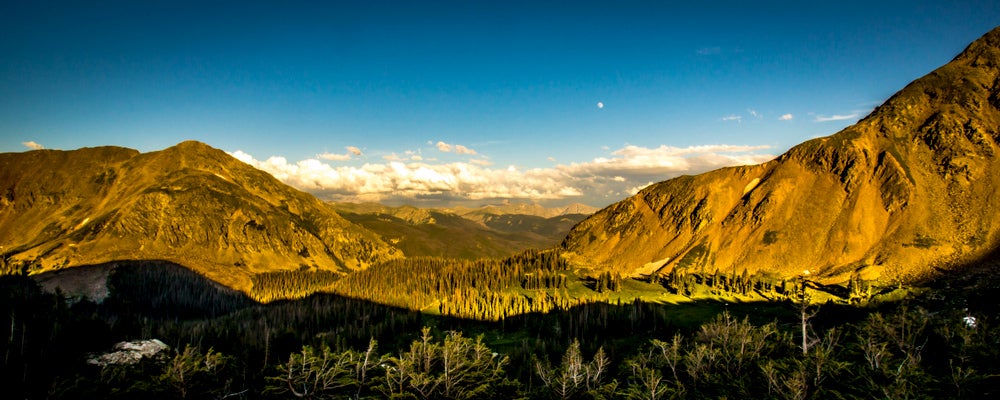 Trailhead: Bowen/Baker Trailhead
Distance: 19 miles
Elevation Gain: 4,757 ft.
Route Type: Loop
Season: April – October
Permit Required?: No
This dynamic, challenging and scenic Colorado backpacking trail is great for beginner backpackers interested in a higher-mileage backpacking trip. The trail begins in Rocky Mountain National Park, so you will have to pay the $20 entrance fee if you do not have a pass. You'll drive along the tallest road in the U.S., the Trail Ridge Road, which offers incredible views of the Rocky Mountains by vehicle. Once at the trailhead, hikers have the opportunity to trek over a 13,000 foot mountain, brush up against the abundant, knee-high wildflowers, witness a moose mother and baby, and catch a fish for dinner.
Anyone interested in backpacking will enjoy this trail, but a fly fisherman will be particularly delighted by the casting opportunity on the trout-laden alpine lakes. Parika Lake and Bowen Lake offer some of the best early-season cutthroats of the season in the Never Summer Wilderness, so make sure to bring a lightweight rod and cook up a fresh-caught dinner.
Moose are another fauna that roam proudly and in large numbers in the Never Summer Wilderness. You will likely see a mother moose and her baby or a small herd of male moose. Be sure to be wary of their presence and follow moose safety protocol. Do not bring your pets on this trail, as they can cause moose to become aggressive.
A great place to camp or enjoy a bite to eat is Parika Lake, if you're going counterclockwise. There are plenty of water resources along the way, so water should not be an issue.
Post Hike: Nepal's Cafe in Estes Park is fantastic for authentic, delicious Nepalese food.
6. Silver Basin Loop
Trailhead: Horse Ranch Lake Trailhead
Distance: 15 miles (with option to add 6 miles to Oh Be Joyful Pass)
Elevation Gain: 3,677 ft.
Route Type: Loop
Season: July – September
Permit Required?: No
If you are searching for a backpacking trip with endlessly panoramic views, the Silver Basin loop near Crested Butte is the Colorado backpacking trip for you. This trail is great for beginners, as it is rated moderate because it is relatively short as backpacking loops go, and the elevation gain is low grade. This trail is fantastic in the fall as it boasts Colorado's famous aspens. Along the trail you'll witness the Ruby Range, characterized by their deep shades of red. This range is composed of the Maroon Formation, giving it a red hue, similar to the Maroon Bells near Aspen.
You'll have the option to add 6 round trip miles to your trip by climbing up to Oh-be-Joyful pass. If you don't mind adding mileage to your trip, this detour is highly recommended. You will be greeted with incredible alpine scenery and panoramic views of a glacial valley and countless peaks along the Ruby Range.
After this pit stop, the trail becomes relatively easier. You will continue your last leg along the Dark Canyon Trail, which follows a creek for any water you'll need on the last day. You'll also experience the Devil's Stairway which drops 1,200 feet in .75miles. After that, the trail continues at a relatively easy grade from 8,640 feet to 9,400 feet over 7 miles before returning to Horse Ranch Lake trailhead.
There are plenty of water resources along the trail, but water should be treated before drinking. Be cautious of afternoon thunderstorms in the summer months. And, as with any backpacking trip, make sure you bring along more than enough backpacking food and easy options for meals to go.
Post Hike: The Secret Stash in Crested Butte will leave you thinking about their pizza for weeks to come.
7. The Last 23 Miles of The Colorado Trail (Southbound)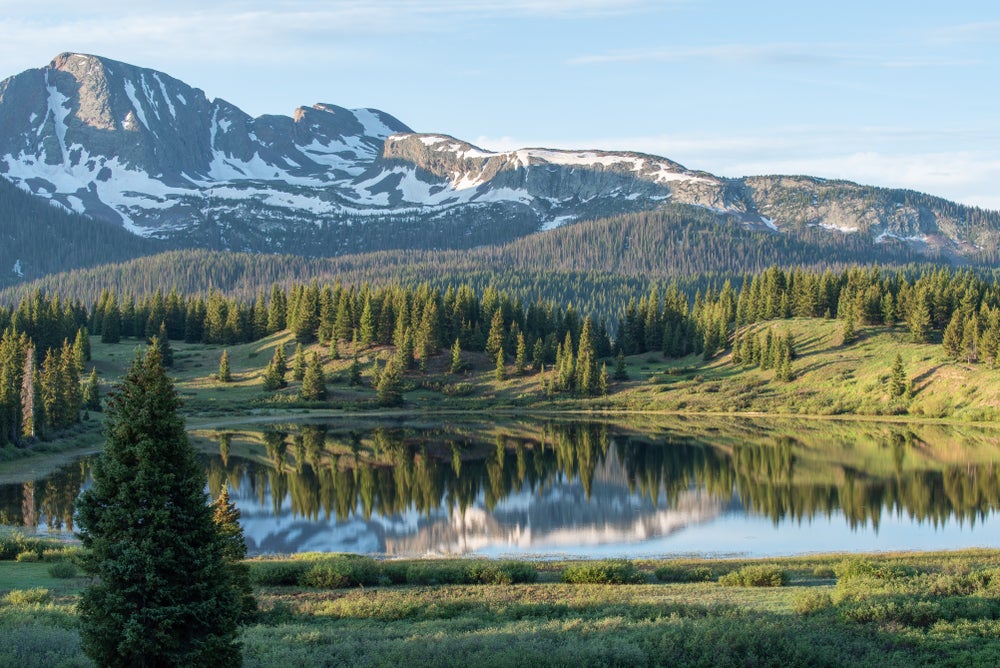 Trailhead: Little Molas Lake
Distance: 23.2 miles
Route Type: Loop
Season: July-October
Permit Required?: No
The San Juan Mountains in southwestern Colorado are arguably the most beautiful pocket of Colorado. Even Colorado residents don't explore much of this range because it is hard to access, but that in turn helps keep it a remote wilderness area.
The 485-mile Colorado Trail epically ends in this gorgeous mountain range, and is argued to be some of the most beautiful sections of the trail. If you're interested in the Colorado Trail, but don't have a month to spend walking, this is a great Colorado backpacking trip to experience the last four sections of this stunning trail.
These sections of the Colorado trail are so beautiful because they are at or above timberline for most of the hike. The trail contours around monstrous peaks with and passes a line of stunning dark volcanic cliffs.
There are lots of water resources along this hike, but it should be treated. The hike is exposed to make sure to be wary of lightning.
8. Rawah Lakes Loop
Trailhead: West Branch Trailhead
Distance: 23.2 miles
Elevation Gain: 4,022 ft.
Route Type: Loop
Season: July-October
Permit Required?: No
This Colorado backpacking trip is best completed in late summer or early fall, as there is typically a lot of snow until the late summer season. Summer offers emerald green mountains and pleasant temperatures. The fall permits trails lined with tall aspens in mass amounts in a fiery palette. The loop can be completed in 2-3 days with Upper camp lake, Rawah Lakes and Twin Crater Lakes being a great spot for lunch or camp depending on your route. Hikers can begin their journey from the parking lot and camp in well-used areas, or camp at Tunnel Campground before beginning the journey.
Post Hike: Unless you've been living under a rock, you probably know New Belgium Brewing Company makes some of the best beer in the U.S. Check out their employee-owned brewery and sip a brew on their lively patio.
---
This article about Colorado backpacking trips was brought to you by Gregory.
The makers of the best hiking backpacks on the market.
---
Related Articles
---
Related Campgrounds:
Popular Articles: