When I first ventured outside with a classic red and black Lowe Alpine backpacking pack perched on my shoulders, full of gear that would help me survive an apocalypse, I felt an incredible sense of freedom.
There was an old backpacking checklist at the rustic summer camp where I worked at the time, and I had spent hours going over the gear on it. Piece by piece, I acquired every item listed.
Beginning my backpacking career was entirely possible with that handy checklist. And while it may be outdated now, the importance of having a reliable and informed gear list of necessities is timeless. This backpacking checklist is a collection of updated expertise and gear recommendations for pros and first-timers alike to heed and take on future adventures.
Here's What to Put On Your Backpacking Checklist
My first summer in the mountains of Colorado, I was a nineteen-year-old summer camp counselor. This meant I was pretty short on cash. This meant that my backpacking checklist involved balancing affordability with quality and resulted in almost forty-five pounds of dubious-quality gear.
Fortunately, my back was young enough at the time to hump it on some beautiful multi-day treks through the Rockies that summer. Modern backpackers, however, can round up all the gear they need and end up with a lot less weight to carry, thanks to the advent of the light and fast gear movement.
A note on backpacking gear: as a rule of thumb, the lighter it is, the more it costs. If you're trying to keep a reasonable budget, you might not always need to go for the lightest option. It's also wise to set your destination goals and your budget before referring to a backpacking checklist, as your necessities may change depending on those factors.
1. Backpacking Camping Gear
Tent, Bivy or Hammock
This will most likely be your biggest cost, as your shelter is your most important piece of gear. If you like to hike and camp solo, a backpacking hammock will change your life. We really love the new hammock-tent from Kammock which comes with a rainfly and packs up at less than 2 pounds.
A bivy sac (or bivouac sack) is another ultra-light tent alternative. It's essentially a super light, waterproof body bag (but way less creepy than that sounds).
Most of them can pack down smaller than your sleeping bag, and you can be completely covered from the elements while also feeling very close to them. If you backpack with a partner or your dog, a tent makes the most sense.
It provides sheltered space that can be used for more than sleeping, which a bivy and hammock do not. Partners can split the weight of a tent between them to lighten their pack. Check out our guide for finding the best camping tent for you.
Sleeping Bag
The big question when it comes to sleeping bags is down or synthetic? Down bags are much lighter and insulate at colder temps. They are pricey, but they're the preferred backpacking option.
Modern synthetic sleeping bags however, can keep you warm even when wet and handle a lot of abuse (ie. kids and dogs). They tend to be a bit heavier.
Backpack
Backpack capacity is very important. Most packs nowadays are measured in liters and a backpacking trip generally needs at least a 40-liter capacity. Most backpackers opt for between 50 and 60 liters.
Make sure the torso length is right and that the hip and chest straps are comfortable for your body type. Most retailers will offer guidance on finding the right backpack size and fit.
2. Backpacking Clothing and Personal Items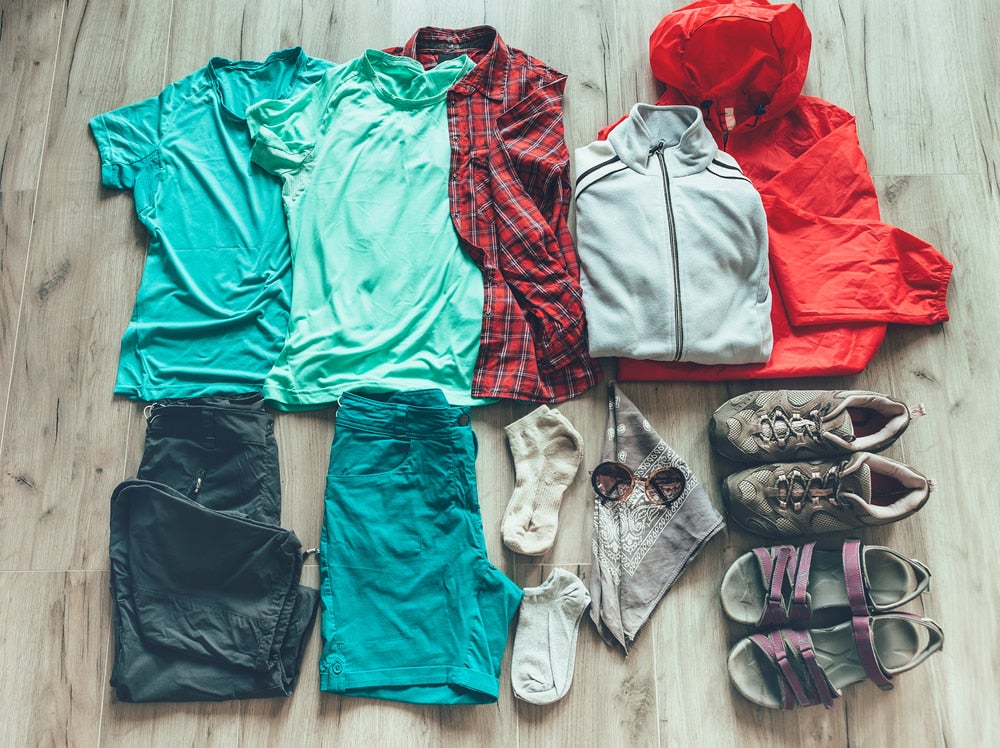 It's all about layers. Make sure every piece of clothing has multiple purposes. Don't expect to smell great by the end of the trip.
3. Backpacking Trip Footwear
By the time you're ready for a backpacking trip, hopefully you have a favorite trail shoe. Some prefer durable boots for backpacking, while others opt for lighter footwear. Consider bringing a waterproof/sandal option in addition to your boots if you anticipate multiple stream crossings. It completely depends on your preference, but whatever you choose, you'll want to break them in thoroughly before stepping onto the trail.
4. Backcountry Kitchen Items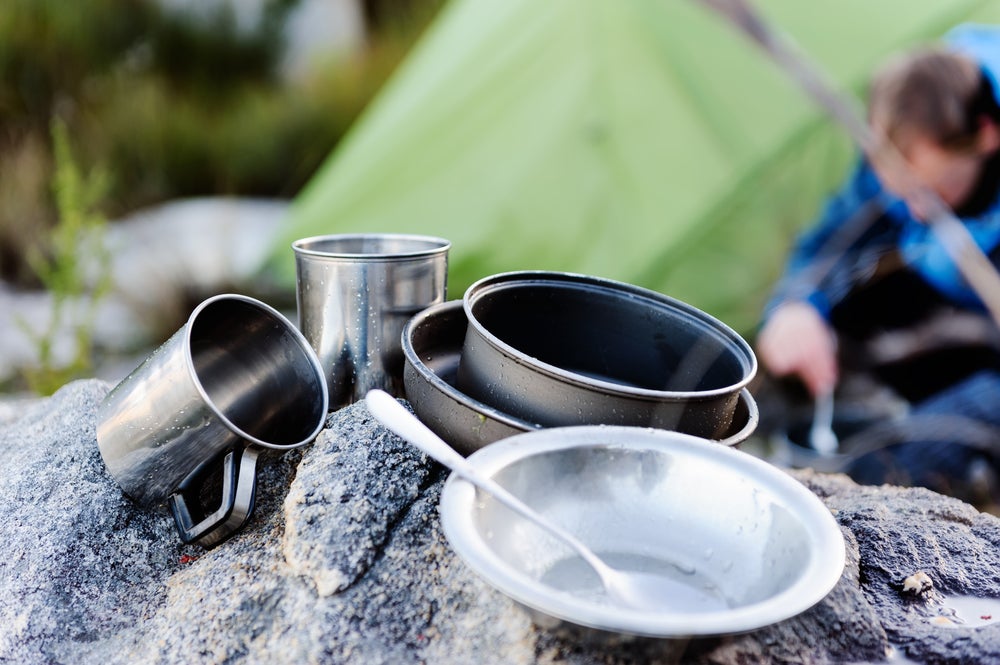 This can be a bit of a financial rabbit-hole, especially for gear heads. There are countless options for collapsible bowls, fancy utensils, micro-light stoves and clever lighting—it can be easy to get distracted. Just make sure you have the following:
5. Survival Essentials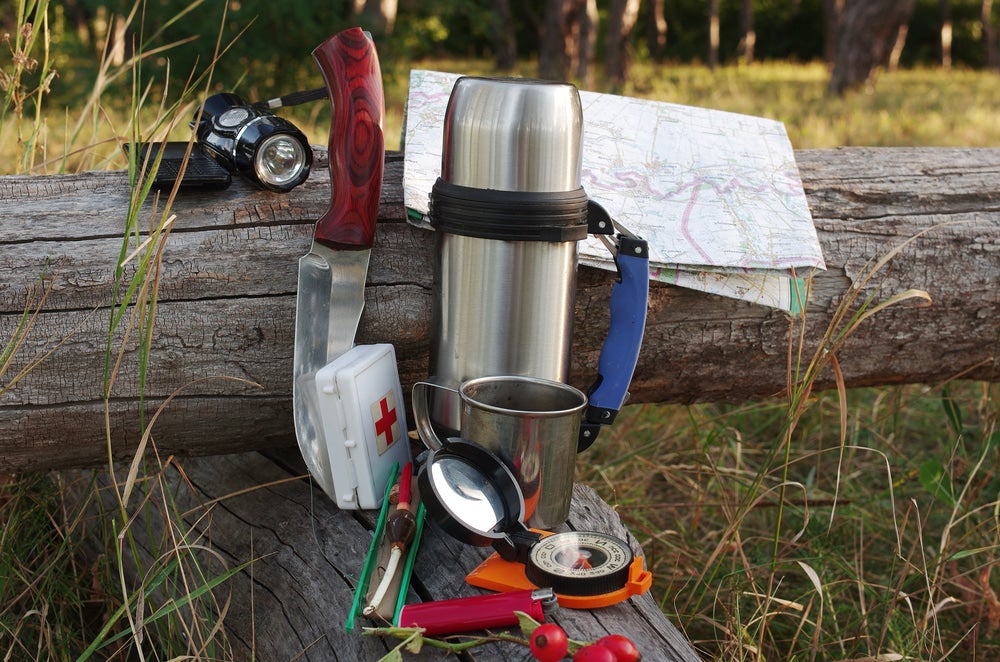 This portion of a backpacking checklist is fairly adaptable, based on a huge variety of factors including the location and duration of your trip as well as the number of participants. If you're backpacking in the deserts of the Southwest, your survival essentials will look different than those packed when snowshoeing in the North Country. However, below are some basic must-have survival items for every backpacking trip.
---
Related Articles:
Popular Articles: