Hocking Hills State Park is well known as one of Ohio's most scenic areas—it's even the most-popular and highest-reviewed campground in Ohio on The Dyrt. Famous for its dark caves, blackhand sandstone rock formations, tumbling waterfalls, and deep gorges, the nooks and crannies of Hocking Hills State Park draw visitors from all over Ohio and beyond.
Hocking Hills State Park Is Ohio's Adventure Destination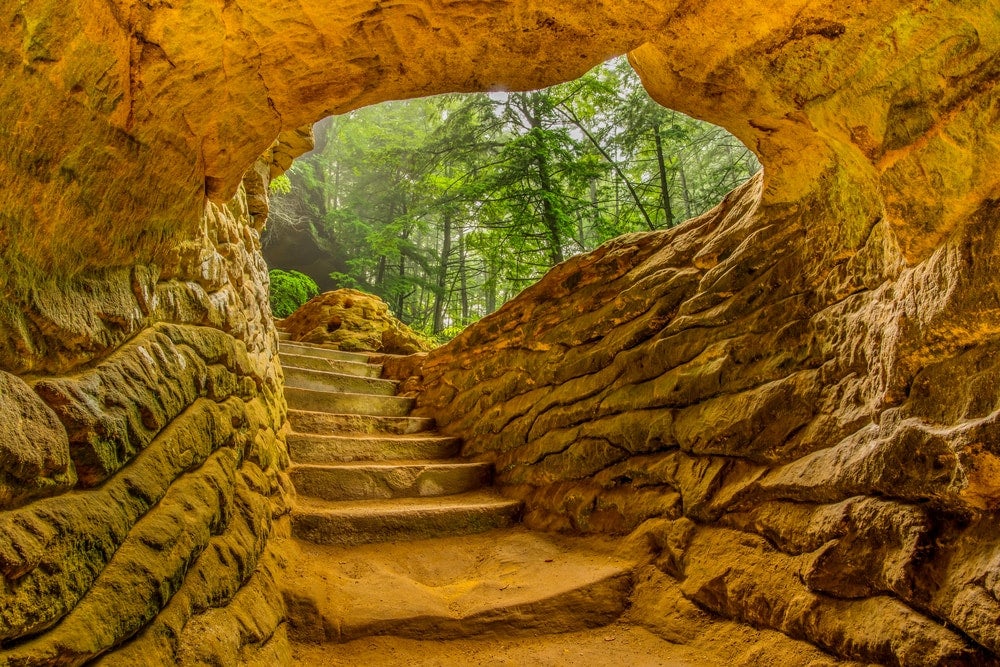 Humans first inhabited the Hocking Hills over 7,000 years ago when the ancient Adena culture, a pre-Columbian Native American culture that existed from 1000 to 200 B.C., lived in the area. Later, several Native American tribes called the area home, including the Wyandot, Delaware, and Shawnee. The area's name comes from the Delaware word for "bottle," since the deep and narrow gorges resemble a bottle's neck. Around the late 1800's, settlers began moving into the Hocking Hills and by 1870; the caves of the Hocking Hills were a popular scenic attraction.
In 1924, the first efforts were made to preserve this unique area when the state of Ohio purchased a 146-acre parcel of land that including Old Man's Cave. Today, the Hocking Hills State Park Complex includes five park areas, camping, cabins, a visitors center, and is one of the most cherished natural wonders in the state of Ohio.
In addition to the stunning natural features of the park, its popularity is also due to its accessibility from Ohio's major cities, being an hour from Columbus, two hours from Cincinnati and three from Cleveland. Anywhere you come from in the Buckeye state, an adventure is nearby.
Hocking Hills State Park is embedded within the larger 9, 696-acre Hocking State Forest. The state forest boasts 59 miles of hiking trails, 40 miles of bridle trails, rock climbing and rappelling.
Hike Through Historical Caverns
The hiking trails in Hocking Hills State Park lead to spectacular waterfalls, interesting rock formations, and mysterious caves. There's a hike to suit any desired distance and level of ability.
Ash Cave Gorge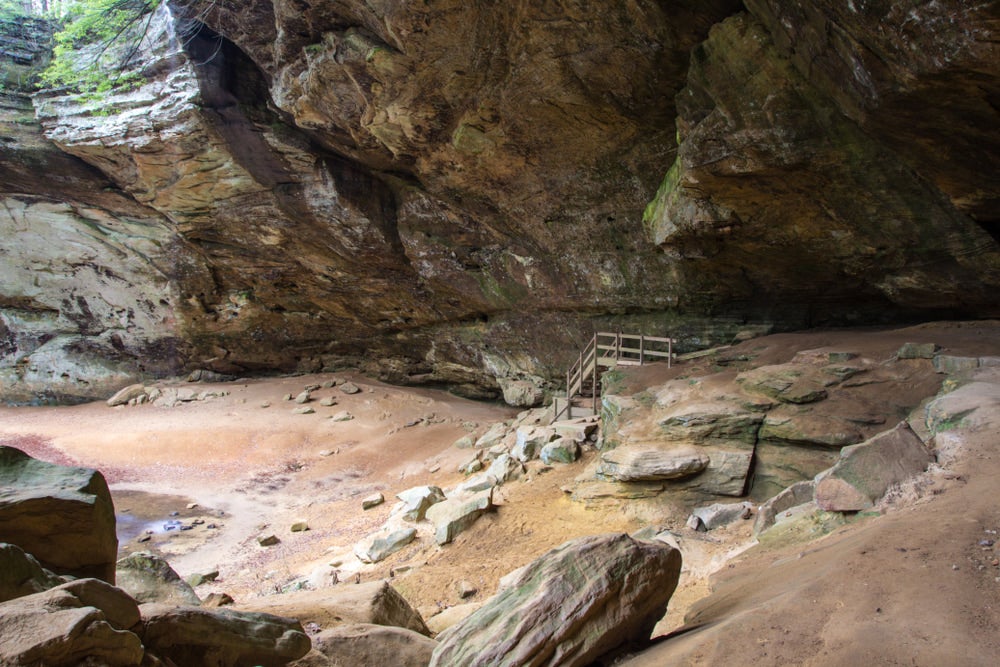 The largest recess cave in the state of Ohio, Ash Cave is a huge natural cavern with a tumbling waterfall. The gorge trail takes visitors right into the heart of Ash Cave. The hike is wheelchair accessible, and just 0.25 miles in length.
Ash Cave Rim
The Ash Cave Rim trail takes hikers along the rim above the cave, offering a birds-eye-view perspective. The hike is just 0.5 miles. In order to experience the cave from all angles, pair this hike with the Ash Cave Gorge hike.
Cantwell Cliffs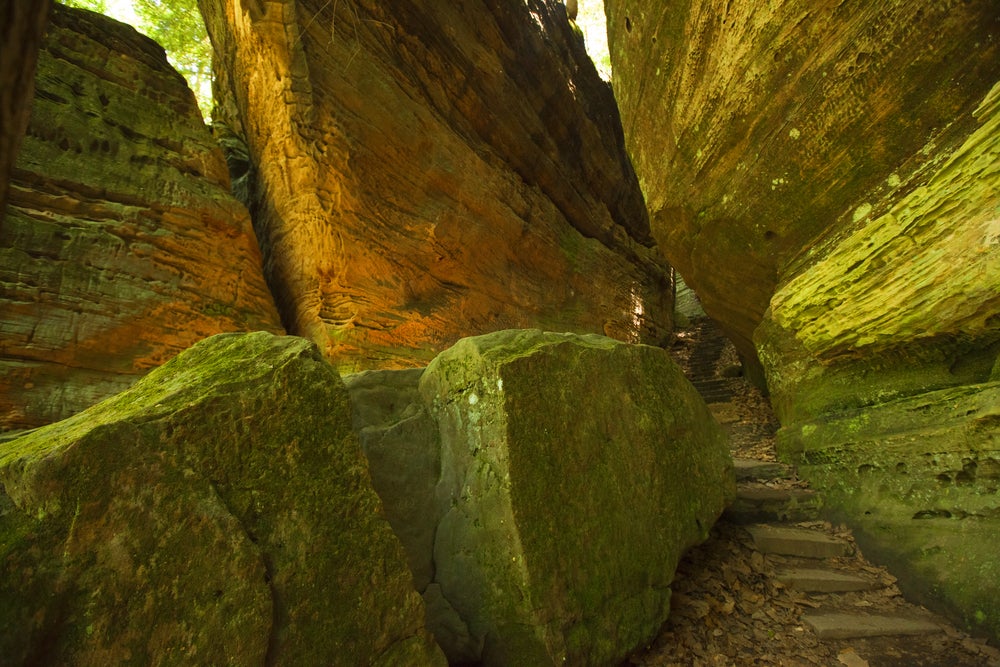 One of the more remote locations in Hocking Hills State Park, Cantwell Cliffs offers hikers one of the best chances to be alone on the trail. There are hiking trails on the valley floor and the rim of Cantwell Cliffs, each are about 1 mile in length.
Cedar Falls
The greatest waterfall in the Hocking Hills in terms of volume, Cedar Falls is actually surrounded by stately hemlocks, not cedars. From the parking lot, hikers descend 100 stairs that gently lead to the waterfall. The hike is 0.5 miles.
Conkle's Hollow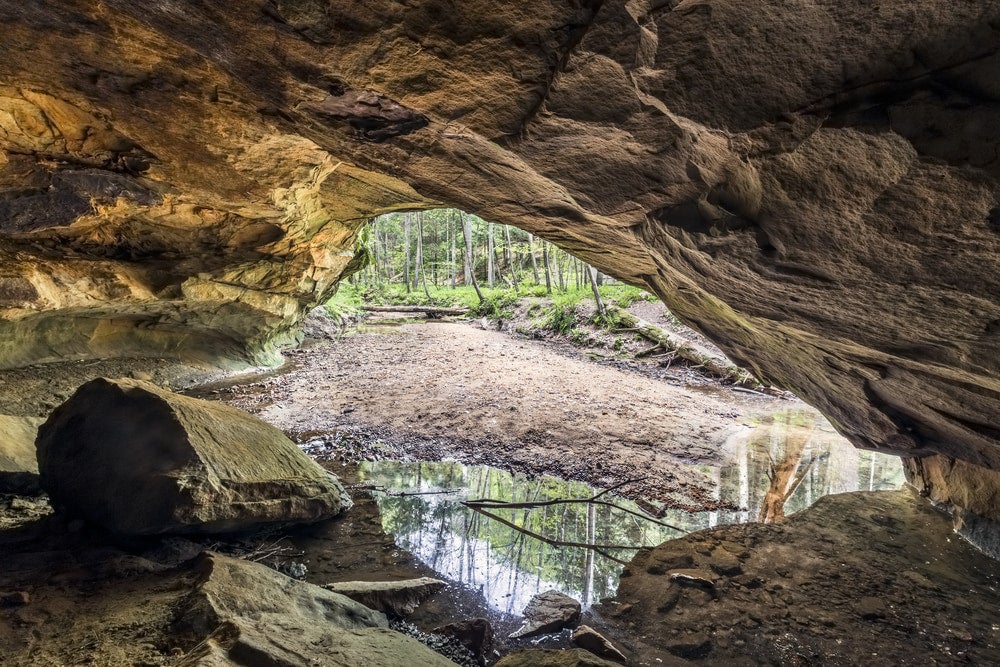 One of the deepest gorges in Ohio, Conkle's Hollow is rugged and rocky. This trail leads hikers deep into the gorge and is 1 mile in length.
Conkle's Hollow Rim
The rim trail leads hikers around the rim of the gorge. While this hike offers some of the best views in the Hocking Hills, it can also be extremely dangerous in all seasons, so use caution. The rim trail is 2.5 miles in length.
Old Man's Cave
The most popular attraction in Hocking Hills State Park, Old Man's Cave is located in a gorge of Black Hand Sandstone. The gorge trail is about 1 mile round trip, and the gorge overlook trail connects Old Man's Cave to Cedar Falls, a 3-mile walk one-way.
Rock House
Rock House is a tunnel-like corridor that sits about 75 feet up a 150- foot sandstone cliff. The "house" has a 25-foot ceiling and the main corridor is 200 feet long. The Rock House trail is just 0.25 miles long.
Whispering Cave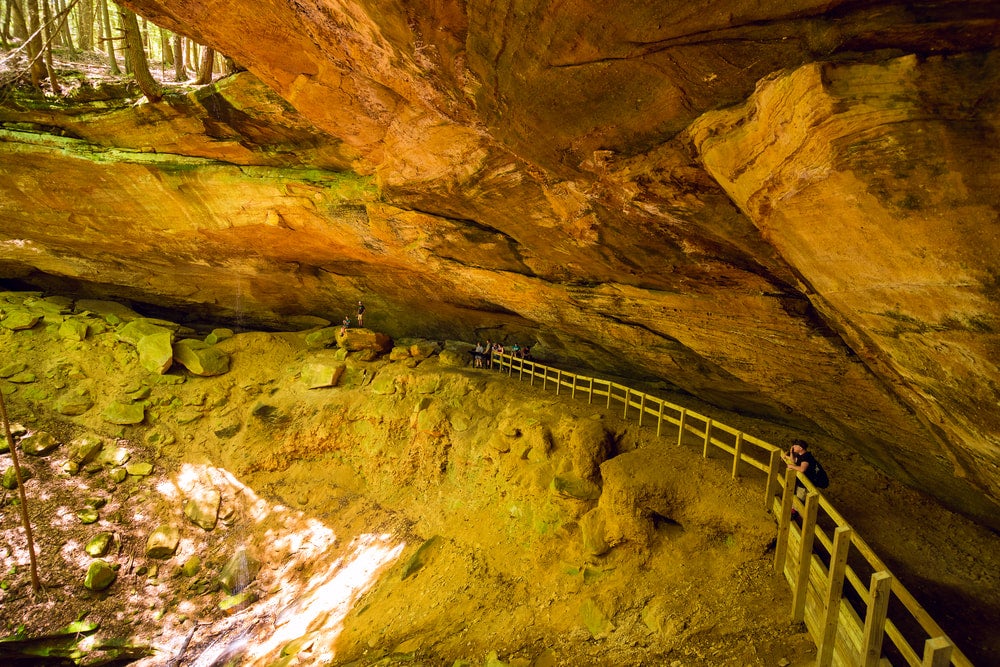 Follow the Hemlock Bridge Trail to Whispering Cave, a 300-foot recess cave with a 105-foot waterfall pouring over its upper rim. The entire Hemlock Bridge Trail is 1.5-miles and takes hikers over the first swinging bridge in the Hocking Hills.
For a longer hike, walk from Old Man's Cave to Cedar Falls (3 miles one-way) and continue on from Cedar Falls to Ash Cave (3 miles one-way.) The entire out-and-back hike is 12 miles long.
Hit The Trails On Mountain Biking Paths
If you prefer to enjoy the forest on two wheels rather than two feet, there are also two mountain biking loops within Hocking Hills State Park. The Purple Trail Loop is a moderate 2-mile loop and the Orange Trail Loop is also 2 miles, but rated as hard.
Camping Comforts in Hocking Hills State Park
Nestled beneath hemlocks, birch, beech and maple trees, just to name a few of the tree species that thrive in the region, the campground at Hocking Hills State Park offers something for everyone (there are over 240 cabins and campsites in the park.) The campground is open year-round and located close to all of the hiking trails and popular natural features of the park.
Campground amenities include flush toilets, shower houses, potable water, dump station, laundry, playgrounds, a pool (open seasonally), and a camp store. There's also a guest lodge with a restaurant, a snack bar, and a pool. Pets are allowed, but must be kept on a leash.
The Hocking Hills campground has:
109 electric campsites with 20, 30, or 50-amp electric
47 full-hookup campsites
13 non-electric campsites for organized youth group camping
33 primitive campsites for hike-in only campers
There are also 38 cabins and three camper cabins available to rent. The cabins are modern and available year-round. They are heated/cooled, sleep up to six people, have a fully stocked kitchen, a gas fireplace and a screened porch with Adirondack chairs. The camper cabins are equipped with cots and bench beds, a cooler, stove and camp light and are available May through October.
No matter which kind of campsite you choose to book, reservations are a good idea and can be made up to six months in advance. The park is extremely crowded in the spring, summer, and fall. While the campground does offer a few first-come, first-served campsites, don't test your luck if you can help it.
---
Related Campgrounds
Popular Articles: