Both city and country pups know that New York has a lot to offer. Sure, you've got the tall buildings of the Big Apple, with some dog parks thrown in there. But pooches need space to run! And New York has plenty of space for that. Dog-friendly campgrounds in New York allow you and your dog to go further and explore more.
From the colorful Adirondack Mountains, to the wine region surrounding the Finger lakes, and the many rivers, streams, mountains, and mud puddles in between, these dog-friendly campgrounds in New York cover it all.
Dog-Friendly Campgrounds in New York
You can explore it all with your dog by your side at these 6 dog-friendly campgrounds in New York.
1. Bowman Lake State Park
Located in central New York, Bowman Lake State Park is a secluded 967-acre state park known as being "a camper's paradise." Campsites are nestled amongst the evergreen forest, so you'll feel like you have the place to yourself.
The fishing is excellent as Bowman Lake is stocked with trout regularly. The sandy lakefront is great for swimming and watersports. The State Park is also home to over 103 bird species so don't forget to bring your binoculars.
"Conveniences are provided with many bathrooms and shower facilities throughout the camp ground. For those not to into tenting there are cabins available to keep you safe. We camped in July, but were told that the park is opened for winter activities such as cross-country skiing and snowmobiling. A fun trip for the whole family." — The Dyrt camper Brian O. Camp Here
2. Kenneth L. Wilson Campground
Just five miles from the hippie haven of Woodstock, New York, Kenneth L. Wilson Campground offers densely wooded sites surrounded by mountains. There are 76 tent and trailer sites, so you're sure to find one that works for you and your pup. Neighboring Slide Mountain Wilderness is home to over 47,000 acres of wilderness and 35 miles of trails.
"The campsite was great. Big and going after Labor Day means there was tons of space. Well priced. We did have neighbors that had a trailer and used their generator early in the morning and late at night. Besides that it was fantastic. The dog park is wonderful. Our dog loved it." — The Dyrt Camper Kristin T.  Camp Here
3. Buck Pond Campground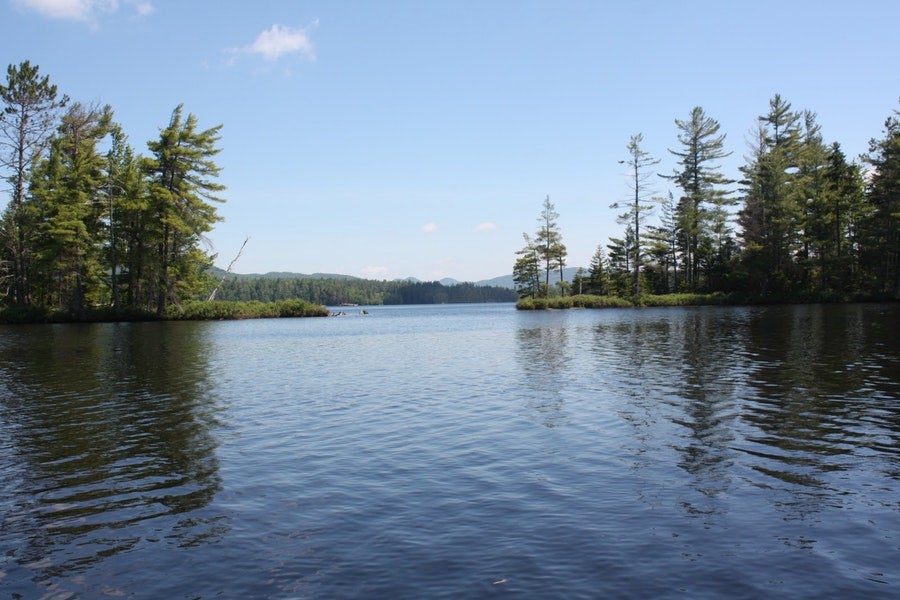 Image from the Dyrt Camper Brian H.
Over 6 million acres of wilderness make up The Adirondack Park in Northeastern New York. Within the park, you'll find countless campgrounds including the very popular Buck Pond Campground.
Designed to mimic a mountain retreat, Buck Pond Campground offers secluded campsites on the western shore of 130-acre Buck Pond. Skittish or shy dogs will really appreciate the privacy. There's plenty of opportunities to hike, fish, swim, and boat in the surrounding area. Camp Here
4. Eel Weir State Park
Located close to the Canadian border, Eel Weir State Park is nestled on the Oswegatchie River about two miles from Black Lake. The small, secluded State Park offers 38 campsites, a picnic area, and a pavilion. Eel Weir State Park is popular with watersports enthusiasts and fishermen. Pets are allowed on a leash. Camp Here
5. Cranberry Lake Campground
Cranberry Lake Campground is a popular campground and day-use area in the northwestern part of the Adirondack Park. Cranberry Lake is one of the largest remote lakes in the Adirondacks comprising of 50,000 acres of wilderness. The lake is stocked with trout providing excellent fishing in the lake and nearby ponds, streams, and rivers. The campground is home to 173 campsites, tons of nearby hiking trails, swimming beach, and lots more.
"We spent two nights here with our dogs over Labor Day weekend 2017. The site is well maintained, the bathrooms are clean, and we had plenty of privacy from our neighbors." — The Dyrt camper Ally B.  Camp Here
6. Harriman State Park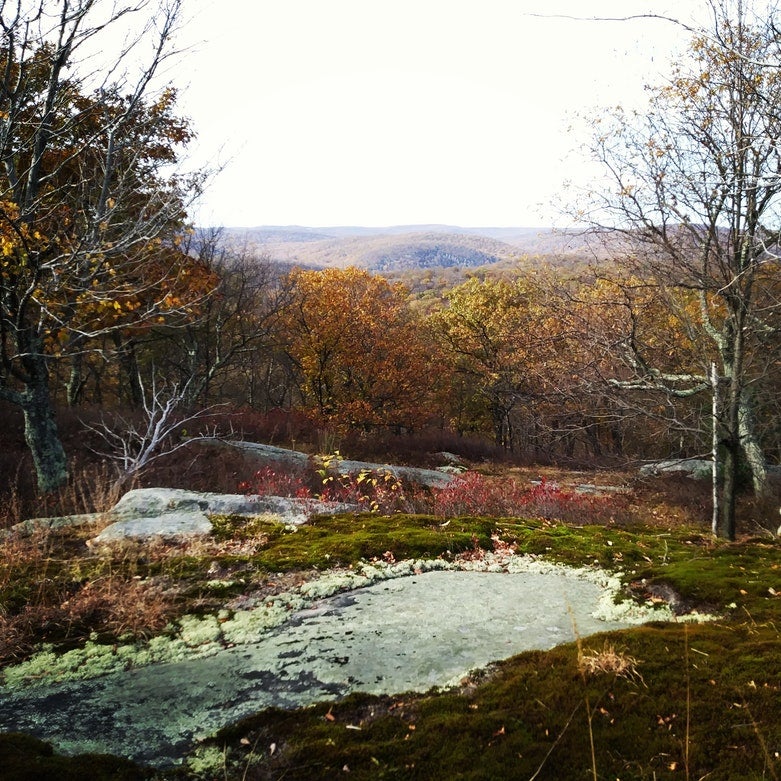 Image from the Dyrt Camper Jerry M.
Sometimes you just need an escape from the hustle and bustle of NYC. Harriman State Park is the second largest park in the New York parks system and is located about an hour from New York City. The park is comprised of 31 lakes and reservoirs, 200 miles of hiking trails, two campgrounds, and miles of streams, scenic roads, and more. Dogs are welcomed on a leash to explore this incredible natural park close to the Big Apple.
"I have spent dozens of nights in Harriman, mostly 4 day/ 3 night loops. Pure backcountry an hour North of Manhattan. Carry in/ carry out. Bring water purification. Water is abundant in cooler months, but expect to purify lake water in Summer." — The Dyrt camper Jerry M.  Camp Here
---
Are you heading to New York with your four-legged camper? View this Saved Campground List of Dog-Friendly Campgrounds in New York on The Dyrt, and start planning your camping trip! You can also start your own list and save your favorite campgrounds in one place.
---
Related Campgrounds:
Popular Articles: