The "Loneliest Road in America" is the section of U.S. Route 50 that runs through Nevada. Are you picturing a stretch of empty highway surrounded by a barren desert? Understandable.
The entirety of Route 50 stretches from Ocean City, Maryland to West Sacramento, California, meandering through the wide-variety of American landscapes, from ghost towns to traffic-clogged cities. But Nevada's portion earned its nickname for the particularly desolate stretch, where you might not see a building or another car for miles.
While it's true that Route 50 in Nevada crawls through some flat expanses of near nothingness, the route is far from featureless or boring. The loneliest road in America passes some of the most intriguing landscapes in the west, including ghost towns, mountain passes, petroglyphs, lakes, deserts, caves, and more.
To accommodate visitation, the Silver State provides ample camping opportunities along Route 50—which, conveniently, is the best way to really experience this stretch of highway. Keep an eye out for rattlesnakes and tumbleweed—it's true wild west out here.
The Best Camping Along Nevada's Lonely U.S. Route 50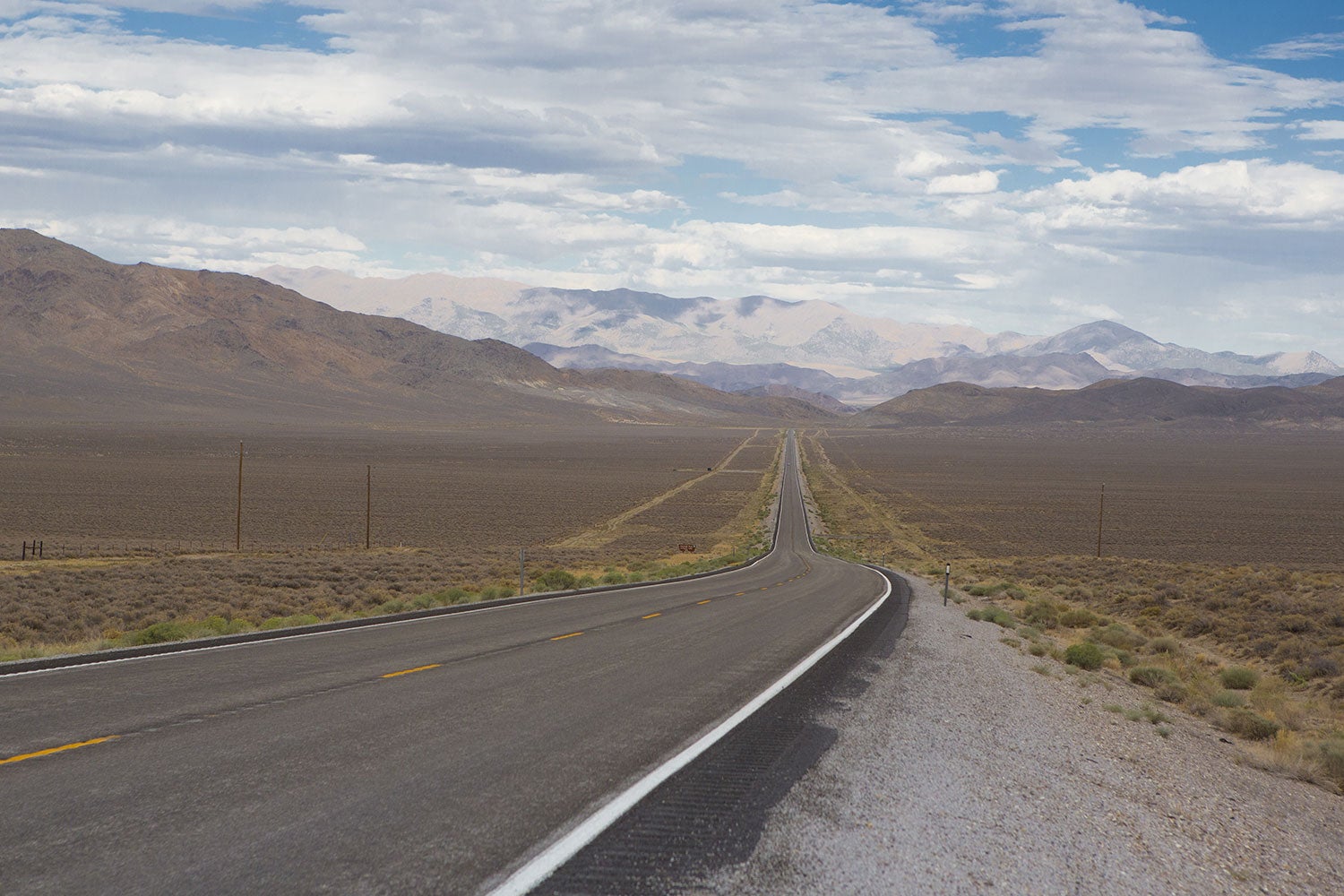 Here are ten campgrounds where you can see the best of America's Loneliest Road.
The Nevada Beach campground is on the Nevada and California border portion of Route 50, on the eastern shores of Lake Tahoe. The Dyrt camper Sam M. calls it "one of the most beautiful places in the U.S."
Nevada Beach offers Lake Tahoe camping with an intimate touch that you don't get at the campgrounds on the California side. You can walk to Lake Tahoe's pristine waters or hike the Lam Watah Trail. For winter warriors, Heavenly Ski Resort is only six miles away.
There are 51 campsites for tents and RVs. Most years, you can make reservations up to six months in advance. And you'll often need to, as the campground tends to fill up. For $33-37 per night, campers get picnic tables, fire rings, grills, food lockers, flush toilets, water, and an off-leash dog beach.
Mark Twain, in his book "Roughing It," notes that "A Washoe wind is by no means a trifling matter." Twain was referencing the whipping winds of Washoe Lake, a neighboring lake to Lake Tahoe and home to one of the best campgrounds on Route 50.
Washoe Lake is where western Nevada anglers go to catch carp, bass, and catfish, and conveniently sits off Route 50. If you're not the fishing type, other popular wildlife activities at Washoe Lake include bird watching. Exotic species like pelicans, blue herons, and bald eagles frequent the area.
The 49 first-come, first-served sites are open year round. Campsites can accommodate tents and RVs up to 45 feet. For $15 per night, campers get picnic tables, fire rings, grills, shade structures, and showers. Be sure to stake down your tent, however: When I visited, I watched a neighbor's tent fly away like a stray balloon.
The Lahontan Reservoir is part of the Lahontan State Recreation Area east of Silver Springs on Route 50. Stretching 17 miles long, and includes 69 miles of beaches. There are plenty of boat launches for water activities. The reservoir has walleye, bass, catfish, and others. When I visited, I caught six bass and a catfish within an hour. It's catch-and-release, but a fellow camper took pity on me and offered a delicious seafood dinner. Hospitality at its finest.
Campers visiting the Lahontan Reservoir have a few options. Silver Springs Beach #7, on the west side of the reservoir, has a developed campground open year-round. There is free primitive camping on the beaches around the reservoir. Odds are you'll find yourself at peace and alone if you look for small beach in the Upper Basin and found myself alone, with only the sound of the water to keep me company. It was peaceful for being so close to Route 50.
The Sand Mountain camping area is essentially an open beach area where ATV and sand enthusiasts can gather just off Route 50. You definitely won't be alone. The first time I camped at Sand Mountain I forged lasting relationships. There's something about sharing the desert with like-minded people that plants the seed of friendship.
The Sand Mountain Recreation Area is home to almost 5,000 acres of dunes, and is surrounded by the beautiful Stillwater Mountains. There are also 23 miles of designated hiking and biking trails around some of the area's otherworldly dunes.
Entrance to Sand Mountain is $40 for up to a week of stays, and $90 for an annual pass. But The Dyrt camper Leah W. says Tuesdays and Wednesdays are free entrance days. There is room for tents, RV, and trailer camping. There are vault toilets scattered around but no other amenities. Be sure to also check out Grimes Point, east of Fallon. The site has petroglyphs and a 21,000-year-old hidden cave.
The Bob Scott campground is right off Route 50, a few miles east of Austin. It sits on a summit with unobstructed views of rolling hills and mountain peaks. Campsites are nestled between junipers, providing plenty of shade and privacy. The Cahill Canyon Trail is nearby and is a mountain biking favorite for many in Nevada. Birch Creek also offers fishing just eight miles from the campground.
The nine first-come-first-served sites are open mid-May through October. Campsites can accommodate tents and RVs up to 35 feet. For $10 per night, campers get picnic tables, grills, vault toilets, and water. Bob Scott is a great place to stop off for a quick night on your trip down Route 50, for its quick access and scenic location.
Just past the Bob Scott campground on Route 50, the BLM-managed Hickison Petroglyphs Recreation Area is a great place to spend a few days camping and—most notably—study the surrounding ancient petroglyphs. The massive rock faces and intricate, historical carvings on them only add an extra layer of isolation to this region.
Hickison campground is some truly lonely camping, without many amenities—but is also cost-free. The 16 sites at this campground sit along a short dirt loop road away from Route 50. Each site has a picnic table, some of which are sheltered from sun and wind, a fire pit grill, and room for a vehicle.
You might not think there would be top-quality fishing—let alone any standing water—nearly in the middle of the desolate Route 50, but Illipah Reservoir serves as an oasis on the path. Travelers and anglers can find rainbow trout, which are stocked twice annually by Nevada Department of Wildlife, as well as a self-sustaining population of brown trout. Fishing peaks in the spring and fall, but if you're looking for a rare opportunity, mid-winter ice fishing (December through February) can also be good.
The campground contains 15 larger sites which are suitable for tents and RVs. Being managed by the BLM, this campground is also free and does not require reservations.
Cave Lake State Park actually contains two campgrounds—Elk Flat campground and the more popular Cave Lake View campground. Cave Lake View is near the lake, offering great views of the emerald water, while Elk Flats is nestled within grassy hills for maximum privacy. The lake's high elevation offers sweeping views of the hilly region of Nevada, but the water itself may draw most of the attention. The Dyrt camper Tom N. points out that there's no light pollution so stargazing is "incredible."
The 17 first-come, first-served sites are open year-round. For $15 per night, campers get picnic tables, fire rings, grills, tent pads, flush toilets, and showers. There are a few hiking trails accessible from the park; the 2-mile Steptoe Creek Trail, 5-mile Cave Springs Trail, and 4-mile Cave Overlook Trail. The Cave Overlook Trail is one of the most beautiful hikes in the entire state.
The Wheeler Peak campground is near the Utah border within Great Basin National Park. It sits at almost 10,000 feet, so the sky is full of stars on a clear night. The Dyrt camper Heather F. says it's a "great place for solitude." And though that's true, I've never been to Great Basin without meeting the kindness of strangers in the park. On a hike, in the cave, or the campground.
Even the summer nights at Wheeler Peak can get chilly, so pack accordingly. The campground provides access to the 8-mile Wheeler Peak Trail and 4-mile Bristlecone Pine Trail. Two of the best trails in the park. Lehman Creek cuts through southern campsites, providing a soothing lullaby.
The 37 first-come, first-served sites are open from June through October. If you're traveling anywhere near Route 50, you should stop at Great Basin for at least a night. You won't find the crowds you see at many other parks, and the beauty is there in spades. Be sure to also check out the Bristlecone Pine trees at Great Basin—they're among the oldest living life forms on earth.
Looking for even more ways to explore around Nevada's stretch of Route 50? Check out our guide to free camping in Nevada. 
---
Related Campgrounds:
Popular Articles: