At The Dyrt, we share camping tips from our community of campers and campgrounds. With so many campers staying home, we continue to share this info so you can plan future camping trips across the U.S.
---
We camp to challenge ourselves and have fun, and part of what makes camping fun is seeking out new and different experiences. While even a standard night in a tent rarely disappoints, sometimes it's best to try something new.
There are over 42,000 campgrounds to explore on The Dyrt, and we went searching for the most unique camping options.
14 Unique Camping Opportunities to Inspire Your Next Trip
These unique camping options are everything but run-of-the-mill, offering campers an opportunity to sleep under the stars in a way that won't be forgotten.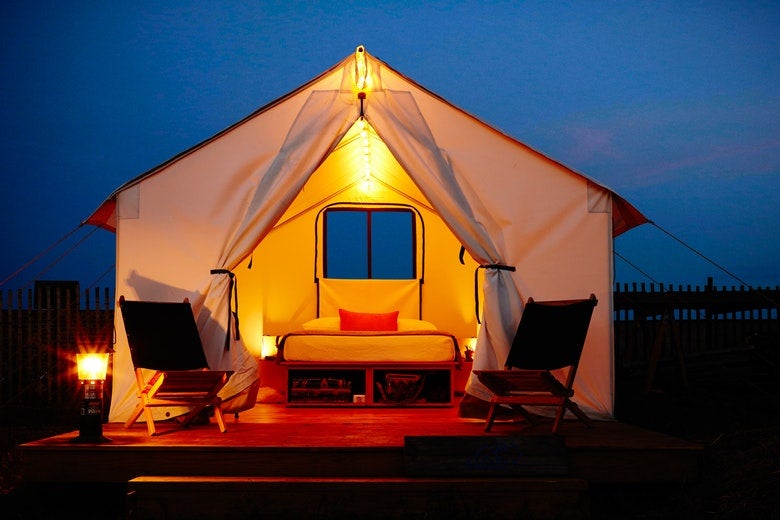 Need to escape the city without traveling for hours to reach the mountains? Then check out this urban, seasonal glamping opportunity on Rockaway Beach in New York City. Campers stay in safari-style tents and have access to a fire pit, games, hammocks, and a picnic area. The Rockaway Beach boardwalk is just a short walk from camp, as are biking, birding, hiking, and whale watching. Clean bathrooms, hot showers, and comfy beds make this the kind of upscale camping experience you won't soon forget.
Book Now
You may assume that B&B always stands for bed and breakfast, but in this case, it stands for bed and barn. Experience a real working western ranch by booking a converted barn stall for a rustic yet beautiful place to sleep for the night. Campers have the freedom to explore the entire ranch, and sunsets are a particularly lovely time to walk the land and take in the view of the surrounding mountains.
Campers have access to bathrooms and a shower as well as a small, shared lounge with mini fridge and microwave. Breakfast is not provided, but just a few miles down the road you'll find a restaurant that serves up a great American-style breakfast.
Book Now
Located on 11 acres in the self-described middle of nowhere, the Bierbaum Pepper Farm is smack dab in the high desert and provides the chance to camp on a working organic farm. Sleep among fruit trees, shower in a converted greenhouse, and spend your free time petting adorable baby goats or soaking in the on-site hot tub. The farm is located in Temecula wine country, so if you choose to venture off-site, it's easy to find great places to taste the local vino.
Book Now
At Colorado's M & M Equestrian Center, the hay isn't just for horses — although there's plenty of those around. While some farm-style unique camping options offer homestead opportunities in the far west, this campground has all the dude-ranch sensations you could want, just a few minutes from downtown Boulder. Horse owners can feel free to ride into this unique camping option with their own horse, but for the horseless equestrian fans, there are plenty on-site for your enjoyment, along with goats and chickens. The sites have water and nearby electricity, and all surround the horse pasture. Campers report that you can wake up to farm fresh eggs in the morning!
Book Now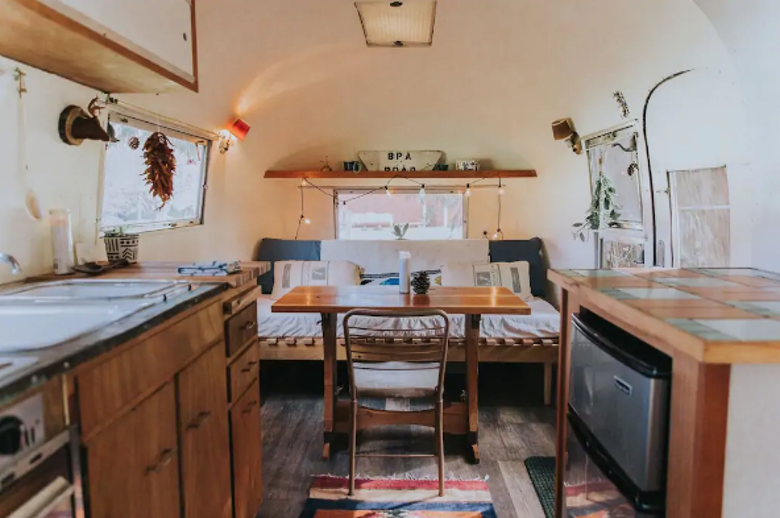 If you've ever felt envy at the pristine Airstream trailer in the campsite next to you, Domke Farms near Sandy, OR can help you chase that feeling. With a two-bed vintage trailer known as the Cozy Roller, this unique camping destination is the perfect romantic getaway for two, or solitary retreat for one. In close access to Portland, the Columbia River Gorge and Mount Hood, outdoor enthusiasts should take the opportunity to make this an adventure basecamp for anything from fishing, swimming, hiking or skiing. Your stay includes access to a two person hammock, a fire pit with limitless firewood, a small grill, and an extra half-bath located in the building next door for more privacy.
Book Now
What better time than summer to break out the boat and hit your nearest lake, river or ocean? If you're in central Tennessee, you can find unique camping near one of the region's biggest summer hotspots — Center Hill Lake. The Horseshoe Bend Marina contains four sites and plenty of land on the scenic, winding lake, and is perfect for kayaking, boating, and even stand-up paddling. The fun carries from the water to your campsite, where glamping tents meet you with full beds and fire pits.
Book Now
Don't let the name confuse you — this less of a hotel and more of a vintage compound where the arts and the outdoors meet. Situated just outside Taos, this congregation of vintage trailers interspersed with campsites places you in the scenic and mountainous north of New Mexico, a unique camping destination all its own. Campers can see at least eight peaks from the campground, but can find downtown Taos, the Rio Grande Gorge and ski areas even closer than the mountains. Not that you'll feel the need to leave the campground — fire pits, hot showers and communal concerts all bring the adventure right to your tent or trailer.
Book Now
As far as adventure goes, the Black Walnut Grove campground brings it in spades. You can't turn your head without seeing a new, exciting activity on this 30 acre property in Indiana — everything from tire swings, bonfire pits and a tree web are open for your use during your stay. Campers can choose between a variety of shaded or open tent sites, all with great access to the wild amenities in store.
Book Now
While horses, goats and chickens have their charm, resting your head at a functioning alpaca farm might be the best definition of unique camping.  This 120-acre homestead presents the landscape of the heartland while offering three different types of camping — tent, RV and a rustic log cabin. The alpaca experience includes over 60 alpacas you can watch and interact with, as well as a farm store where you can shop for alpaca products such as sweaters, hats, mittens, scarves, teddy bears and toys.
Book Now
Visitors to Zion National Park know the region's alien-like landscape is one to appreciate for as long as possible, but those desert days and nights can be tiring at one of the park's larger campgrounds. The Water Canyon Cliffside Cabin is the solution to this issue — offering a cozy, bunk bed cabin for you to sleep off the sun, adjacent to some of the best hiking in the park.
Book Now
Many campers pride themselves on finding isolation during their trip; no matter how close your campground is to a nearby city, its a great feeling to be truly in the wilderness. The Island Good Yurts are the maxim of that sentiment — isolated on the Bois Blanc Island in the Mackinac Straight of Lakes Michigan and Huron, you'll find yourself surrounded by trees, water and sandy beaches. These yurts are a comfortable retreat for anyone looking to elevate their camping, or to stay for lengthy periods of time. You also might just catch the Northern Lights on a clear night.
Book Now
Since the legalization of recreational cannabis in 2015, tourism in Colorado has seen a sharp increase, and an entire mini-economy has since followed. Keeping with the trend, Canyonside Campground just outside boulder is a unique camping destination for the green-minded among us. With a number of cozy cabins close to scenic hikes, you won't find yourself missing any of the outdoors. A 420-friendly concierge is on-hand to help you plan out your recreational escape as well.
Book Now
Most people will agree that beer and camping go well together, but Devil's Backbone Camp takes that belief to a whole new level by allowing campers to pitch their tents right on-site at their brewery. The 71-acre campground offers everything you'd expect from a traditional campground (full hookups, a bathhouse, fire pits, potable water, a dump station) as well as a brewpub, distillery, outdoor bar, grill, and stage, where live music will keep you entertained until it's time to turn in for the night.
More Information
Stone Creek Farm might just be one of the most scenic spots outside the Twin Cities for camping. Just a quick walk down to the St. Croix River and Interstate State Park (reportedly, the Wisconsin side is the best), you can find one of the most unique camping setups on this list — a clear, bubble-like dome igloo, complete with full mattress inside. This instagram-worthy stargazing dome isn't the only place you can rest, however; larger families and folks with pets will appreciate the yurt just a short walk down the property. Both options feature outhouses, fire rings and other camping amenities. Bring your telescope and you might just see the Northern Lights from your bed!
More Information
---
Related Campgrounds:
Popular Articles:
---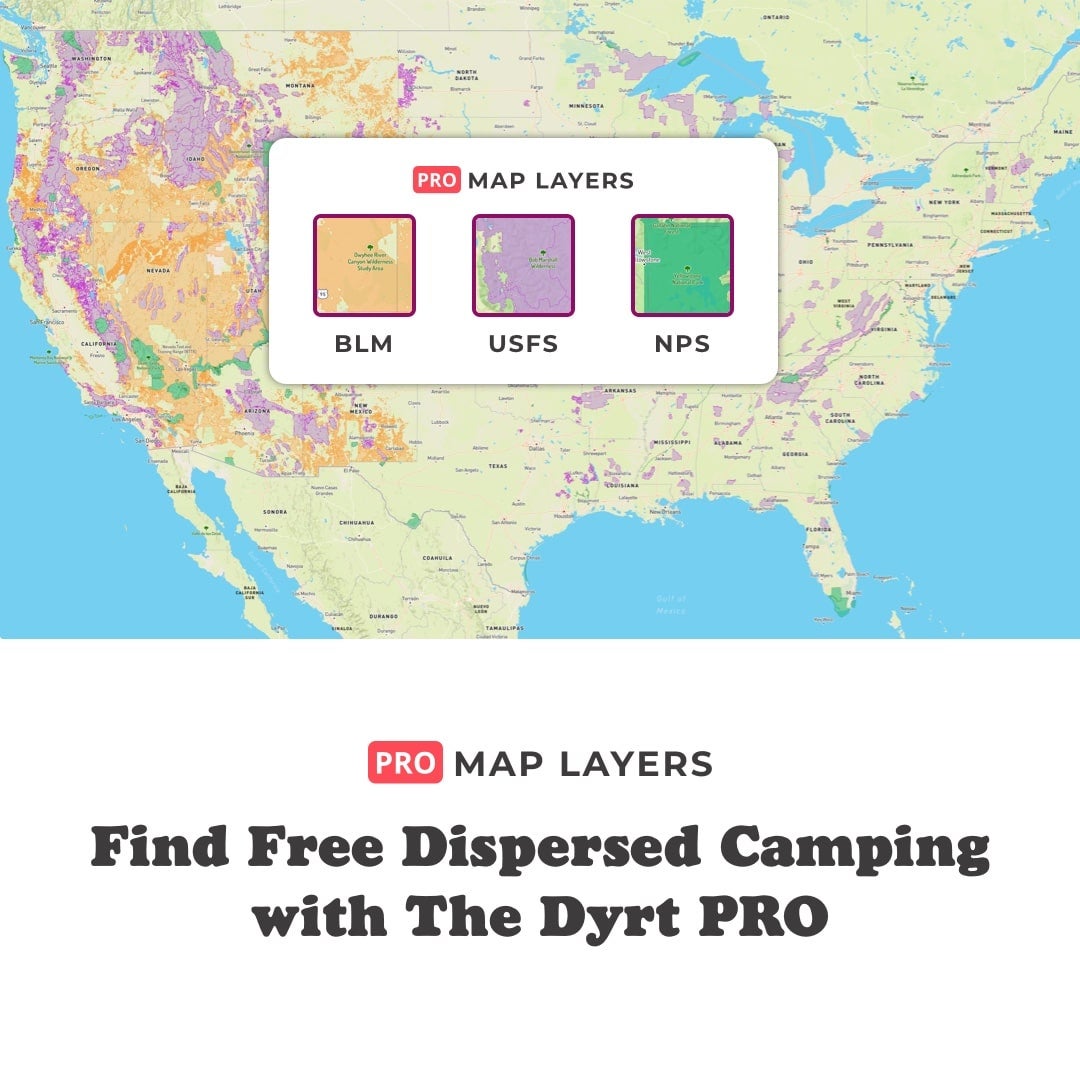 ---