This article on colleges for outdoor adventurers was brought to by Banner and Oak, whose apparel and accessories like this olive green snapback are the perfect way to outfit yourself for the school year. 
---
By now it's common knowledge that spending time outside is a great way to reduce stress, get some exercise, and simply feel better in general. For students in college, time spent outdoors can be hard to come by, what with all of the classes and studying and preparing for professional futures (and maybe some parties, too).  Which is why many colleges have institutional outdoors programs that allow students to earn credits while learning to cross-country ski or identify wild edibles in nature. These programs act as opportunities for students to relax in nature and embrace new skills. But in the long run, I've seen many of my peers change their entire lifestyles and career paths based on experiences in these programs.
There is so much to think about when deciding where to go to school. If you're facing that big life decision, you might consider adding outdoor access and outdoor programs to your list of priorities. Whether you're interested in an outdoors-focused career path or just want to be in a beautiful place with convenient access to outdoor activities, consider this roundup of colleges for outdoor adventurers.
15 Colleges for Outdoor Adventurers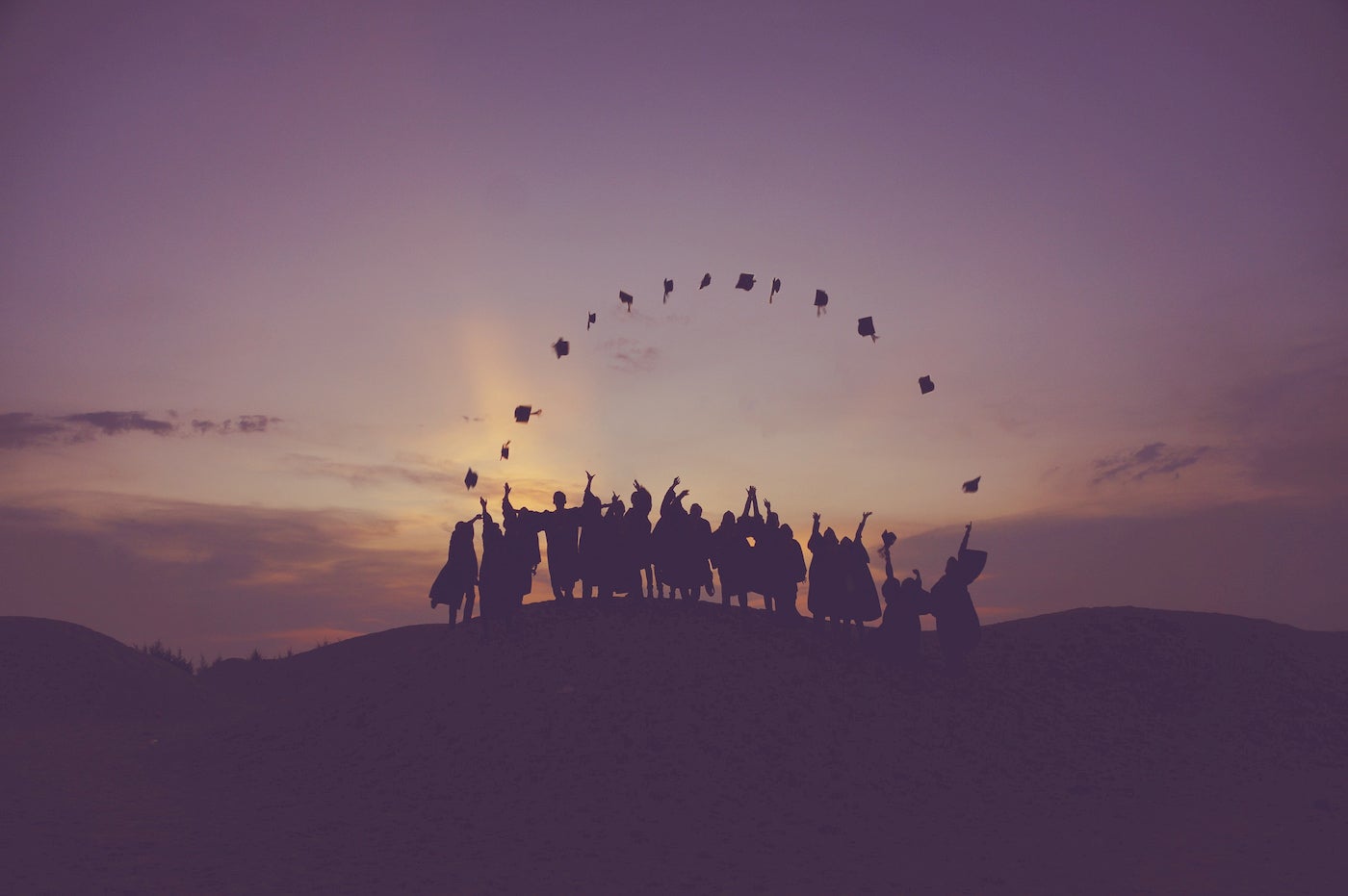 This list is based on both the strength of colleges' outdoor programs and their location, which play a vital role in the adventure resources students receive.
If you're looking for a new-and-bustling city experience surrounded by one of the best outdoor scenes in the U.S., then look no further than Salt Lake City's University of Utah. Students have the opportunity to explore Utah's endless powder in the winter at one of the six local resorts with a student discount. If you're more into warm-weather activities, you can hike the Wasatch range, trail run in Big Cottonwood Canyon, and so much more.
On campus, the university offers the Outdoor Adventures Program, leading trips in skiing, snowboarding, rafting, snowshoeing, cross-country skiing, rock climbing, hiking, backpacking, sea kayaking, and mountain biking. With so many activities, their gear rental service has become the largest college rental shop in the U.S. The program also offers a space for students who want to live and breathe adventure beyond the weekly trips, called the Outdoor Leadership Floor, where you can participate Outdoor Adventures full time by living with your colleagues. UUOA also runs The Intermountain Student Outdoor Leadership Symposium, a space that allows students to present and learn about the outdoors beyond the constraints of their specific program. With facilities like these (and the surrounding natural wonders at your disposal,) University of Utah earns its spot as one of the top colleges for outdoor adventurers.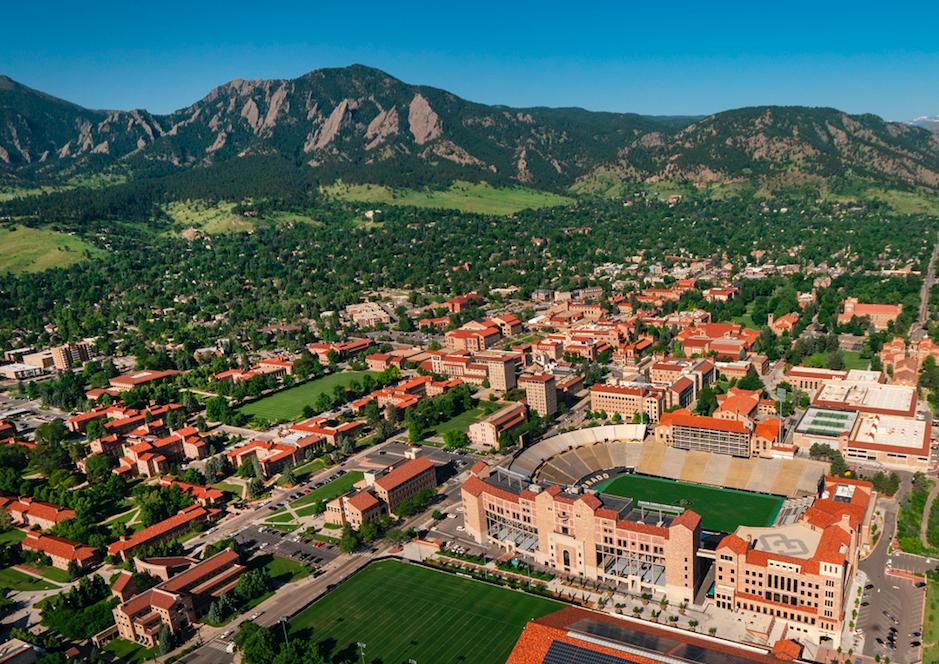 The University of Colorado's Boulder campus sits in the foothills of the Rocky Mountains, making it a great spot for mountaineering, rock climbing, hiking, biking, and skiing. Surrounded by outdoor wonders like the Flatirons, Eldorado Canyon, and Boulder Creek, University of Colorado Boulder is the dream for students looking to spend their weekend summiting 14ers, backpacking the Indians Peak Wilderness, or snowboarding Eldora. The city of Boulder is just as impressive, with a mountainous backdrop, adventurous community, and laid back downtown.
UC Boulder's Outdoor Program provides students a place to learn how to best interact with their surroundings outdoors, through camping and hiking trips during the freezing Colorado winters or skills classes on mountain bike maintenance while out on the trail. UC Boulder has created a community of scholars focused on earth science, sustainability, and environmental studies. This year, a team of students will visit the Artic on a research project to learn more about the effects of climate change on this environment and in doing that experience one of the most extreme natural environments our planet has to offer.
"I felt so lucky to attend college at CU Boulder. Boulder is nuzzled up against the foothills of the Rocky Mountains, so students could hop on their bikes and be at a trailhead in minutes. And seeing the flatirons every day between classes was remarkable. I joined the hiking club as a freshman which ended up being formative to my passion for the outdoors. CU was a place where I could easily build strong relationships with inspiring people who wanted to backpack and climb and snowboard on the weekends to escape the chaos of student life." – Emily G., Class of 2017
The University of Vermont sits on the state's Western border, just beside Lake Champlain. The little city of Burlington draws those interested in the outdoors for its proximity to ski resorts, mountains, and the uber-popular lake. The outdoors community at UVM thrives during the winter months, while most students are snuggled up avoiding Vermont winters. One of the most popular clubs at UVM is the ski and snowboard club, due to Burlington's close proximity to three resorts—the closest being a 15 drive from campus. The Outing Club, UVM's most versatile outdoors club, also spends a lot of time in the snow whether they are backcountry or cross country skiing or snowshoeing and ice climbing. This club also leads hiking, climbing, paddling, biking, and so many more trips in the northeast.
"There are activities for everyone regardless of experience. The UVM outing club takes great pride in their passion for the outdoors, stewardship, social justice and education. The UVM and Burlington community focuses on inclusion. There is no better place to explore the outdoors than Burlington, Vermont." – Gabe J., class of 2018

From UVM Outing Club
Set in the southern Blue Ridge Mountains, your walk to class may include mountain views, valley fog, and maybe a stroll past the campus farm. WWC has over 25 miles of hiking trails on their campus alone, as well as the Swannanoa River which is great for swimming or water sports.
This is the one of the most ideal colleges for outdoor adventurers looking to take a step beyond outdoors as a hobby. Warren Wilson offers a liberal arts degree in outdoor leadership where you can receive credits for internships as a rafting guide or camp counselor.
Evergreen State lives up to its name with a heavily forested campus that includes hiking trails, treehouse platforms, and a whole lot of moss. This campus sits in the forests along Washington's Puget Sound and attracts a mindful and forward-thinking student body. Evergreeen's outdoors program, TOP, reflects this alternative mindset through outdoors trips with a twist like a backpacking trip with all plant based food or femme climbing night at the climbing center.
"At Evergreen, I was blessed to call the moist PNW forest both my classroom and playground. The forest is a tremendous resource, from plant identification to mushroom foraging to tree-climbing, the more I was exposed to the science behind the systems that compose a forest ecosystem, the clearer my perspective became of how forests function. Evergreen is more than just a college. It's a community to grow and discover your journey of knowledge." – Shayden, Class of 2018
Looking for a place where you can catch a wave or waltz through the redwoods before class? Chances are you might end up at the University of California, Santa Cruz. Santa Cruz is a premiere surfing location on the California coastline, and is just a four-hour drive from Yosemite National Park. University of California Santa Cruz has a tremendous curriculum of natural sciences, agricultural studies, and of course, outdoors programs. Both the local community and the university have a hippie-style environmental and health awareness vibe from the vegan cafes to the countless yoga studios. UCSC is one of the best colleges for outdoor adventures looking for a slower pace of life.
"Santa Cruz is really like nothing else. Of course the legendary redwoods and flowering coastal cliffs are one thing, but student groups and faculty led courses and programs offered at ucsc shine a light on other less visible wonders of the area. I have a lot of respect and gratitude for the wealth of knowledge I was surrounded by, from plant species and conservation, relearning from the indigenous Ohlone, agroecology, outdoor education, and marine wildlife. Their proximity to/ embeddedness in these ecosystems allows/inspires students to gain a kind of intimacy with the natural world that most people never get to experience." – Sophie H. , class of 2018
From Lewis an Clark Outdoors Program
Lewis and Clark College's 137-acre campus is based in the mossy forests of Southwest Portland. Named after the historical American explorers, it is no surprise that this college promotes exploration both within education and the outdoors. Their campus, while set at the edge of the city, is nestled between natural resources including Mount Hood, the Columbia River Gorge, and the Oregon coast. Within Portland, students have access to miles of forested hiking trails and three different climbing gyms.
Lewis and Clark is a great college for outdoor adventurers who are interested in dabbling in a little bit of everything from climbing up snow-covered volcanoes to surfing in the Pacific. The temperate conditions of Oregon allow for year round hiking and running as well as more specialized activities like surfing and skiing. The Lewis and Clark College Outdoors program leads trips along the entire west coast, but really specializes on local characteristics like their series of mushroom identification clinics and diverse backpacking trips in the different landscapes of Oregon.
"At Lewis & Clark, the College Outdoor program has helped show me the importance of the outdoors in relation to social and emotional learning. This lesson has inspired me greatly in my current work. From CO, I have learned valuable skills like how to be a leader while being a peer" —Will P., Class of 2018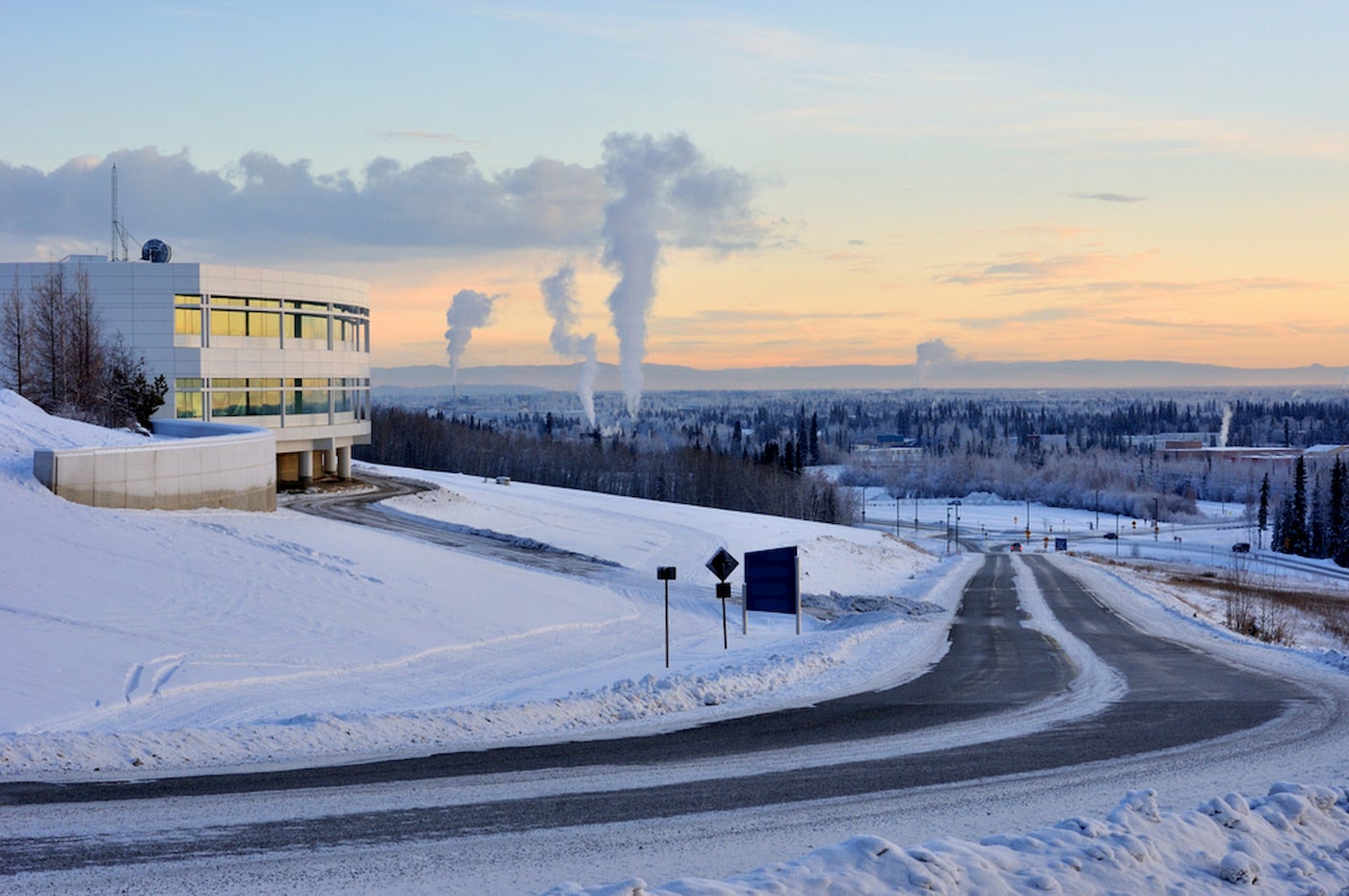 Attending the University of Alaska, being set in "The Last Frontier," is an assurance that you'll have some outdoors time—whether you want to or not. Situated only 200 miles from the Arctic Circle, University of Alaska is one of the most intense environments for a college for outdoor adventurers. With more extreme natural surroundings, comes more extreme education; for instance, avalanche safety, advanced canoe certifications, crevasse rescue, backcountry bear awareness, and firearms practices are all available to UA students. If you love nature with lower stakes, however, there are tons of opportunities for you too! Maybe it is just as simple as catching a glimpse of the Northern Lights on your walk home from a late-night study session.
"Fairbanks is a place of extremes. The binary of winter nights and summer days provides a unique rhythm of life. The thriving outdoor community here is made up of people who have different hobbies for each season. Winter is for nordic skiing, alpine sports, and fat biking; summer is for running, backpacking and mountain biking. Staying active is the common thread throughout the year that keeps people's sense of momentum." — Ross M., Class of 2015
Of all the places in the U.S., West Texas might not be the first place you would expect to find a college for outdoor adventurers. However, Texas Tech's Outdoor Pursuits program would be happy to prove you wrong. This program is based solely on the students who run it and because of this, the Outdoor Pursuits training program is both intense and thorough. With training sessions ranging from Astronomy to Canyoneering, the students partaking in this program will come out more well-rounded than most outdoors professionals.
From NAU Outdoor Adventures
Northern Arizona University is great for those looking for a school surrounded by the southwest's best outdoor features. While the city of Flagstaff feels like a small town, its surrounding features in the Colorado Plateau are expansive. Humphrey's Peak, the tallest mountain in arizona, sits just 11 miles North of Flagstaff and the Grand Canyon is less than two hours away! The downtown area is home to a plethora of yoga studios, climbing gyms, and outdoor stores. The main features for locals are The San Francisco peaks, a volcanic mountain range that serves as a playground for mountain bikers, hikers, trail runners, and rock climbers. In the winter you can find students driving up north to Arizona Snowbowl on Humphrey's Peak to ski, shred, and aprés.
NAU's Outdoor Adventures program touches upon some of the most beautiful areas in Arizona, including The Grand Canyon, Antelope Canyon, Horseshoe Bend, Sedona, and Zion National Park. Unique trips include women's-specific backpacking and mountain biking under the light of the full moon.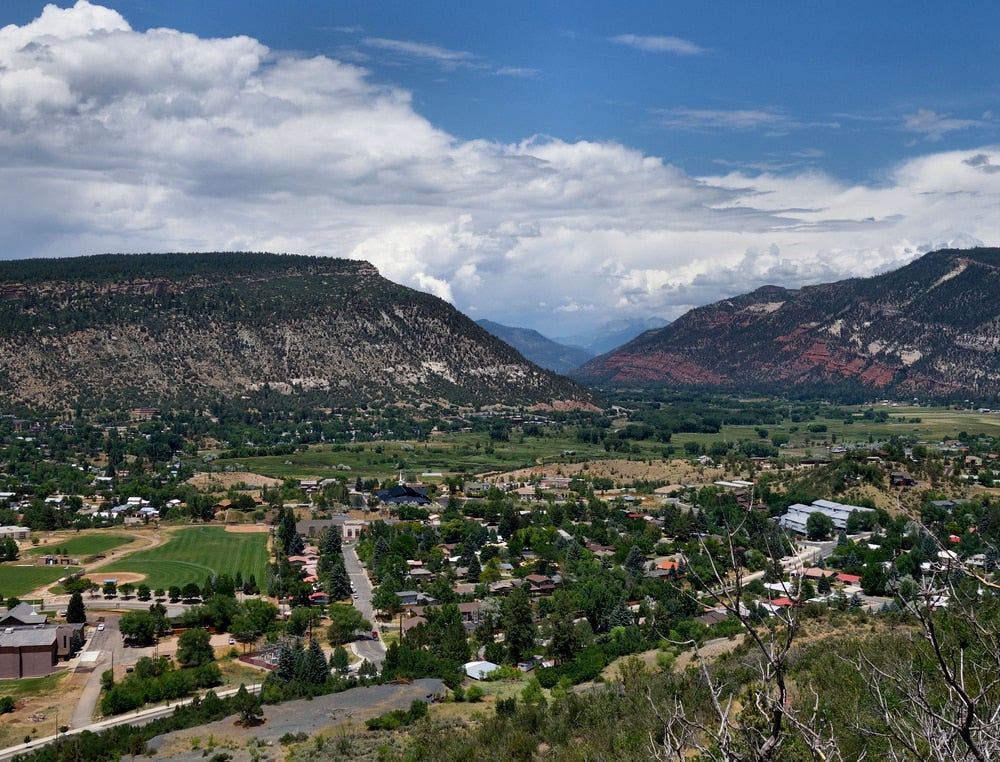 Fort Lewis College is centered in the mountain town of Durango, Colorado and is surrounded by a natural playground of white water rapids, mountain biking trails, ski resorts, and climbing crags. On the Fort Lewis campus you will find a large disc golf course and a multitude of mountain biking trails leading into the surrounding landscape. Flowing through the center of downtown Durango is the Animas river, which is perfect for a casual float or a whitewater adventure depending on where you put-in.
In the winter, Durango turns into a full fledged ski town and Fort Lewis provides free resort passes to all freshmen. If that isn't enough skiing to get you stoked, Chapman Hill on the side of campus has a tow rope and terrain park so you can practice your park skills in between classes. No matter what skill level you are, the Outdoor Pursuits program is there to help! Whether you need to rent ski equipment for a trip to Purgatory or are just interested in a guided hike.
The University of Montana in Missoula gives you the opportunity to soak up the best of the Big Sky state. Their campus sits below the pyramid-shaped peaks of Mount Sentinel and Mount Jumbo, and along the rolling rapids of the Clark Fork River. Hiking, biking, and running trails are a stone's throw from campus between the "M Trail", Lower Rattlesnake, and K. Williams Natural Area. Your closest put-in for rafting, canoeing, kayaking, and floating is along the north side of campus, meaning you can literally carry your boat from your dorm room!
The surrounding area of Missoula has a variety of different outlets to Montana's pristine wilderness from including Rattlesnake, Blue Mountain and Pattee Canyon Recreation Areas. The UMT campus is also 30 minutes from Snowbowl ski area, where students can receive free shuttles from campus, discounted lift tickets, and credits when they take Alpine, snowboarding and telemark, and instructor prep classes.
University of Montana's Campus Recreation Outdoors Program encompasses the local Missoulan lifestyle with fly fishing trips, cross country ski classes, and trail running clinics. While they have tons of local trips, the UMT Outdoors Program also teams up with University of Montana's College of Forestry and Conservation to provide study abroad experiences like Mountaineering in Peru's Andes Mountains. The College of Forestry and Conservation is an awesome college for outdoor adventurers, for programs like this and the ability to spend time in the field partaking in outdoor recreation while studying these topics.
From University of Wyoming
The University of Wyoming in Laramie is surrounded by natural features creating a plethora of opportunities for their outdoor program. Because of their access, they have unique trip combinations like canoeing and hot springs or fly fishing while backpacking. The UW's Outdoors program not only leads trips and offers courses to students, but they also hold community-wide programs like gear swaps and a bike library that allows students to rent a bike for the entire school year.
Laramie a prairie town set in the southeastern quarter of Wyoming, is actually closer to Colorado's Rocky Mountains than Wyoming's classic destinations like the Grand Tetons and Yellowstone. Students looking for weekend getaways will often be found driving one hour south to summit county to seek out mountains, climbing spots, and a multitude of ski resorts including Arapahoe Basin, Breckenridge, and Copper Mountain.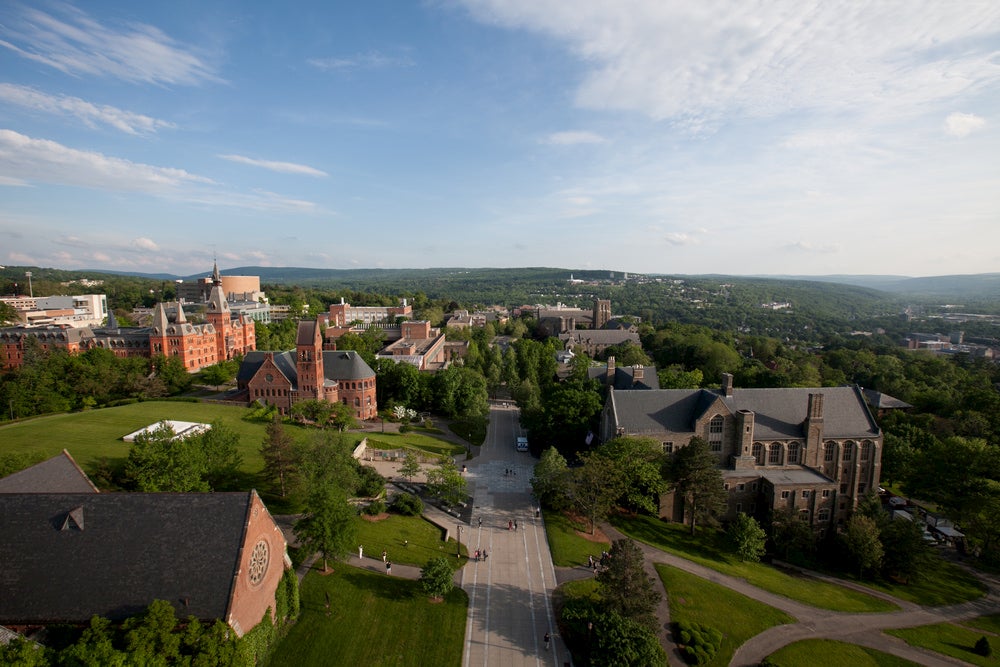 Cornell University's Ithaca, New York campus is speckled with bridges over cascading waterfalls, rushing rivers, and panoramic views of upstate New York's finger lakes region. Not only the campus but the outdoors program takes full advantage of this dramatic landscape. This is a great college for adventurers who are interested in hiking, canoeing, kayaking, climbing, skiing, snowshoeing, caving, rock climbing and tree climbing. Cornell's outdoors program offers over 130 courses as well as climbing facilities, expeditions, and an equipment outfitters. Students have the option to rock climb in the gorges, scuba dive in Lake Cayuga or become a certified Wilderness First Aid Responder!
"Getting involved in COE allowed me to learn about and appreciate the natural features of Ithaca and all of upstate New York and gave me an opportunity to do so with an enthusiastic community who share my passion for the outdoors. The Adirondack canoeing trip I went on through COE my first semester is still one of my best memories from college." — Nathaniel F., Class of 2019
15. Prescott College — Prescott, AZ
Prescott College sits in the Prescott Valley of central Arizona, surrounded by the lakes, creeks and the eponymous Prescott National Forest. The campus is built around sustainability with outdoor classrooms, yoga studios and solar panels attached to many of the campus buildings.
Prescott College's outdoors program is felt the minute you set foot on campus, with all first-year students receiving a wilderness-based orientation in Arizona's backcountry for their first 21 days of college. The outdoors program at Prescott goes beyond trips and rentals and is actually a discipline you can study through their Adventure Education Bachelor of Arts. The college also offers degrees in environmental studies and sustainability. Prescott is an awesome college for adventurers looking for a smaller, more tight-knit community where a desire to be outside is felt by the student body as a whole instead of in a specific club.
---
This article was brought to you by Banner and Oak.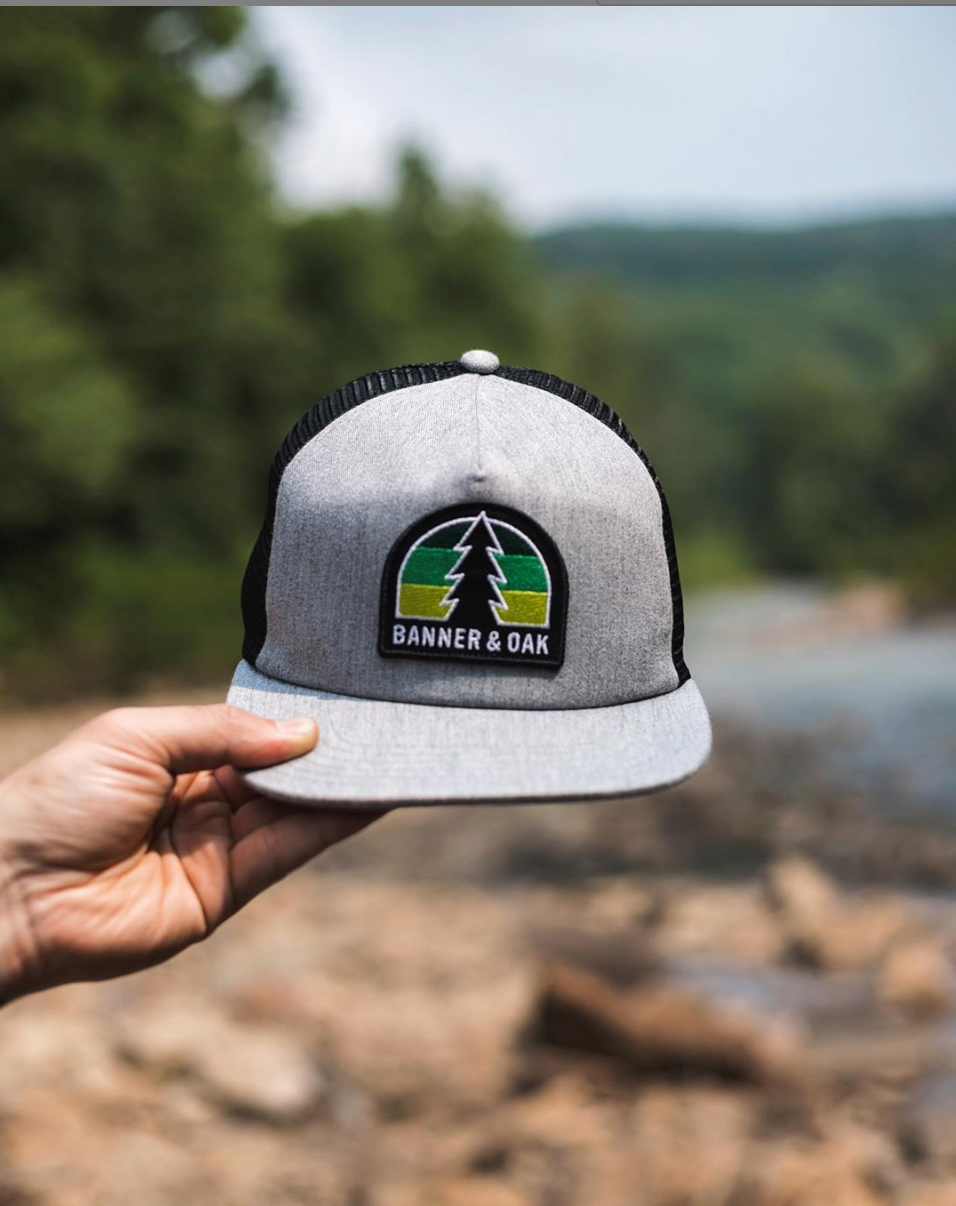 Check out their snapbacks and graphic tees for your back to school wardrobe!
---
Related Campgrounds:
Popular Articles: